After recently being proclaimed a must-see by New York Times, Rough Guide and CNN, Rotterdam is officially on the map as an eminent travel destination. With its cutting-edge modern architecture, marvelous museums, top notch cuisine and original boutiques, the growing popularity of Holland's second biggest city is well deserved.
Still, it takes an insider to discover the real gems of "Roffa," as locals like to call their hometown. "It's quite a challenge capturing this city," photographer and Amsterdam native Daniel remarks after walking around the center for an hour. "There are plenty of beautiful things to see, but there's always something ugly blocking the view." As far as I'm concerned, it's exactly this ambiguity that makes Rotterdam so interesting. "Rotterdam is not an illusion, deluded by camera. It doesn't have cinematic appeal, Rotterdam is far too real," is a spot-on quote by one of the city's most famous contemporary poets, Jules Deelder.
Rotterdam, the city that lost 90 percent of its center's original architecture in World War II, just doesn't have that instant appeal its forever nemesis Amsterdam does. If Amsterdam is the beautiful woman you immediately fall in love with, Rotterdam is the tough, street smart girl you have to impress with your own quick-wit. If you really get to know her, she'll be in your heart forever. Strolling through the city, we check out the coolest new places in town and meet a few local legends.
A Stroll Through Rotterdam
Barber Bertus
Bertus, owner of world famous barber shop Schorem, is a true Rotterdam aficionado. Not quite a native "Rotterdammer," he moved here 20 years ago and claims he will never leave. Standing in front of his barbershop, recently relocated from a tiny space on the central street Nieuwe Binnenweg to a bigger location across the way, he's constantly shaking hands and chatting with by-passers. A woman almost falls of her bike while crossing the road. "Be careful hun, I don't want to scrape your remains of the tram rails," he jokes in a characteristic Rotterdam accent. The woman laughs and waves as she continues her journey. "See, that's what I love about this city," he says. "You can joke around and people accept it. It's this no bullshit mentality that I dig."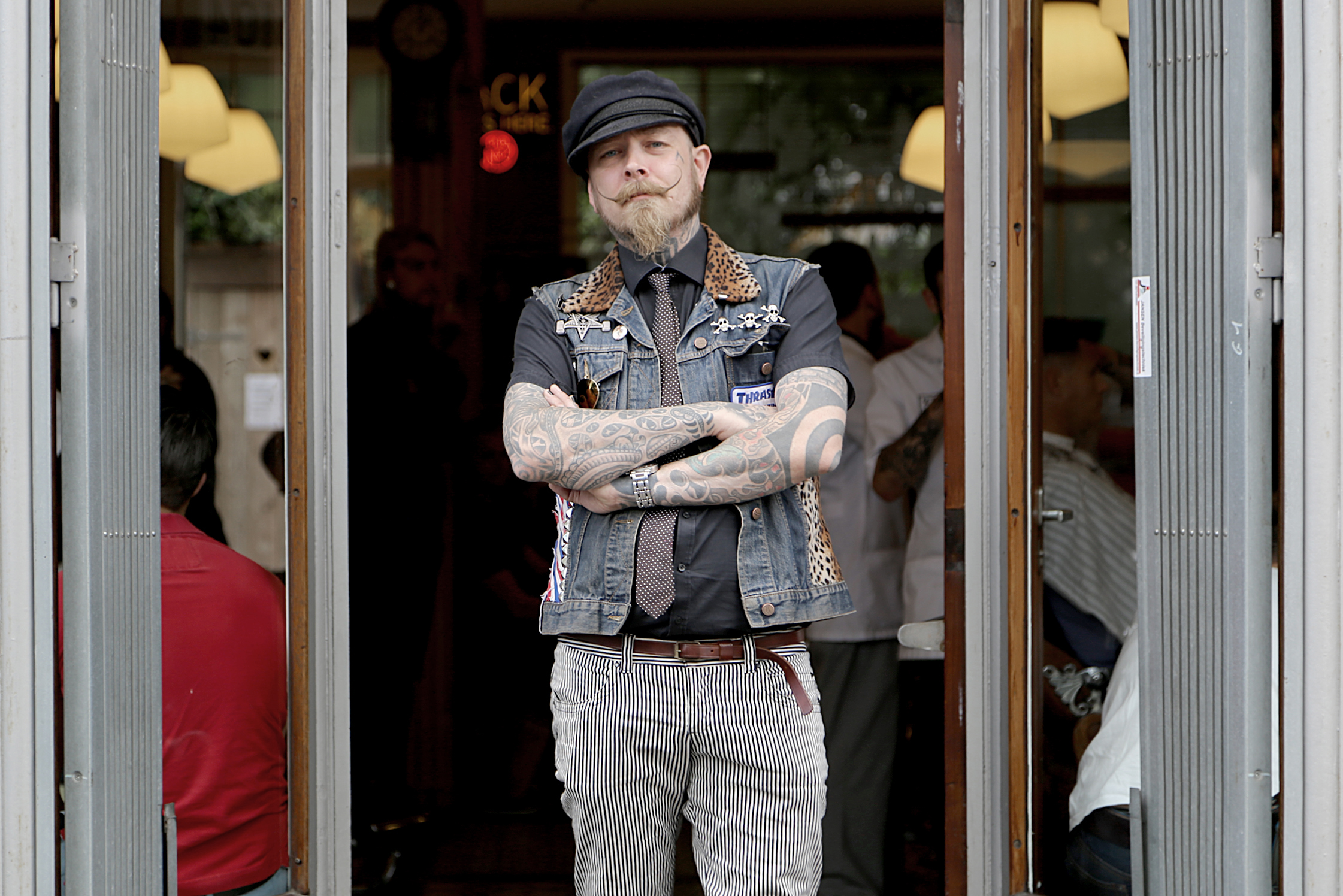 Moving to Rotterdam felt like a homecoming, he says. "This city is priceless. Especially the genuine connection with people is amazing. Take our neighbors. They also run a barbershop, but it's a black hair salon. Totally different style, different taste in music, different customers. They have a gym in the basement, while we stock our whiskey there. But when a hot girl passes by, we're all standing with our noses pressed to the window."
When it comes to Bertus' favorite spot in the city, it's only a block away. "There's this old bar on the corner called Ari Café, that's been around for ages. The regulars include writers and painters, but also guys who are constantly in and out of jail. If you're looking for juicy stories, that's the place to go."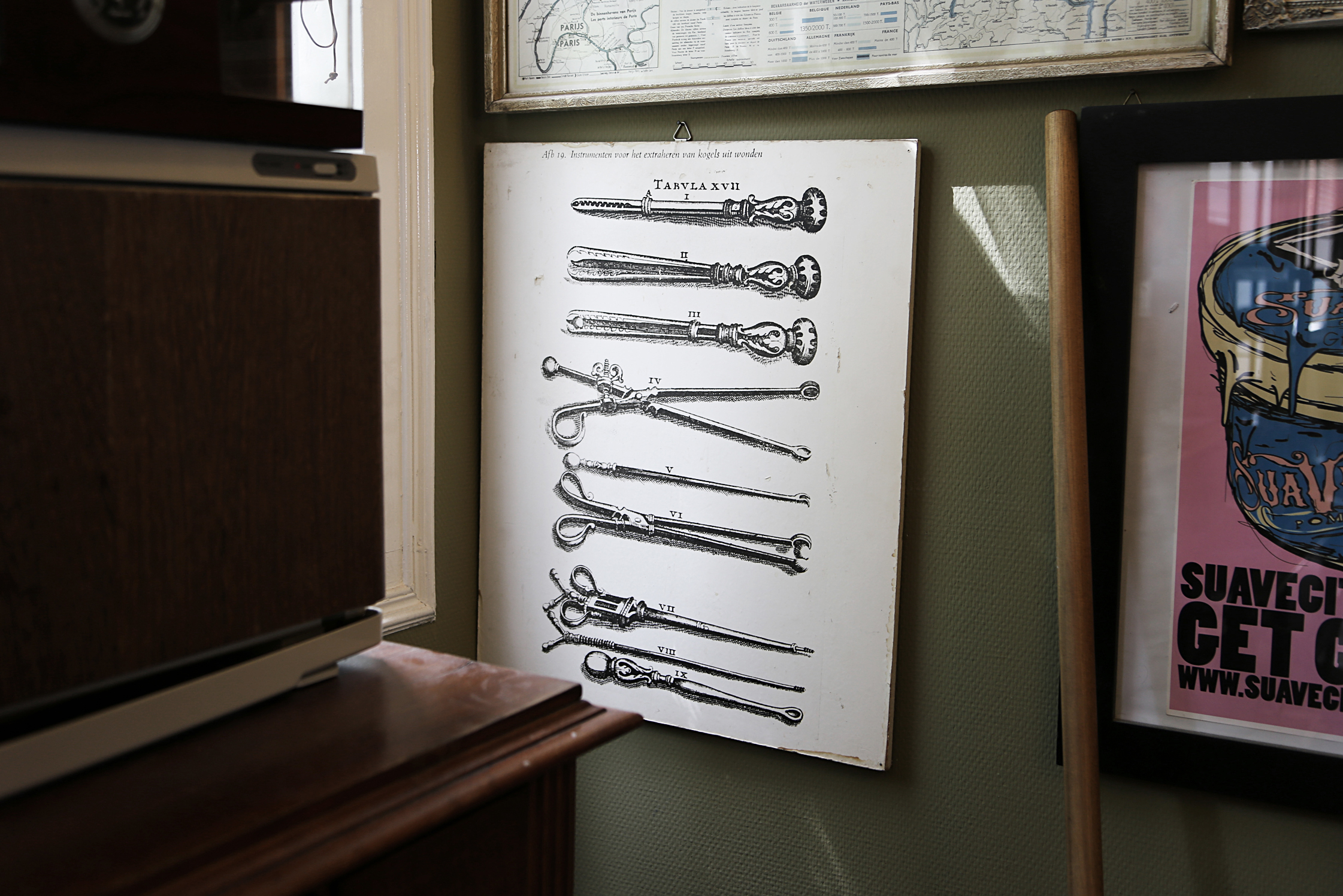 Singer Sevdaliza
Another time perhaps, because our next destination is one of those typical spots of the city, where half of the allure is in its hideousness – an orange steel house called Delftse Poort. We meet rapper and singer Sevdaliza here, who's just arriving on her bike. A picture perfect example of the city's rough beauty, the pretty black-haired singer grew up in Rotterdam, after her family fled unstable Iran in the eighties. "Rotterdam is my hometown, I couldn't imagine living anywhere else. It has this metropolitan feel, but at the same time I'm constantly running into people I know."
Sevdaliza's favorite places in the city all involve – not surprisingly – music. "I really like the Witte de Withstraat, because it has some great bars and is such a melting pot of different cultures. Food-wise my favorite place is Picknick, they serve a great lunch and the service is super friendly.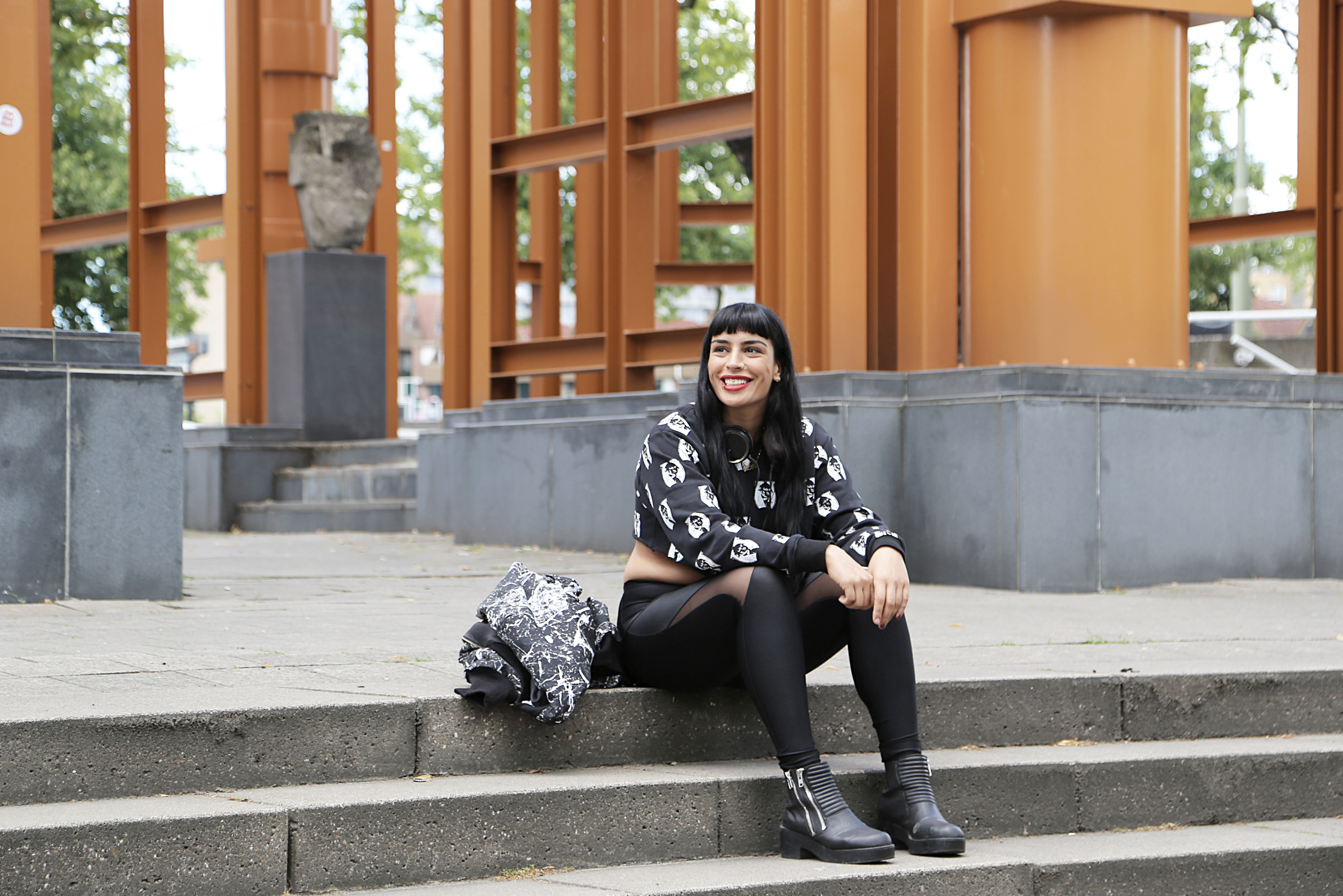 If I feel like clubbing, I go to Twenty Six, a club owned by DJ, promoter and festival director Roger Brown." For creative inspiration, the singer prefers sitting by the Maas river. "I love being near water, it calms me. So I often sit on this hidden bench under the Erasmus Bridge to write new songs." Even though she's currently spending most of her time recording her debut album in London, there's no feeling like coming home, Sevdaliza says with a smile. "Lately I've been lucky enough to travel to some amazing cities. But it doesn't really mean anything, if you have no one to share it with. It's a cliché, but home is where to heart is. And my heart is here in Rotterdam."
When it comes to Rotterdam being "too real," Sevdaliza feels that's not necessarily a good thing. "I do love the directness of people here," she comments. "But they tend to be a bit harsh and cynical. That's the dark side of realness."
Streetwear Specialists
Another thing that's serious about Rotterdam is its street fashion culture. Don't try to impress the locals with a fancy suit or a hipster look (beard, tight jeans, white shirt) they refer to as "the fake Amsterdam style." Here it's all about the right sneakers and latest streetwear trends. Two pioneers responsible for supplying locals – and fans from all over the country – with the flyest gear, are sneaker store Woei and creative collective Venour. Both located in the Hoogstraat, an indistinct and fairly unattractive street on the east side of the center, they're all about keeping it real. Buyer Jarmo von Raesfeld Meijer from Woei is the type of guy you're almost afraid to talk to because of his distant attitude. But don't be fooled by his apparent aloofness – once he starts talking about the sneaker business, there's no stopping him. "When it comes to sneakers, we're always on top of the big trends. Correction: we're ahead of the trends. The stuff you see at shops like Footlocker now, we sold two years ago."
Besides selling the big brands like Nike and Asics, Woei recently launched a new private collection of street wear gear. The entire collection sold out in just three days. Despite the great demand, Von Raesfeld Meijer does not regret keeping the collection limited. "I always feel that if there's a 100% demand, you should deliver 40%," he says with confidence. "It might give you less profit, but in the end exclusivity makes you more desirable." Across the street, Venour has a similar strategy when it comes to their clothing line and events. Keep it limited, hype it online, create a buzz and voilà: everybody wants to be part of it. By doing commercial work for clients like Sportlife and Pony, they finance their own creative work. "When it comes to events, the right partners are key," says co-owner Noël van Deelen. "This city has a lot of potential, but you have to know where to look. Last year, we organized a pool party on the roof of an old warehouse, together with Vice. Beers were supplied by Bavaria and invitations were only given out personally by us. It quickly became the hottest party in town."
Cocktail Cures
When it comes to Rotterdam's nightlife, it's also a matter of knowing where to go. Back in the nineties, the city was known for its crazy parties, with the extravagant Now & Wow fests at the Maassilo as an absolute highlight. Later, the club scene went underground or disappeared altogether. With the recent opening of no frills clubs like Perron and Toffler, a new type of grimy house scene that resembles the one in Berlin is on the rise.
One place that's definitely worth a visit is the hidden cocktail bar called "The Doctor." The address is top secret and you can only get in by making an appointment by phone. Once you're lucky enough to get the number, a voice asks you what you need an appointment for. After all, you're going to see the doctor. Pain in your throat is always a good answer, because The Doctor serves the best cocktails in town and possibly the country.
Best chance of getting in is by paying a visit to Barrelproof, also located in the Hoogstraat. This great little liquor store has the same owner and if you play your cards right, they hook you up with the doctor's number. Also be sure to ask for a shot of one of the many local gins and exotic mescals for sale. You have to ask explicitly, because a liquor store is not allowed to offer it themselves. But if you ask nicely, they might mix you up an incredible gin and tonic on the spot.
The Dirty South
Whether it's the alcohol buzz or you just need to clear your head, there's nothing like taking a stroll along the Maas River and crossing the famous Erasmus Bridge to the south side of the city. Once known as a poor and unattractive area, Rotterdam-Zuid is quickly becoming the most interesting part of town. Especially Katendrecht, a district with a wild history of being the largest Chinatown and red light district in Europe. Where you would have only found drunken sailors and prostitutes here a century ago, now bars and shops tending to a young and hip crowd are popping up like daisies. An old warehouse complex called Fenix Food Factory is a great place to whet your appetite with some local specialities. From fresh baked bread and organic coffee to home-made cakes and bio-burgers: there's something here for everyone. Take your tasty goods outside on a sunny day and enjoy the view of the historical Hotel New York across the new-build bridge connecting Katendrecht to the little strip of land called "Kop van Zuid."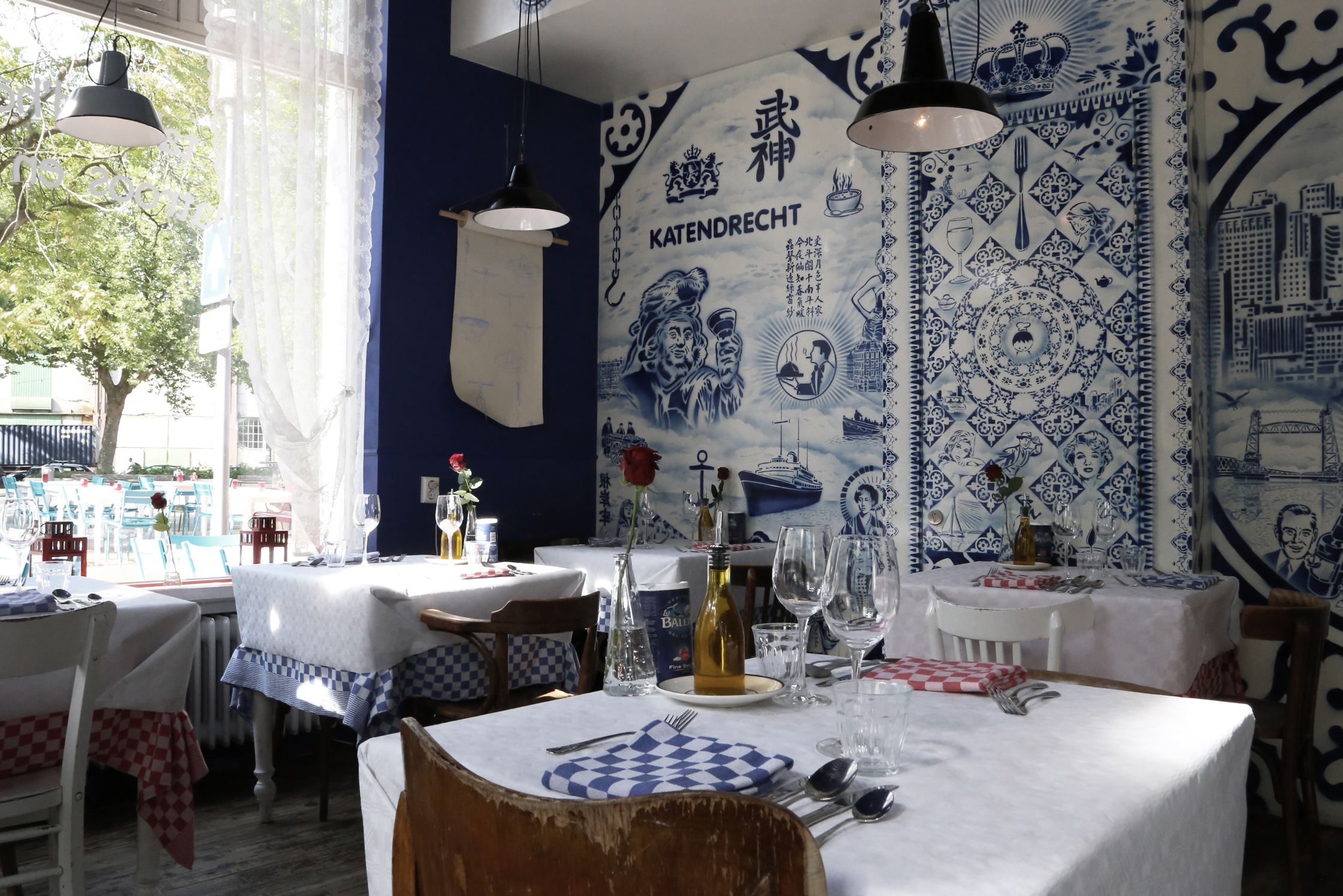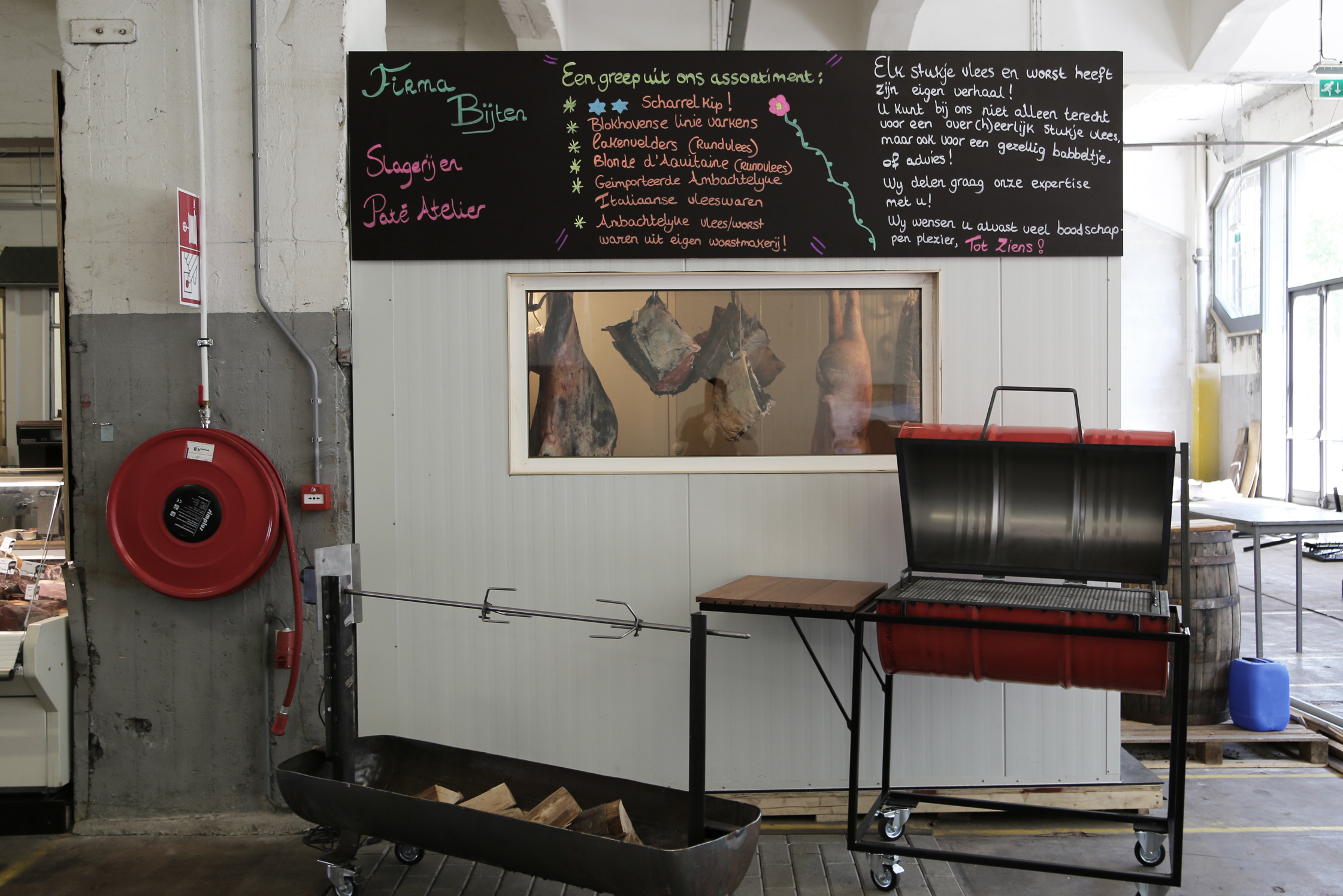 N(h)ow Hotel
When the day is done and the party is over, the best place to stay is nhow, designed by world famous architect Rem Koolhaas. With partner-hotels focused on fashion in Milan and music in Berlin, in Rotterdam it's all about art and architecture. The entire hotel is build on the basic principles of light, glass and air and every floor features work from established and upcoming artists. Since it's located on the "Kop van Zuid," also referred to as "Manhattan on the Maas," the views on the city are spectacular. Naturally, the higher up you are, the better. We recommend staying on the sunrise-side of the building and enjoying the sunset at the hotel bar on the rooftop terrace.
While watching the sun disappear behind the city's skyline as giant cargo ships are passing by, we have to disagree with the poet Deelder. Rotterdam does have cinematic appeal and there's no such thing as being too real.