Known for his visionary projects surrounding living environment systems, designer and former FvF guest Werner Aisslinger, has called Berlin home for almost 30 years. On a tour through Berlin's Mitte district crossing the frontier of the original East and West into Kreuzberg, Werner hand-picks a selection of locations that symbolize the city's new face.
The significance of the area is clear. Undeveloped spaces show the signs of slowly knitting themselves back together into a unified whole. In this insightful FvF Explores a reflection on the development and progress of Germany's capital is investigated; a nerve center Werner describes as "an experimental lab for endless possibilities." A fitting and timely meditation on the occasion of the 25th anniversary of the fall of the wall.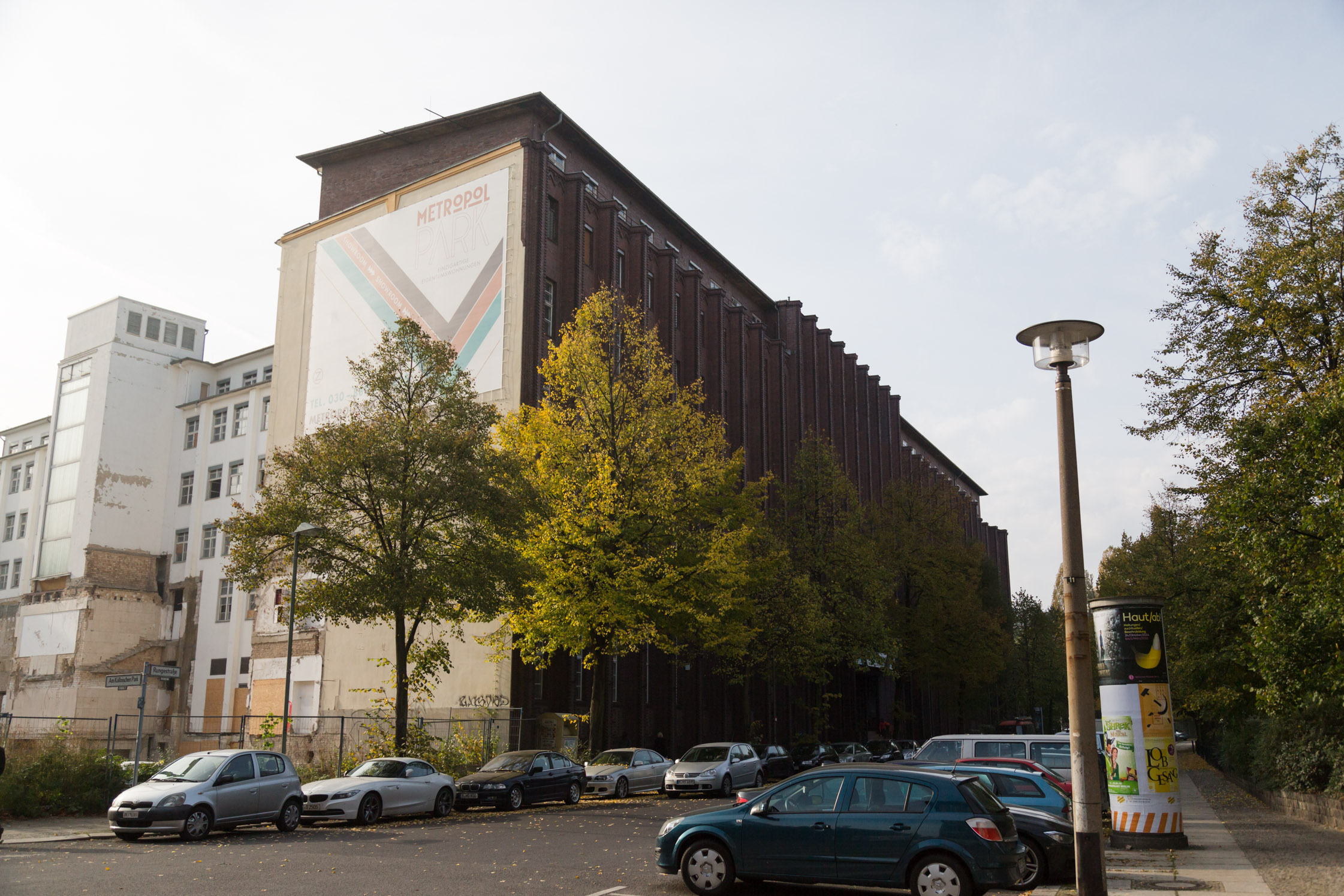 Werner's selected locations around Rungestrasse
Metropol Park in Berlin's Mitte
The first stop is at the site of one of Werner's recent project in Rungestraße in central Mitte. In a green and quiet pocket, we visit the Metropol Park housing development – a hidden gem in a neighborhood dotted with embassies and framed by the river Spree's edge. This corner is one witnessing an evolution and Werner confidently predicts with the completion of this project the area will transform into a dynamic hub.
Approaching the six-storey former AOK insurance firm building, "an impressive example of late expressionist architecture from a radical architectural phase," decorative pillars and statues flank the entrance staircase to this registered city landmark. Its elegant 1930s facade with purplish brickwork deceptively masquerades the activity and contemporary vision within.
Inside the Metropol Park edifice we traverse Werner's creation: a showroom space aimed at uniquely promoting residential loft style living spaces that fuses art, design and architecture. This project is one of many where Werner's design studio has been head hunted to arrive at unique concepts that bring new perspectives for companies.
"As a studio we love to work with new concepts that do not exist."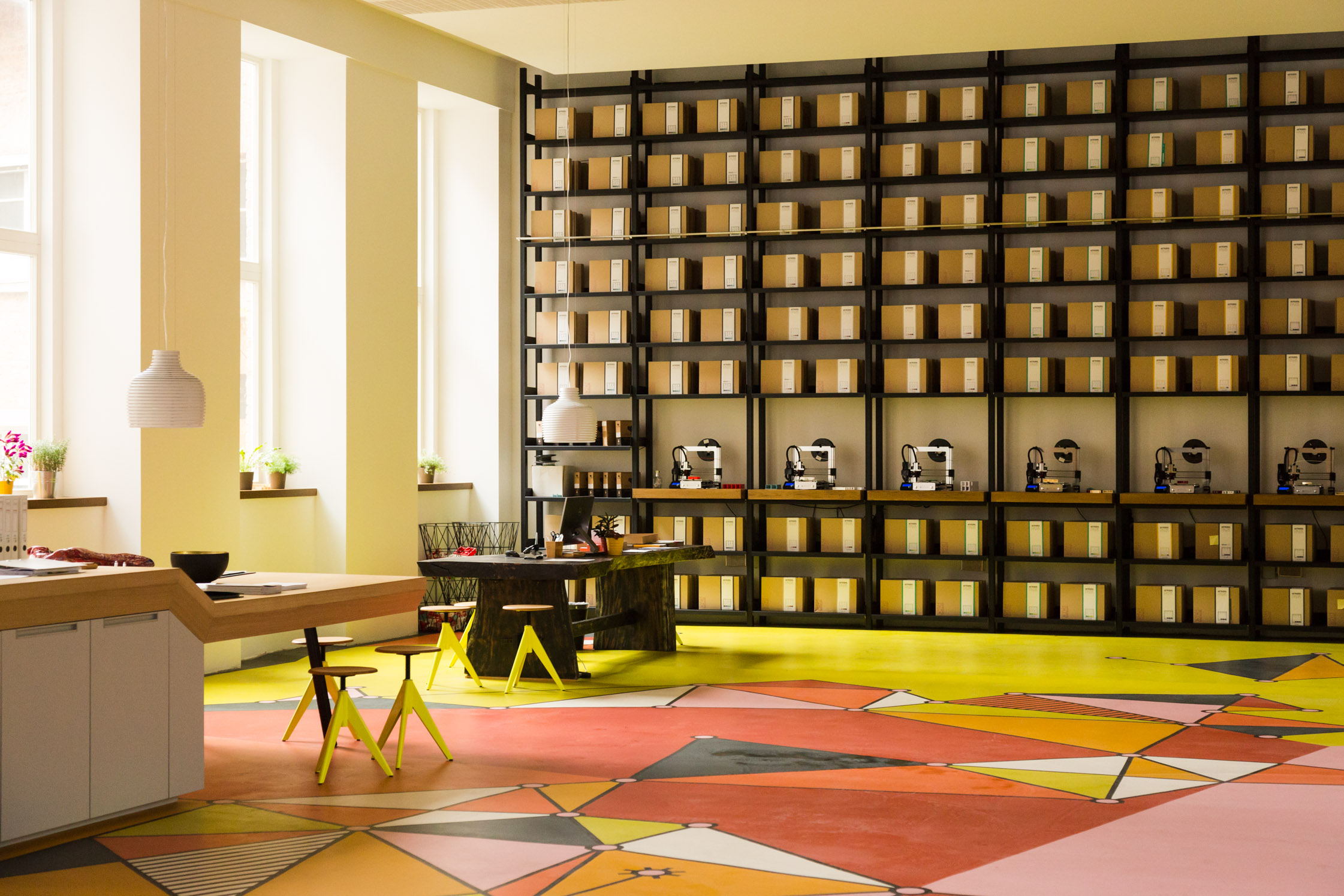 With natural light sweeping in from both sides onto this 300 square meter space, a vibrant floor piece commissioned by a student group art class speaks volumes for Werner's commitment to drawing on a kaleidoscope of creative input – as does the motorized wall drawing intervention in the foyer. His vision to create something unprecedented, experimental and avant-garde in the real estate industry beyond a 'Muster Wohnung' and uninspiring sales containers is further articulated in the employment of a suite of 3D-printers specifically used to print apartment models that "transfer the existing architecture into a model world."
"The idea was to print the apartments so people can playfully envisage what their apartment will look like; a kind of workshop situation. We designed the packaging to emulate a board game. It is something nice to give people that encourages a coming together where they feel involved."
"I wanted to create an avant-garde space intended to convey an atmosphere of living that would resonate with people."
Bigger apartment models set within a staggered seating section allow for family members to sit around the object, viewing it as something valuable. "Germany is a renting country, 78% of people rent their living spaces. It is really a life decision for people to purchase property in Germany and the biggest investment people will make in their lives. Therefore, I wanted to present the apartment models as something very precious."
Despite property prices rising, on an international level urban living in Berlin can be categorized by big low cost spaces that offer potential for experimentation. Werner affirms, "in Berlin you have the freedom to create your own style of wild living, whether it be a spartan or decorative world. Berlin as a city is an experimental lab, a lab for creating individual spaces."
Like a kid in a candy store full of excitement we explore the Metropol Park development further. Werner disappears into the unfinished construction site marvelling at its potential. After exploring the interior amidst rubble, dust and the activity of construction, we find respite in an open industrial roof structure in the imposing main hall. Werner explains that in keeping with the embrace of the old with the new this atrium will be preserved as an internal open green glass house, echoing the lush parks on the exterior of the building.
"This project emits a different feeling as opposed to buying a typical Berlin flat. It is a wild and airy building that transfers an industrial energy with a contemporary point of view."
A Walk through Köllnischer Park
Our next stop was Köllnischer Park directly opposite Metropol Park. Historically the park reveals much about the city's past. Between Wallstraße and Rungestraße, the green clearing came into existence as a public park in the late 1800s. It contains a range of historic buildings that include the Märkisches Museum designed by renowned architect Ludwig Hoffmann and the main drawcard, the Bärenzwinger – a bear enclosure which houses the city's official city bears. As represented on the coat of arms of Berlin, the bear has become a symbol and heraldic animal of Germany's capital. After time spent discussing the transformation of the area and greeting the city's living mascots we took a drive with Werner over the original East-West threshold down Heinrich-Heine-Straße.
"Berlin was completely different before the war, 40% of the city was destroyed. Certain areas had a totally different situation previously. Kreuzberg for example was originally known as the workers district in the 1930s and this area represented a very old district where the river was utilized for industry, all of which has now left Berlin."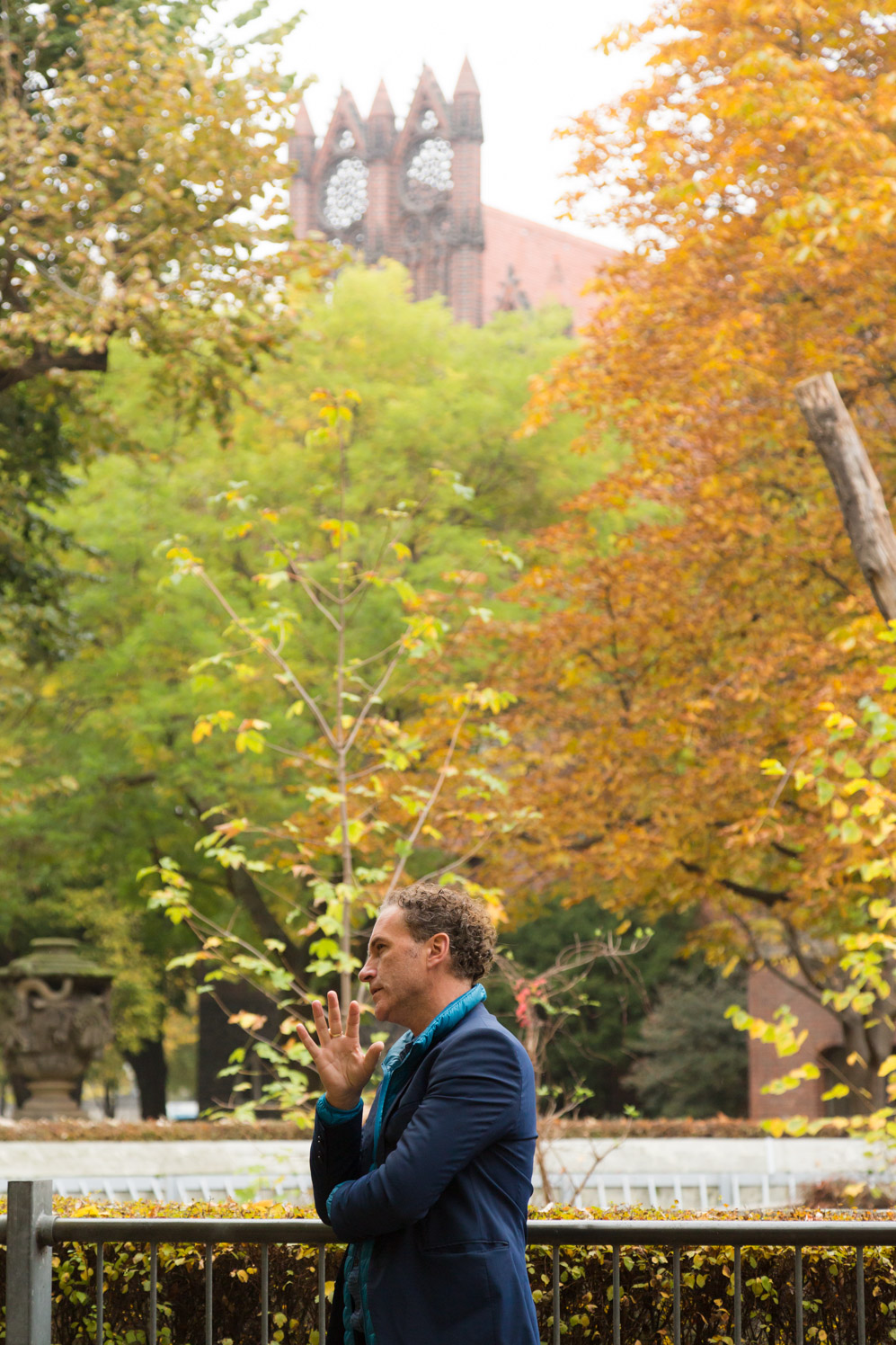 While driving, Werner reminisces about the evening the wall came down. He remembers clearly driving this very stretch from the West into the East with an entry permit to explore the unknown other side. He heard rumors the wall may come down that evening that were confirmed by a crowd of ecstatic people running into a bar he was drinking at. In an instant, with some newfound East Berliner acquaintances in tow, he took this same crossing 25 years earlier through a unified city without boundaries.
"After World War II Berlin was left as a village for young and old people, the industry left and it was more a city of grandmas and students, the rest was missing. It was like a big village. Now it is becoming more like a normal city but there is no economic back up. There is no chance for Berlin in economic terms, its only hope it its creative industries."
The Urban Farming Collective Prinzessinengärten
Next on the agenda was Berlin's first urban farming collective Prinzessinengärten near the bustling Moritzplatz. It is a project close to Werner's heart, tied to his greater interest in societal trends. He first got to know the young micro farmers through his exhibition at Haus am Waldsee "Home of the Future" in 2013 that examined the notion of indoor kitchen farming and subsequent collaboration with start up Infarm for the "MikroGarten" at Bikini Berlin Hotel earlier this year.
"Infarm have this vision of bringing plants into homes and office spaces. That is the next step from, urban farming to indoor farming, thus viewing the kitchen not only a place to prepare food, but also as a production place."
"Germans carry a burden of history. It is such a positive wonderful thing for me to see projects like Infarm run by young Israelis who are excited about coming to Berlin and who are welcome. It is what makes the city so different. This openness is a big advantage and should be conserved."
"… a positive future is possible and […] mankind can solve problems in a meaningful way. I love these kind of optimistic future-thinking movements that come from the people rather than industry or policy."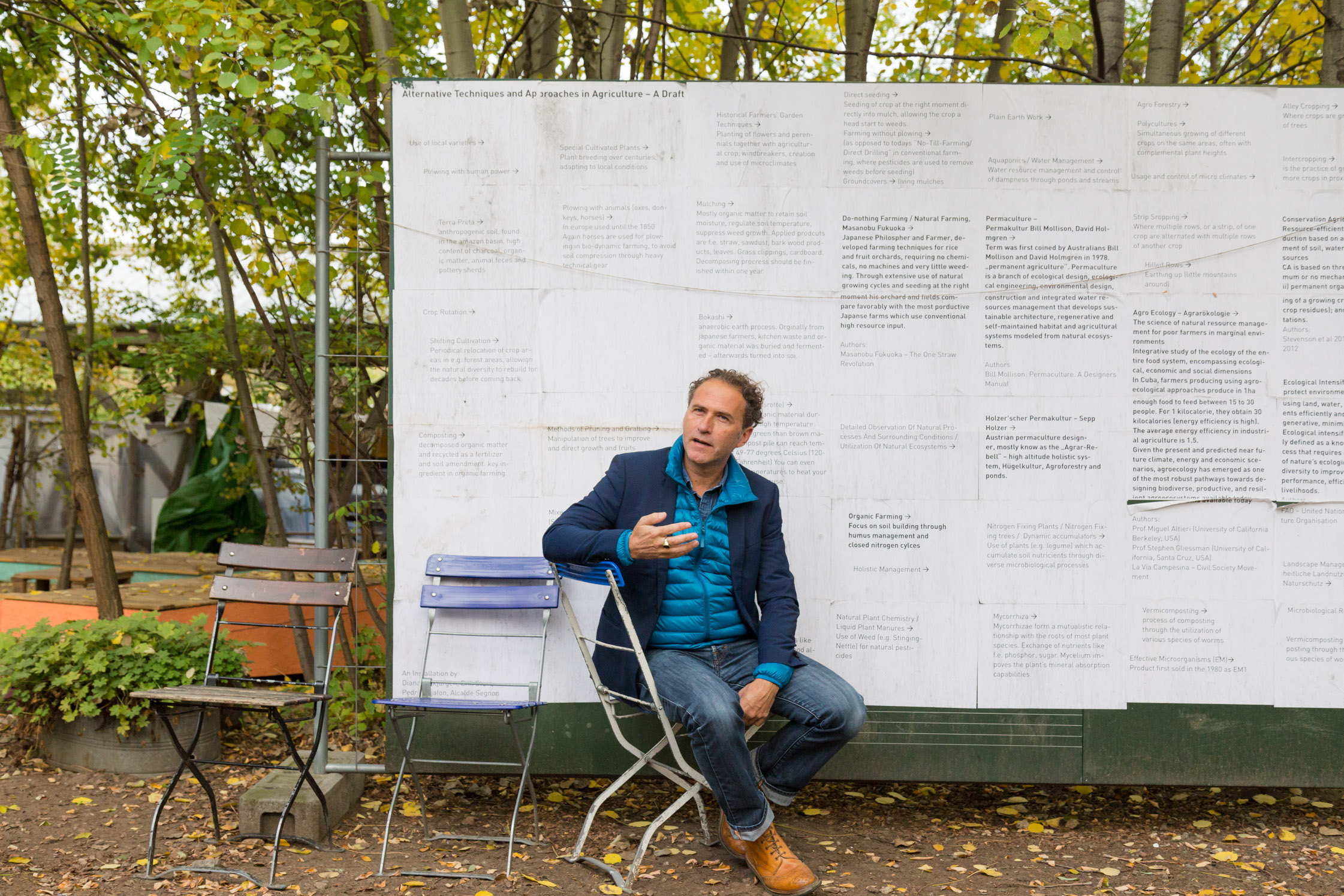 Contemporary Berlin is a city of arts that supports a new generation of creative entrepreneurs, and certainly in Werner's mind it is the only point of difference the city has. "It is a place of innovation that attracts international people as a different place to live in a liberal and open minded environment." These qualities make Berlin the perfect testing ground for community projects like Prinzessinengärten that are pioneering a new form of urban living.
We wandered amongst seedlings, organic vegetables, potted plants and past the garden cafe while considering the importance of urban renewal and sustainability. Such green strategies for the future and community involvement imbue a positive atmosphere that locals and tourists alike are keen to absorb. For Werner, ecological projects like Prinzessinengärten prove "that a positive future is possible and that, mankind can solve problems in a meaningful way. I love these kind of optimistic future-thinking movements that come from the people rather than industry or policy."
"Berlin is a city that has always been at the edge of civilisation, like New York, however, in New York you need to do three jobs to survive. In Berlin you have free time to think, experiment, and to be innovative and creative."
Shopping at Modulor Aufbau Haus
Our tour with Werner concludes with a visit to Modulor Aufbau Haus, a short walk from Prinzessinengärten. Once a forgotten dead end of West Berlin this enclave is now home to a rich diversity of retail and nightlife, with the club Prince Charles and restaurant Parker Bowles in close proximity. It is an area Werner knows intimately, his first business premises were located on Oranienstraße. His strong connection to the place is palpable as he asserts, "there is an intensity and tough edge to the area with immigration and drug issues visible. From this freaky liberal world, this melting pot, wild and exciting things can transpire."
Amongst the 1950s buildings, the modernist architecture of the Modulor Aufbau Haus soars above a busy traffic intersection. It is a center for artists, designers and architects seeking materials for projects and model making, somewhere creatives can "Basteln" (tinker). Across a vast square meterage over several levels one can expect 2D and 3D-printing, carpentry, designer furniture, textiles, and anything from paper to pencils in every color imaginable; a wonderland for any maker. Quite simply it is a creative center for the public and representation of Berlin's renewal.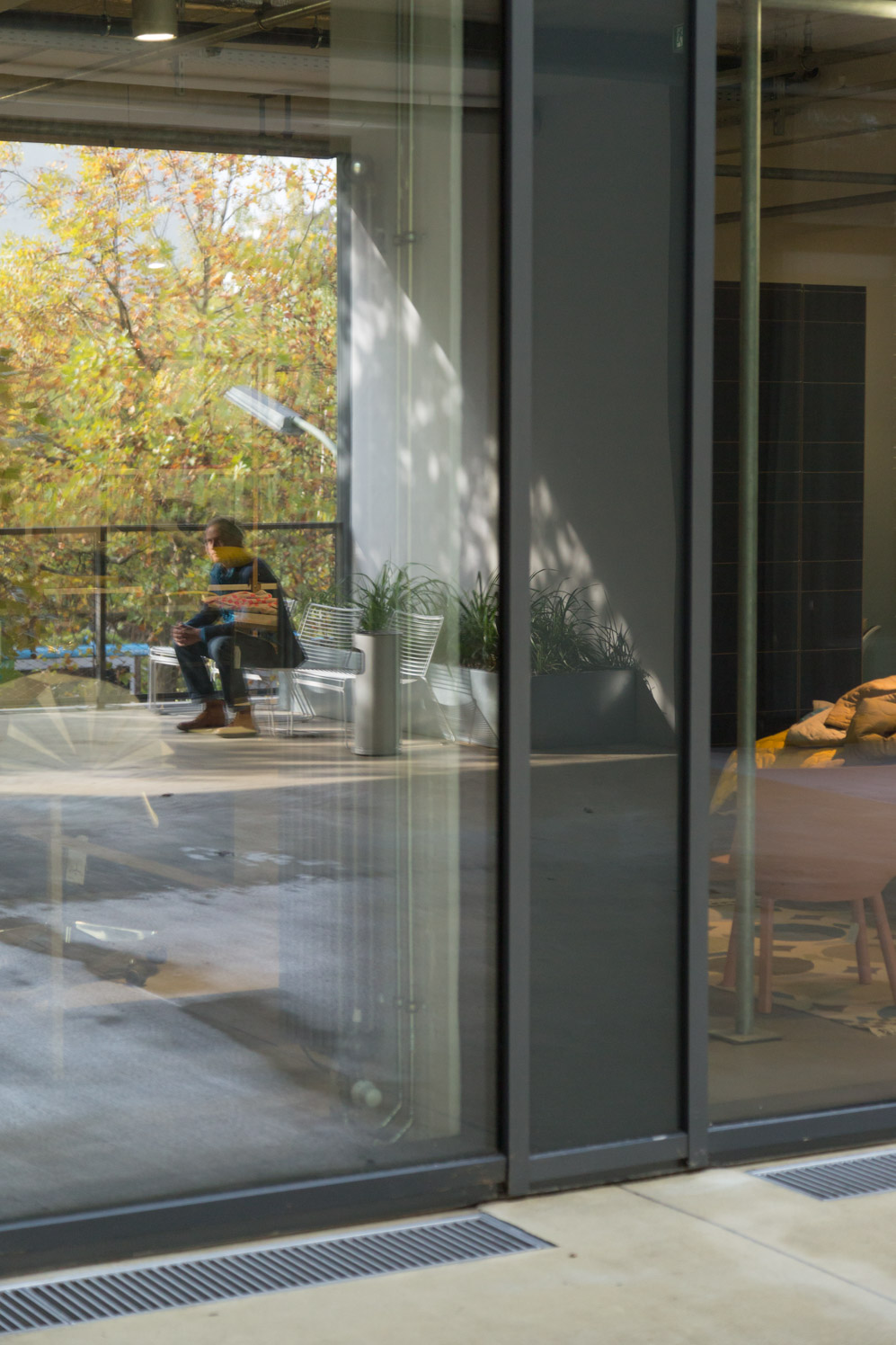 This hybrid complex also houses the publishing company Aufbau Verlag, the bookstore Buchhandlung Moritzplatz, theater TAK (Theater Aufbau Kreuzberg), the Wildfang Kindergarten andM1 Café Bar. It is a place we could have spent all day exploring, however, all good things must come to an end.
We left infinitely more informed on the history and contemporary design culture of the city through the eyes of a Berliner with an ambitious worldview.