For most couples, the ultimate compatibility test is going on holiday together. Chef Giorgio Ravelli and his wife Holly didn't have to go further than the kitchen.
"It's funny, we actually get on way too well," says Holly with a grin as she zealously mixes eggs and flour together. Her husband, Giorgio, stands next to her intensely focused on chopping red onions. It's Holly's birthday today, and to celebrate, there will be a dinner. On the menu: ravioli on a creamy potato mash, an elaborate chestnut dessert which goes by the name of Vermicelles tarts, and a generous selection of wine. The smell in the kitchen portends a great evening ahead. For Giorgio, who for five years cooked up a creative storm in the kitchen of the popular London pub, The Ten Bells, days like today are something special. "Because we work in the restaurant business, we rarely cook at home."
Giorgio and Holly met in London ten years ago. He originally came from Italian Switzerland to work as a chef in the British capital, and Holly from New Zealand to sing. She ended up working instead at the reception of the Michelin starred restaurant, Sketch, where Giorgio approached her one day. They frequently ate out; wherever the two went, so did their mutual love of good food. "I didn't realize until I moved to London how much I love cooking and dining out," reflects Holly. Today she is the floor manager of the popular bar, Upstairs at The Ten Bells.
Since they met, Holly and Giorgio have done a lot more than organize private dinner parties. For a while they also ran the pop-up restaurant, Brooksby's Walk, in a former public toilet. The venture turned out to be a small test of nerves. "The kitchen was probably the tiniest in the world. There was constant tension in the air." Not surprisingly, a larger kitchen would be a priority if the two were to ever open their own restaurant.
Giorgio is currently working as a sous-chef in the North Italian Dolomites for the legendary chef at the hotel Rosa Alpina in San Cassiano, Norbert Niederkofler. He is a big fan of Nobert's approach to cooking: local, sustainable, green. "I'm not advocating a zero-kilometer approach, but I do like to cook using regional produce," explains Giorgio. He likes to use everything a region has to offer. Fish from a nearby lake are preferable to lobster from England. "At the moment sushi is very popular, which I don't really understand." He makes the radical claim that sushi should be eaten in Asia. When cooking, he tries to tamper as little as possible with the meat and vegetable produce he uses, to keep it as natural as possible.
This evening, Giorgio and Holly are making ravioli with a twist. Giorgio has sourced a goats' meat sausage called Cicitt from his hometown, Locarno. "The name comes from the shepherd's call to the goats, which sounds like cicitt, explains Giorgio, imitating the call. Often the sausage is prepared simply over an open fire, and is eaten with bread and chestnuts. To balance out the intensive taste of the sausage for the pasta filling, Giorgio arranges the ravioli on a creamy potato mash, and garnishes the dish with onions cooked in red wine. A sweet smell comes from the chestnuts, already roasting for the desert.
Holly and Giorgio want to start focusing on their own restaurant soon. "Ever since I met Giorgio he's been meaning to return to Switzerland and open his own restaurant, but only if I went with him." The decision is not such an easy one, however, especially after having lived in a big city such as London. "Until now everything has developed organically, but we want to settle down properly sometime," says Holly. Until that time comes, you can recreate today's menu and dream about the pair's future restaurant.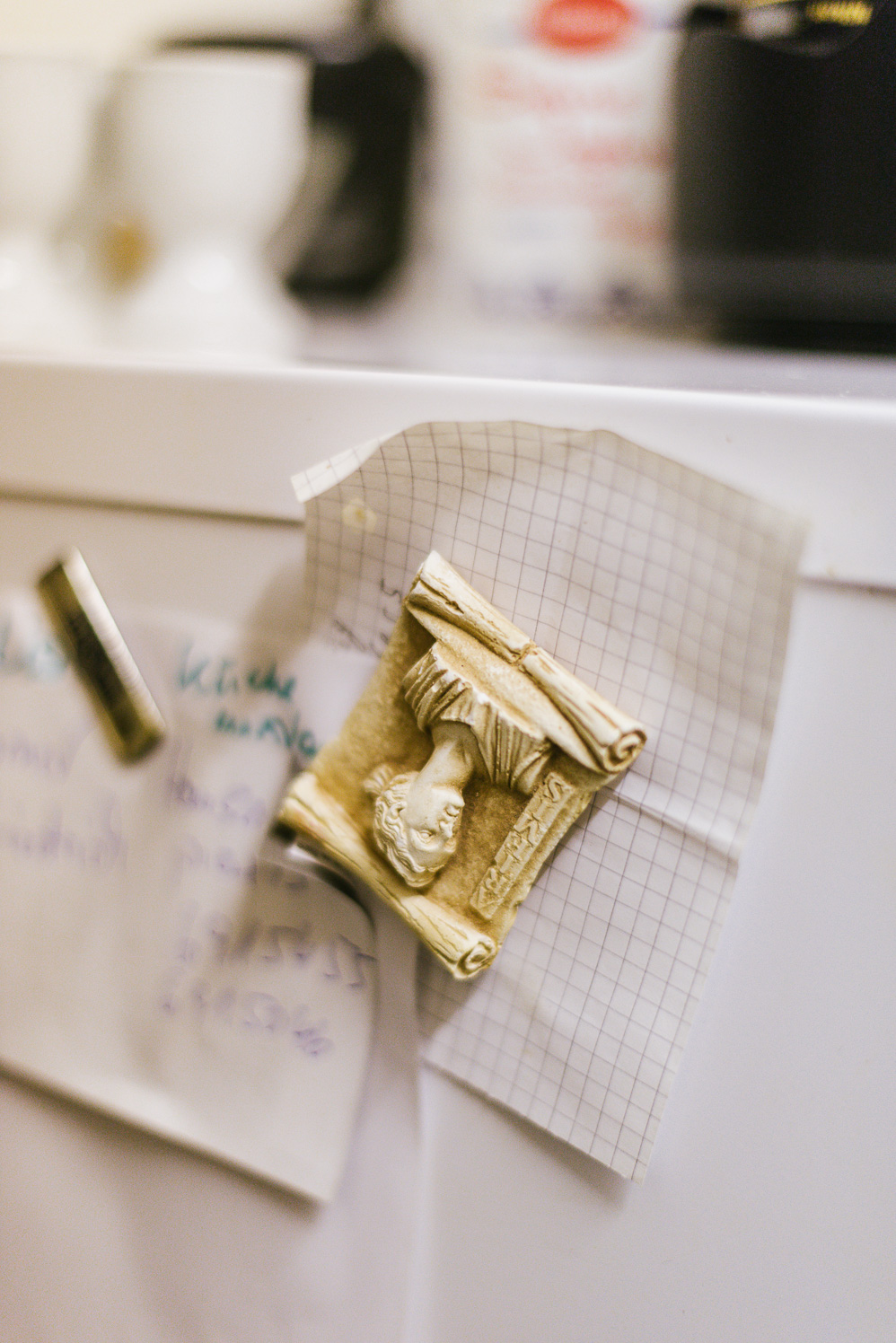 Ravioli with cicitt filling
Ingredients (for 4 people)
Pasta dough

1

310g plain flour '00'

2

2 whole eggs

3

3 egg yolks

4

10g salt

5

10ml extra virgin olive oil

Filling

1

300g minced goat meat

2

150g minced pork or beef meat

3

150g white bread crumbs soaked in milk

4

6 sage leaves thinly sliced into strips

Potato mash

1

6 small starchy potatoes

2

½ head garlic

3

3 sprigs thyme

4

salt

5

a splash milk

6

1 tbsp butter

Red onion sauce

1

1 red onion, peeled and cut into 1cm wedges

2

300ml red wine

3

olive oil

4

1 tbsp honey
Method
Mix dry ingredients in a large bowl. Whisk eggs and olive oil together and stir into the flour mixture with a fork. Knead by hand until the dough comes together and there are no signs of dry flour. Wrap in cling film and let it rest in the fridge for a couple of hours. Combine the ingredients for the filling in a bowl and season to taste. Roll out half of the dough using the pasta machine. Cut out 8-10cm large circles using metal cutters, and add a teaspoon of the filling to middle. Moisten half of the dough circle with a little water, fold in half and carefully press the ends together, ensuring the ravioli are well-sealed. Cook for one-and-a-half to two minutes in boiling water.
Potato mash:
Cook the unpeeled potatoes in salted water with the garlic and thyme until soft. Peel, and blend together with the warmed milk and the butter to make a fine velvety purée. Season to taste with salt and pepper.
Red onion sauce:
Cook the red onions in a small pot with the red wine on medium heat until the wine has almost reduced. Strain through a fine sieve, put the onions aside and season the wine reduction with salt, pepper, a dash of olive oil and honey.
Savoy cabbage:
Cut the leaves of one small savoy cabbage into 4cm x 4cm squares and blanch for 15-20 seconds in boiling water. Drain the leaves, and keep warm in a pan with butter.
Vermicelles tarts
Ingredients (for 4 people)
Chestnut paste

1

500g vac pac cooked chestnuts

2

150g caster sugar

3

milk

4

1 tbsp butter

Sablé Breton (30 biscuits)

1

150g salted butter, at room temperature

2

2 tsp fleur de sel

3

4 egg yolks

4

1 Egg

5

200g sugar

6

210g all-purpose flour

7

4 tsp baking powder

8

1 tsp water

Crème fraiche

1

300g crème fraîche

2

2 tbsp caster sugar
Method
Chestnut paste:
In a non-stick pan heat sugar and butter to make a caramel. Add chestnuts and milk, and let simmer until the chestnuts have softened. Blend to a smooth paste.
Sablé Breton (30 biscuits):
Cream together salt and butter in a bowl for approximately 30 seconds. In a separate bowl whisk egg yolks, gradually adding the sugar. With the mixer on a low setting, add the egg yolks to the butter. Sift together flour and baking powder in a small bowl, and stir into the butter and egg mix.
Wrap the dough in clingfilm and chill for at least one hour. Roll out between two sheets of baking parchment to 1.25 cm thickness. Use an 8cm biscuit cutter to cut circles of dough, and place on a sheet of baking parchment at least 2cm apart. Chill until firm. Preheat the oven to 180°C.
Beat the egg with a teaspoon of water and brush the tops of the chilled biscuits with the egg wash, using a fork to hatch a pattern. Bake the biscuits in the middle of the oven for approximately 15 minutes, or until golden brown. Remove from the oven and let cool.
Crème fraiche:
Whisk the crème fraîche with the sugar until firm and fluffy.
Place a large spoonful of the mixture on each biscuit base. Put the chestnut paste in a spätzle presser, and cover the biscuits generously. Garnish each tart with a black or red berry.