The thing with starting off on a zero-waste journey is that it can be difficult to know how exactly to take those first steps. With sustainable cooking, most of us would like to throw ourselves into it with abandon, but it can seem somewhat daunting for a beginner. When you're a novice at these things, the result can seem so lofty that it may be tempting to give up at the first hurdle.
Enter Monica Kisic, scientist, chef, creative, and zero-waste guru. Monica has had an illustrious career and path in education, and in 2018 she founded Roots Radical, a Berlin-based, zero-waste kitchen and community hub that facilitates educational workshops, events, and gatherings. Through Roots Radical—alongside her other initiatives and collaborations—Monica seeks to make connections, fight food waste, and connect gastronomy with creativity.
We reached out to Monica for a zero-waste recipe and she kindly gave us the inside scoop on how to create a sustainable and delicious Cauliflower Satay. This recipe can be daintily plated and arranged for an intimate dinner party, or doled out buffet-style for a more casual, festive atmosphere. The entirety of the cauliflower is used—no throwing out the leaves!—and Monica advises on how to whip up the tastiest satay sauce and kimchi paste.
Cauliflower Satay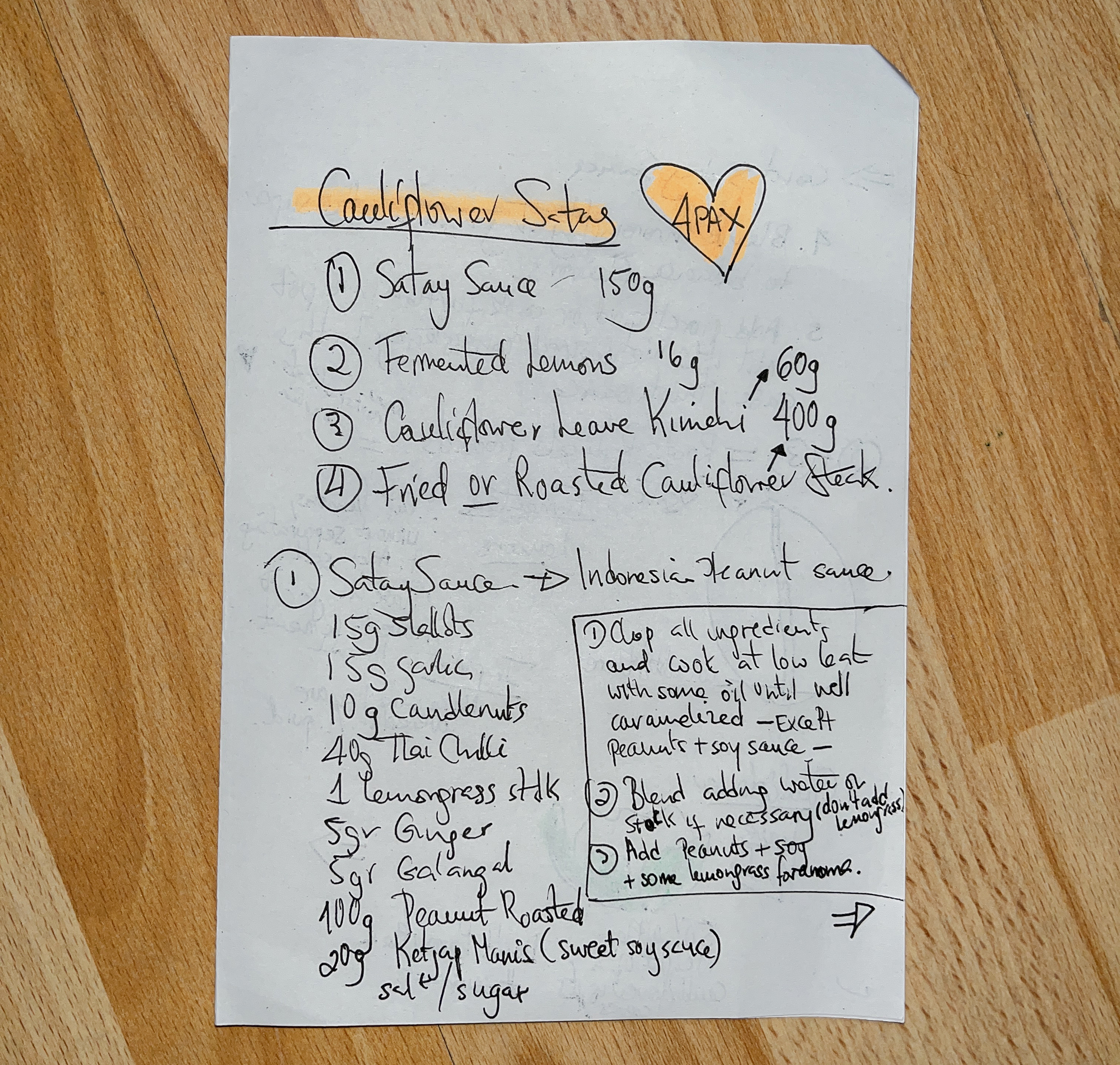 Ingredients
16g fermented lemons
60g cauliflower leaf kimchi
400g fried or roasted cauliflower steak
Satay Sauce

15g shallots
15g garlic
10g candlenuts
40g Thai chilli
1 lemongrass stalk
5g ginger
100g roasted peanuts
20g Kecap Manis (sweet soy sauce)
5g galangal
salt and sugar

Kimchi Paste

200g garlic
60g ginger
70g onion
90g red pepper
30g fresh chilli
15g chilli flakes
60g sugar, or slices of apple and pear
15g salt
Method
Satay Sauce: Chop shallots, garlic, candlenuts, Thai chili, galangal, ginger, and wok on a low heat with cooking oil until well caramelized. Then blend, adding water and stock if necessary. Afterwards, add the peanuts, sweet soy sauce, lemongrass, and blend thoroughly. Add salt and sugar to taste and balance flavor. To achieve the desired consistency, blend further with more liquid or cook further in a pot. The satay sauce for this recipe works best if thick
Fermented Lemons: These can be purchased at zero-waste shops and stalls, or can be made yourself by cutting through the lemon without separating it, adding salt, and leaving in a jar for one month. Ensure the lemons are covered in liquid.
Kimchi Paste: Take all of the ingredients for the paste, chop, and then blend well.
Remove cauliflower leaves and mix with 6% salt-brine (this is 6g of salt for every 100ml of water). Leave to steep for 12-24 hours
After this time period, strain the leaves, then add the paste and massage well. Leave to ferment for one week, making sure everything is well submerged
Cut cauliflower steaks with their trunks. Fry at 200 degrees until it caramelizes and changes color, or bake at 160 degrees
Serve all together on a plate or buffet-style—as shown in Monica's diagrams!
Thank you to Monica Kisic for her Cauliflower Satay recipe.
Monica is a scientist, chef, and artist, based in Berlin and originally from Peru. Monica has a zest for connecting the process of making and consuming food with anthropology, music, culture, sounds, visual arts, and space. Monica has studied extensively in the areas of gastronomy and science, including raw cuisine at Matthew Kenney's Culinary school and a PhD in Molecular Biology at Universidad Autonama de Madrid.
Monica works collaboratively with a variety of creatives and disciplines in her various projects. In 2018, she founded Roots Radical, a Berlin-based community fighting food waste who operate in the canteen at the Atelier Gardens Campus in Alt Tempelhof. They host and facilitate zero-waste workshops, with the goal to educate, empower, and contact. They have also created a new branch of Roots Radical called "Good Food", a zero-waste catering projects that caters for all of the events taking place at the Atelier Gardens Campus. Their products are available at their headquarters there and also via their online shop, including hot sauce, kimchi, and garlic paste!
Monica is also the founder of Eiseis Berlin (a zero-waste ice-cream brand, which facilitates events and parties and does pop-ups) and No-Waste Catering Berlin.

Text: Ellen McBride
Images by Monica Kisic, Ana Torres