With its ample space for artists to retreat and create together, Casa Balandra is an up-and-coming residency in Mallorca, Spain for artists from all walks of life. We spoke to Co-founder Claudia del Olmo, who grew up in the house where the residency is hosted, and caught a glimpse of its recent residents at work. 
How did you become interested in art, design, and creativity?

I've always been creative—painting ever since I can remember, formal art lessons since five, A-level art. Even when I watched TV as a child, I would turn on the home decoration or cooking channel. I grew up in the house where Casa Balandra is, which gave me the space to get messy and create—something that is still true about the residencies today. I also studied architecture for one year before switching to a design degree in university, which challenged me to think more conceptually.

What did you do between graduating and setting up Casa Balandra?

After graduating, I worked in various creative jobs in Paris and London, meeting many creatives along the way. I've always been interested in hospitality, and when I learned about the art residency Villa Lena in Tuscany, I thought, "Okay, this is exactly what I want to do." I went there for an internship, helping out with the reception, restaurant, and residency so that I could get an overview of the entire place. While I was there, I met the owner of Numeroventi, another residency in Florence, where I ended up interning for a month. I never spent a lot of time doing one thing or being in one specific place. I wanted to have as many different experiences as possible, so that I could learn from them and create something that was uniquely my own.
"We treat Casa Balandra like it's our playground for different concepts, just trying them and seeing where they go."
What inspired you most from your time at Villa Lena and Numeroventi?

Being surrounded by creatives during that life-changing moment of just graduating and trying to figure out what to do and who to become. I became motivated, inspired, and confident. I learned that it is okay to wait for things to happen organically, to go for experiences without waiting for the so-called perfect moment. I developed a human-like approach that I apply to all of the work that I do, including here at Casa Balandra.

What did you do when you first moved back to the house in 2020?

First, we took the furniture out of the house. When my family moved eight years ago, my parents took what they liked and furnished the place enough for it to be rented out. But what was once a home became a house, with all of its magic gone. When I came back with Cecile, our main focus was reinstating that magic. We had a small budget, so we weren't going to restructure the entire house. It has stayed the same except that the furniture and kitchen is new, and there are two new bathrooms. We had no method—neither of us are professional interior designers—and it was very organic. 

Then we painted the walls white as they were all different colors, a bit yellow too. We put a call-out on Instagram to see if anyone could come help us, and three girls came over: One Cecile knew, one had gone to university with us, and the other one didn't know either of us. It was a really nice mixed group to paint with.

As we were ready to purchase things for the house, Spain went into lockdown. Cecile was traveling at that time, so she went back home and got stuck in Switzerland, while I was here. We couldn't go to any supply or furniture shops, so we had to think realistically. My sister, who is more logical than I am, called me one day and said, "This is stupid, I think we should hold out. I don't know how long Coronavirus will last. Why are we opening something in hospitality now?" Me being me, I said, "No, we're going to do it. We have the idea and we have to go ahead." 

From then on, everything came together really fast. We had our first guests from mid-February to June, and during that time there was still a lot of work to do. But we never wanted to 'finish' the residency, as we wanted to leave space for all of the stuff that will accumulate throughout the years.
"We had no method—neither of us are professional interior designers—and it was very organic."
Why do you think Mallorca is a good location for artists?

Mallorca has always had a huge creative community, but the island is currently revamping. Since the pandemic, many young creatives are reconsidering the city life, and many are moving here. Mallorca is amazing because you have the greenery, the mountains, and the ocean. You have space to think and a calm environment to create in. From the moment that you step out of the plan, you immediately feel the rhythm of the island.

How do you send a call out for the artists, and how do you select who comes?

For the first three residencies, we invited most of the artists. From January, we are going to have applications. This is going to be really different and interesting—and of course exciting. We'll be able to see how interested people are, and what impact we have made so far.

How does living together influence the artists' works?

The first residency was an incredible start to Casa Balandra—super chaotic, loud, amazing. They became really close and started influencing each other's work, appreciating one another's criticisms and advice. During one of our recent residencies, we had only two artists who were both doing textiles. While they weren't influencing each other's work per se, they shared new techniques with each other.

Because the residency is only a month long, you're probably not going to create something that is completely different to your current work. Still, by coming here, you're inspired by other creatives that you've never met, all of whom have different practices and ways of working and thinking.
How do you try to foster a community at the residency?

During the residencies, we will have at least four family meals. This is to make sure that everyone feels comfortable, that they feel like this is their home too. Over time, what ends up happening is that everyone will start cooking for each other and having meals together. We've had artists cook amazing Persian and Indian meals, and my favorite meal to cook is pasta. The socializing aspect of the residencies is quite easy and happens organically.

What does an average day look like for you?

It depends on the day. There will always be emails to answer. There will also probably be something in the house that needs fixing. If somebody asks, we may need to drive them to the art supplies store or take them somewhere on the island. We are always happy to guide the artists, but people are generally independent. Oftentimes, we will get distracted and have really long lunches. Right now, we are thinking of different collaborations, planning for events in the summer, and trying to think about the future.
"I wanted to have as many different experiences as possible, so that I could learn from them and create something that was uniquely my own."
What is the relationship between the residency and the local community in Mallorca?

Since I haven't lived on the island for six years, returning was daunting. The most intimidating part for me concerned how the local community would think about the residency. But slowly, we are becoming more in touch with the local community. It's something that I want to focus more on, but it's been a whirlwind with the ever-changing Covid-19 regulations.

What are your plans and dreams for the future?

We are thinking of getting a bigger property, so that we can function as both a hotel and residency. More food-based stuff, maybe a pop-up restaurant. We treat Casa Balandra like it's our playground for different concepts, just trying them and seeing where they go.
During our visit to Casa Balandra, we had the pleasure of meeting several artists in residency. From up-and-coming sculptors to mid-career curators, the artists we crossed paths with come from different cultural backgrounds, creative fields, and career stages. All are bound to leave lasting impressions—not only on each other but on the identity and legacy of the residency in the years to come.
Anousha Payne

Anousha Payne is a rising London-based contemporary sculptor and painter. Most of her work is inspired by her Indian and Irish heritage, and in particular the religious and folklore stories from these cultures (FAD Magazine). Through her hybrid-objects which blend human-like and figurative imagery, she explores how humans relate to spiritual experiences (The Ingénue Magazine).
---
Klas Ernflo
Stockholm-born and Barcelona-based Klas Ernflo is a multidisciplinary visual artist who produces a wide range of pieces, including drawings, paintings, sculptures, installations, and artworks using textiles (Marta). His work—soft, round, pastel—invokes a common, well-crafted yet childlike calmness (Sight Unseen).
---
Cassi Namoda
---
Camilla Reyman
Camilla Reyman lives in Copenhagen and works within the fields of abstract painting, sculpture, and installation art. She is a curator at C4 Projects, a non-profit, artist-run exhibition space in Copenhagen that hosts workshops, readings, and talks in addition to art exhibitions (C4 Projects). Her work is driven by an interest in sustainability, evident in her choice of materials, her works' motifs, and her collaborations with other artists (Celine).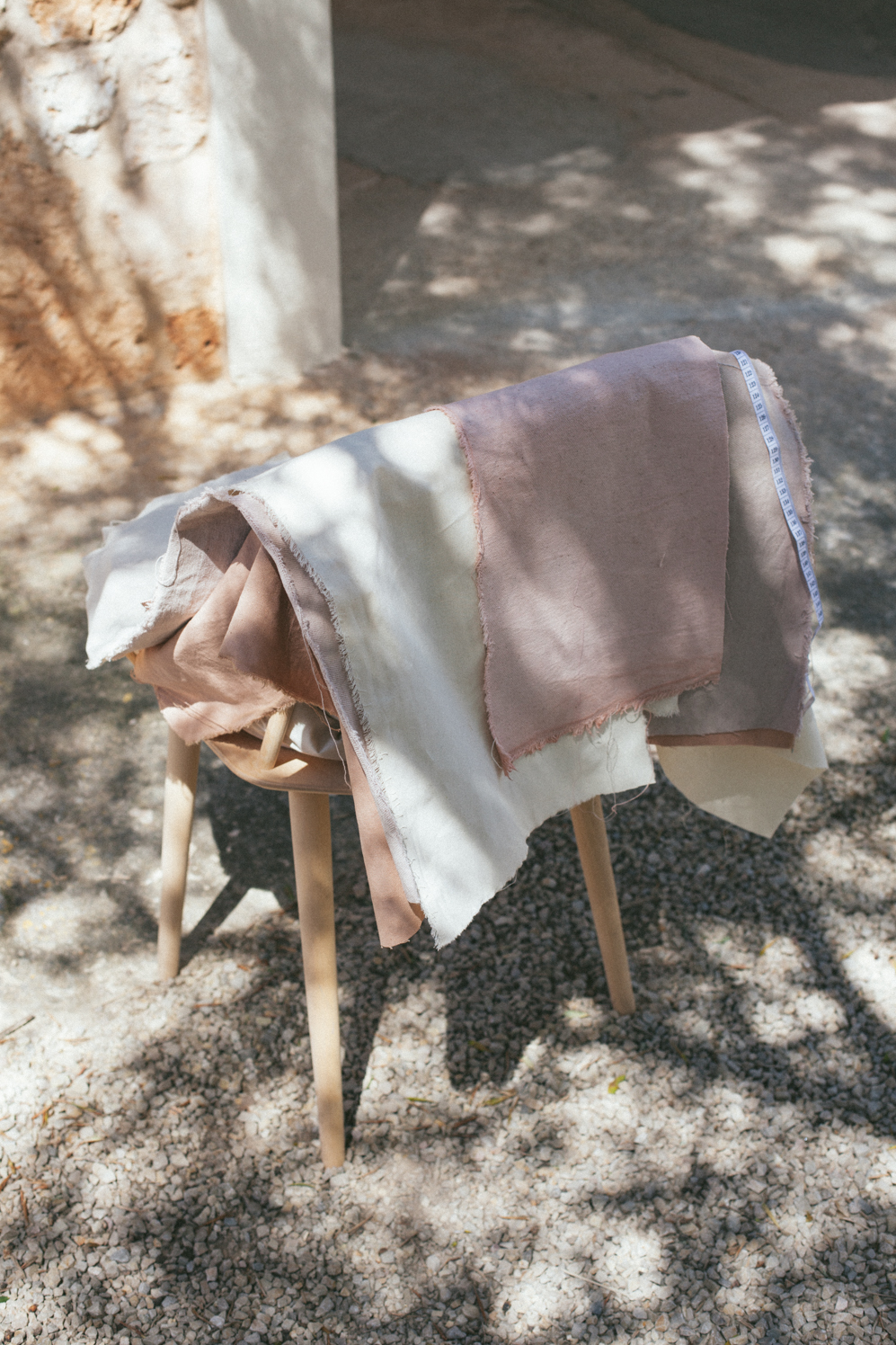 Claudia del Olmo is one of the co-founders and former inhabitants of now-residency Casa Balandra, located in the creative hub of Mallorca, Spain. Casa Balandra runs three-month-long residencies a year in November, January/February, and March, and accepts applications from all creative disciplines. Remember to visit their Instagram to be updated on current events, and their website to learn more about the program and the next round of applications. You may also check out the Airbnb page of Casa Balandra to rent out the villa.
We thank Lottie Hampson for capturing these beautiful images for this feature. Please check out more of her work on her Instagram and website.
Text: Anastasiya Varenytsya
Photography: Lottie Hampson