Nestled in the hills of Palaia in the province of Pisa and 64 kilometers from Florence, Villa Lena is a haven for solitude.
Neither coastal nor within walking distance of a town or city, the house befits a description of calm retreat. No traffic can be heard, no illuminated streets, and the closest town is, in fact, abandoned. It's no wonder that it draws a collective group of artists away from their respective cities to be enchanted by the otherworldly quiet, surrounded by woodland. The artist residence is in its third year, with an international influx from London, New York, Berlin, Zurich, and beyond. The invited artists, from across different disciplines, work from vast agricultural barns a short walk from the main house. They give talks and workshops about their respective work and engage in collaborative works, ideas and dinners throughout their stay—a time that can be as short as four weeks or as long as three months. We caught up with three of the artists residing at Villa Lena in the summer of 2016 to learn more about their creative approach and what brought them to the Tuscan hills.
Oliver Clegg
New York-based multidisciplinary artist
There's a gold Japanese Bobtail cat sitting in profile on the vast white wall of Oliver Clegg's studio at Villa Lena. His is one of several cavernous barn-turned-artist spaces on the 500 hectares of sprawling woodland in the Tuscan hills of Palaia. This maneki-neko or "beckoning cat" is often thought to be lucky, to bring good fortune, and to welcome. A positive introduction then, (if we're to submit to this particular folklore talisman) that we've come to the right place.
Just as this painting stands out distinctly from the muted palette of its surroundings—think olive groves, dusty track roads, and grey stone buildings—so too, does the artist. With paintbrush-in-his-clenched-teeth, he stands tall in royal blue Nike Air Max sneakers, tangerine striped socks and a tie-dye t-shirt. The British artist is vibrant—both visually and verbally. It's only his second week at Villa Lena and yet the only painter of the group is rapidly filling his studio walls with what could be described as classical figurative work with a modern cultural inflection. "There's three paintings in here at the moment that specifically relate to what I feel was my initial experience of getting into painting," he explains. For Oliver, 'getting into painting' meant a degree in Art History at Bristol University, three intensive years studying in Florence as a portrait painter followed by work experience at notable galleries Hauser & Wirth and White Cube. All before jumping into a Master's program—arguably a rare feat among many contemporary artists. "I had this transition from a very classical upbringing to something that was more conceptual and contemporary. And that is also coupled with moving to Cornwall, moving to New York and living in Berlin temporarily. So there's all of these factors in my work."
"I'm going to make paintings. And if people don't like them because they think they're too boring, then whatever."
Now based in Greenpoint, Brooklyn with his wife Natasha, a fashion designer, and their young daughter, the three have decamped to Tuscany for the summer. Embracing the lack of frenetic pace and almost-non-existent cell phone service at Villa Lena—Oliver welcomes this time to focus on painting. "The environment is always important. I'm not in New York with the pressure of deadlines or the pressure of people coming to see my work. There's always some kind of feeling of being watched in an urban environment and working among your peers. The best thing about being in Italy is the separation from your normal context." This departure from the everyday including the steady influx of distracting emails and "the seduction of social media" which he has a love/hate relationship with has granted him a luxurious amount of time for the white canvas—of which he doesn't appear to have too much anxiety over. "I've always been interested in the focus of painting, and specifically Spanish painters like Velázquez and Goya—there's this sense of wanting to impress myself to the standard of what I should be able to achieve."
Contrast and the balance of light and shadow are recurring themes along with sharp bursts of melancholy with a welcome relief of pop-infused humor—a combination that ensures his work remains engaging and relevant. "At a certain point you're getting weighed down by the melancholy of these sad paintings that I knew were quite often relating to the loss of my father," explains Oliver. "I arrived in New York, my work was changing very quickly, the influence of neon and scale and the social dynamic of being in the city as opposed to being in the remotest part of the south west of England. As a result, I started organizing these games nights with Cabinet Magazine." The nights included foosball and chess, played with pieces and on boards made by Oliver. "I began to realize that my social interests could start informing my practice."
Light and Shadow
Melancholy at play in the work of Oliver Clegg
At thirty six years of age, Oliver has recently published his first monograph. With text by editor in chief of Cabinet Magazine, Sina Najafi (a friend and co-host of the recurring games night in Brooklyn), it showcases his breadth of work in several mediums. While his time at Villa Lena is channelled into oil painting, Oliver is also distractingly adept in other art forms—from printmaking to sculpture and using a wide range of materials including canvas, wood, metal, resin and neon. "I'm pleased I did oil paintings in the beginning because for me it's about this sense of not losing touch with things that had taken centuries to evolve and people going 'oh, well, actually we don't need them anymore.' And I think Italy's an interesting place to be considering that…I've got six weeks, I'm going to make paintings. And if people don't like them because they think they're too boring, then whatever."
Nathalie Dewez
Brussels-based lighting designer
The lights are out as we stumble onto oversized beanbag chairs in what would have been the formal parlour room of Villa Lena's ground floor. Silhouetted by the projector screen, the Belgian artist, Nathalie Dewez is discussing her design work—from light fixtures and table-top objects to large-scale installations. A long list of design houses she's worked with (Ligne Roset, Hermès, Habitat and Established&Sons to name a few) give some indication of the calibre of her work. For Nathalie, the choice to create lighting was less about the object and more about its interplay and impact it can have with a space. "I studied interior architecture design at university and it's always been a dialect between spaces and product—really it's still like that in my work—the space around the product is really important," she explains.
Nathalie is usually based in Brussels where she initiated her own design studio in 2002, but having been invited to spend a summer as one of Villa Lena's artists in residence, she's currently ensconced in group workshops, exploratory trips to Florence and nearby towns, and idle moments poolside. Her work ranges from small one-off pieces for individual clients, ongoing series' for established design brands such as Ligne Roset, to much larger-scale installations including the giant inflatable pendant light for the MUDAM Museum's main hall in Luxemburg. "I have lots of different rhythms in my work. I like working on different scales, some projects just take a few weeks and some take years!"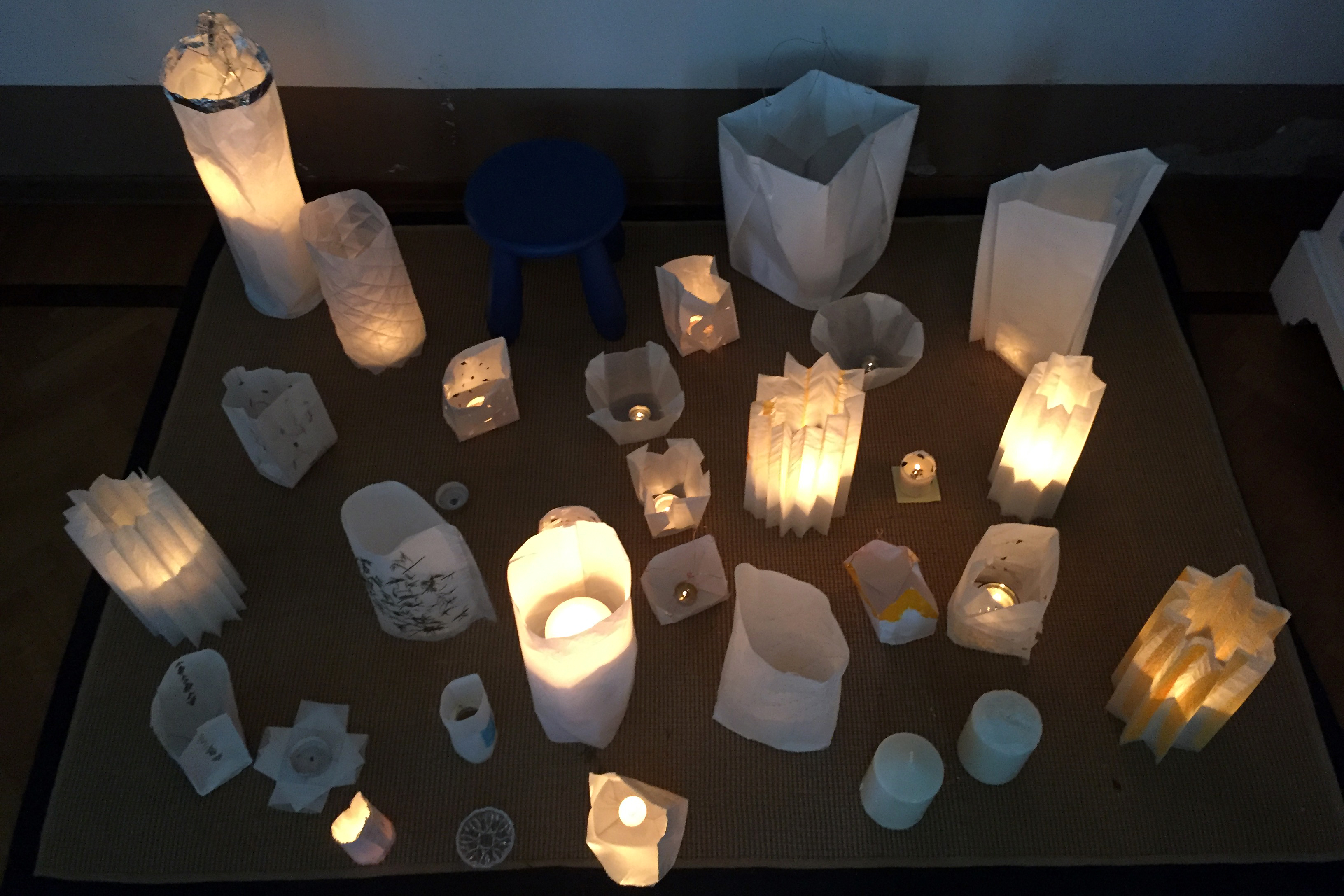 "For me it's all about creating tension in the object."
While her creations are rooted in functional, albeit simple forms, Nathalie has an eager attitude towards technological developments, keeping her work timely and up-to-date. Her choice of materials shy away from a signature aesthetic as she flits between different metals, colored glass and reflective surfaces that often incorporate LEDs. "In 2009 I really wanted to design a desk lamp with LEDs—they only work in 12 or 24volts, which means you need a transformer box, which is really annoying because you never know where to put it. But I thought, 'what if I use that box to hold it so without it the lamp will fall?'" Nathalie is now launching this very lamp as a small range in Belgium, designed by her and made locally. "It's a very exciting field as the technology is changing fast so you have loads of different things you can try each year—so I keep on doing it!"
Shedding Light
The luminous installations of Nathalie Dewez
'Reflector' installation for IDETA building offices – 2014

Brass 'Ellipse' pendant light for DANDOY shop in Brussels – 2015

'Flight' pendant lamps for private staircase – 2008

Permanent 'Mobile Light' in the main hall of the MUDAM (contemporary Art Museum in Luxembourg) – 2011
The day after the night before's talk, we walk down to Nathalie's barn-turned-studio. The sun is bright and blazing high above our heads and the dark barn is a welcome shady cavern. The expectation of seeing lots of working light fixtures is quickly extinguished as we're greeted by Nathalie, who is busy folding blue and yellow squares of paper. "At the beginning of my stay here at Villa Lena, I hosted a one-day workshop on paper folding and lanterns," she says, matter of factly. "That brought me to work on paper folding, as you can see!" These models in various shapes and concertina folds formed part of Nathalie's research. The resulting design was a folding pendant lamp in perforated metal entitled 'Flying' for the the exhibition in Brussels at the Spazio Nobile Gallery.
As a thank you to Lena and Jerome for hosting her, Nathalie is in the process of creating a fixture for Villa Lena's restaurant. "I have to say that spending a part of the summer in Italy in such a beautiful and remote place does not really urge you to work," she says, laughing. "But I actually really enjoyed the slow pace and meeting the other talented artists. I'm still working on the main project, which will be quite important for the redesign of Lena's restaurant." Her use of simple lines and delicate geometry will no doubt come into effect, adding her own touch to the 19th century Italian mansion. "For me it's all about creating tension in the object. More and more I try to really understand how it works and the reflection of it—and I'm finally at a point where I have a comfortable understanding."
Hazel Stark
London-based designer specializing in screen-printing and dyeing with natural dyes
Hazel Stark is wielding a pair of scissors as we walk through the dense olive groves of Villa Lena. As one of the artists in residence for their 2016 program, Hazel is keen to use her time by experimenting with some of the available flora across some of the villa's vast 500 hectares of land. "I'm going to make my way through all the abundant plants here! I hadn't used olive trees before and I'm testing bay, thyme, and St. John's Wort," she says, as we bring cuttings into one of several gargantuan former agricultural barns now being used at artist studios. "I'm discovering so much here, it's obviously very different from Peckham in London where I live!"
Hazel moved into textiles only after graduation from Falmouth College of Art in Cornwall. "I was freelancing and helping a friend with textiles as a sideline, really. And then it just took off," she says. "I was using synthetic colors and screenprinting and I just felt my work wasn't in line with my principles—I'm really interested in sustainability and I always source organic products. So I started playing around with natural dyes and then realized it could be a viable alternative if I find the right processes and the right suppliers. I then started looking at the best way to scale it up."
"The textile trade and dyeing in particular is one of the most polluting industries."
Born and brought up in a small village in Surrey, England, Hazel was surrounded by plants from an early age. "My mum's a gardener and we were growing our own veg before it was ever a 'thing'. Then my parents split up and my dad moved to London so I had this great mix of going to museums and galleries and then being in the country." After working with clients including Ally Capellino and Granger & Co, Hazel is now studying at the Royal College of Art with a focus on advanced sustainable textiles—an area she's keen to push forward. "The textile trade and dyeing in particular is one of the most polluting industries, especially the bleaching of cotton," she explains. "There's a few places that are starting to use really ancient ways of doing things. For example, there's a dye house near here that does yarn dyeing for the luxury knitwear brands and they're starting to use natural dyes. It's going to start getting into the luxury market, which will then hopefully filter down."
Working on an artisan level at Villa Lena, Hazel focused on responding to her current surroundings and creating a palette of colors that matched the environment. "At the moment I'm sampling the colors and I noticed in the villa there's amazing tassels, tying back the curtains and on door keys. "I'm going to visit some historical tassel makers in Florence and use some of their silk yarn to dye and create pieces for Villa Lena," she explains. While the rich colors of royal blues, reds and deep purples aren't easily achievable naturally, Hazel has discovered some surprising discoveries when using plants. "This bay leaf came out really pink and you would guess St. John's Wort comes out a sunny yellow but actually it's this great olive color. I discovered it can also be red because in the middle of the bud the stamen is red. So the same plant can be used in several different ways."
Hazel's Naturally Dyed Yarns and Tassels
Using plants found at Villa Lena, Hazel's yarns will be used to make tapestries and wall hangings
Collaborative project of styling and photography documenting with Leah Pipes Meltzer at Villa Lena.
For a textile designer who has always concentrated on vibrant colors in her work, Hazel now relies on these discoveries to develop new colors and create tapestries, wall hangings, tableware and tassels from the dyed yarn. "Once you start using natural colors the difference is amazing. It's the difference between seeing colors in nature and say trying to capture them on a digital camera. Once you start comparing them, the synthetic colors can seem really flat. And on a very basic level, like eating good food, it just feels better."
Thank you Hazel, Oliver and Nathalie for showing us your studios at Villa Lena and introducing us to your work.  Interested in visiting Villa Lena? Check out their site here or apply for residencies at Villa Lena, see here.
Text:Andie Cusick
Photography:Greta van der Star & Robert Rieger