Founded in 2018 by curator Scott Cameron Weaver, O-Town House is an exhibition space in the historic Granada Buildings of MacArthur Park, Los Angeles. Unlike a traditional gallery, the space functions as a platform for creation and collaboration that aims at redefining how art is made and sold.
O-Town House is a self-proclaimed flexible space. Not only is art shown and discussed there, but it is also the home of its founder, Scott Cameron Weaver, who has agreed to show us around. As the founder's home, the space has a domestic intimacy typically lacking in the white cube mode of display that dominates exhibition spaces. His collection and placement of objects throughout O-Town House appears to be as intentional as an art installation, whether they are part of the official program or not. "This little succulent was an art piece; it was in a urinal and I didn't know what to do with it, so now it lives here," says Weaver, pointing to his eclectic collection of potted plants on the terrace. "I try to keep this space clean," he quips as we enter the kitchen, where Wolfgang Tillman's photograph Dirty Dishes (1995) hangs above the sink.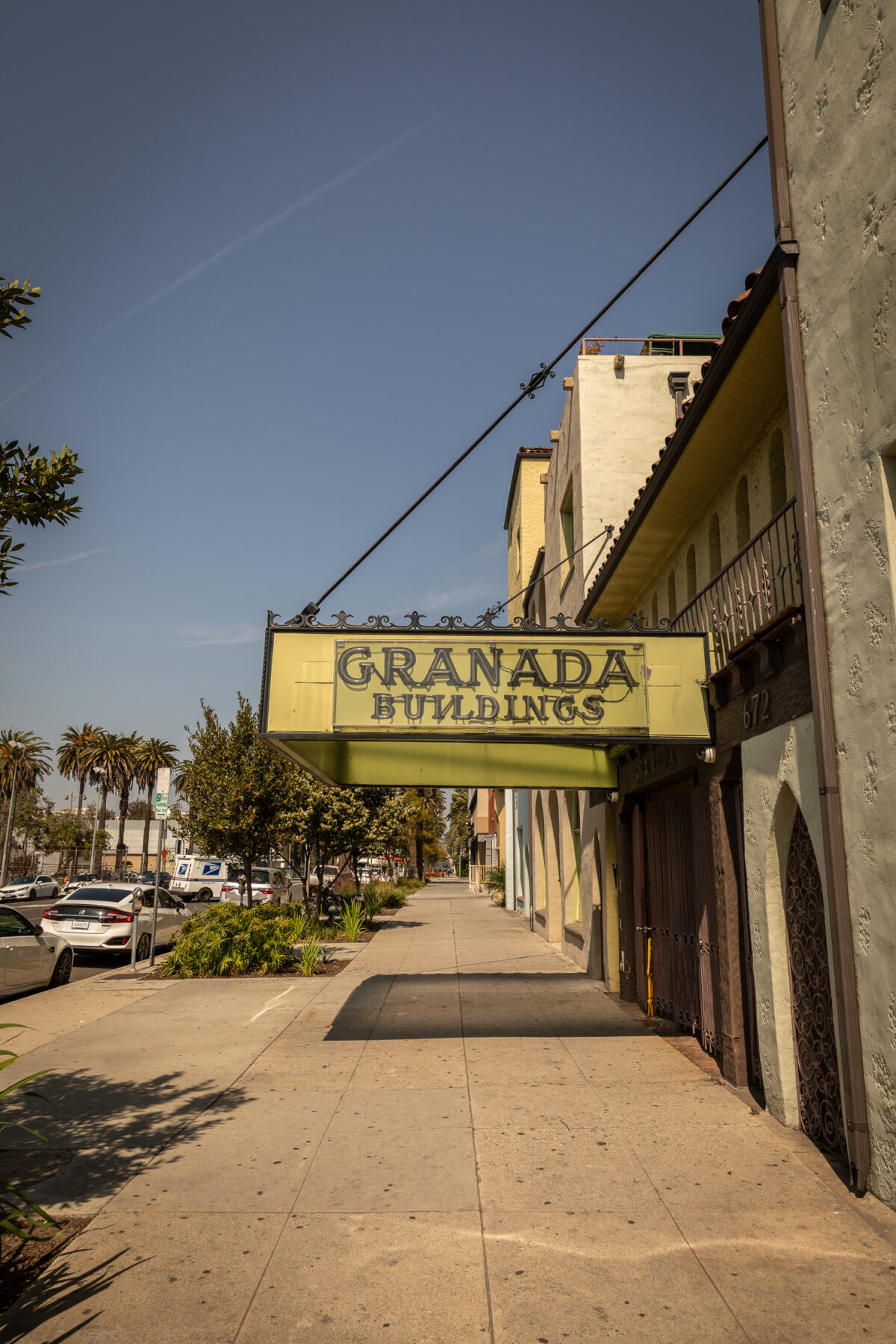 MacArthur Park, where O-Town House is located, was considered to be L.A.'s premiere arts district from around 1918 until the mid-1950's. It was home to the original Otis Art Institute, LA's first independent professional school of art, and its community. Similarly, the Granada Buildings, which include O-Town House, became known for providing access points between artists, artworks, and the public. Weaver—who moved to the area after long stints in Berlin and New York City—was inspired by this history. "Nothing here is typical. The Granada Buildings themselves were designed by Franklin Harper, a journalist playing architect." The complex's two-story studios were originally built as live-work spaces in 1927, and their inconsistent facade lends an air of individuality to each studio, which Weaver is committed to channeling in his own program.
In 2019, O-Town House was home to the artist Suzanne Jackson's show 'Holding on to a sound'. This marked Jackson's return to the Granada Buildings, where she previously ran the exhibition space Gallery 32—which hosted a number of ground-breaking exhibitions that engaged a community of young and political artists—within her art studio from 1968-1970. At the time, Jackson was a student of Charles White at the Otis Art Institute around the corner. White's philosophy that art could be an effective vehicle for community activism and social change inspired Jackson, and Gallery 32 became an important venue that hosted discus­sions, poetry readings, and fund-raisers for social causes. The gallery also became one of the few art spaces in Los Angeles to exhibit emerging African American artists such as Gloria Bohanon, Emory Douglas, David Hammons, Betye Saar, and Timothy Washington. In 1970, Jackson organized 'The Sapphire Show', the first L.A. survey of African American women artists (Hammer Museum).
It's not a white cube. But is it a commercial space or not? I like how this makes people wonder. It makes them think twice about it. There are so many ways to think about what an art space should be"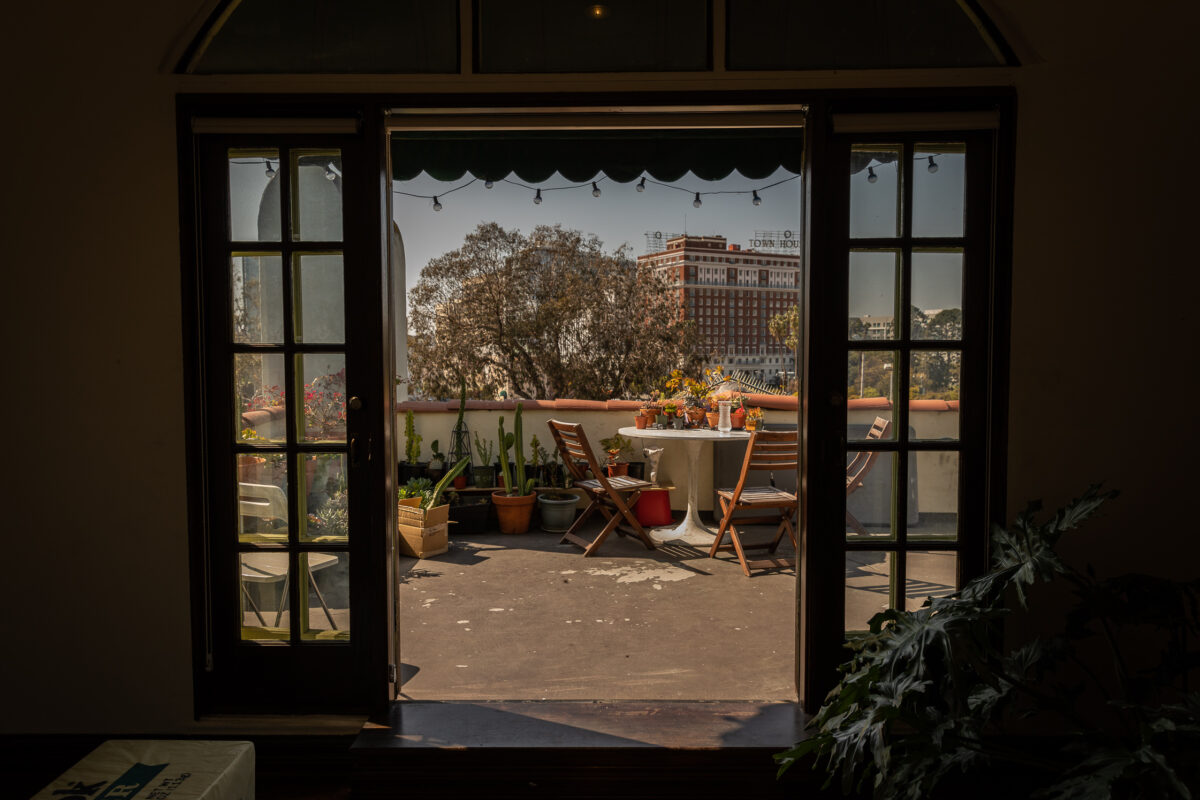 For her 2019 show at O-town House, Jackson displayed paintings that wavered between formal and figurative explorations of both abstract and immediate personal narratives. Weaver describes them as both "lyrical and surreal…in their material presence." A selection of old ephemera from the programming at Gallery 32 was also on show. The exhibition portrayed an artist whose commitment to social change through art sustained her own practice, all the while championing the work of friends and colleagues, many of whom became gallery-heavy hitters. Her hybrid use of space feels prescient today, and had an obvious impact on Weaver, who even kept her same gallery hours, 1-7pm, for the duration of her exhibition.
Through Weaver's reconstruction of Boskovich's 'Psycho Salon'—the result of a longer process of rediscovering his forgotten work—O-Town House also became a place of resurrection for the late Los Angeles artist John Boskovich. The exhibition was an interpretation of a room from the Boskostudio, the Los Angeles artist's studio and residence where, according to Boskovich himself, "drama flourished abundantly." Weaver's devotion to this remake transformed the gallery's main exhibition space, lending it an eerie feeling with green painted walls, blood-red curtains, and a pentacle-patterned rug. Following the artist's own vision, the show merged the distinct notions of "looking at" and "living within." In fact, as noted by writer Juliana Halpert, Boskovich "wanted a home that made no distinctions between sculpture and furniture, curation and decor, art and everyday life," a philosophy not too unfamiliar from O-Town House's own blurring of habitat and gallery space (Frieze).
"O-Town House is a place where something can happen you didn't even know you wanted. Something unexpected."
When asked about his inspiration for the name O-Town House, Weaver responds by pointing to an O-shaped window in the main exhibit room: "That building across the park used to be the Sheraton Townhouse. Most of the letters fell off and now it's just O-Town house. That's what inspired the name. It was my 'Ed Ruscha' moment." The shaping of O-Town's programming evidences Weaver's ability to unearth past material culture that ties into the present moment, carrying on the experimental spirit of the Granada Buildings and a kinship with Southern California art history and visual culture. He champions artists by creating historical narratives and generating precedents for young practitioners today.
Amidst a time of deep uncertainty during the pandemic, Weaver's show 'Pathologically Social' was a timely exploration of how we can exhibit art across platforms, being that the show was displayed at the gallery as well as on O-Town's website and social media. The show simulated a gathering of diverse artist personalities, as Weaver employed a witty sense of anthropomorphism to animate the space and the artworks: Henrik Olesen's metal rod sculpture stood guard at the "gates of the show", Felix Gonzalez-Torres' text emblazoned the high ceilings, and Jenny Borland's portrait photo blanket endowed a sense of humanity by inviting guests to sit beside her likeness on the sofa, all while being 'pathologically social'.
"I like how this place makes people wonder—it's not a white cube, but is it a commercial space or not? [The space] makes them think twice," Weaver explains as he wonders about the role of a gallery and responds to a question of our time: is a gallery the space or is it the program? For Weaver, Suzanne Jackson, and many other artists he works with, the gallery concept is centered around hybridity. The definition of hybridity contains a diverse range of subheadings, but at its most basic level, the word implies the mixing of two or more elements to create a third. A multitude of hybrid art forms exists that transgress the confinements of conceptual schools of thought.
Hybrid forms of space and practice—like a journalist playing architect or artist-activist—can eliminate the clear-cut and sometimes artificial delineations between genres, classifications, production, and presentation. For Weaver, this drives the exploration of how the tailoring of an art space affects the way we engage with the work inside. His intimate approach accumulates histories, rather than purging them—it threads narratives across exhibitions, rather than deleting them between programs. The space brings people together to challenge theoretical contexts and think through ideas. It is a platform for engagements that evades categorizations and definitions, as we are prompted to ask broader questions around the notions of art production and representation, and the roles of gallerists, artists, and spectators. O-Town House is an enchanting place where, in Weaver's words, "something can happen you didn't even know you wanted. Something unexpected."
O-Town House is a self-proclaimed flexible exhibition space located in LA's MacArthur Park. Unlike canonical galleries, O-Town House is also home to its founder, Scott Cameron Weaver, which makes for an unusually welcoming, intimate atmosphere. O- The space is currently hosting 'big fucking sculpture and a few flat things' by Los Angeles-based artist Adam Stamp which will be on view until January 8th, 2022.
Text: Lauren Atkins
Photography: Coryander Friend