When googling images of Dubai, page after page of gleaming chrome skyscrapers and teal blue marinas appear.
But, despite this being the most populous city in the United Arab Emirates, people are curiously absent from the search results. When they do emerge it's in highly curated stock photographs—a glamorous blonde gazing from her hotel balcony, a thrill seeker captured mid skydive, or a group of friends playing water volleyball—rendering it almost impossible to know what day-to-day life in Dubai actually looks like.
For his series 'Under Construction,' Alex Atack, a British-born, Beirut-based photographer and radio producer, reveals a rarely seen side of the UAE. "I think Dubai can be more normal than you think," he says of the city he called home for two years. "There's a pretty big gap between how Dubai appears from afar and how it actually looks and feels when you're there. And honestly, I don't think that's entirely unintentional—much of Dubai's revenue comes from international tourism and business, and to maintain that it has to keep up its image as this pioneering future city."
It's the city's guarded public persona that has, arguably, led to many of the common misconceptions that outsiders have about this region. According to Atack, one of the biggest problems is that many Westerners think of the UAE as nothing more than "a horrible soulless playground for billionaires," but this is far from the truth. "It'd be misguided to try and argue that the UAE isn't a place of huge wealth inequality," he says, "but there are also a lot of people in the middle: maybe they've owned a tailoring shop in Satwa for 40 years, or they work in an airport baggage-handling department. I think it's important in understanding the city to know that many people live comfortable, middle-of-the-road lives there."
"It'd be misguided to try and argue that the UAE isn't a place of huge wealth inequality, but there are also a lot of people in the middle."
Additionally, the money flowing through the streets of Dubai isn't limitless: "The UAE has been through various economic booms" explains Atack. "And during each of those boom periods, many construction projects have started and some of them proved to just be too ambitious once the economic situation changed. There's one picture in the series of the entrance to the proposed Universal Studios theme park, and I think this is a good example of this—only the entranceway was built before the project became a victim of economic and bureaucratic pressures."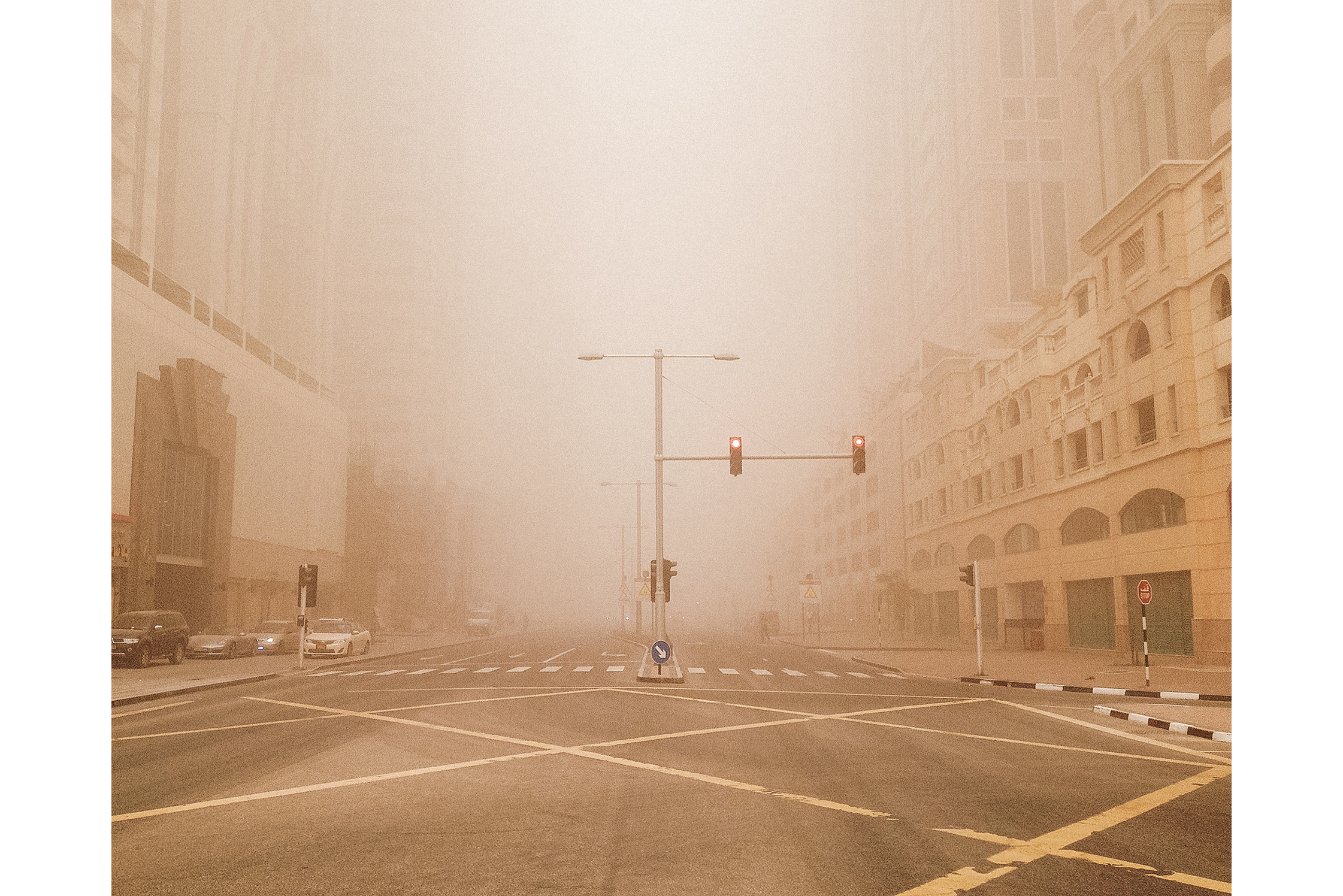 By shooting the locations that exist between the high-rises—the capital is home to over 900 skyscrapers—Atack often trained his camera on the desert from which Dubai was born. It gives his images a muted, dusty color palette that he played up to in post production—flattening out the highlights, bringing up the shadows, and dulling the luminance of the brighter colors. This technique, along with shooting with whatever camera he had with him at the time, whether it be a medium format camera or his iPhone, takes his series far away from the state and tourist board-sanctioned images of Dubai, giving the viewer a welcome glimpse into the lives of the ordinary citizens residing in this extraordinary city.
Alex Atack is a Beirut-based photographer and broadcaster. To see more of his photographic output visit his website and Instagram, or learn more about the radio documentaries he produces for Kerning Cultures here.
For more visual stimuli be sure to check out previous photo essays published on FvF.

Text: Chloe Stead
Photography: Alex Atack