Invoking a bolder, feminine power in her art, illustrator Ruohan Wang finds her strength in a new city
A conversation on the ambivalence of relocation
It was a family trip to Europe that led Ruohan Wang to make the decision to uproot her life in Beijing and move over 7,000km away to study illustration in Berlin.
"The idea was partly from my father because he thought it would be better if I could learn more about other cultures, languages, and histories," Wang recalls. "That way you have the view of the whole world and not just the view of China." After visiting a number of capital cities, including Rome, Paris, and Stockholm, Berlin turned out to be the most familiar to the Chinese-born artist—she not only saw German as the European language with the most similarities to Mandarin, but also identified strongly with German culture through film and music. "Kraftwerk is one of my father's favorite bands," she explains. "It's an old band but they were very popular in China at that time; and design history in Germany is also quite well known in China due to Bauhaus. I thought ok, I know this."
Six years later, Wang is now working as a full time freelance illustrator, juggling client commissions with personal projects—such as her recent exhibition of paintings at the Berlin and Beijing based-gallery Migrant Bird Space. Best known for her bold use of color and her creation of quirky, offbeat characters, Wang dabbles in screen printing, installation, painting, and fashion design. She's also a pro at social media: to date she has 25,000 followers on Instagram. "I think that for sure it was something important for my career because more people saw my work and I got more attention," she says. "There's another side to this though; when more artists are using Instagram you have to do your own personal style and also work to a very high quality to stand out. When there is the potential for comparison it means you always want to better and be yourself!"
This interview is part of Heimatbound, a joint project by FvF and Ace & Tate that aims to prompt conversations on the notion of home in Berlin, and why identity is always multidimensional.
"I'm not sure in the future where I'll be, but I think if I'm confused I'll always find my way back to Berlin."
If, nowadays, you can get visibility as an artist on social media, does where you live still matter?

I think Berlin plays a very important role in the creative process, especially when so many artists are living here, because it means that we influence each other. I have a very good friend, for instance—his name is Zhipeng Liang—who studied New Media Art at the same university I went to, and he's been really important to me because he knows a lot about contemporary art. For my first solo exhibition after graduation, I showed a full-wall video and some interactive gifs and that was based partly on Zhipeng's influence. Doing my work in Berlin means that I can ask my close friends "What do you think?" and they will give me another position, which I think is important.

Sounds like you're part of an artistic community.

My friends are mostly artists. A couple of them have nothing to do with art, but 99 per cent are artists! But because my German is always getting better, I'm also able to get closer to the German people and understand the culture and the city more.

Now that you've mastered the German language do you have a favorite word?

Quatsch! Before I couldn't pronounce this word…it was quite difficult for me. But I practiced a lot and I eventually got it, so now I use it often!
Did moving to Berlin affect your illustration style?

I made my style in Berlin, actually. I think before there must have been something in my head… I knew myself what was good and not good, but I couldn't realize my ideas. I learnt a lot from my professor at the The University of Fine Arts Berlin (UDK), Henning Wagenbreth, about skills such as screen printing, which is a technique I still use regularly. I also learnt from his classes how to finish one whole project by myself—from sketches to a book.

And were you at all inspired by the city itself?

I think in the beginning I used colors that were a little bit soft; but later I realized it wasn't enough for me and decided that I needed something very powerful that can touch my soul and eyes, like a lot of young people here in Berlin. My style is bright and romantic, and there's a power behind the character I've created. I think a lot of that comes from the fact that I usually use a lot of florescent colors. They're neither "female" nor "male" colors—they're in-between—but, for me, there's still a female power to them.

What are you up to when you're not working?

I like going to the cinema and also flea markets on Sundays to relax. I go to Arkonaplatz and if I want to buy some comic books then I go to Straße des 17. Juni—that's an older, more traditional flea market. I also try to go every Sunday to the indoor skate hall on Warschauer Straße. I skated as a kid but it took me a while to find the community here. This year, I found a few girls through a skateboarding blog and now we go together, which is good because I think there are not a lot of girls skating in Berlin.

After being here now for six years, does it feel like home?

I feel very comfortable. You are never weird in Berlin—that's the thing! Either look or lifestyle; nobody cares about it.
"[In Beijing] to get a fancy style you have to pay for it, but in Berlin I think everyone finds his or her own style. I get a lot of stuff cheaply from second hand stores."
Does that mean you feel more free to dress how you want to in Berlin?

The people who are represented by galleries in Beijing love to dress in a fancy monochrome style, and in Berlin it's totally different. In Beijing, designers or artists always have the black or white looks—you can find exceptions, but it's usually always like this and it's always to do with money. To get a fancy style you have to pay for it, but in Berlin I think everyone finds his or her own style in an easy and creative way, you just have to decide which decade you are going for. I get a lot of good stuff cheaply from second hand stores like Humana.

What about when it comes to artistic creativity? Are artists limited in what they can do and say in China?

Two themes are taken more seriously in China; one is speaking about the party [The Communist Party of China]. You can talk about the Chinese Government, but everything is checked so if you want to post something against them on the internet then it's blocked. Obviously, if you went out and did something in public against the government you would be arrested. The second thing is that if I were a graphic designer and I wanted to make a poster about sex it's not forbidden exactly but there would be a lot of people against it. Apart from these two themes, you're free and can do whatever you want. It's a shame, though, because those are two big themes in art. Lots of artists do use sex in their work, but you have to be careful when making exhibitions. For example, the last time I was in Beijing I saw an exhibition by Paul McCarthy that had a lot of nudity in it and when we went into the show we all had to hand in our mobile phones so we couldn't take photographs and share them on the internet.

Does Berlin mean more than just a temporary home? Do you see it as your "forever home"?

For me Berlin is forever. I'm not sure in the future where I'll be, but I think if I'm confused I'll always find my way back to Berlin.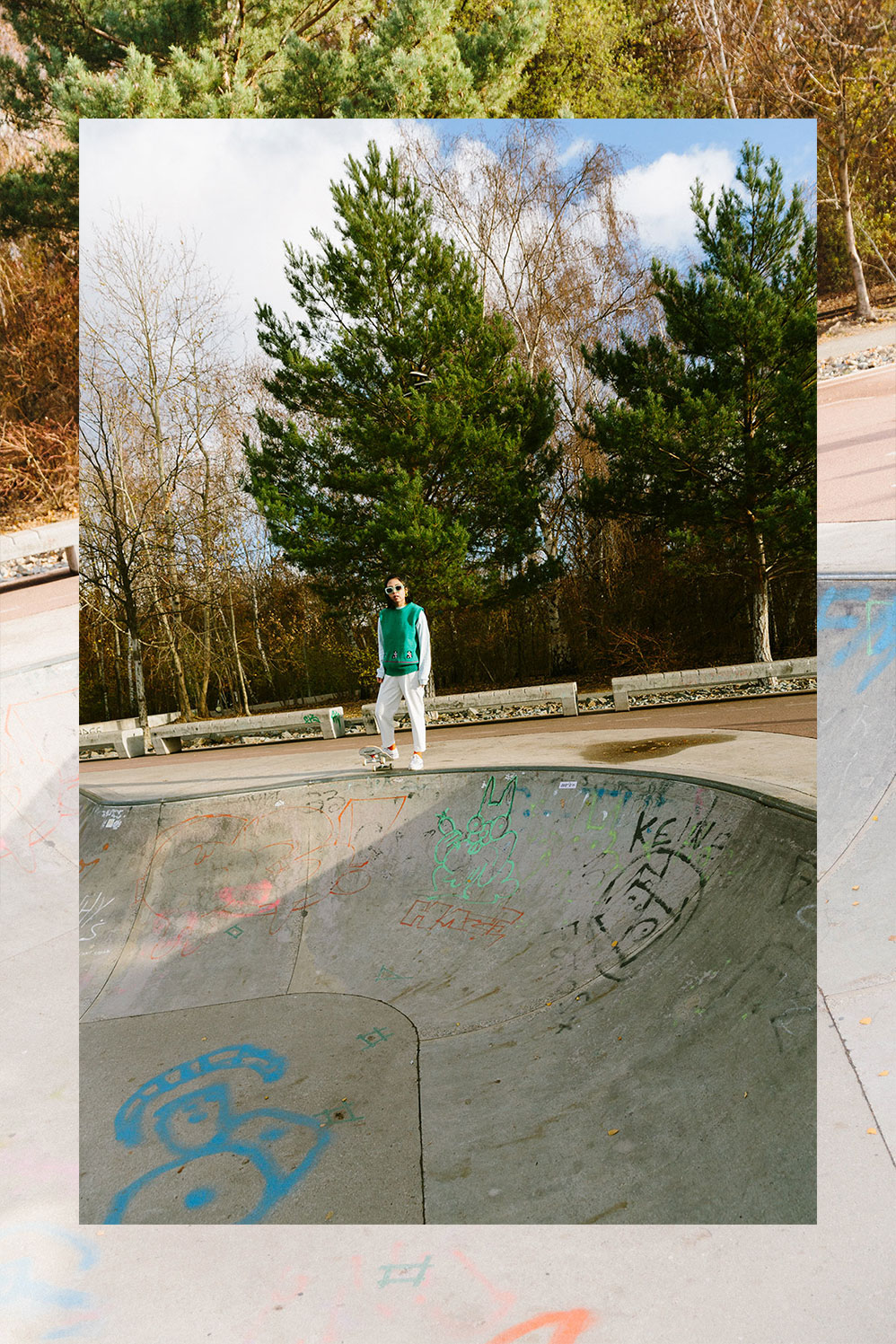 This story is part of Heimatbound a joint editorial project of Dutch eyewear brand Ace & Tate and FvF that engages with four talents who have followed the call of Berlin as a haven to pursue creative endeavors.
Text: Chloe Stead
Photography: Gene Glover
Location: Dandy Horse Berlin