Manuel Cuevas isn't your typical clothing designer. He's the man who hand-crafted Elvis' signature gold lamé suit and made Johnny Cash into "The Man in Black," and he's sewn clothing for more superstars than he can count — Bob Dylan, James Dean, The Beatles, Frank Sinatra.
He casually refers to Marilyn Monroe and Raquel Welch as "his girls," and he's responsible for the notorious insignias of both The Rolling Stones and The Grateful Dead. He's dressed presidents, athletes, dancers and artists, and he created the wardrobes of more than 90 movies and 13 television shows. Over the years, he's dressed everybody who was anybody.
Born in the small town of Coalcomán, Mexico, Manuel's true fascination with his art form began when he was only seven years old. His older brother, Adolfo, taught him how to sew, and he began making all of his own clothing. When he later moved to Los Angeles, he worked for several tailors, including Sy Devore, who was famously the tailor for The Rat Pack. Soon after, he moved to making costumes at Nudie's famous western store in Hollywood, where he designed suits for people like Roy Rogers and the Lone Ranger. After working with Nudie's for 14 years, he relocated to Nashville, Tennessee in the early '80s to continue his work in the music industry.
Today, record companies call on him to help create personas for their artists. He attributes this to the fact that's he's not afraid to create what artists need, instead of what they think they need. For more than 50 years, his designs have become iconic statement pieces that personify many musicians, actors and stars. His Nashville shop is a true facet of the city's cultural scene and, even more, a piece of American history. Each unique garment is made by hand in his downtown shop, where Manuel shows up for work every single day.
As we walk around Nashville's scenic Broadway Street, he explains that he loves this city because everyone is so friendly. He stops mid-conversation to yell, "Oh hey man!" back to someone who recognizes him from across the street. Though he'd never admit it, it's very easy to see that Manuel has become a superstar himself. His one-of-a-kind designs are trademarks for traditional American style, and he says it's because of his refusal to follow the trends and fads of the fashion world. Instead, he stays true to his unique craft, vision and style. Manuel is more than a clothing maker or fashion designer: he's a true artist.
He also happens to be the coolest 82-year-old in town.
You've been sewing and working in the world of garment-making for so many years. What was the first thing you ever sewed? How old were you?

Oh, that was a very long time ago! I was seven years old. When I first started sewing, I was making my own shirts and pants. I didn't want to have to buy anything anymore. I've been making my own clothes since then, really. My clothes, my leather boots, my jewelry, my jackets, everything. I started making prom dresses later on when I was around 13. All the girls in town wanted me to make their prom dresses, instead of their mothers and grandmothers. I made 77 in one year and 110 the next. It was great fun!

When you decided to leave Mexico, how did you work your way into the realm of dressing big Hollywood superstars?

I was born in Mexico, and when I moved from there I went straight to Los Angeles. When I first got to California, I applied for a job as a pants maker, and the guy became a friend. He was an admirer of my work and he sent me to a better place. So I went to Sy Devore, who was the best tailor in the world at the time. We did Frank Sinatra, Sammy Davis Jr., Dean Martin, Bob Hope, Don Rickles. He was the tailor for the Rat Pack. For a while, I didn't put my hands on anything in the back. I was just doing all the fittings. It's a big responsibility really, because it puts your life in jeopardy with the tailors in the back! I was working with the pants, the lines, the way they fit. The people who were buying them were always saying to me "Correct this! Correct that!" That's where I refined my skills.

You're known for beautiful embroidery designs and often have roses on your pieces. Where did your signature embroidery style come from?

I went to the Rose Parade in California, and it's a famous event for all the gorgeous clothing. I had a very beautiful girlfriend, so of course I took her to the parade! I didn't even know what the Rose Parade was, but I knew I had to go. I soon found out, and I fell in love with it all. But I was thinking to myself – I can make better clothes than these. I just decided I was going to do it. I started looking for my opportunity and learned the craft of embroidery. I really went crazy with learning things! I applied for a job with Nudie Cohn, who was famous for his rhinestone "Nudie Suits," and he had a store in Hollywood. I became the head tailor, head designer and partner of Nudie's. I worked with him for 14 years. I eventually got into the music side of it. So then, here came The Beatles, The Rolling Stones next, and you know, Bowie and what have you. A lot of people came in. Elton John. George Jones. I got into it.
How did you first become attracted to your signature western-wear style of clothing?

I watched a lot of western movies and a lot of western shows in the '50s, '60s and '70s. I always had an attraction to the frontier and the open lands. I did so many great shows in Los Angeles when I lived there. I did wardrobe for Bonanza for 14 years, I did How the West Was Won, Lone Ranger – lots of movies and shows in LA. Only for the principal actors though! I don't do wardrobe for everybody.

You've been living in Nashville for more than 20 years, so you've certainly seen the city evolve and change.

Yes, I've been here 28 years in October. Of course, it's changed so much. It used to be another type of Nashville, and it's a different style now. The art industry, the business industry, the fashion industry – they're always moving. Changing. But for me though, I'm not a fashionista, as you can see! I'm a designer, and I don't follow any of the trends or anything like that. I try to stay out here, out on my own and away from all of that. I try to always work with blinders so that I don't really see what anybody else is doing.

What do you like most about Nashville?

I moved here because I was raising kids at the time, and LA wasn't the place for that. I wanted something different and this was the place. We were ready for a change from the craziness of LA. Nashville is such a friendly city. Everyone's nice, and it's a great city to live in. Places like New York and LA just don't have the same feeling.
I actually dream the designs when I sleep.
Every single piece you design is one-of-a-kind. How do you do that?

I never do anything twice. I do one only, each time. I actually dream the designs when I sleep. So what I thought of last night when I was sleeping, I'm making right now this morning. I'm working on a show that I'm going to do in England. It's for that pumpkin day – what do they call that? Halloween! I have a lot of skeletons and skulls. In 2016, I'm doing a show in London where I'll be shown along with the works of Frida Kahlo. They're doing a contribution to the arts between Mexico and England. That movement is called vamos, which means "let's go!" So they've got all these Mexican things going on, and they're having me! I'm going to take a big collection.

With all the superstars you've met over the years, have you ever been really starstruck by anybody?

Not me! Well, ok you know, I was one time. I had dressed this one man when he was a lawyer and an activist, and then as the Governor of California. Then he became our president — Ronald Reagan! Out of protocol he showed up at my shop and I said to him, "Oh, hello! So nice to see you, Mr. President!" And he said to me, "Cut the crap, Manuel." So I can't be starstruck, really. All the big stars that you know of now, most of them I met when they were young and obscure. They were these kids with a dream. I just try to respond to everyone with a big welcome. In a lot of ways, I've been very lucky to be able to meet all of those people and do what I do.

At the time in America, we already had Elvis Presley, Johnny Cash – we had so many stars. I guess some of them became more of a story than others; some became bigger stars. I remember dressing The Beatles when they first came over from Liverpool. I dressed the Jacksons before the Jackson 5 was a big thing. They were babies then! So that's how I really remember these people. They come in to my shop, they don't have a job, they're dreaming big, they're trying to make it. They don't impress me! It's so fun because I really never know who they're going to be. I never know if they'll be superstars, or super wealthy, or famous people. And poor them, because when they become that, I don't care! I don't treat them any differently. I've never once requested an autograph. I'd rather have their love.
You made a famous suit for Graham Parsons in the '60s that was maybe one of your most controversial pieces, don't you think?

Yeah, in those years it was. Now I can put pills, green marijuana leaves, naked women and it's nothing. I cover the suits with whatever the hell I want, really. People don't care. But back then, it was a big deal. It was a different time, and it became more of a statement. It was really very fun!
Johnny would have told you that he wore black before he met me, but he just never wore the right kind of black.
I've heard that you're responsible for making Johnny Cash into "The Man in Black."

Well, you know people used to say — "Oh, Manuel made Johnny 'The Man in Black.'" Johnny would have told you that he wore black before he met me, but he just never wore the right kind of black. It became him. It was just who he was. I have his black leather jacket over there in the corner that he wore everywhere, forever. He became a very good friend of mine. In person, he was very spiritual. He was so serious. He's not your normal chatterbox, like me. He was deep and thoughtful. I like his music, yes, but it's more than just that. I'm more than just his fan. We were friends.

What about Elvis' famous gold lamé suit? How did you come up with that?

Ehh, you know. It's really no big deal, I don't think. I just came up with it. That type of suit was his thing, and he needed to have something that defined him a little. Kind of like Marlon Brando. He didn't have that thing to define him. So, he came in and I told him what I thought he needed to be wearing. I just try to get to know these people as people. I had already made a few movies with him before that suit, so I got to know who he was. After that, when I know people more, I can make something that fits their style.
A selection of some of the stars Manuel has styled over the years. All photos by Cambridge Jones.
You are also somewhat responsible for the iconic lip logo that everyone identifies with the Rolling Stones. How did that happen?

I didn't invent that — God made lips. If you want, you could say that I maybe had a little bit to do with it. One day, I gave Mick Jaggar a pillow that had this big mouth on it. It had that big tongue, you know, all sticking out and it was very red. And that's it. That's all I know.

Is there any project you've done lately that you've just really loved?

Oh, of course! I love everything, really. The next project that I do is always my favorite project. I do this job because I want people to see and understand that anything can be done. Sometimes I come up with ideas that are crazy or seem too much. But they're not being done, so I have to do them.

You have an American state series, where you've made jackets that represent all of the 50 states. How did you decide to do that project?

I really wanted to make something to last, so I made a jacket for each one of the 50 states. I gave those jackets to the United States of America as a contribution. They all have to travel from state to state, and then they'll be staying at the Smithsonian Museum where people can go and see them.

Do you have any other family members that work in the business?

I come from a big family – I'm the fifth of twelve children. My son works in the business, but he has his own thing. He works in manufacturing, but I don't want him to have to do what I do. I told him that when I die, that's when you come in.
Putting all of those rhinestones on by hand must take so much patience.

Yeah, rhinestones take a lot of patience. Actually, some of these girls working here quit their jobs before they even finish a piece. We have students that come here to study design from all over the world. I try to forget every single one of them, because they're all so beautiful! Right now, all the girls in the back are working on the first steps of the pattern. They're sewing the first pieces together.

Do you do some freehand sewing?

Oh yes, and you have to go for it. You just do it! You start the sewing straight on the fabric sometimes. It takes many, many hours, but it's really no big deal. You do some sewing, some more sewing on the other side, sewing on the back, and then you let it go.

You have lots of gowns in your shop, and you also made so many gowns for the big movie stars. Did you enjoy that part of the business?

I did lots of gowns while I was in LA. It wasn't my favorite thing, to be honest, because I wanted to do art. There are some gowns that really have nothing to them, you know? They're for the red carpets and the movie events. Those types of things have the tendency to be just gown, gown, gown. To be honest, it was all about boobies and ass, really! It wasn't about the actual clothing or about the actual woman who was wearing the gown. I didn't like it, because it wasn't about art.

But all the women that I have loved through the years – Raquel Welch, Marilyn Monroe – I got to dress them and make something unique for each of them. I always tried to create something that would make them feel beautiful. I love all women, to be honest. They're just so beautiful, so gorgeous. Those were my girls.

A lot of the young musicians today are wearing jeans and t-shirts. Do you often see people and wish you could re-dress them with more star-status clothing?

Yes! All the time. Today, they're always wearing torn jeans and plain t-shirts. These young people right now really don't know much at all about what to wear or how to dress. If they want to be stars, they have to learn to dress themselves like stars.
Yes siree – it's like magic!
What's the process behind each piece? How do you start a new design?

I know how to do every damn thing you see in this shop. I design everything, I do the drawings by hand, I do the sewing and stones and leather. We start with something that's like a drawing. I draw it out on paper first by hand, and then it becomes a sketch of what we embroider. On my new one I'm doing today, I have this skeleton sketch. See, here! The skeleton is smoking a little grass! So then we take the drawings, and we puncture them into the fabric. We draw the back part of the jacket, the sleeves, the front and the bottom all on paper. Then we perforate. When it's perforated, it gets little speckles on the fabric. It's done with a hammer. You've got to have imagination for this. Then we use the rhinestone machine. We embroider. We put it all together. Yes siree – it's like magic!

You're 82 years young. Do you ever want to retire, or do you plan to keep doing this forever?

I come here every single day of my life. Every day, I'm in this shop working. People my age want to go on vacation. People my age want to retire. I want to be here! When people ask me about that, I tell them 'I don't retire: I just put new tires on'. You know, I'm still going! This is just the beginning. Everything that we overcome or experience is in the mind. I'm 82 now; I'm free to talk about whatever the hell I want, don't you think? No matter what, I have to always be myself. I'm a free spirit.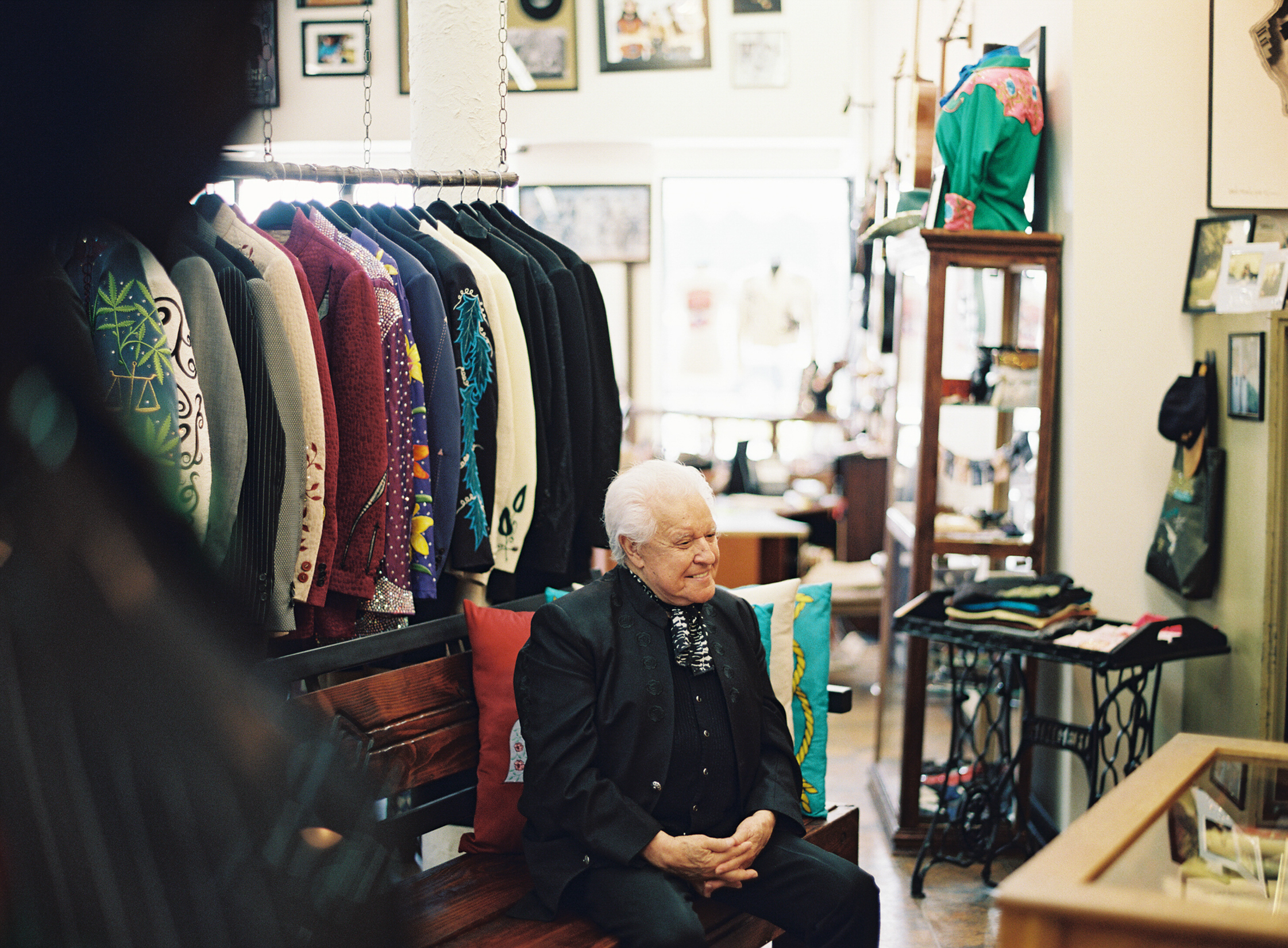 Thank you so much, Manuel, for telling us your incredible stories and showing us around your eclectic Nashville shop. For more information on Manuel's unique Americana designs, visit his website.
Interview and Text: Sarah Rowland
Photography: Tec Petaja