It's a Sunday afternoon, and I've driven three hours south along Highway One, California's famed coastal road that winds along craggy bluffs and dried-up golden fields. I'm on my way to Big Sur to visit Fletcher Tucker and Noël Vietor.
Fletcher is a musician and the creator of Gnome Life Records; Noël is the Farm and Garden Education Coordinator at Esalen Institute, a retreat center known for its spiritual workshops. They live on Partington Ridge, and the dusty road up to their house is narrow, steep, and unmarked. The ocean is on my left, thickets of foliage to my right. The contrast between this landscape and San Francisco's Mission District— where Fletcher and Noël used to live—is stark. I've come to find out what living in Big Sur is really like, and how their lives here have flourished. How does a record label thrive in the woods?
When I arrive at Fletcher and Noël's house, I'm ushered down a long, steep driveway and given a brief tour of the property. Fletcher, who is 32, is wearing traditional Japanese sandals made from straw rope, called waraji; they're primitive and monk-like, the color of dirt. He has an off-white button-up shirt, sleeves rolled up to the elbows, and dark cuffed jeans, which together have the non-descript formality of a daily uniform. When he speaks, there's an excited intensity in the timbre of his voice, even though his demeanor remains placid and unremoved—it is as if his thoughts, which have been percolating for awhile, are spilling out in a single, continuous stream.
This portrait is part of our ongoing collaboration with ZEIT Online, who presents a special curation of our pictures on ZEIT Magazin Online.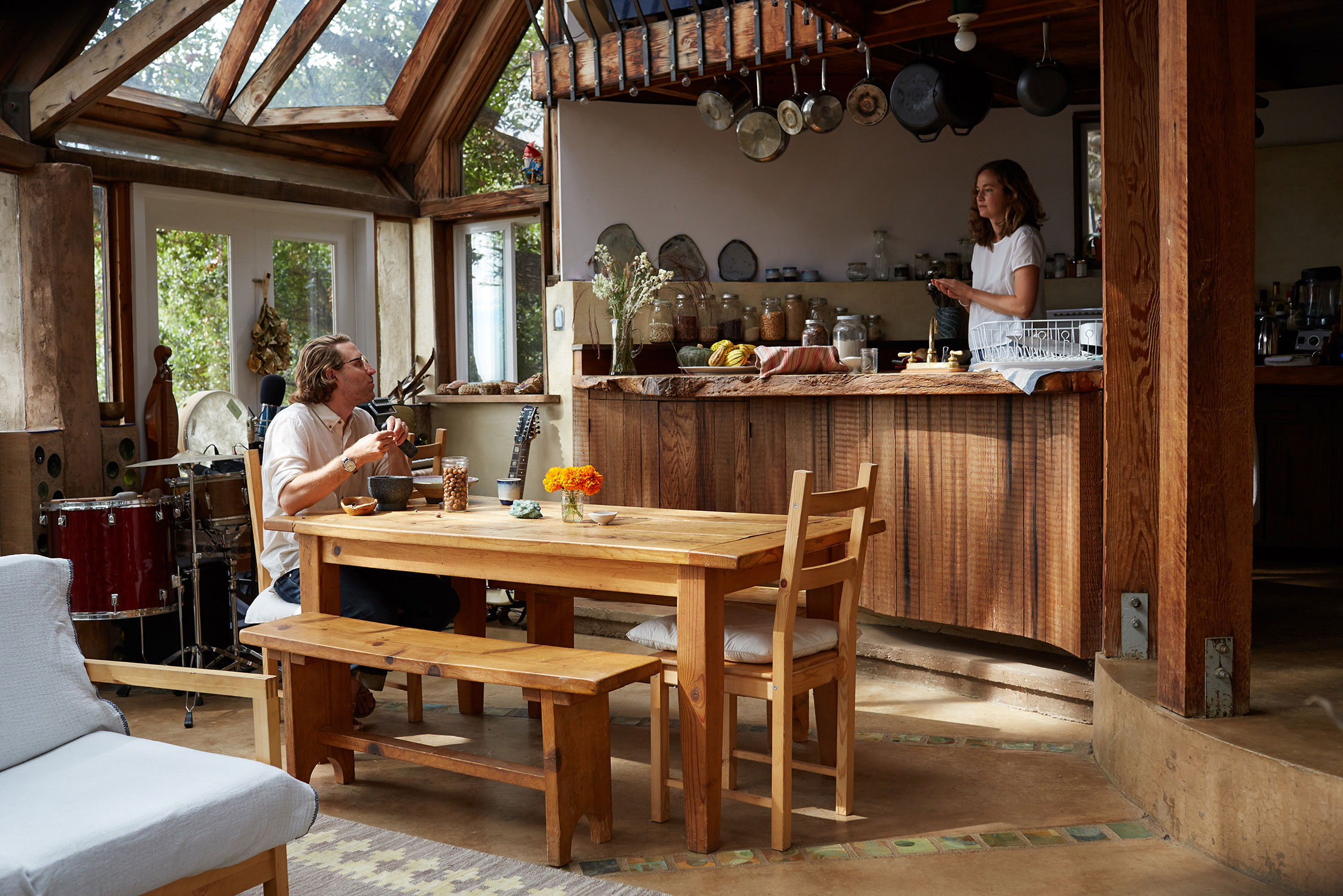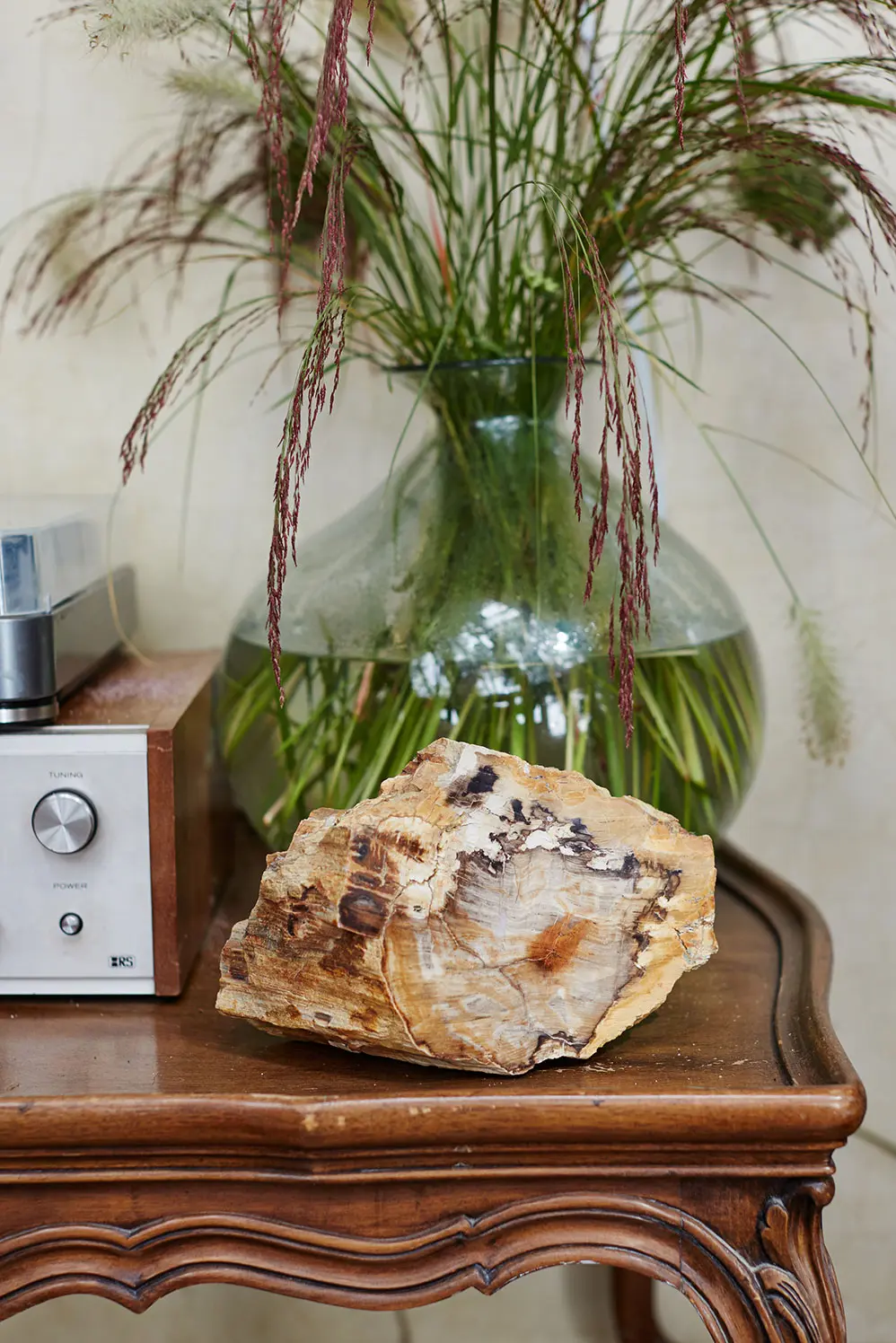 Noël and Fletcher moved to Big Sur in 2010. It was here that Fletcher's record label, Gnome Life Records, found its niche—or as Fletcher puts it, became a "focused, vision-driven entity." Founded in 2005, Gnome Life is distinct in the types of musical artifacts it produces. While most of the music industry is becoming increasingly digital, Fletcher sought to, if not revive, then at least prolong the life of analog sounds through the production of limited-edition, handmade vinyl records and cassette tapes. As he describes it, he makes artifacts that "move beyond the average realm of material objects and disposable media." They "become treasured belongings, imbued with the primordial magic of Big Sur." The music is also spiritual and mystic in nature, seeking to "explore the mystery and depths of 'being' in an honest way." His most recent release is an LP called "Music Today" by Daniel Higgs and Fumie Ishii—a duo who go by the name Fountainsun. It is, by most standards, an experimental record, with free-flowing recitations, chantings, cymbal crashes, banjo-plucking, and the reading of an epic poem. Daniel and Fumie recorded the album over the course of several weeks on a one-inch tape in a glass house in Big Sur. During the day, Fletcher would take them barefoot-hiking through the redwoods, something Daniel and Fumie had never experienced before. At night, after the sun set, they would record in a yurt, from which they could hear the ocean swells and river rumblings outside.
As creators, musicians and producers know first-hand, songs are more than their finalized product. For Fletcher, the creative process is vital and extends beyond the mechanics of recording; it's about channeling the place where he lives into the music itself. "I'm just doing my best to let the song of the place move through me," he says. To me, this sounds like meditation: paying attention to the experience of the present moment as it unfolds. The question is no longer about where to find the song, but rather, "How can I open up enough to let the song through?" says Fletcher. Fletcher believes that humans play a special role in the ecosystem. "Human beings—we're the mythmakers, we're the storytellers, we're the song-singers," he says.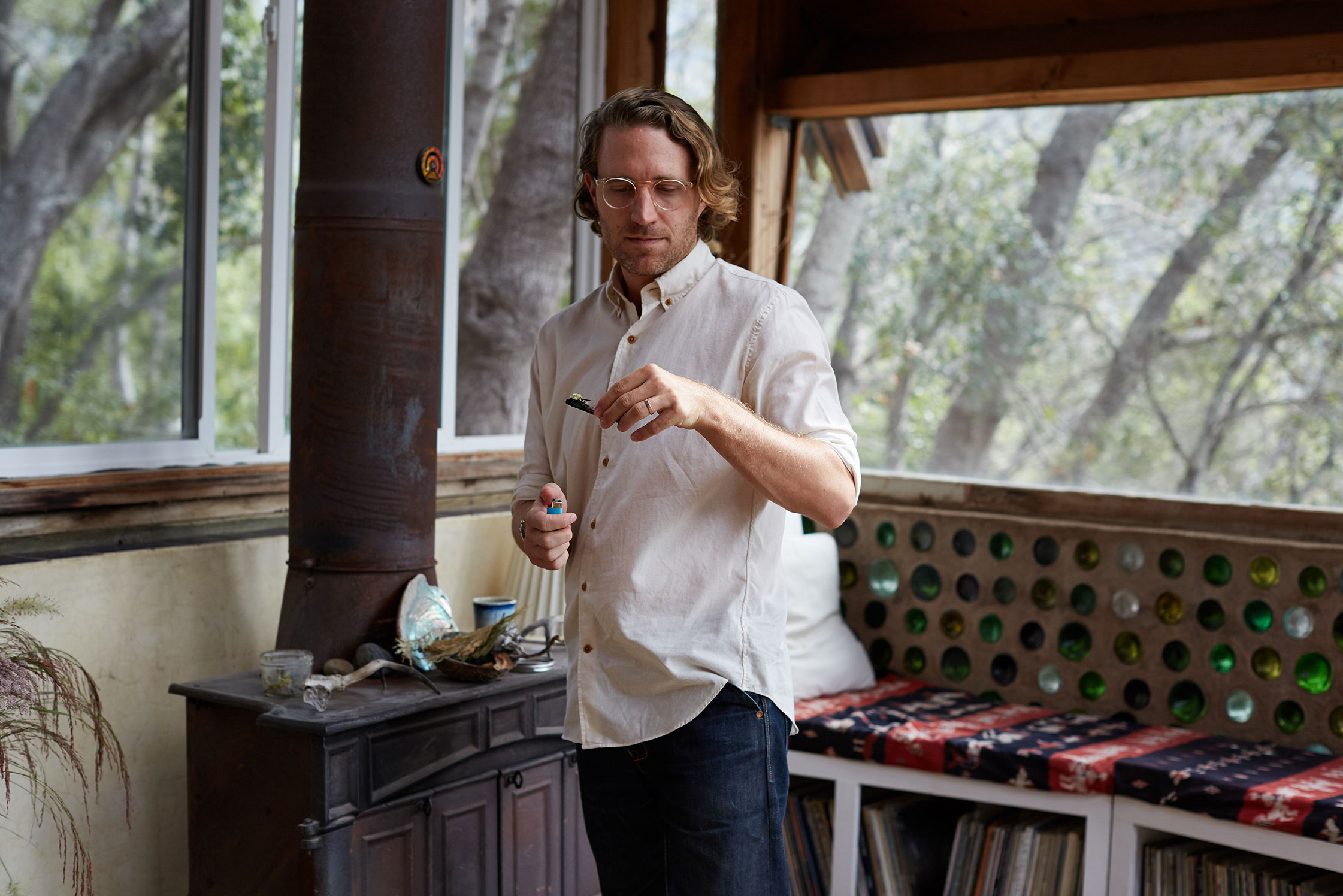 As Fletcher shows me the property, we peer into an old school bus, whose insides have been refurbished as living quarters for one of his friends. The front of the bus is a kitchen and there's a lofted bed at the back. We shut the bus door quickly so that flies can't get in—it's been a hot and dry season here. About 100 feet from their house, there's a silver-footed bathtub en plein air, with only a shower curtain for cover. The outhouse is a few yards from the tub, a three-walled rectangular structure with a wooden toilet seat and lid.
Gnome Life Records Artists
1

Robbie Basho

2

Little Wings

3

The Range Of Light Wilderness

4

Daniel Higgs

5

Santiparro

6

Fountainsun

7

Shay Roselip

8

Mountainhood

9

Wildbirds & Peacedrums

10

Sean Smith

11

Mega Bog

12

Spencer Owen

13

Yurt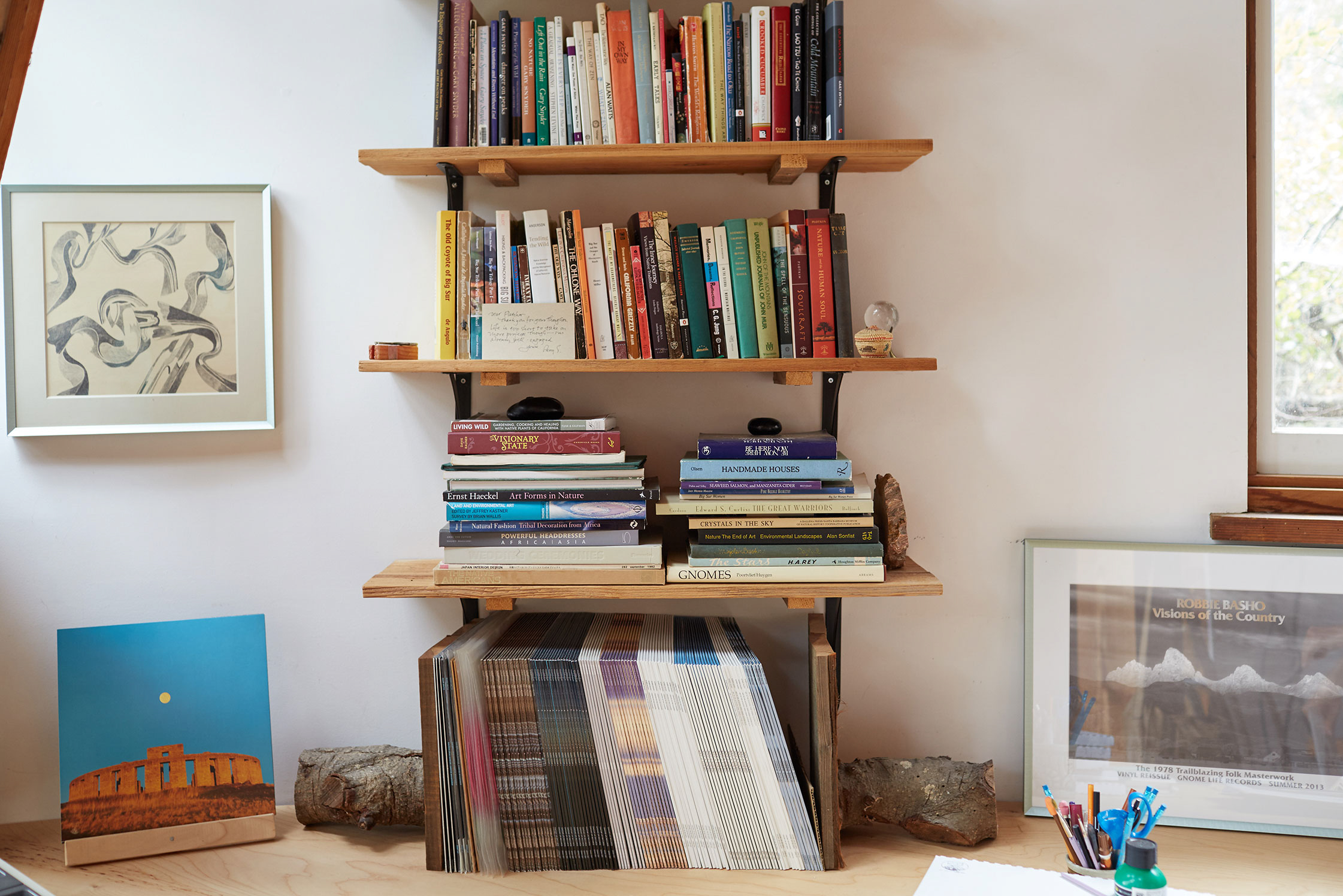 The main house is an unvarnished wooden structure that is like nothing I've ever seen: a large cylinder adjoined to a sloping roof. It demands to be circumnavigated—every angle provides a different view. Michele Muennig, the daughter of renowned Big Sur architect Mickey Muennig, conceived the concept for the house ("something in between a circus tent and a nautilus shell") when she was only 17 years old and collected materials from her father's building sites until she had enough to work with. Mickey, who is responsible for over a dozen Big Sur structures, including the Esalen Baths, is known for his distinct, organic style, incorporating materials such as wood, water, concrete, glass, steel, and sod. His structures have been described as "curvaceous," and this one is no exception.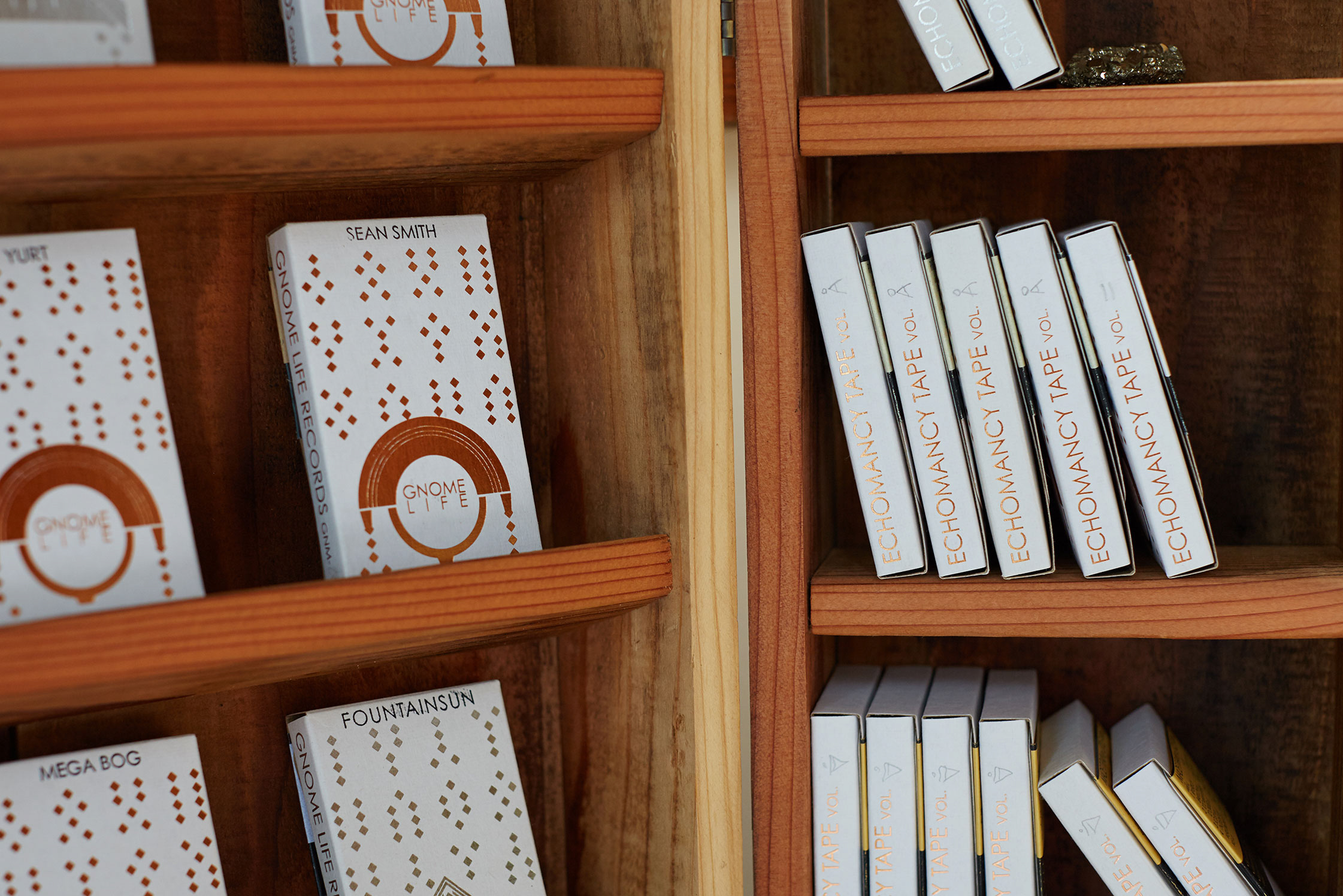 We walk in through a door with a porthole window and enter the upper level of the structure, where there are bookshelves, a desk, and a small sleeping area. A spiral steel staircase leads downstairs to the living and dining areas, as well as the kitchen, where Noël is preparing lunch. Noël, at 31, is tall, long-limbed, and slender, with a reticent and ethereal grace. She moves thoughtfully and calmly around the kitchen, preparing homemade pizza topped with a polychromatic array of vegetables, alongside a kale-and-pea-shoot salad—all harvested from the Esalen garden. The pizza crust is made from acorns harvested from oak trees outside their house. For dessert: truffles made from wild bay nuts, which grow on laurel trees. Everything tastes novel, just subtly different from anything my palate has ever encountered. "A little touch of wild food goes a long way," she says, and the little touches—the acorns, the bay nuts—are surprisingly delicious.
Food is always where the dream of rural living begins for me. Wouldn't it be nice, I think, to be able to grow and harvest my own? Take that one step further—could I survive off of hunting and foraging? Many city-dwellers, like myself, stoke this idyllic reverie through weekend excursions to the woods or mountains. Big Sur happens to be one of the most popular destinations, not only for its majestic beauty but also for its fabled literary past: home to many artists and musicians. But when the weekend is over, and visitors return to their urban din, how many actually ditch the city life for good?
When Fletcher was still living in San Francisco, he would sit in Dolores Park and watch the hawks that circled above, write in his journal, and make observations about the birds he saw. "Once I watched a peregrine falcon attack and kill a pigeon. It just started to pluck the feathers out of the bird," says Fletcher. He noticed that the falcon didn't care where it was; whether in a city or a canyon, it would still roost and hunt in the same way. But Fletcher felt differently. The landscape around him mattered. "There just wasn't enough wilderness. I needed more," he says. "It wasn't enough just to see the hawk occasionally." In the city, wilderness felt like a parenthetical insertion, experienced only in rare moments. Fletcher was desperate for a deeper, more immersive, and more visceral connection to the wild.
Back then, Noël was working a desk job in the corporate sustainability sector. It was interesting work but she was unhappy. "I think I was so overworked that the only way I knew how to exist there was to just be a consumer," says Noël. "I was buying fancy clothes and drinking fancy cocktails." She decided to take a break from the city, seeking refuge in a nine-month farm and garden apprenticeship program at Esalen Institute in Big Sur, where she began to learn the basics of working with the land to grow food and plants. She had been a backyard gardener before that, but she remembers being stunned by how much of a beginner she was when she started the program. "It was surprising to me that I had no idea what I was doing, that I had no idea what the plants were. It was all completely new to me," she recalls. "It was a really steep learning curve, but it was also magical how the horizon kept shifting. First I got a basic understanding of plants and then … I became more drawn into the wild landscape."
The Esalen Institute approach to farming and gardening is called "relational agriculture." Noël gives a simple explanation: "It's connecting people to the land, to themselves, and to each other." I'm struck by this notion, because it means that, in some sense, relational agriculture is possible no matter where we are, even in a city. But what does forming a true connection actually mean? In an era where digital connection is rampant and mobility fluid, we often feel the anxiety of disconnection, perhaps now more strongly than ever. We conjure up escapist fantasies and glorify nomadic lifestyles. I'll admit it—I'm drawn to how slow and spacious rural living can be, but a sense of connection isn't an automatic by-product of the brief sojourns in nature that most city-dwellers like me pursue. It seems to require engaging more deeply with the particularities of a place; with its history; with the people who live and used to live there; with its seasonal rhythms; with nature itself. For Fletcher, this connection began not with natural history books or learning plant names, but with "remote teachers" like Gary Snyder and Alan Watts. Their words gave him a sense of what a connection to wilderness looked like as a daily practice.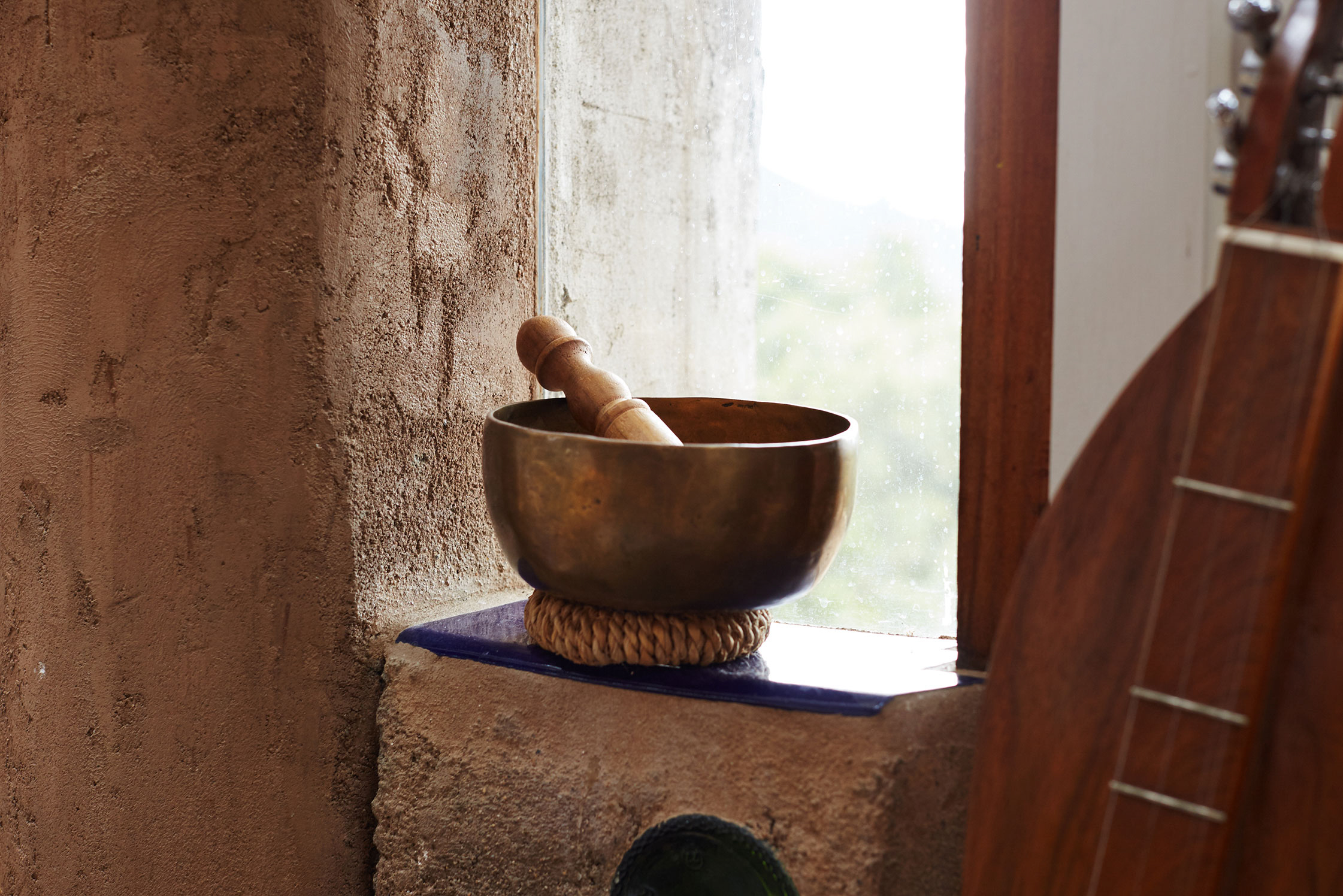 "This liminal space between creation and destruction, he says, is the true domain of spirit and art."
Real, deep spiritual connections elude adequate descriptions—they must be felt—but Fletcher says that his connection began with the process of inquiry, "being in an active and engaged state of wonder."
But being active and engaged, as it turns out, isn't always comfortable. Surviving in Big Sur is not only to live amid beauty, it's also to face natural destruction. Transcendence, it seems, is often found in mundane realities, like splitting firewood, mouse-proofing their house, digging trenches—all of which are a part of living with the wilderness. Three years ago, when the main road to their house collapsed from rock slides, Fletcher and Noël were forced to hike three hours a day just to get up and down Partington Ridge. They'd hike in all types of weather, at every time of day, whether it was noon or midnight. Fletcher recalls that particular time of their life as some of the best months he's spent in Big Sur, a time when he was truly able to "see the creative-destructive edge that is happening everywhere at all times in the wilderness. Things are dying off and rapidly transforming all the time here—fires, washouts, landslides, rockslides, torrential wave trauma constantly eroding the shoreline, thousands of woodrats being born every season." The life-and-death cycles were no longer limited to the predatory dive of a single falcon in a city park; they were everywhere. This liminal space between creation and destruction, he says, is the true domain of spirit and art. "That edge is dynamic. It's where growth can happen."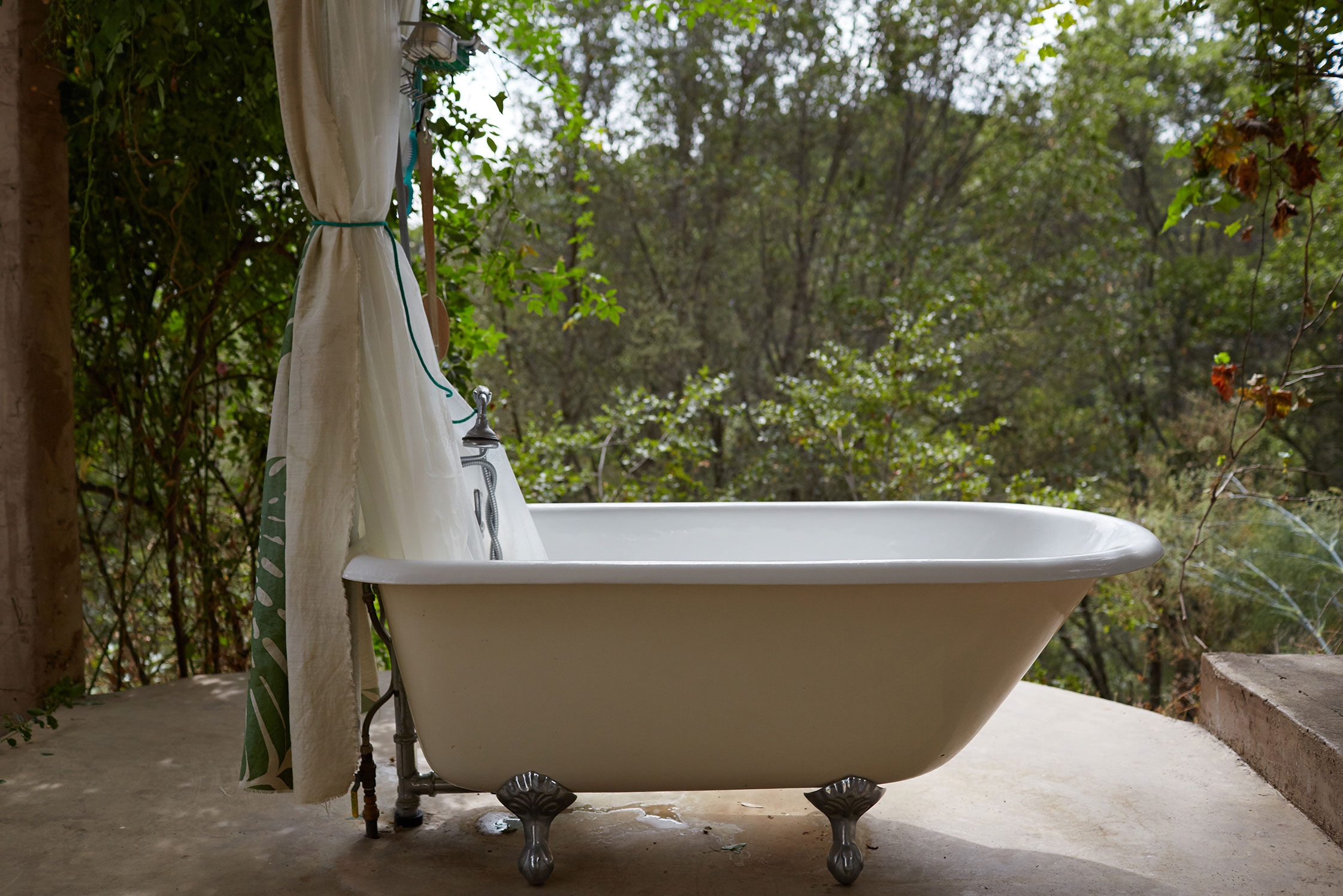 After lunch, we take a hike through the hinterlands of the ridge to a sloping overlook from which you can see an oceanic panorama, a rippling immensity of blue. Today the clouds are a scrim in front of the sun, and the light is golden, hazy, and subdued. Fletcher and Noël lead the way, to a spot they come to frequently, where they lie down, their hair blending into bristly grass. They tell me that when they got married, here in Big Sur, they hiked separately from the two opposing sides of the ridge and met in the middle, a kind of symbolic intersection of journeys. Our conversation has subsided into only occasional chatter. The vast expanse we've found ourselves in has dispersed the density of our words, and now our thoughts are wandering and distracted.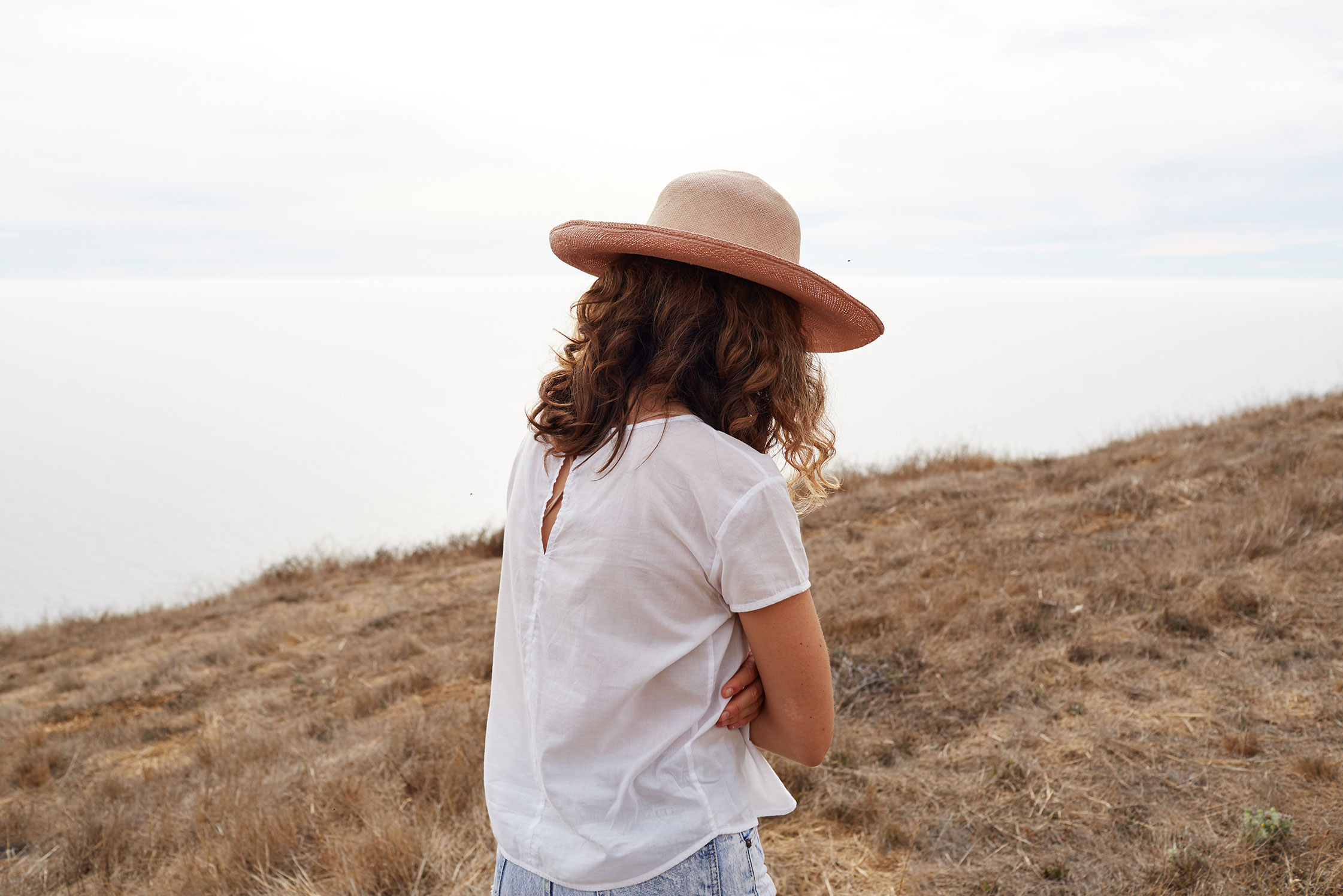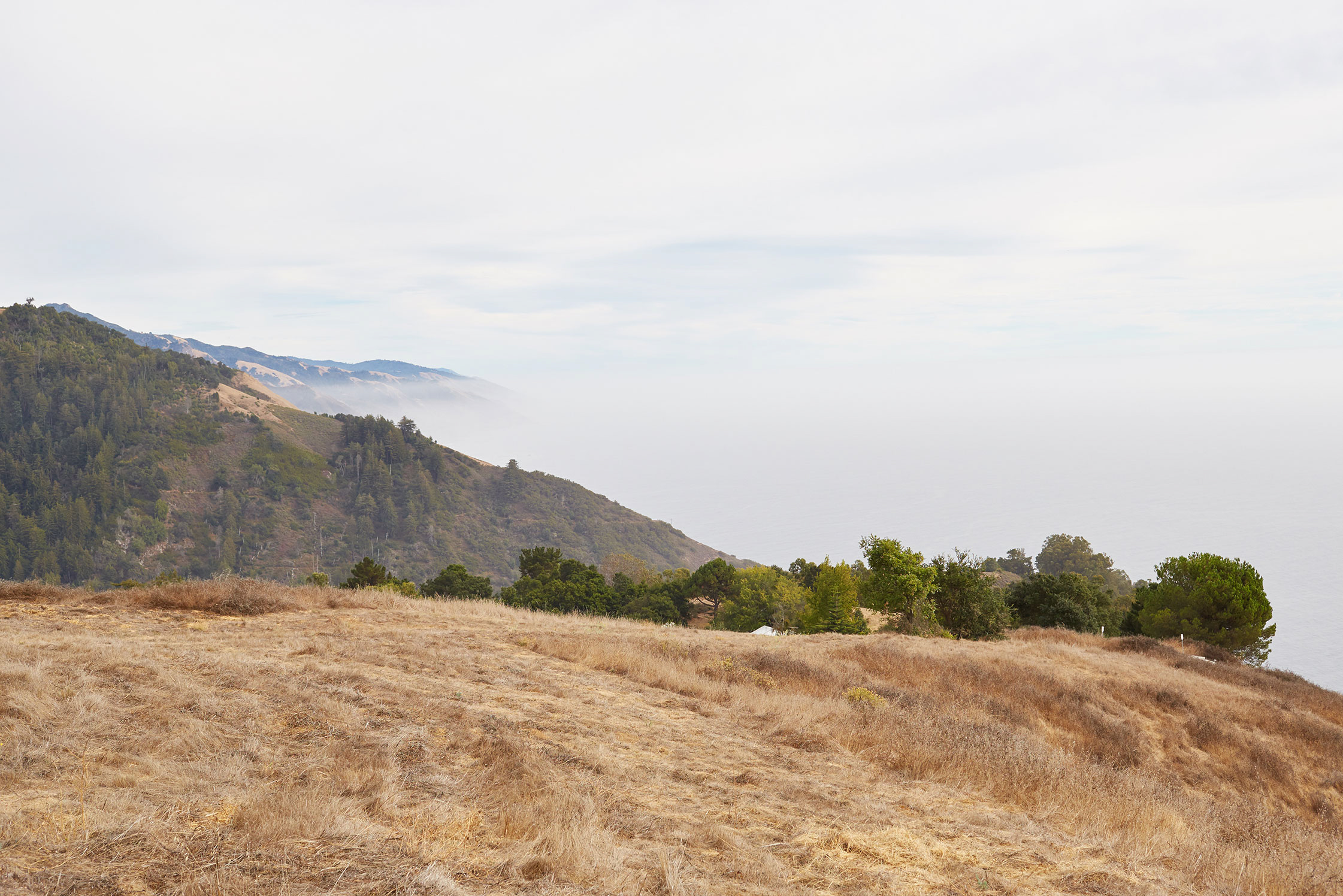 In a few hours, I'll be driving back up to San Francisco, and there's not much I'll be taking back with me except for a few photos, a recording of our conversation, and notes I've jotted down throughout the afternoon. Earlier that day, I had asked Noël what was keeping her in Big Sur despite the toil, the challenges, and the isolation. Her answer lingered in my head. "To just walk away and say 'I've gotten what I needed,' and then go give my gifts to some other place—it kind of feels like leaving a teacher or a mentor in some way," she said. I feel a sudden pang of remorse at my brief coming and going, at the mandated transience of my journey. Even for a day here, I have felt the power of the sublime, the overwhelming presence of wilderness that restores sanity and soothes souls. I have to go back to the city now, and I will find myself in an entirely different landscape, but the feeling of connection—to the land, to community, to people—is not out of reach. One only has to care enough to find it.