Jo Sindle and Kyle Stewart are founders of the independent fashion store, Goodhood in Shoreditch, London. Having opened its doors in 2007, Goodhood recently celebrated its 5th anniversary. Their motto is a great one: 'Selected goods for the independent mind'; one that truly sums up the couple's ethos of thoughtful consumption.
From the outside Goodhood looks very dignified, with detailed brickwork and black painted doors and window frames. There is often a small bench outside inviting customers to sit down and take a breather from the hectic London pace. The interior of the main Goodhood store includes distressed brickwork and dark wooden floorboards and white painted floorboards downstairs. The women's section is upstairs, the men's downstairs. One can really sense the forethought behind the selection of pieces. Everything feels intelligent, unique and is beautifully displayed.
When you buy something from Jo and Kyle's store, you purchase a product that has been carefully selected for its creative design and high level of quality. Offering a unique aesthetic shaped by an interest in urban wear and skate culture, they aim to support like minded independent designers. Clothes bought from Goodhood won't fall apart after a couple wears; instead you can treasure them for years. The swing ticket on a pair of Junya Watanabe for Comme des Garçons men's trousers sums it up beautifully: 'Something real, something that has history, that has traditional shape'.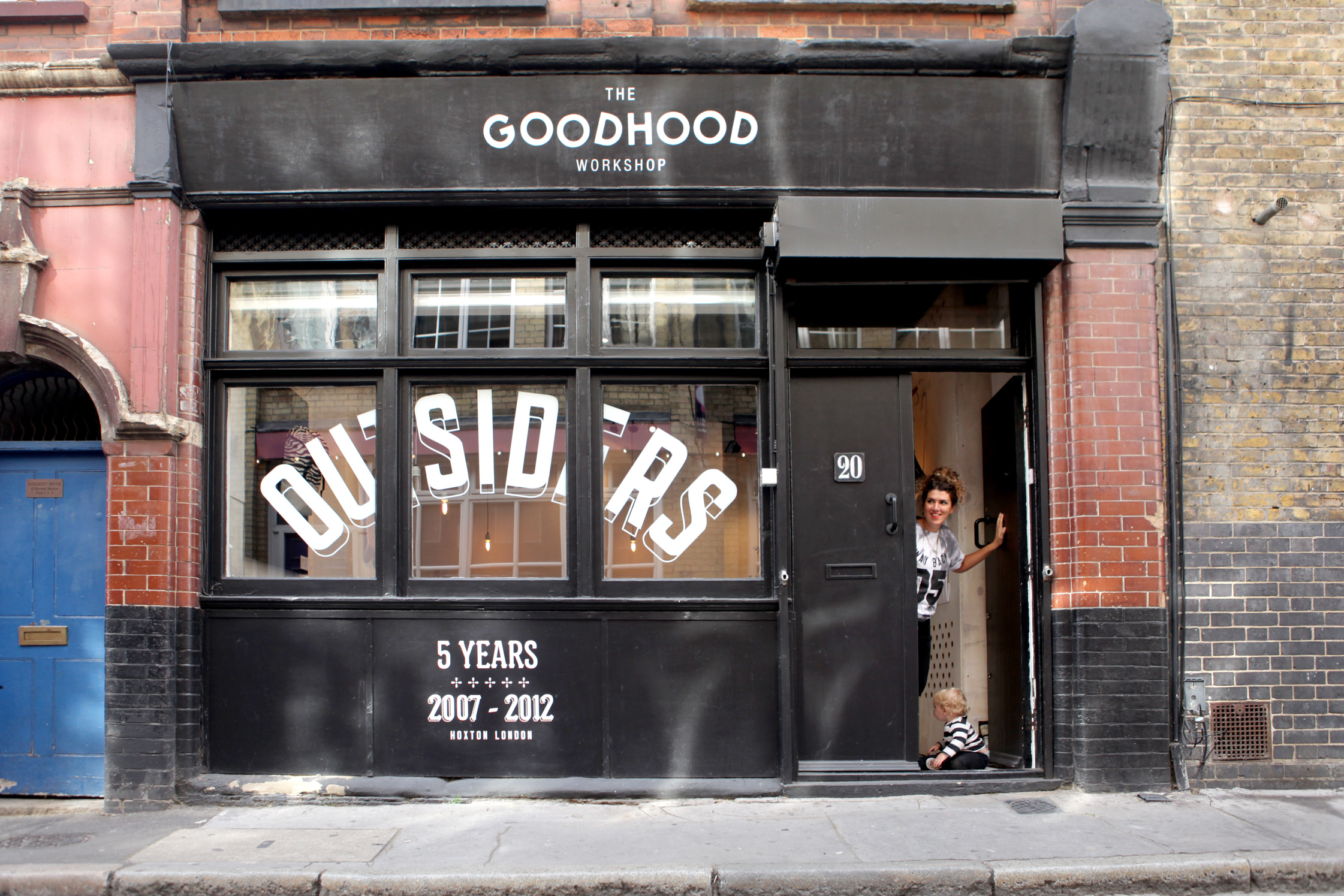 You must be very proud of Goodhood. How did you choose the location for the store?
Kyle: The area back then meant it was a destination shop. 5 years ago, the people who lived around there were young creatives. The shop was also a lot smaller when we started and we grew slowly. It has been a great learning curve.
Your concept is very simple and inspiring – you source and supply independently designed and sustainable pieces for your customers. Do you feel people understand your approach?
Kyle: Our website tells people why we think a particular product is good and our staff are clued up about the product. When you buy from us, you're supporting equally minded people against the throwaway fashion culture that dominates the high street.
What do you look out for when selecting products to sell and designers to work with? How would you describe your aesthetic?
Jo: Our aesthetic is very important to us. We work in the boundaries of casual wear and select clothes based on their depth of details, quality and value. We are absolutely not interested in the fashion business. In our heads the style is for grown up skaters or people that were influenced by subcultures and music.
Are there people or places that have particularly influenced you with regards to the shop?
Jo: I've lived in and travelled to New York. Seeing people open up shops in the Lower East Side, literally a small shop at the front with their studio at the back – seeing that it was possible. It's only now I realise how romantic that was! Now I know how much you have to sell to keep it all going but it was good to see people do it.
Kyle: And we travelled to Japan and saw lots of stuff you couldn't get here. This was before internet made everything much more accessible.
You mentioned you work on collaborations with designers occasionally resulting in short, very specific runs of pieces. Can you tell me more about this?
Jo: Since we opened the store we have done a line with British workwear brand R. Newbold, which is sold almost exclusively in Japan. We recently did our 9th and final collection with them. Mostly our collaborations result in a short very specific run of pieces.
Goodhood recently had its 5th anniversary. How does this feel when you reflect on its beginnings? You must see things very differently to the average customer when you look around the store.
Kyle: To be honest, we only see what has to be done. I'm not sure we are very reflective, we are more planning for the future, trying to build and get the business to where we want it to be.
What motivates and drives you on?
Jo: I hated working for big corporations; now I'm surrounded by creative people, who are doing beautiful things. The freedom. This is the dream: to have our own shop and design studio. We both had hideous bosses so we want this to be a nice place to work. We have an amazing team, there's a really nice atmosphere at work. I like that they are happy and excited about their work. I feel very responsible for them all. There are times when we can pay them but not ourselves.
Kyle: We're always moving towards something else. A continuous journey, never stagnant, it's like the start of a bigger puzzle. When we first opened, people wouldn't sell to us because we didn't have a reputation, yet and they were concerned about where their product was sold. My favourite brand is Neighbourhood, a Japanese brand. Their concept is very luxurious and modern biker wear. Biker stuff can be dorky but the Japanese take it somewhere else. They wouldn't sell to us for the longest time and I take great pride in the fact that we stock them now.
You have a really great team who are knowledgeable and clearly excited about the products. How important is it to have the right staff?
Kyle: Absolutely. It is all about the team. They represent the face of our business. It's perhaps the most important aspect of running a business.
Any plans to expand on the Goodhood brand? I know you had a pop-up store at one point.
Kyle: The pop up store is now closed, However, we are opening an interiors and lifestyle store in the space in mid March. It will stock smaller home objects such as rugs and cushions. Watch out for it I think FvF will like it.
When you both get time away from the store, what do you do for relaxation? Do you escape London much?
Jo: We like to get out of London. During the winter we get away to the Alps for some winter fun and also we try to take breaks away to spa's when we can. In summer we like to escape to Ibiza, Bergerac in France and also see our friends and catch some surf in L.A.!
Thanks to Jo and Kyle for showing us behind the scenes of their workplace. It's fantastic to see the result of their passion to support independent designers within the marketplace. For more information visit Goodhood's website and also make sure to check out our home portrait of Jo and Kyle here.
This interview is part of our new category, Workplaces, on Freunde von Freunden. Read our Journalpost about FvF Workplaces.
Photography: Georgia Kuhn
Text: Anna Bang and Rachael Watts