In the past it was often considered wise to leave Austria in order to become a musician. Nowadays, however, things are looking different in the Alpine Republic and much is happening within the music industry. While in the noughties big labels were still painting bootleg devils on walls, the Viennese took matters into their own hands with great success.A wonderful example of such musical success is Ilias Dahimène, who has managed the music label Seayou since 2006. Besides being considered one of the most important Austrian labels it continues to receive international attention. The bands which surpass all sorts of genre borders not only enjoy the full-service agency music representation, but also the additional perks that include unconditional psychological support. Besides music Ilias has a second passion: skateboarding – something he equally enjoys practicing in different locations often sparking him to take road trips in order to pursue this passion. Not showering for a week is an accepted part of the deal.If Ilias wasn't already overwhelmingly busy enough, he also found time recently to establish the publishing company Redelsteiner Dahimène Edition, alongside the owner of Viennese indie-label 'Problembär Records.' We visited the label boss of Algerian and Austrian heritage in his office located within the Leopoldstadt district. Talking about records and the future of the music industry, Ilias also discussed his own diverse adventures, such as sleeping at a Milanese refugee camp, and most importantly, where one can find the cheapest beer along the Danube canal.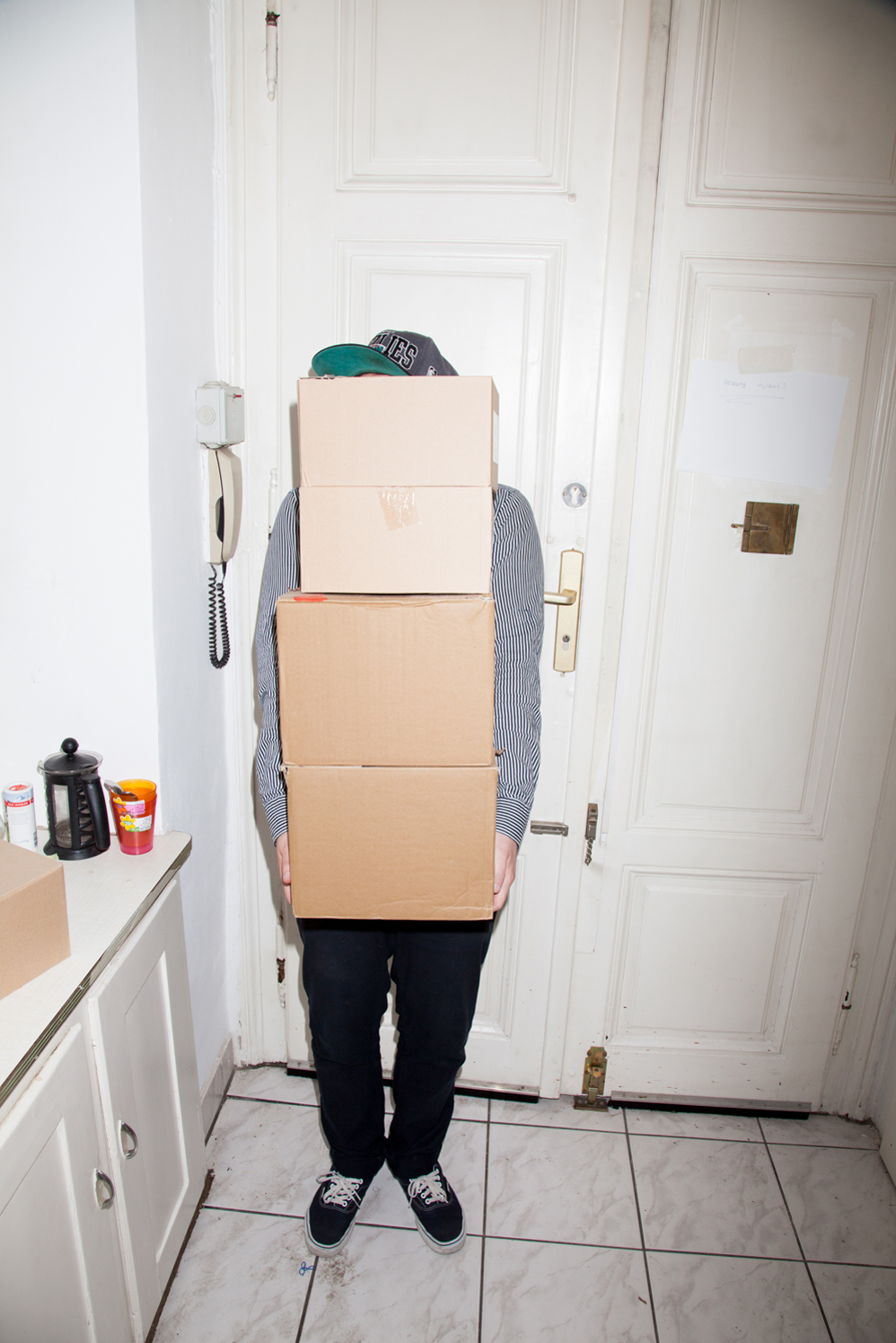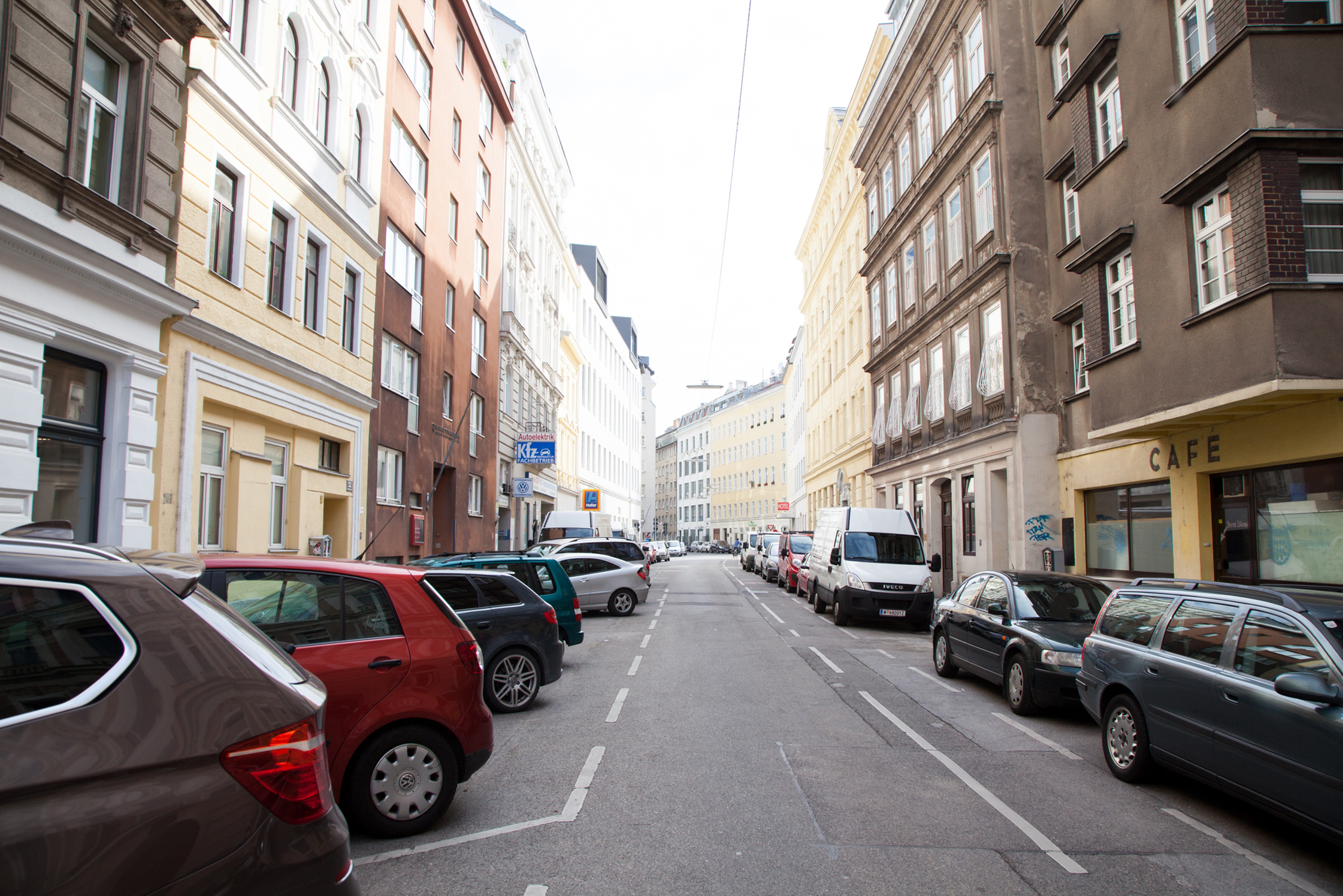 Has music always played a big role in your life?
Yes, since childhood I have been very interested in music. I think this comes from my parents, as they would always take me along to concerts by Bob Dylan and Rolling Stones. At the age of twelve I became quite interested in punk.
You also play yourself?
Yes, when I was 14 I began to play as a bassist and guitarist in a range of bands. Until my mid-twenties I was on tour with hardcore bands. After that I thought about what I should do with my life. Eventually I was lucky enough to found my very own label. I still can't really believe it, but I am so grateful that it happened.
Can you remember the first record you ever bought?
I actually bought two CDs with my pocket money: 'Against the Grain' by Bad Religion and 'Use Your Illusion' by Guns 'n' Roses.
What kind of music do you listen to nowadays?
Basically everything, it is a wild mix really. In the past I would often go to raves and listen to a lot of hip-hop. Nowadays for me it is not so much about the music anymore but about the person who stands behind it and what he or she does with the music.
There are some cool skateboard decks laying around the office, can you explain where they came from?
They are the result of a really exciting collaboration with 'Brutal Beauty' which is an art and skateboard label from Graz. Our bands 'Die Eternias' and 'Dust Covered Carpet' recorded a split-el and created decks and t-shirts to go along with it.
Skating has also been quite your thing, hasn't it?
Exactly, skating and music have always been the two mediums through which I could express myself. It is still like that, even though I am concentrating a bit more on music now. I am more the mediator than the executor.
Where were you born and raised?
I was born in Freistadt, Austria. My father is from Algeria, and my mother is from Austria. We only moved around the first four years of my life. For some time I lived in Algiers, afterwards in Munich, and then most of the time near the Bavarian-Austrian border close to Passau.
How did you come to Vienna?
The classic way really: I had to repeat two years during school and then I moved to Vienna because I had no idea what I wanted to do with my life. First I studied philosophy, but very soon I started doing more things involving music and I started to organize concerts for touring bands. In some kind of way music has always been the centre of my life.
In 2006 you founded your label Seayou Records.
Exactly, our first record was the debut of 'Go Die Big City.'
An amazing record: small but mighty! You now even publish massive double-live albums on occasion. Does this progression mirror the development of the label?
Partially. In the beginning we would have never done it like that. However, when I began doing this record I never wanted to establish and work on a label in order to support myself. It was simple, there were many amazing tracks by a very cool artist – one doesn't need more than that. It is the classic foundation story of a label. And after the great feedback, I taught myself pretty much everything that had to do with music promotion and founded my label.
What genres does the label represent?
Every sort of genre. Since I come from a pretty strong subculture, I didn't want to be stuck within another firm aesthetic. The main thing that matters is that the artist and the music is exciting.
Do you think it is good to refrain from categorizing yourself as a label?
Well, there is certainly a big risk since we publish things that people don't really understand. We don't just do Indie bands that sell well, we also do stuff that is a bit edgier and more experimental.
It must be liberating not to have a single label-sound.
It has pros and cons. If the timing is right and if the music fits into the overall theme, one can create a lot of attention as a genre-label. But that can really depend on current trends. In the past many labels that fitted perfectly into a specific time experience problems later on. So there are advantages. But then there is the downside of always needing to create public attention for different audiences because our bands are so diverse.
What does the concept Indie-label mean to you?
In the last ten years alone the indie structures have improved extremely in regards to professionalism. The indies have also doubled their market share while the majors have lost theirs. There are just different models within the music industry.
Does the significant growth of indie labels have to do with streaming?
The growth occurred as the internet broke down that classic 'gatekeeper'. Print is not as important anymore like it used to be and music television has died out. As a consequence one is able to easily promote an unknown band. In earlier times this was considered impossible and the 'gatekeepers' had to be contended with. In some way this has been a democratization process.
So streaming is not a saviour?
Yes, I consider it something very positive and use it very much in my private life as well. Above all, it is a model whereby music can be realized within the future. Nowadays it is much more comfortable than downloading. Many people complain that it doesn't bring much pro stream, however it functions as a mass medium and works best when it is used by the masses.
What does this mean for the artists?
The artists have to think about what kind of career they want and in what radius they would like to be played. I am definitely not someone who curses the majors since it is not easy to manage a small label.
How do artists come to you?
In the beginning it was just friends and acquaintances. Since I was often on tour I knew a lot of international bands. Sometimes booking agencies wrote to us from America looking for an European label. Nowadays even demos are sent to us. This is how we got the band 'Fijuka,' for example.
Can labels function as a guide for bands?
Principally a label should only be responsible for the distribution of records in stores and promotion in the media. We fulfil many extra duties however, even including psychological support! This is why we described ourselves as a full-service agency in the application for the Vienna cultural support of the Vienna Business Agency.
What is the definition of support within the music industry in Austria?
In Austria we have the problem that classical music dominates and basically claims the whole support fund for music. There is not much left for pop music. Besides the support of the Vienna Business Agency there not many other options.
But regardless, what makes Vienna an interesting city for your label?
Vienna is very comfortable. It has the right size, it is very central, it is cheap and offers a high quality of life. And it is cozy! Even though there is not much media in Vienna, it is pretty easy to receive attention in Austria. I have had thoughts about managing the label from somewhere else, but nothing is concrete yet.
Which cities would you consider?
The classic major cities where the media dominates such as London, Berlin, Paris, or Barcelona. Things which partially have to be outsourced by external agencies could be handled from there.
Then why still Vienna?
I have been living here for twelve years and I consider myself a pretty big fan of this city. I have travelled a lot and know most of the European cities. But Vienna offers a very good mix in size, price, and living quality. The only disadvantage is the long winters. Otherwise I can't complain. And if one is able to get out a lot, one learns to appreciate the city more.
Do you have any favorite memories of 'getting out?'
Yes. When I would tour with bands so many great things would happen. For instance, when we were in Milan we slept in a refugee camp. We squatted without electricity. Skateboard road trips were also really great. To be among four friends in a car without showering for one week is really something.
Where is your favorite place? Do you have a local?
The dockland pub during the summer is a personal tip. Because it is located in a quiet part along the canal not so many people go here. It even sells the cheapest beer at the canal.
Your most recent project has been moving into publishing, is this correct?
Exactly. Since 2013 I have been running ' Redelsteiner Dahimène Edition,' alongside Stefan Redelsteiner who owns 'Problembär Records.'
How did this come about?
As my mother used to be an author, I had a lot of experience in the literature world. Despite admittedly never really liking the things she or her friends did I have moved into publishing. I would often argue with her about different topics. For example I never understood why she liked Thomas Bernhard – I thought he was absolutely terrible.
Then, one day I thought: there must be something that is not like that. I talked to Stefan, who had also been wanting to establish a publishing company. We both agreed that we had little time on our hands but thought if we could do it together we could split the work and in the end it would be more achievable.
Did the plan work out?
No, of course not. It is a lot of work but I enjoy it all the same!
Many thanks to Ilias for taking time out for this interview and showing us around Seayou Records. You can find more information about his music label here and his publishing companyt here.
This portrait was produced in collaboration with the Vienna Business Agency and its creative center departure. You'll find more portraits and reports from Vienna's creative scene here. 
Photos: Lukas Gansterer
Interview & Text: Philipp Daun
Früher hieß es, wer etwas als Musiker erreichen will, sollte Österreich lieber verlassen. Doch inzwischen sieht es ganz anders aus in der Alpenrepublik, denn es hat sich einiges in der österreichischen Musikszene getan. Während die großen Labels in den Nuller-Jahren noch den Raubkopierer-Teufel an die Wand malten, nahmen die Wiener Kreativen die Angelegenheit selbst in die Hand. Und das mit viel Erfolg!
Ein gutes Beispiel dafür ist Ilias Dahimène, der seit 2006 das Musiklabel Seayou betreibt. Es gehört nicht nur zu den Wichtigsten in Österreich, sondern hat auch international für viel Aufmerksamkeit sorgt. Die Bands, die alle Genre-Grenzen sprengen, genießen bei der Full-Service-Agentur zusätzlich zu den offensichtlichen Dienstleistungen, wie der Musikverwertung auch psychologische Betreuung. Vor kurzem hat er das Wiener Label 'Problembär-Record' übernommen. Neben der Musik hat Ilias aber noch eine zweite Leidenschaft: das Skateboarden, das er genau wie die Musik gerne an verschiedenen Orten praktiziert und ihn so zu dem ein oder anderen Roadtrip verleitet. Tagelang ohne Duschen auskommen, nimmt er dafür gerne in Kauf.
Als ob Ilias nicht schon genug ausgelastet wäre, gründete er vor kurzem gemeinsam mit Stefan Redelsteiner, dem Chef des befreundeten Wiener Indie-Labels 'Problembär Records' auch noch den Verlag Redelsteiner Dahimène Edition.
Wir haben den Label-Boss mit österreischischen und algerischen Wurzeln in seinem Büro im Wiener Bezirk Leopoldstadt besucht und mit ihm nicht nur über Platten und die Zukunft der Musikbranche gesprochen, sondern auch über Abenteuer, wie das Übernachten in einem Mailänder Flüchtlinslager und das billigste Bier am Donaukanal.
Hat Musik schon immer eine Rolle in deinem Leben gespielt?
Ja, schon als kleines Kind war ich sehr musikaffin. Ich glaube, das liegt an meinen Eltern, die mich früh auf Konzerte von Bob Dylan und den Rolling Stones mitgenommen haben. Mit zwölf Jahren haben mich dann aber die ganzen Punk-Sachen mehr interessiert.
Und spielst du auch selbst?
Ja, mit 14 Jahren habe ich angefangen in Bands als Bassist und Gittarist zu spielen und bin bis Mitte zwanzig mit Hardcore-Bands auf Tour gewesen. Dann habe ich mir überlegt, was ich machen soll. Und dann hat es sich zum Glück so ergeben, dass ich das Label gegründet hab. Ich kann es zwar immer noch nicht so ganz glauben kann, aber ich bin sehr froh darüber.
Kannst du dich noch an deinen ersten Plattenkauf erinnern?
Das waren sogar zwei CDs, die ich von meinem Taschengeld gekauft habe: 'Against the Grain' von Bad Religion und 'Use Your Illusion II' von Guns 'n' Roses.
Was hörst du jetzt für Musik?
Eigentlich alles, es ist es total durchmischt. Früher war ich oft auf Raves und habe viel Hip-Hop gehört. Aber inzwischen geht es mir gar nicht mehr um die Musik an sich, sondern viel mehr um die Person, die dahinter steht und was sie mit der Musik macht.
Hier im Büro stehen coole Skateboard-Decks — was hat es damit auf sich?
Das war eine total spannende Zusammenarbeit mit Brutal Beauty, einem Kunst- und Skateboard-Label aus Graz. Unsere Bands Die Eternias und Dust Covered Carpet haben eine Split-EP aufgenommen und die passenden Decks und T-Shirts entworfen.
Skaten war ja auch schon immer ein Thema bei dir, oder?
Ja, das war mein Ding: Skateboarden und Musik waren meine zwei Hauptausdrucksformen. Das ist auch immer noch so, nur hat sich das Gewicht ein bisschen mehr zur Musik verlagert. Ich bin jetzt mehr der Vermittler als der Ausführende.
Wo bist du eigentlich geboren und aufgewachsen?
Ich bin in Freistadt in Österreich geboren. Mein Vater kommt aus Algerien, meine Mutter aus Österreich und wir sind die ersten vier Jahre nur umgezogen. Eine Weile habe ich in Algier gewohnt, später in München und dann die meiste Zeit an der bayrisch-österreichischen Grenze bei Passau.
Wie bist du dann nach Wien gekommen?
Ein Klassiker: Ich bin in der Schule zweimal sitzen geblieben und dann nach Wien gezogen, weil ich nicht wusste, was ich machen wollte. Zuerst habe ich Philosophie studiert, dann aber recht früh angefangen, neben der eigenen Musik andere Sachen zu machen. Zum Beispiel für tourende Bands Konzerte veranstaltet. Mein Lebensmittelpunkt hatte irgendwie immer irgendwas mit Musik zu tun.
2006 hast du dann das Label gegründet.
Genau, unsere erste Platte war damals das Debut von 'go die big city!'
Eine tolle Platte: klein, aber fein! Mittlerweile veröffentlicht ihr mitunter enorme Doppel-Live-Alben. Spiegelt das für dich die Entwicklung des Labels wieder?
Teils, teils. Wir hätten das am Anfang sicher nie so machen können. Andererseits: als ich angefangen und diese Platte gemacht habe, wollte ich eigentlich nie ein Label gründen, um damit meinen Lebensunterhalt zu verdienen. Es gab vier Tracks, die super waren – und dazu noch von einem coolen Künstler – mehr braucht man nicht. Eine klassische Label-Gründungsgeschichte eben. Und nach dem guten Feedback dazu, habe ich mir alles über Musikvermittlung selbst beigebracht und das Label gegründet.
Welche Genres gibt es bei dem Label?
Alles, quer durch die Bank. Nachdem ich aus so einer starken Subkultur komme, wollte ich nicht auch noch mit dem Label in einer bestimmten Ästhetik feststecken. Mir ist nur wichtig, dass Künstler und Musik spannend sind.
Findest du es gut sich nicht festzulegen?
Naja, es ist ein großes Risiko, weil wir Sachen rausbringen, die Leute gar nicht so richtig zuordnen können. Wir machen eben nicht nur Indie-Bands, die sich gut verkaufen, sondern auch welche, die ein bisschen experimenteller und edgy sind.
Ist es befreiend keinen Label-Sound zu haben?
Es hat Vor- und Nachteile. Man kann als Genre-Label schnell Aufmerksamkeit erregen, wenn das Timing stimmt und die Musik in das allgemeine Lifestyle-Ding reinpasst. Aber man ist dann eben extrem an Trends gebunden. Viele Labels in der Vergangenheit, die in genau dem Zeitpunkt gut gepasst haben, tun sich nach ein paar Jahren schwer. Wir haben den Vorteil trendunabhängig zu sein. Dafür gibt es die Schwierigkeit, immer wieder Aufmerksamkeit erregen zu müssen, da unsere Bands so unterschiedlich sind.
Wie gehst du mit dem Begriff Indie-Label um?
Wir sind es ein bisschen aus Zwang. Natürlich sind wir aber sehr happy damit. Allein in den letzten zehn Jahren haben sich die Indie-Strukturen extrem professionalisiert und die Indies haben ihren Marktanteil verdoppelt, während die Majors verloren haben. Es sind eben zwei verschiedene Modelle in der Musikindustrie.
Hat der Zuwachs bei den kleinen Labels auch mit Streaming zu tun?
Der Zuwachs hat hauptsächlich damit zu tun, dass durch das Internet die klassischen Gatekeeper weggebrochen sind: Print ist nicht mehr so wichtig wie früher und Musikfernsehen gibt es auch nicht mehr. So kann man eine unbekannte Band extrem schnell promoten. Früher war das gar nicht so möglich, da man eben immer an den Gatekeepern vorbei musste. Im Grunde war das eine Art Demokratisierungsprozess.
Streaming ist also doch nicht der Erlöser?
Doch, ich stehe dem sehr positiv gegenüber und nutze es auch privat sehr viel. Vor allem ist es tatsächlich ein Modell, mit dem man in Zukunft Musik verwerten kann. Es ist mittlerweile viel bequemer, als Runterladen. Viele beschweren sich immer, dass es extrem wenig einbringt pro Stream, aber das ist halt ein Massenmedium und funktioniert dann am besten, wenn es die Masse benutzt.
Was bedeutet das für die Künstler?
Sie sollten sich überlegen, was sie wollen, welche Art Karriere sie anstreben und in welchem Radius sie gespielt werden möchten. Ich bin definitiv keiner, der die Majors verflucht, weil es ist halt doch nicht so einfach ist, ein kleines Label zu führen.
Wie finden Künstler zu euch?
Am Anfang waren es nur Freunde oder Bekannte. Dadurch, dass ich relativ oft auf Tour war, habe ich schon immer viele internationale Bands gekannt. Manchmal schreiben uns auch Booking-Agenturen an, die von Amerika aus ein europäisches Label suchen. Mittlerweile kriegen wir auch Demos zugesandt: Die Band Fijuka haben wir beispielsweise auf diesem Weg für uns gewonnen.
Können Labels mehr als eine Orientierungshilfe für Bands sein?
Im Prinzip sollte ein Label nur schauen, dass die Platte in den Läden steht und in den Medien präsent ist. Wie erfüllen aber auch ganz viele Zusatzaufgaben, die bis zur psychologischen Betreuung reichen. Deswegen haben wir uns im Antrag auf die Wiener Kulturförderung von departure auch als Full-Service-Agentur bezeichnet.
Welche Rolle spielt Förderung denn, insbesondere in der Musikszene?
In Österreich haben wir das Problem, dass die klassische Musik sehr dominiert und den gesamten Fördertopf für sich beansprucht. Für Pop-Musik bleibt da kaum etwas übrig. Bis auf die Förderung von departure gibt's da eigentlich nichts.
Was macht Wien als Standort für dein Label dennoch interessant?
Wien ist sehr angenehm: Es hat die richtige Größe, liegt sehr zentral, ist billig und hat eine hohe Lebensqualität. Und es ist gemütlich! Auch wenn in Wien nicht die riesigen Medien sitzen, kann man leicht Aufmerksamkeit in Österreich erregen. Es gibt schon Überlegungen, ob man das Label auch woanders führen könnte, aber das ist nicht so fix.
Welche Städte würden da in Frage kommen?
Die klassischen Großstädte, in denen die Medien sitzen: London, Berlin, Paris, Barcelona. Dinge, die wir teilweise noch an externe Agentur auslagern müssen, könnte man dort direkt erledigen.
Und warum dann doch noch Wien?
Ich wohne jetzt seit zwölf Jahren hier und bin ein ziemlicher Wien-Fan. Ich war schon immer viel unterwegs und kenne auch die meisten anderen europäischen Städte. Aber Wien hat eben eine gute Mischung von der Größe, vom Preis und von der Lebensqualität. Der einzige Nachteil sind die langen Winter. Sonst kann ich mich nicht beschweren. Und wenn man viel rauskommt, weiß man das auch mehr zu schätzen.
Hast du Lieblingserinnerungen von deinem Rauskommen?
Ja, wenn wir mit Bands auf Tour waren, haben wir immer extrem viel erlebt. In Mailand haben wir zum Beispiel im Flüchtlingslager geschlafen, in Squads ohne Strom. Skateboard-Roadtrips waren natürlich auch immer sehr lustige Erfahrungen: eine Woche mit vier Freunden im Auto ohne zu duschen.
Und was ist dein Lieblingsort, wenn du zuhause bist?
Die Hafenkneipe ist im Sommer so etwas wie ein Geheimtipp. Da sie am ruhigeren Teil vom Donaukanal liegt findet hier selten jemand hin. Und das, obwohl sie das billigste Bier am ganzen Kanal verkaufen.
Seit neustem bist du nicht nur Label-Chef, sondern verlegst auch Bücher?
Genau, seit 2013 betreibe ich mit Stefan Redelsteiner, dem Labelchef von 'Problembär Records', die Redelsteiner Dahimène Edition.
Wie kam es dazu?
Meine Mutter war Autorin, durch ihren Freundeskreis habe ich also das ganze Literaturschaffen schon immer mitbekommen. Obwohl ich das, was sie und ihre Bekannten da gemacht haben, eher schlecht fand. Ich habe zum Beispiel immer viel mit ihr gestritten, warum sie Thomas Bernhard gut findet, den fand ich immer total furchtbar. Irgendwie dachte ich mir dann: Es muss ja irgendwas geben, was nicht so ist und habe mit Stefan geredet, der auch schon immer einen Verlag gründen wollte. Wir waren uns einig, dass wir eigentlich keine Zeit dafür haben und überlegten: Wenn wir das zu zweit machen, können wir uns vielleicht die Arbeit teilen und ganz wenig machen.
Ist der Plan aufgegangen?
Nein, natürlich nicht. Es ist ganz schön viel Arbeit.
Vielen Dank an Ilias, dass er sich trotzdem Zeit für das interessante Gespräch genommen hat. Weitere Informationen zu seine Musiklabel findet sich hier und zu seinem Verlag hier.
Dieses Porträt ist in Zusammenarbeit mit der Wirtschaftsagentur Wien und ihrem Kreativzentrum departure entstanden. Mehr Porträts und Berichte zu der Wiener Kreativszene gibt es hier. 
Fotos: Lukas Gansterer
Interview & Text: Philipp Daun