Somewhat of an urban oasis, artist Armelle de Sainte Marie's southern French atelier is a special place for contemplation and the creation of her exquisite organic paintings and drawings often depicting allusive landscapes. In Armelle's very own words: "I do all sorts of things in my atelier depending on the moment: I read, I paint, I draw, I clean, I assess an idea, I develop a project… all this takes a part in the slow maturing process of images to come."
Behind a massive grey door, there is a small path that leads to Armelle de Sainte Marie's atelier. Bathed in the brilliant light of Marseille, the space is where the artist finds her balance to create and define her singular aesthetic. Armelle immediately welcomes us on the day we visit her atelier, which is full of works in progress. While talking over freshly brewed coffee, she explains her interest in the different techniques that offer her a wide range of working possibilities.
Born and raised in Paris, life's circumstances brought her to the South of France and to Marseille. She now navigates between Toulouse and Marseille, finding a new pace between work and her personal life. As the move is quite new it's still a challenging one for her. The artist shares with us anecdotes about her atelier, explains what she adores about Marseille, and where to go if you want to enjoy the city at its best.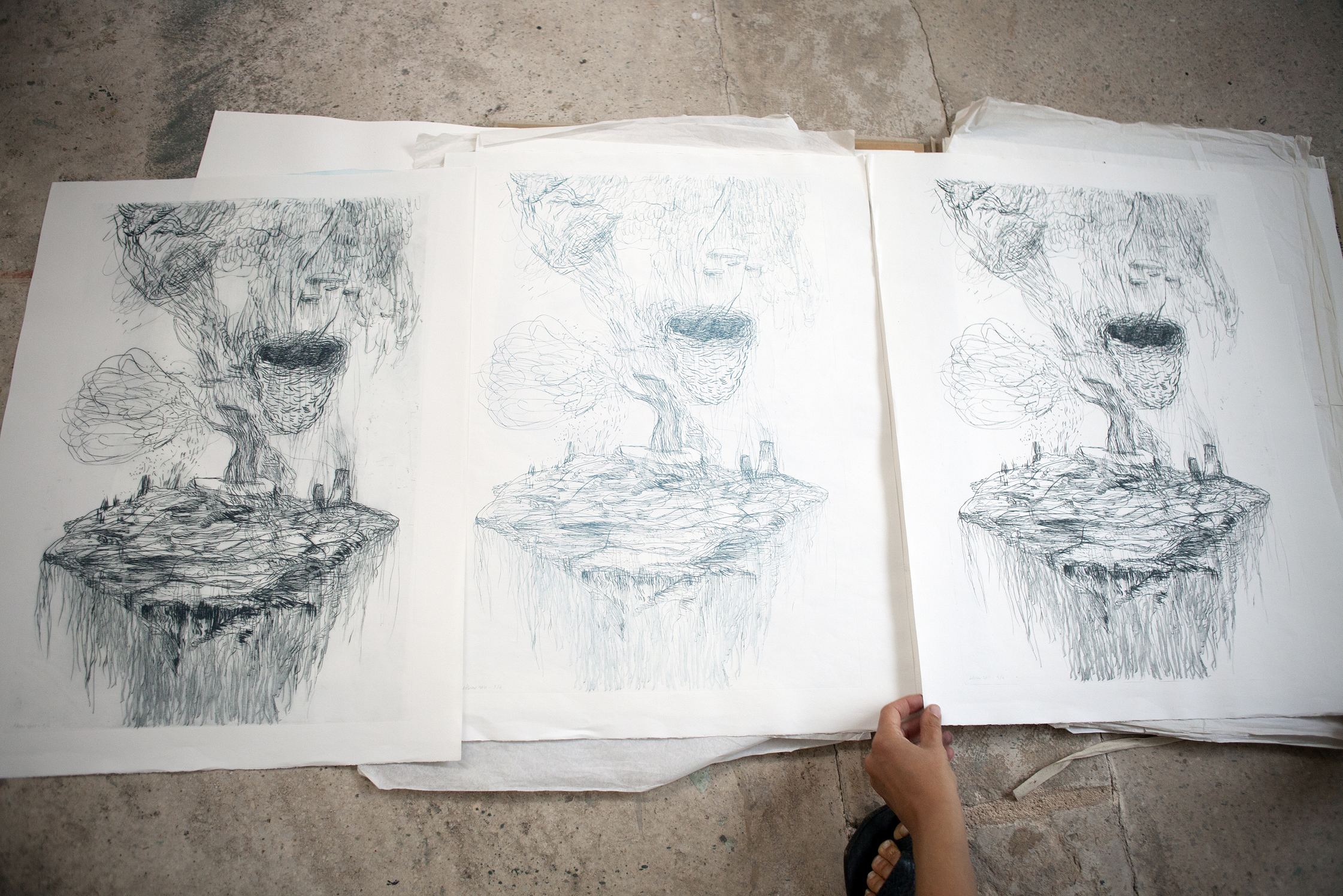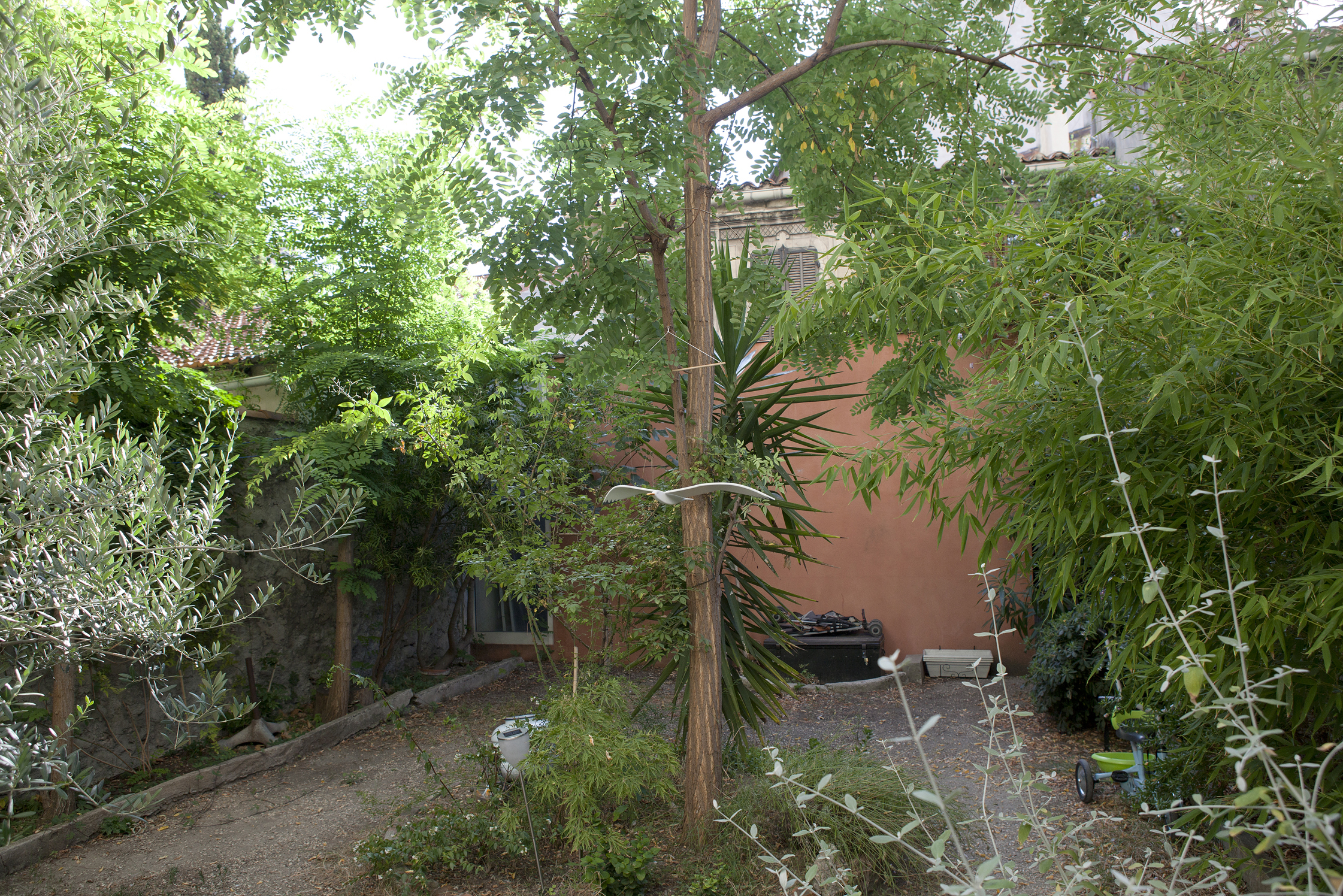 Where were you born? Where did you grow up?
I was born and raised in Versailles. I took drawing classes at the Ecole des Beaux-Arts when I was a teenager before starting secondary education there. I left midway to go to Paris to study at the ENSAAMA ODS.
Why Marseille?
At first, professional circumstances in my then partner's life brought me to the South of France, near Salon de Provence. The project of living in Marseille came to me soon enough after that. It was like the promise of openings and discoveries. At first, I only knew one or two people, then one thing lead to another in a rather smooth and rich way. I was eventually able to develop my art as well as my social life. I became captivated by the city's strong, contrasting identity as well as by key people I met.
You recently moved to Toulouse. How has this move affected your work?
I am going through quite a weird period. At first I feared that being far from my studio in Marseille would make me feel like an orphan. But it's in fact a very valuable space where I can come as often as I like to completely focus on my painting and isolate myself from everyday life. In Toulouse, through necessity at the moment I'm developing my work on paper. For now I can say oil painting is in Marseille and water-based painting in Toulouse! But this is all very new and I have no idea of how things will evolve in the future. All I know is that this distance from my studio is creating new desires and work rhythms which definitely influences my work and is indeed very stimulating.
Where does your inspiration come from?
Really anything that has to do with stories – real or invented – memories, nature… The physicality of the paint triggers my imagination too. When I paint, I see collections of images developing like a narrative, an unintentional flow of thoughts, moving, twirling and becoming mere material again. These visions are like associations of ideas and sensations that evoke or remind me of something. I think sensory memory is very important in painting, especially as it draws on the personal; a sort of box of feelings that feed my work. A canvas is made up of an array of pictorial memories and feelings. It's an adventure and most of the time I don't know the outcome.
For a while now I've been developing a series on paper that I call the 'tram'. It marks a period in my work that is more graphic in quality. After experimenting with engraving it has led to the repetition of gesture. This is work more rooted in abstraction which is literally divided into constructed partitions and patterns.
What is the recurring theme in your work at the moment?
This would be allusive landscapes: abstract patterns, more or less systematic depending on the projects.
What techniques do you use?
I mainly work with oil. I like its tempo. When I work on paper, I use gouache, water-color, and ink, but sometimes oil too. Each of these materials have different qualities of light and involve different implementations which in turn influences the process.
Do you have any kind of routine in your atelier?
They are more rituals. And I am not even sure I have rituals. Except for getting ready to enter the fight! Like changing clothes, preparing the work area and tools and putting myself in the right state of mind to concentrate. I do all sorts of things in my atelier depending on the moment: I read, I paint, I draw, I clean, I assess an idea, I develop a project… all this takes a part in the slow maturing process of images to come.
There is a peculiar story regarding your table. Can you tell more about it?
This wooden table is an integral part of the studio: it cannot be removed, except if cut into pieces. The table was actually put in place before the walls were built as it would have been too big to go through the door or windows. It belonged to a painter friend I used to share a space with. He gave it to me before moving abroad. It's totally unimportant and sentimental, but it's true, the marks it bears are evidence of its story. Besides the fact that technically I need it as a workbench, it is a comforting piece of furniture, full of memories.
Are there any particular contemporary artists do you admire the work of?
There are a lot of them and they are very different. Even if it's restrictive, I can name Per Kirkeby, Silvia Bachli, Rosemarie Trockel, Bernard Frize, Valérie Favre, Gerhard Richter, Günther Förg, but also Marcel Broodthaers, Marie Ducaté, Marina Abramovic, Pipilotti Rist, and Mona Hatoum.
You recently exhibited at Le Corbusier's Cité Radieuse. Isn't it quite an important place in Marseille?
Yes, it is definitely an emblematic place. I am happy that my work was shown there. It has been a great experience and a very interesting challenge as the building's strong concrete aesthetic and history are major features that have to be taken into account in the exhibition layout.
What is so special about Marseille?
The swims in the sea, the coast with the white rocks, that light and the big blue expansive sky. Time flows differently here. It feels like it is dilated, offering so many possibilities. A quality of life for sure and some specific sensations, which are mine and which resonate in the city.
Do you have a favorite café or a favorite restaurant in town?
Not really, I change very often. But close to the studio I have my coffee at Nico on place Jean-Jaurès. Chez Noël a family pizzeria which is kind of a Marseille "institution", on La Canebière is good. Also halfway-up La Canebière I got to the Green Bear Coffee and Chez Boudiou on the boulevard Salvator for organic lunches. Ah, there is also the Saf Saf, a canteen where you can have a couscous and Le Piment Thaï – it's asiatic equivalent – near Le Théâtre des Bernardines. The cafeteria Le Cercle des Nageurs has a fantastic view of the sea.
In what part of the city is your studio?
It's between a neighborhood called Le Chapitre, around the Canebière, near the gothic church Les Réformés and the neighborhood of La Plaine on the top of the hill, near the place Jean-Jaurès and the Cours Julien.
Do you have a sketch book?
Several, some are only half used, some fully. Sometimes I gather sheets of paper into a binder. They are more notes than sketches actually, moods, states of mind. I don't really draw my painting projects, they are only as a basis for further thinking. Sketching in this case allows me to see whether it "works" and if the form I am exploring is still interesting when I look at it later. Sometimes I draw finished objects on small formats with a felt or ballpoint pen, or with paint. They are like miniature landscapes, landscapes on their own gathered in a shared rhythm of the sketchbook in a lighter way than in a bigger formats. But I am not very rigorous about it. Perhaps because I much prefer to be confronted with a larger format.
Where do your ideas come from?
This question is directly linked to notions of inspiration. It is less about ideas than about the attention given to what ideas are provoked by the different use of material and colors; by their resonance and their differing layouts. Sketches and notes serve as a basis for shapes and patterns before they become images, a tapestry within which one can wander. The technique used also plays a great part in which direction the project will take. For example, using a white gesso – a sort of rabbit skin glue – as a varnish on a transparent canvas, gives a different surface to paint on and to explore. The canvas develops in a different way depending on these differing parameters.
I am also guided by what I read, the photographs I look at, the work of other artists contemporary or not, nature, and really what surrounds me. Reality is an infinite material to feel and interpret.
Thank you for this charming visit in your beautiful atelier. You can discover Armelle's work on her website here.
Photography: Mary Gaudin
Interview & Text: Marion Berrin
Translation: Marion Brun