Born and raised in Vancouver to Chinese parents, with pit stops in Peru and Papua New Guinea, and a stint studying sculpture at the Rhode Island School of Design, Wing Yau moved to New York for love and, in the process, built her own jewelry brand.
Just a five minute walk away from her brownstone home, Wing Yau's studio can be found in an industrial stretch of the Brooklyn neighborhood of Greenpoint. Today, the designer opens the doors to this intimate studio space and shows us around.
Wing Yau explains the abundance of greenery in her studio space as an alternative to artificial decor, "I haven't really gotten around to buying art, so I decorate with plants." Upon entering the space, which Wing co-rents with a painter named Drew C. Watts, interesting objects immediately catch your eye. From a reassembled broken mirror to a South African beaded zebra doll, these small items articulate Wing's fascination with design in the everyday. The eclectic mix of items gives off a sense of grown-up creative chaos.
At the age of 27, this RISD graduate has already established her very successful label, WWAKE. Its signature designs of understated rings and delicate necklaces have drawn attention from the heights of New York's fashion world and beyond. This New York success story talks to us about her jewelry, her childhood adventures and the unending opportunities of her adopted home.
This portrait is part of our ongoing collaboration with ZEIT Online who presents a special curation of our pictures on ZEIT Magazin Online.
So tell me, what does a typical day in the life of the boss of WWAKE look like?

I wake up, make some coffee with Jake and then take a moment of quiet for myself. Sometimes I walk to the water's edge one block away from my house before I go to the studio. It's that time alone that helps me focus and feel ready to talk to people all day long.

There are five of us in the studio: my studio manager Jane, who I like to call my "fancy lady". She got these amazing scented candles by Votivo for the studio and I felt so bad because I was the boss and I should be the one buying the candles! They remind me of my hometown, because they used to burn at the first nice boutique in Vancouver. I finally managed to get the same ones for my bathroom, which made me feel like such an adult.

The rest of my team consists of my e-commerce manager who is also called Jane, one jeweler and one person to help with shipping. We usually try to get in earlier, but our hard start really is 10am. Everyone's usually here until 6.30 at night. I might stay until 8pm, but am currently trying very hard to curb my working hours to eight instead of ten.

The day is usually full of meetings with my awesome staff. This week we are both designing and editing options for the next collection and also planning for our upcoming lookbook shoot.

Mid-day I usually check in with our production and see if everything is on track for our orders. Then I usually have a few visitors to our studio in the late afternoon. If I'm able to, I like to help customers pick their jewelry and make sure they find exactly what they're looking for. We do so much business through our retailers and online, so it's fun to meet our customers in person. My favorite is curating the perfect stack of rings.
Have you always been into jewelry? And do you wear a lot of it yourself?

It's funny, but I think I wear less now than I ever have. I used to wear so much. A lot of them were ethnic, tribal pieces with hand-painted bones and stuff that I picked up at vintage stores and flea markets. I never really had any fine jewelry keepsakes or family heirlooms. So I guess now I am trying to design beautiful pieces that last for other people. And, for myself, one of my all-time favorite pieces is this opal earring I am wearing. I love the negative space in it. And the airy setting. I feel like some of the other design techniques I use have gotten super trendy recently, but no one has done anything like these earrings yet.

As a child and teenager, you got to live in two exotic countries: Peru and Papua New Guinea. Do you own any jewelry pieces from that time?

No, I actually didn't buy anything. But my taste and inspiration definitely originates in there.

My family and I visited Papua New Guinea, just for a summer, when I was ten. It was my first time abroad. I just felt very weird! There were tribesmen walking around in purple polo shirts and grass skirts. I had obviously never seen anything like it. But the funniest thing was that they stared right back at my brother, sister and myself, because we were perhaps the first Chinese children they had ever seen. The whole surreal experience is hard for me to speak about as an adult because there is so much I didn't quite understand as a child. But it was definitely a precious time in my life. I am dying to go back and see the whole thing with grown-up eyes.

But, to answer your question, my formative years were really spent in Lima. There, I learned Spanish fluently. And I was exposed to the world outside of what I knew in Canada. At first, I was completely uncomfortable and uncooperative – I was such a brat, about being in a foreign culture. My poor parents! But, as I grew to understand Peruvian and South American culture in general, I came to love it and didn't want to leave. We ended up having a very close-knit community in Lima and my mom took us everywhere: Brazil, Argentina, Chile, the Amazon, the Andes, the Antarctica… It was so eye-opening. While I was there I also discovered my interest in art. Naturally, coming back to North America when I was 15 was difficult for me. I spent a lot of time thinking about why I felt so frustrated with myself. I think the back and forth between the two cultures forced me to be objective about people around me and also flexible about my self-perception. I taught myself how to be observant and then adapt.
Has that experience helped you adapt to life in New York as well?

I moved here for love so it wasn't that hard. Also, New York is the place for me right now. I feel like I can achieve infinite goals here and I also love my community of creative minds: My photographer and good friend Shay Platz has a studio down the hall. My textile designer friend Zandy's studio is next door and she also lives in our apartment building. Our neighbor there is this singer-songwriter who, of course, is also a model. I have this ongoing joke with my husband Jake that I better not catch him sneaking over there. Also, I am planning this little piercing jewelry collaboration and event with New York's most famous piercer, J. Colby Smith. And then there's my friend Lynne, who is the owner of the brand CARDIGAN. She does a lot of consulting for other designers and has been my mentor for some time now. All these self-help books by successful business owners piled up in our apartment are the ones she gave to me. Right now I'm reading Thrive by Arianna Huffington. All that being said, I really miss Vancouver. The forests and ocean there are so relaxing!

Speaking of relaxing: Your company is barely three years old. You must not get to do switch off a lot…

I never thought I could burn out, but I actually got really close. So this year has been different and I am now thinking a lot more about how to be healthy. On the weekends my rule is to spend at least one entire day outside, most of the time at Transmitter Park in Greenpoint, which has an amazing view of the city and the waterfront. And I watch a lot of bad TV. I just started this show, Between. The series' star was wearing WWAKE. She's this Disney Channel graduate and has about a gazillion followers on Instagram, so I started watching and got sucked in. But then again, I also love spending cloudy days seeing art shows in the city, grabbing a drink at Ramona Bar in Greenpoint, getting noodles at my favorite spot, Samurai Mama in Williamsburg. Oh, and I'm also making these baskets with rope using the crochet technique I used to start WWAKE.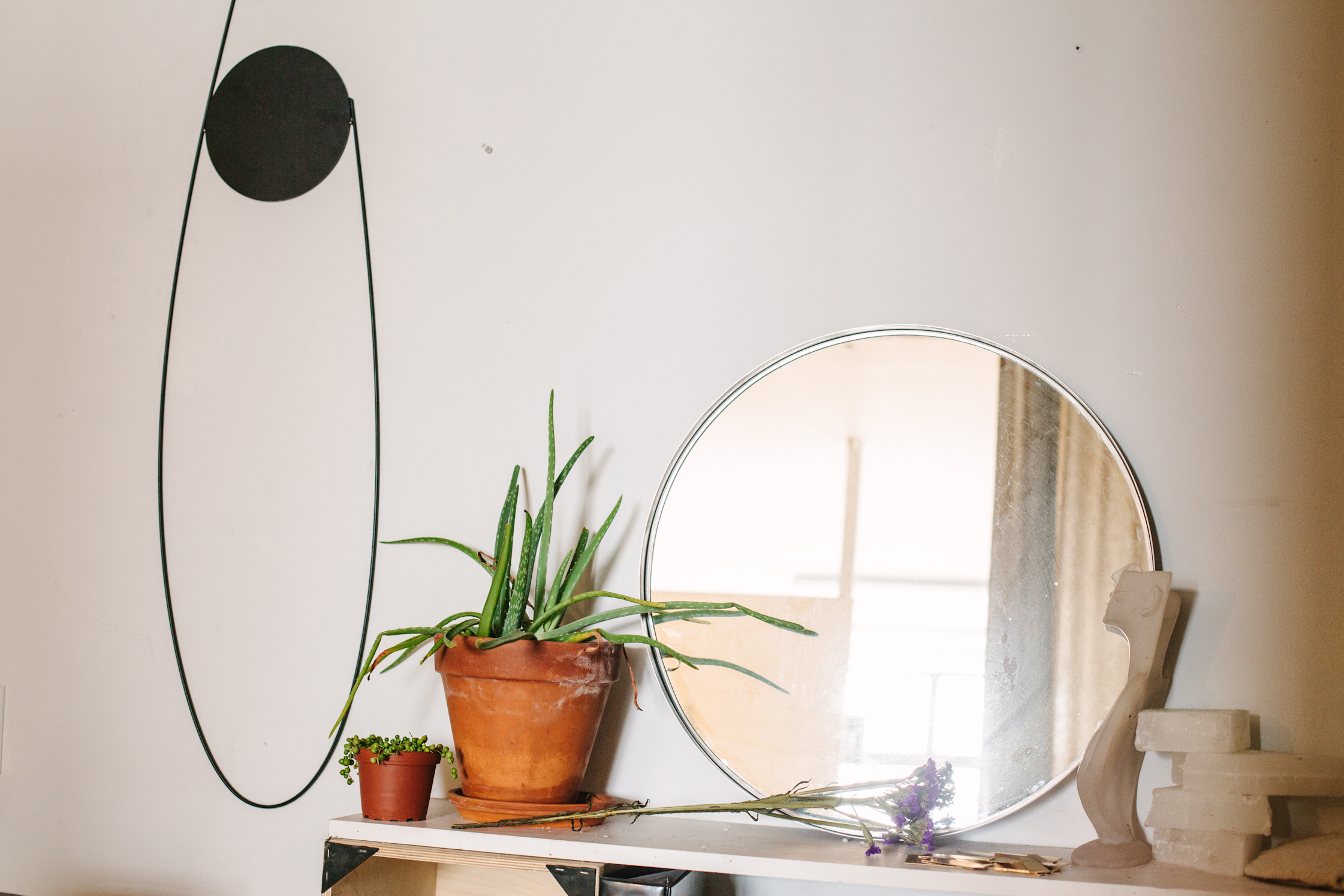 Yeah, I read you actually started your company with these wearable textile sculptures…

After I graduated from college, it was extremely hard to find jobs in the creative community. So I started working as a barista in Vancouver. But I obviously still felt the need to create. So I made these sculptures out of crocheted rope. I wanted an audience, so I decided to make them wearable. Which is how the whole jewelry thing started: I made this rope necklace, started wearing it to the café and got really positive feedback. It's incredible, if you think about it. Working in the service industry was the perfect platform for someone like me who didn't have a gallery or shop at the time. I guess I was doing market research before I even knew what it was.

What made you switch from yarn to metal then?

Funny thing is, I didn't really love how the necklaces looked. Way too feminine and "crafty" for me. So in my 2012 collection, I tried to fix that. I mixed fibers and metals, which made the pieces feel more like sculpture and ultimately art again. But then, these graphic rings and bangles I also made started doing so well. It appears that metal was just an easy vehicle to communicate with people. It's something that lasts. To make it even longer lasting and more valuable, I switched from my initial brass pieces to fine jewelry.
Speaking of value: What's the item you value the most in your studio?

Nothing to do with jewelry, actually: this sparkly hot dog, which is my favorite thing. One of my best friends gave it to me. We hadn't seen each other in a long time. And we had this third person, who is no longer with us, in our trio. That ornament is just so him! I guess it serves as a positive reminder of how funny the three of us could be and how everything started.

Oh, and before we leave, what is the story behind the book in your freezer?

Ha! Jake got it from a friend who had bed bugs so he thought he had to put it in the freezer to kill them off. It's been there for three days now.
Learn more about Wing and her jewelry on the WWAKE website. Ever in Greenpoint? Check out Wing's neighborhood haunts Ramona Bar and Samurai Mama. Find more interviews from New York in our archive. 
This portrait is part of our ongoing collaboration with ZEIT Online who presents a special curation of our pictures on ZEIT Magazin Online.
Photography: Jessica Barthel