After a deliciously light starter of Austrian canapés and a refreshing salad, our team lunch moved in a more indulgent direction.
Setting up an electric hob in the garden behind the FvF Apartment, artist and chef Max Frey prepared tender veal steaks for the whole team. On a warm July afternoon, Max fried the slim steaks while we finished up the savory pear salad. The steaks were complemented by sides of creamy polenta and aromatic ratatouille.
From starters that were tied to Max's Austrian home, this main course acknowledged a broader European cuisine. Max is not a chef to skimp on flavor, richening his polenta with milk and butter and infusing fresh rosemary into his slow-cooked ratatouille. The speed at which he grilled the veal and the patience with which he roasted the vegetables for the ratatouille created a delicious combination of flavors.
Read ahead for the ingredients and techniques Max put into these recipes.
Ratatouille
Ingredients
1

2 aubergines

2

2 zucchinis

3

2 large onions

4

2 glasses of water

5

Tomato pulp

6

A rosemary sprig

7

Salt and pepper

8

Olive oil
Method
Cut the aubergine into chunks and marinade in vinegar water for 3 minutes.
Cut the onion and zucchini into large pieces and gently roast in olive oil.
Combine the tomato pulp and aubergine, add salt and fresh rosemary.
Leave to simmer for 45 minutes. It is best to make a day before, and to leave overnight before serving.
Polenta
Ingredients
1

2 cups of polenta

2

2 cups of milk

3

2 cups of water

4

2 tbsp butter

5

Salt

6

A pinch of baking powder
Method
Boil the polenta in 2 cups of milk and 2 cups of water.
Let the polenta mix simmer, and add the baking powder.
Leave it to boil for 2 minutes.
Take it off the flame and stir for 2 more minutes.
Veal Schnitzel
Ingredients
1

600g veal from the topside

2

Unwaxed lemons

3

Olive Oil

4

1 tbsp butter

5

Pepper

6

Maldon sea salt
Method
Cut the veal steaks into 5mm thin pieces.
Quickly dip in a mixture of the olive oil and butter.
Sear the veal on a high heat with the lemon slices.
Flavor with coarse pepper and salt; then serve.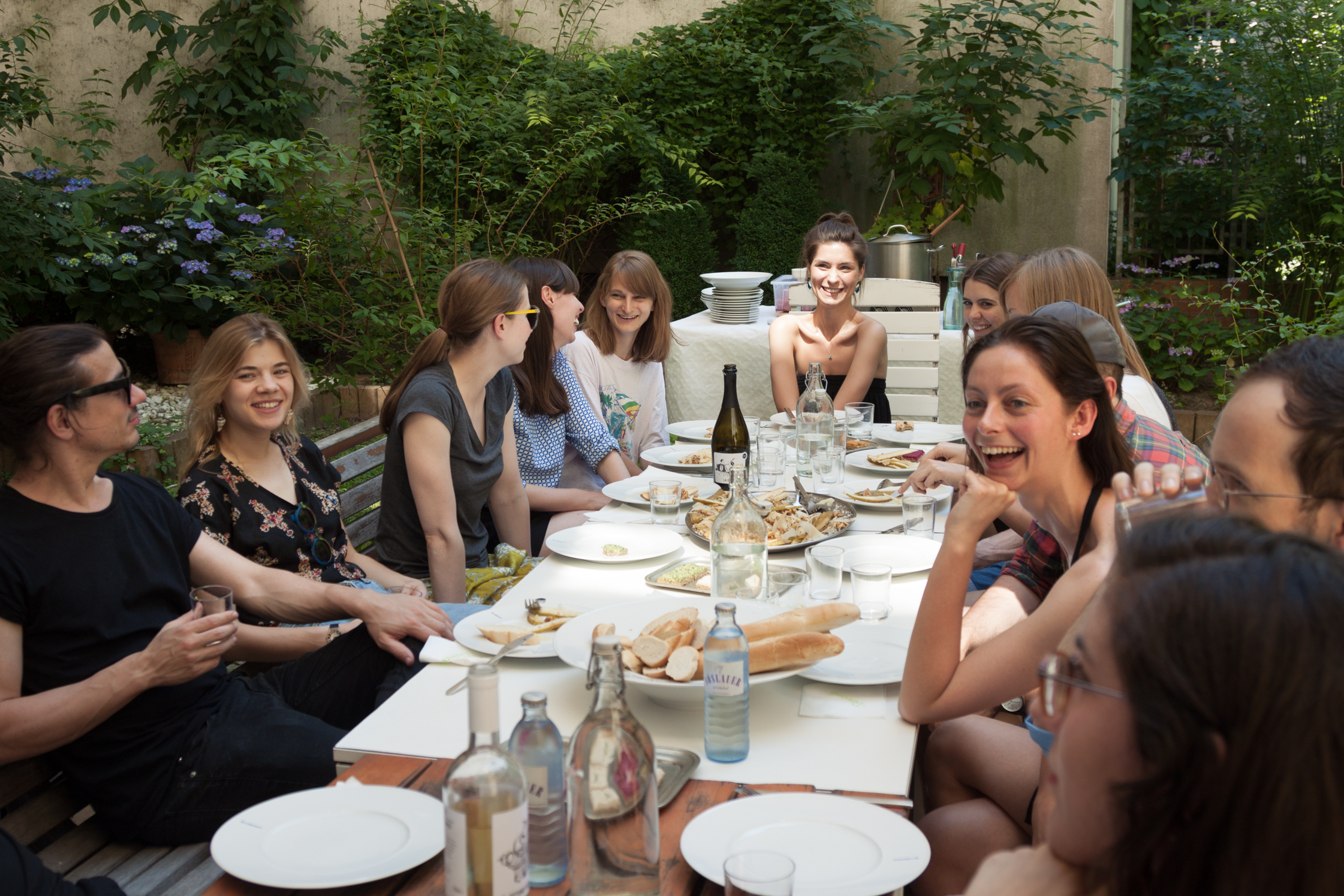 Thank you Max for indulging us with this delicious meal. Max's specialty catering can be found on his website. Find more FvF Cooks episodes and get some inspiration for meals with friends.
Photography: Gergana Petrova
Text: Aggi Cantrill