Wendy White's youthful appearance can easily lead you to lose sight of the fact that she belongs to one of the most successful and aspiring New York based artists. Within the last ten years she produced an extensive œuvre that gained international attention. Behind Wendy's work lies a process of decoding and decontextualization our environment, capturing the zeitgeist of our urban society.We accompanied Wendy on a typical work-day through her neighborhood Two Bridges that serves as one of her major sources of inspiration. Carving our way through the crowded streets of Chinatown, down Doyle Avenue, we looked out for what Wendy calls the "urban feng shui", a structure within the endless chaos of neon signs, passing faces and exotic odors. South Brooklyn on the contrary is more of a industrial sobriety, a good place to digest the multitude of impressions and a new frontier for artist that escaped from outpriced Williamsburg.Her work is a tale of the modern city, void of logic, overflowing with spray painted emotions. Ed Ruscha captured the Los Angeles notion of light and ease, while Wendy's work is a reflection of her home on the East Coast in New York, the quickened sensations of life.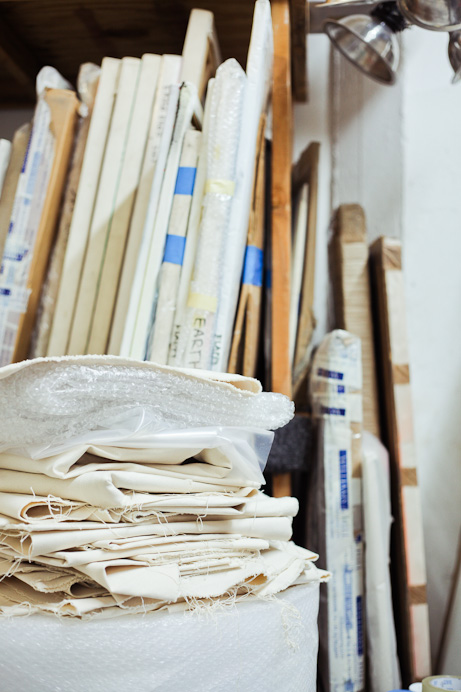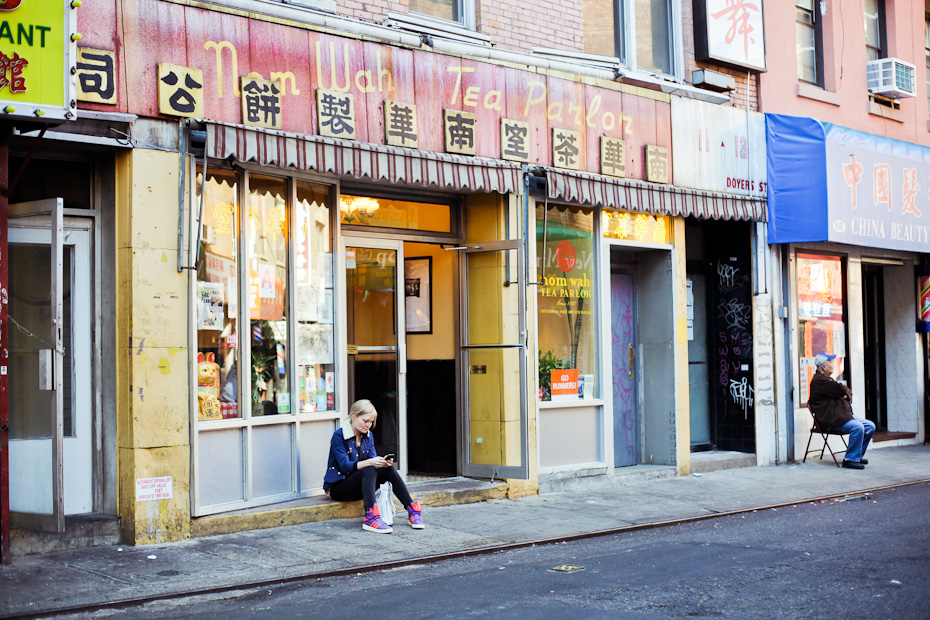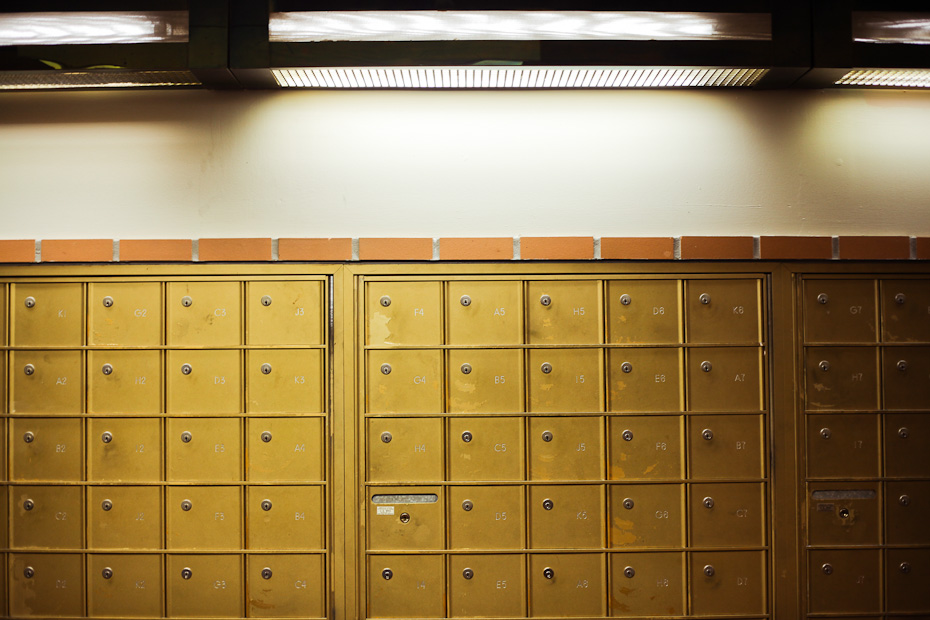 How did you begin?
I started as a sculptor, and I was trained as a textile artist in undergraduate college. I was always focused on materials, and oriented in that direction. I worked on a lot of two-dimensional pieces, but it was never stretched, it was never really like a painting… it was always a fragment of canvas that had been screen printed on. Looking back, it was very related to print graphics, so in a way, I am returning to where I started with this work. I also made a lot of three-dimensional objects, that were stuffed canvas shapes, soft sculptures, all with print and textile applications, such as screen printing. At that time, I had a lot of jobs in the industry.
What sort of jobs did you have in the industry?
I had this one job designing these doormats in North Georgia, with the text, "W E L C O M E" with these ivy borders. (laughing)
Did you have freedom to do what you wanted on this doormats?
(continuing to laugh) Oh no, not really. There were a few of us there from art school, and we had all these big ideas about these abstract cool patterns. The owners of the company would come in with bags of rugs from Wal-Mart, and they would throw them on the floor. They would be like, "can you just copy these?" It was all very mass market.
What's your typical day like in your studio?
I get up, have a couple cups of coffee, do some internet and email correspondence, and eventually go to my studio around 11 a.m. I've never been a night studio person, so, everyone has asked me how I have managed having a kid and being an artist. First of all, my husband does everything (laughing), and second of all, I have never been a night worker. I have always liked the daylight, the natural light. So I show up at 11, and stay until 4:30 or 5 in the afternoon. I'm not really the marathon studio worker, I really like fresh 4 or 5 hour sessions. I am really big on not over working the paintings, I'm seeking that lighter touch. I never want to do those few extra things just because I have some extra time on my hands, so I purposely restrain my time a little bit, so I can back off things, and move onto the next painting.
Did you work on a show while you were pregnant?
Yes, actually I made my first show for Leo while I was hugely pregnant. I was completely covered, from head to toe, in a hazmat suit; you could only really see my eyes. And I build everything myself, so that was a bit crazy. I pretty much built all of the canvases before I was too pregnant, so I could get up and down easily! (laughing)
Your son, what do you tell him you do, does he get it?
He gets it, he totally gets it. He's been to my studio, he understands that I make paintings. He gets art, in fact when he piles a bunch of blocks on top of each other, he calls it sculpture. (laughing) He once told one of his teachers at preschool that he was making a Barnett Newman. He had just been to MOMA, and it was in his brain, so he's definitely been exposed, for better or worse.
Is New York your inspiration?
Yes, pretty much. A lot of my work is based on Chinatown.
Chinatown, it is still Chinatown, there really is not another neighborhood that has this authentic touch.
Yes, the authenticity. I think there is a difference, I am not going to say a lack of attention towards aesthetics, but less emphasis on aesthetics. Things are more practical and utilitarian, such as getting the sign up on your store, being open, and doing business, rather than making everything look just so. I've been inspired by that sort of "accidental aesthetic." It is an aesthetic, it's just not based on things having to look visually "right." It's utilitarian, which is really the best word to describe it. There is no other neighborhood where people are still hanging their laundry outside, selling stuff on the streets… a lot of spitting.
Spitting?
Yes, so much spitting. (laughs) The neighborhood is super chill, laid back, pretty quiet at night.
Did you have a mentor, or someone who you saw as an inspiration early on?
Yes, a lot of them really. There were a few very influential teachers. Two women who I learned fibers and textiles from, in fact I can still hear them sometimes in my head. Pamela Wiley and Deborah First from Savannah College of Art & Design. They introduced us to concept so early, it was really mind blowing. They taught us about the connotations of materials. They asked us questions such as, what is canvas, and what is it used for, what are you bringing to it? It was never about what you were putting on it; it's not just about the surface. The materials already have a role, a personality. I think that is why I never approached painting conventionally.
Were you discovered? Or did you hustle your way into the art world?
I hustled a lot. I didn't have any artists in my family, and I didn't go to any fancy schools, but I had people who believed in me, such as my parents and my teachers. I have a really great relationship with my graduate school professor, Thomas Nozkowski, who is an amazingly accomplished abstract painter. He has been incredibly supportive, as he is of all the graduates at Rutgers.
Where did you first begin showing?
I began to show in a lot of group shows in the southeast, near Atlanta and Savannah. I showed at this amazing gallery in Atlanta. After repeatedly showing up to all their openings, I finally got the nerve to ask them for a studio visit, and they accepted. I don't know, that was pretty much the beginning. For 8 or 9 years I showed only in the southeast before I finally got a show in New York. Not until I was 35, did I finally have a show in New York.
Who do you show with now in New York?
Leo Koenig. One of Leo's artists, Nicole Eisenman, who is an amazing painter, introduced me to him.
Tell me about Leo Koenig.
He is very professional, yet friendly. That whole thing about the Koenig crew, well, it is a family vibe. That's why I love it there. But then Leo, he tells you what you need to hear, he gets the job done; it's a good mix. It's 50/50 between fun, and bad-ass, "let's get it done time." (laughing).
I've had a lot of bad gallery experiences in the past. I've had galleries that the day before my show opens, called and told me that they lost their lease, that the show might not be open, and even that my work might be padlocked inside.
You started with sculpture, and moved onto painting?
I started painting in the early to mid 90's. I just fell in love with the problems of painting, the problems of surface, and capturing things in a two-dimensional surface, but I always wanted it to be a sculpture painting hybrid somehow. So I was making individual works, and they were gaining closer proximity to each other. I would literally do a painting, and a sculpture on a pole, that would sit in front of another painting. I always wanted to break out of the square or the rectangle, so it was always about somehow breaking up the wall space. So, really the paintings have always been super sculptural. I've always had this thing about big paintings, I wanted to make big paintings but I always felt that it was really pretentious, and I did not want to make salon paintings, so I liked the fact that they are modular, its feels more modern if things can be broken down and moved. You don't have to get four people to move one painting. That's just not my thing.
Spray, is that also resulting out of graffiti?
I gravitated towards spray because I just needed to not physically touch the canvas anymore. It just started feeling wrong to pick up a brush, and actually touch it. I wanted some sense of detachment, and I wanted the surface to be atmospheric, and I can get that look by hitting it with very thin layers of spray, and building it up. I wanted it to be like dirty windows or city grime. Like one is looking through a subway window at a landscape, or a sign, or anything.
The brush just sort of stopped giving me what I needed.
If you want to check outWendy White's works for yourself, you can do so in Madrid from September 20th – November 17th at Galeria Moriarty.
Solo exhibitions include Van Horn, Düsseldorf (through 3 March, 2012) and Leo Koenig, Inc. (2012). White is represented by Leo Koenig, Inc., New York, NY, Galeria Moriarty, Madrid, Spain, Van Horn, Düsseldorf, and Andrew Rafacz Gallery, Chicago, IL.
Text: David John
Photography: Fette Sans
Video: Andrew McMullen & Hendrik Thul