Kevin Seccia is a funny guy. He is always quick with a comical comment, anecdote or story between puffs on his carefully selected cigars. Days and nights out with GEED, as nicknamed by his sister Heather, are always full of hysteria and – what else could be imagined – endless entertainment. As author of the book Punching Tom Hanks, part of Ariel and Kevin Invade Everything, mutliple writing credits, and stand-up appearances, he has his feet deeply planted within the comedy world.
For Freunde von Freunden, Kevin took us on a tour of his apartment, his neighborhood and the comic book store down the street. And as a New Jersey native and relatively new transplant from Los Angeles to New York City, we also thought it is interesting to get his fresh and wide-eyed view on NYC living, before the sludge and bitterness of this hit-it or shit-it city descends. Though with Kevin's uniquely positive view on life and circumstances, we think he will do just fine… And he will be there for the rest of the poor bastards, writing and creating, reminding us not to take it all so seriously.
This portrait is part of our ongoing collaboration with ZEIT Online who presents a special curation of our pictures on their site.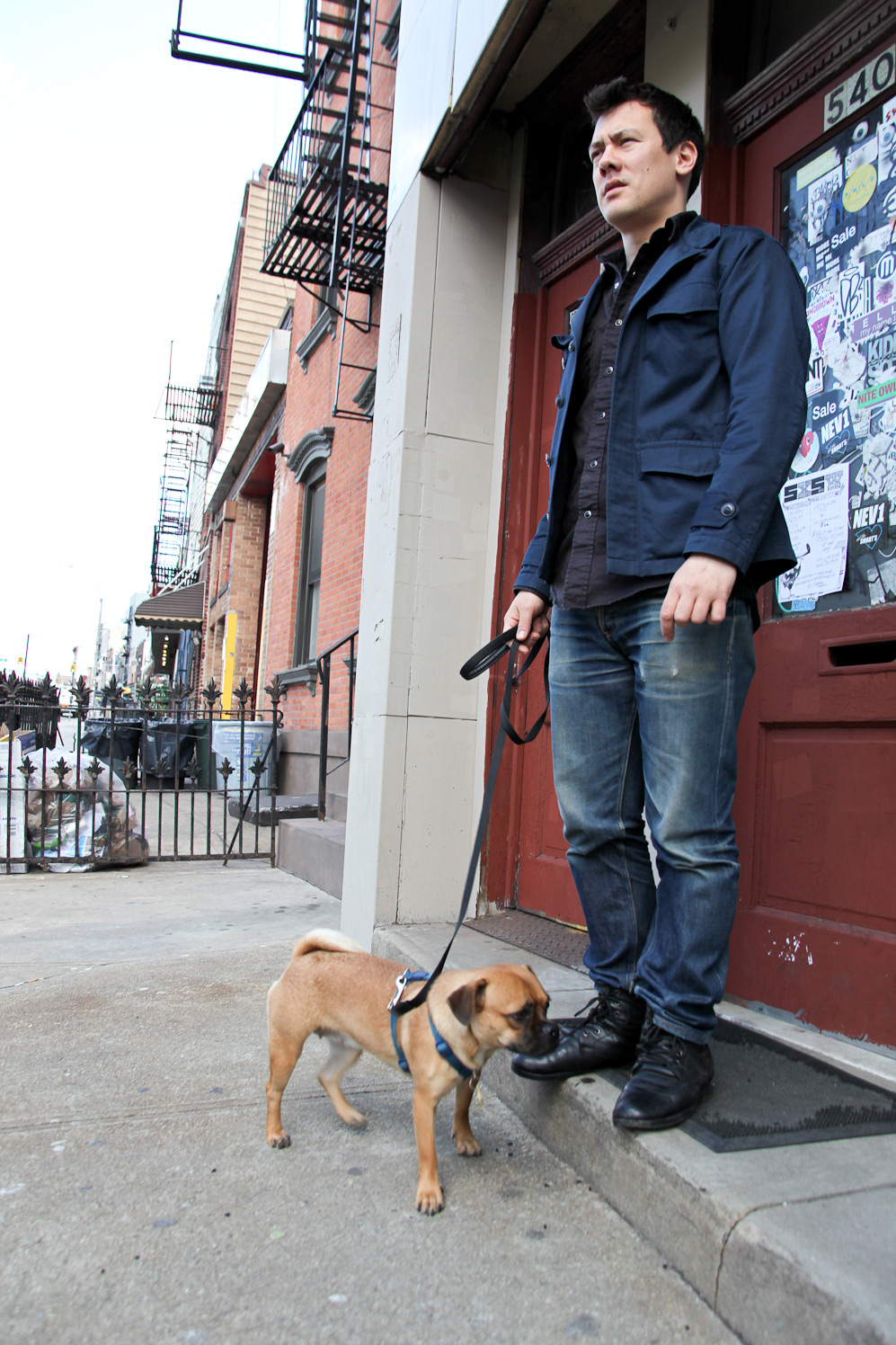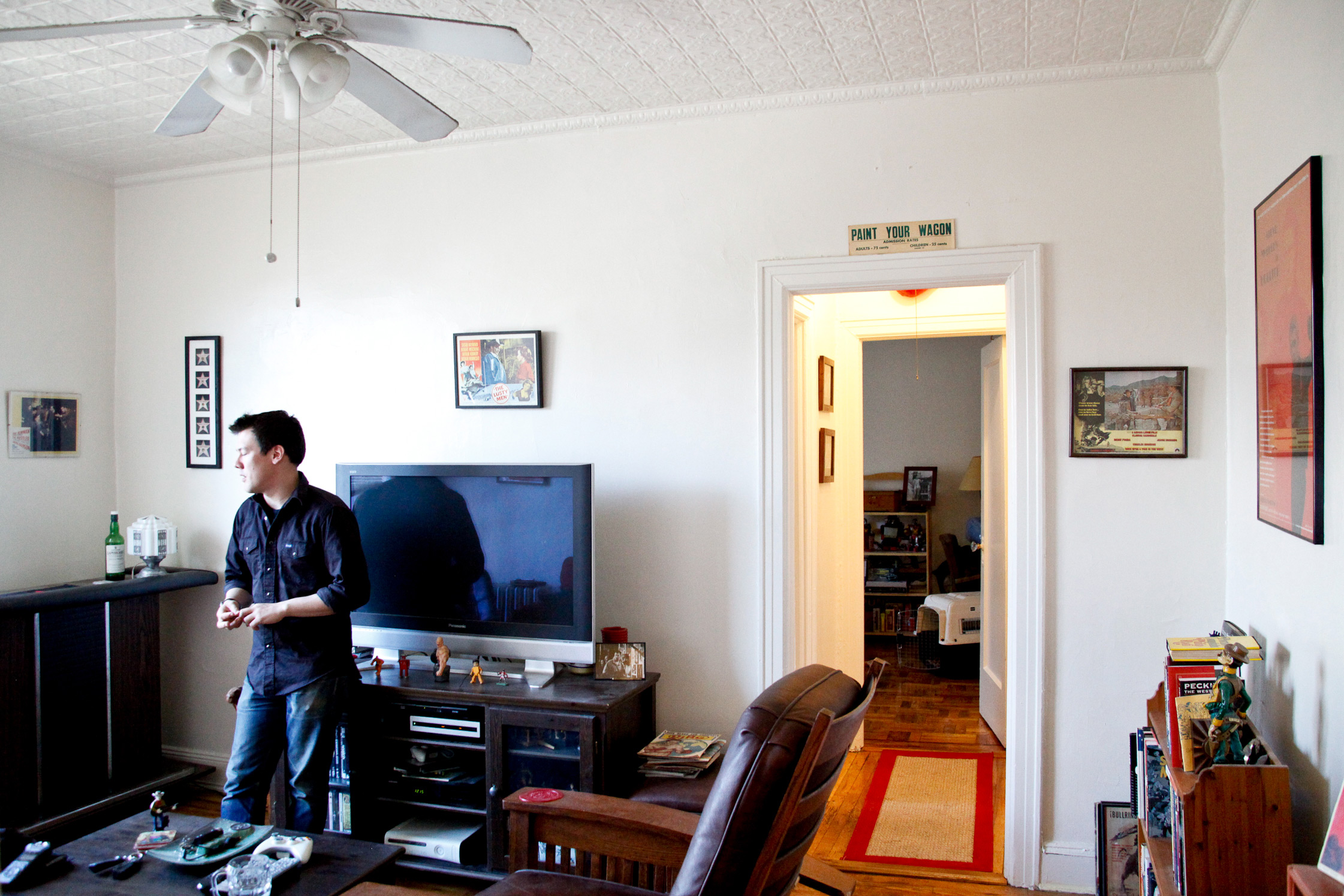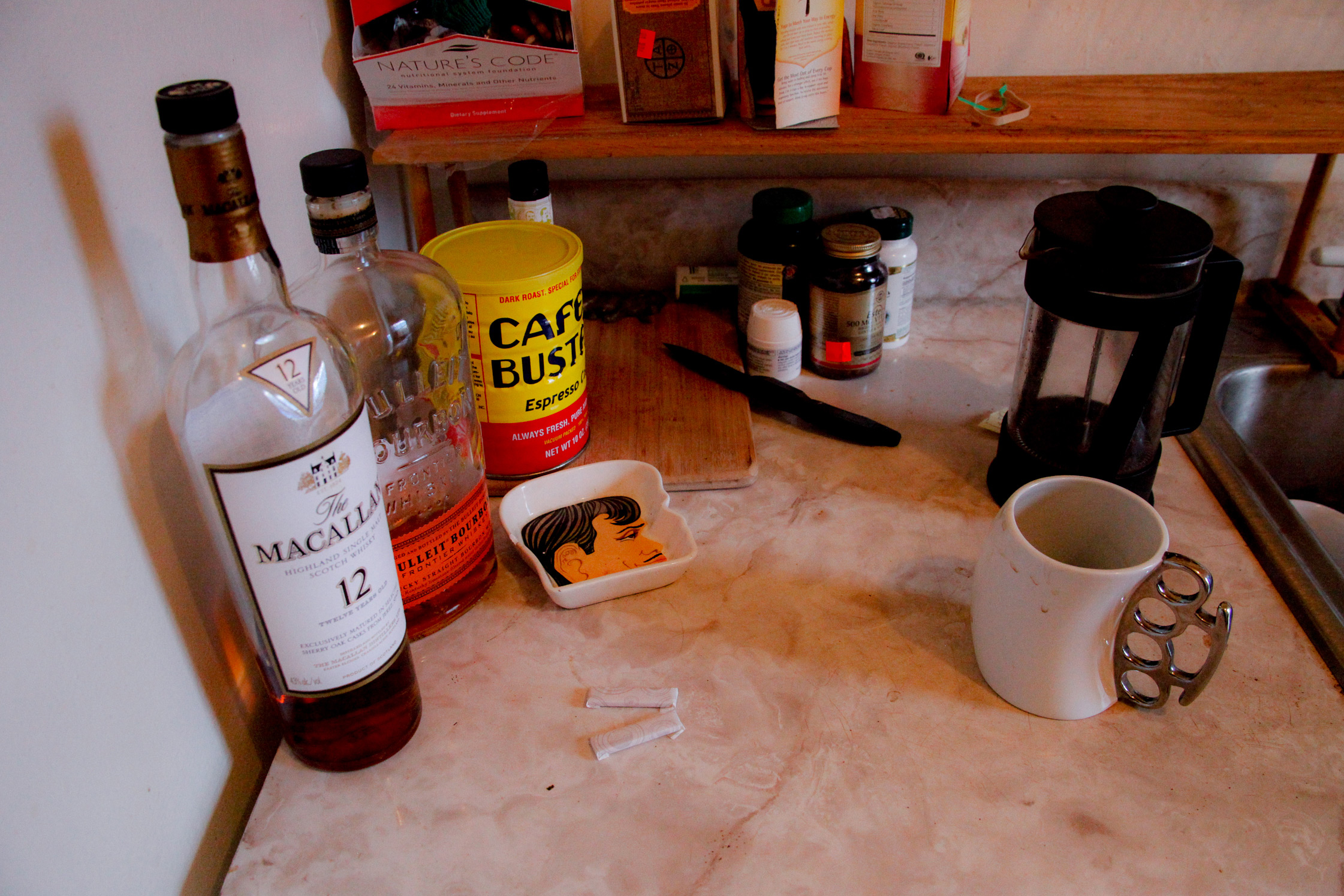 So, why don't you introduce yourself.
My name is Kevin Seccia. I am a writer and comedian. I've done a lot of different things, ranging from writing animated shows, and cable sketch shows for short-lived networks, as well as stuff for NBC, MTV, VH-1, Disney, G4 and other stuff here and there. Primarily though I wrote a book called Punching Tom Hanks, which is a comedic book that tells you how to beat up various fictional and historical characters… And Tom Hanks.
Before we get into the book, can you tell us about your years as a stand up?
Sure. I did stand-up for many, many years. I worked mainly in Los Angeles. I also did colleges, opening up for Kathy Griffin, and did some TV shows, The Late Late Show with Craig Kilborn (later to be The Late Late Show with Craig Ferguson). I also did Late Friday on NBC, Premium Blend for Comedy Central, HBO's Aspen Comedy Festival… But I've sort of transitioned out of that and focused more on writing. I still do it once in a while.
So tell me more about Punching Tom Hanks.
Punching Tom Hanks developed out of this website I have called HowToBeatUpAnything. I am a big fan of comedy writing, obviously, and I am a big fan of martial arts and boxing. So HowToBeatUpAnything seemed like a fun way to combine two of my interests and do something that made me laugh, where I could write whatever I wanted. It's basically a series of essays about how to beat up Spider-Man, the Loch Ness monster, the ancient Greek warrior Achilles… it started there and then, luckily, it started to get some attention and written up in LA Times and College Humor and various other outlets… And then I got a book deal.
Who are some of the contributors to the book?
Aimee Mann did an awesome rebuttal to my piece "How To Beat Up Songwriter Aimee Mann." I also wrote "How To Beat Up Andy Richter" and Andy was nice enough to write a rebuttal and unfortunately managed to make it much funnier than my original piece. Zach Galafianakis, Jon Hamm and Patton Oswalt were also kind enough to contribute rebuttals to my essays about beating them up.
Did you meet all these guys in LA?
Yeah. I used to perform at this legendary Los Angeles club called Largo, which was on Fairfax but has since moved. But it was the main place I would go to perform and it was one of the birthplaces of, for lack of a better or less cringe-inducing term, alternative comedy. I feel like this is going to sound slightly obnoxious but it was just this amazing scene at the time. The owner of the club had comedians performing alongside and opening for the musicians… like Rhett Miller of the Old 97s, Grant Lee Buffalo, Jon Brion, Fiona Apple. And because of that mingling of both worlds it was just this great sort of creative hub with singers, musicians, and songwriters hanging out and collaborating.
Every night of the week you'd see these packed, incredible shows with people having fun onstage but also taking chances and doing brand new material. Great comedians like Andy Kindler, Maria Bamford, Laura Kightlinger, Bob Odenkirk, Patton Oswalt, Sarah Silverman, Greg Behrendt. Somehow I was lucky enough to be allowed to perform there as a young comic and it was incredible and rare and probably something that doesn't happen too often. It was perfect, for a very long time.
So now that we have a base of who you are and what you do, tell us about this bachelor pad.
I have been here about a year and half and I found the place through a friend of my sister's. I guess I was lucky as it's a pretty nice neighbourhood… very similar to what you would get in Los Angeles. The building has this film noir feeling to it like an old haunted hotel with the large foyer and the heavy thick marble stairs. And it's great that I don't really hear any of my neighbours.
It's also Williamsburg, so it has tendency to be a little bit of an asshole festival at times. Like during the day, and at night, and all of the other times. When you go and get a sandwich for lunch and you find yourself getting in line with some guy with an absolutely ridiculous hat, ironic white guy afro, red pants and four or five other dumb-ass things carefully arranged about him… Basically a walking clown. On the other hand though it does have nice things like fantastic restaurants and bars every 10 or so feet. So there's that and then it's very Italian in other spots.
Do you have any idea what this used to be?
I am not sure, there is a photograph from the building in the 20s in the lobby… The sealed dumbwaiter in my apartment would indicate a hotel or that it was all one residence at one point?
So being a relatively recent transplant from LA, what's your take on the two cities?
I love LA, though I probably didn't appreciate it to the degree I should have while I was there. Weather wise it's just fantastic, and I'm pretty sure I'm the first person to ever make that observation. It never rains, it's sunny and glorious and bright and most waking moments feel like summer vacation. It feels like you are cheating, at life. And then I moved to New York and it's fantastic but you definitely don't get the feeling that you are cheating. You aren't getting away with anything. I mean, the rain is miserable and the snow is miserable and the heat is oppressive. You feel that you are earning it to be here.
I was in LA for about ten years. You have to have a car, which is less than ideal, but overall it was great. At a certain point a lot of my close friends got married and I was doing less performing. I had a lot of freelance work, which meant I could work wherever what I wanted, and I figured why not try New York. And it seemed like the right time, I could afford it and I wanted to do it before I got too old. No one wants to be in their forties or fifties when they move to New York for the first time.
I used get annoyed when people talked about the energy of New York and the charge you get living here, but yeah, fuck, it's kind of true. And it seems so hokey, but even just walking around during the day you feel swept up in the excitement to do this and do that and go here. So, yeah, sorry assholes who I judged all those times. You may have been onto something.
Describe your average day in New York?
I wake up around 9:00, I walk my dog, drink coffee and sit down at the computer and write. I can be pretty undisciplined at times, but I found out about this technique used by TV writer Jane Espenson. She does this thing on Twitter called a "writing sprint" where you just go for like an hour or 45 minutes, you set a timer and don't do anything else. I found that really helps. So I will set a timer and just ignore everything. It sounds simple but it really is valuable because within five minutes of starting I will go to check Twitter or check my phone or see what's going on online and with this in place I'll catch myself and I go back to work and I feel like I have rules to help keep me on task.
So anyway, I do a couple of those and then usually walk down to the deli or somewhere else to grab a sandwich and then come back and give myself like an hour to eat and catch up on TV, ponder life's great mysteries, fight crime, etc.
In the afternoon I sometimes go to my friend Ariel Schrag's. We do an online comic together called "Ariel and Kevin Invade Everything". So we will get together and do some writing and then in the afternoon go for a walk, and at night I usually just go out with friends and have a couple of drinks. After that maybe check in with my sister to see what's going on with her.
Okay, tell me about "Invade Everything"?
So "Invade Everything" is a web comic I do with Ariel Schrag, she's a cartoonist and television writer. She and I became pals in Los Angeles after meeting through a mutual friend. We were both sort-of single and having fun, running around Los Angeles, getting drunk and trying to hook up with girls and we had a lot of adventures. We wanted to collaborate on something and so we came up with "Ariel and Kevin Invade Everything" which is a comic that we co-write and then she draws. It focuses on our life exploring Los Angeles, (and now NY) going on hikes, bickering over minutiae, going to restaurants… exploring the everyday life of two best friends.
Have you always been a comic book fan?
Yes, I have. When I was a kid super-heroes just fascinated me in a way that football or baseball players didn't… Possibly because of my being a slightly undersized Asian asthmatic kid in suburban New Jersey. But yeah, Ariel and I do the comic together and that was sort of my first foray into comics.
If you were a superhero what would you want your superpower to be?
I mean obviously I am already super handsome, so it would be stupid to wish for that. And super cool, I have that. You know, there is a character named The Absorbing Man that I am a big fan of. He has the ability to absorb the properties of whatever he touches. Although now as I am saying that, I feel like it's revealing something about my personality or something I'm not yet aware off.
I always thought power-wise – aside from kicking ass and fighting – that someone like that wouldn't get bored. He touches a brick and he becomes a brick, if he touches lava he turns into lava, if he touches whisky, he becomes whisky. At the very least, he's fun at dinner parties.
I also love Thor because everyone else is just a guy in tights running around with some augmented ability. But Thor was like a living, breathing god and so he just seemed like a level up and above everyone else.
So tell me about Don Gato.
That was something I did with my sometime writing partner, Timothy McKeon. He and I got this job writing for a Spanish-language reboot of the 60s television show Top Cat, which was a Hanna-Barbera cartoon similar to 'The Flintstones.' It ended up being this crazy adventure along the lines of like some weird NPR story. We were given an assignment to write the reboot and it was a job and we enjoyed it and it was lot of fun, and basically we thought that would be it. Then 6-months later we got a call asking if we wanted to go to the premiere of the movie in Mexico City. We went and it was insane and kind of ridiculous. We were on stage being interviewed in front of a packed room, flashbulbs going off, taking questions from reporters, talking to them about character motivation and inspirations, the responsibility of handling this beloved character, and then being sent on a private tour of the Frida Kahlo Museum, taken to dinner, and treated like big shots.
It was so surreal and also felt like maybe a mistake had been made? Being treated that way and here we're like, just your typical blue color, mid-level writers and not really known at all. And then the movie came out and broke all of these box office records in Mexico. It was like the number one single-day moneymaker in Mexican cinema history. It turns out Top Cat is huge in Mexico. It still runs on TV there, where here he's basically forgotten… Oh, and we ate grasshopper tacos.
How does having a sense of humor help with daily life?
Hah, I wish I had a joke here to sum it or something profound to say… But yeah, I feel like it definitely shapes the way I deal with stress and pressures and the unfortunate things in life. I think it's probably that way for most comedians. Although, you do find that cliché of comedians being dark inside and sort of fucked up but for whatever reason I am not really that type of guy. I don't have those aggressive demons tearing me up inside, that people with those demons love to talk about. But, I drink a lot so maybe I'm just suppressing them successfully.
Do you have any jokes that you can tell us?
Hmm. Well, it's more of an observation. I saw something funny that also reminded how the world can be a cruel and unforgiving place. Earlier today I saw maybe the saddest thing I'd ever seen, which was a guy riding a bicycle-built-for-two, ALL BY HIMSELF. How sad is that? I mean, what the hell happened to him for him to wind up taking a Sunday morning bicycle-built-for-two ride.
I am imagining one of three scenarios: 1) He doesn't have a girlfriend, he is just an eternal optimist. He's thinking, "You know what? She is going to come along and I am going to find her and I want to be happy and fuck it! I found this bike and it's a great deal. It's all going to happen for me!" That's the least sad version. Or 2) He had a girlfriend and they bought the bike-for-two together and then she dumped him and he was about to get rid of it and he was like, "You know what? Fuck it, this is New York City. It's hard to get around. Where is the rule that says I can't ride this bike? I'm keeping it." And 3) is probably the saddest. He was out that morning with his girlfriend getting Sunday brunch and they were riding on the bicycle-for-two and they went past a construction site where a wrecking ball came down and knocked her off and he actually thinks she's still on the bike and he is going to turn around any minute and realize she's gone and he's alone in the world." It's going to be a horror show. Hey, life can be tough sometimes.
Thank you so much for your time, Kevin! For more of Kevin Seccia, check him out on Twitter and at Invade Everything and How to beat up anything.
This portrait is part of our ongoing collaboration with ZEIT Online who presents a special curation of our pictures on their site. Check out the special selection here.
Interview: Chris Ambrose
Photography: Grace Villamil