Tijuana is a cultural crossroad for many: not only drug traffickers, but also deported "aliens," trapeze artists, migrants and immigrants, music trends, street opera singers and visual artists. The city of Tijuana has considerably grown in the recent years, trying to push aside the violent scene and wake up the cultural art scene that has been at rest for quite some time. Social spaces have been created in order to promote the arts: the opening of studio galleries, local independent vintage stores, coffee shops, and cultural events are there for many local artists so they can show off their talent.
One of these local artists is Sharlene Garcia, who was born in San Diego and now lives in Tijuana, Baja California, with a degree in visual arts. Her sense of melancholy style and the confusing, geometrical figures within her paintings have been very recognized in these two cities. She has worked with Teddy Cruz, an Architect and professor at University of California, San Diego and in non-profit organizations for children with special needs working with art.
We visited her house and her pool full of plants that is located in one of the oldest neighborhoods of Tijuana "La Libertad," surrounded by local flea markets, food stores, and churches. During the interview, we visited "Pasaje Gomez," a now renovated market place where local artists promote and sell their art pieces. We spoke with Sharlene Garcia about the different scenes in Tijuana and San Diego and how her paintings, like "Shyness" and "Ghosts," reveal critical moments in her personal, emotional life.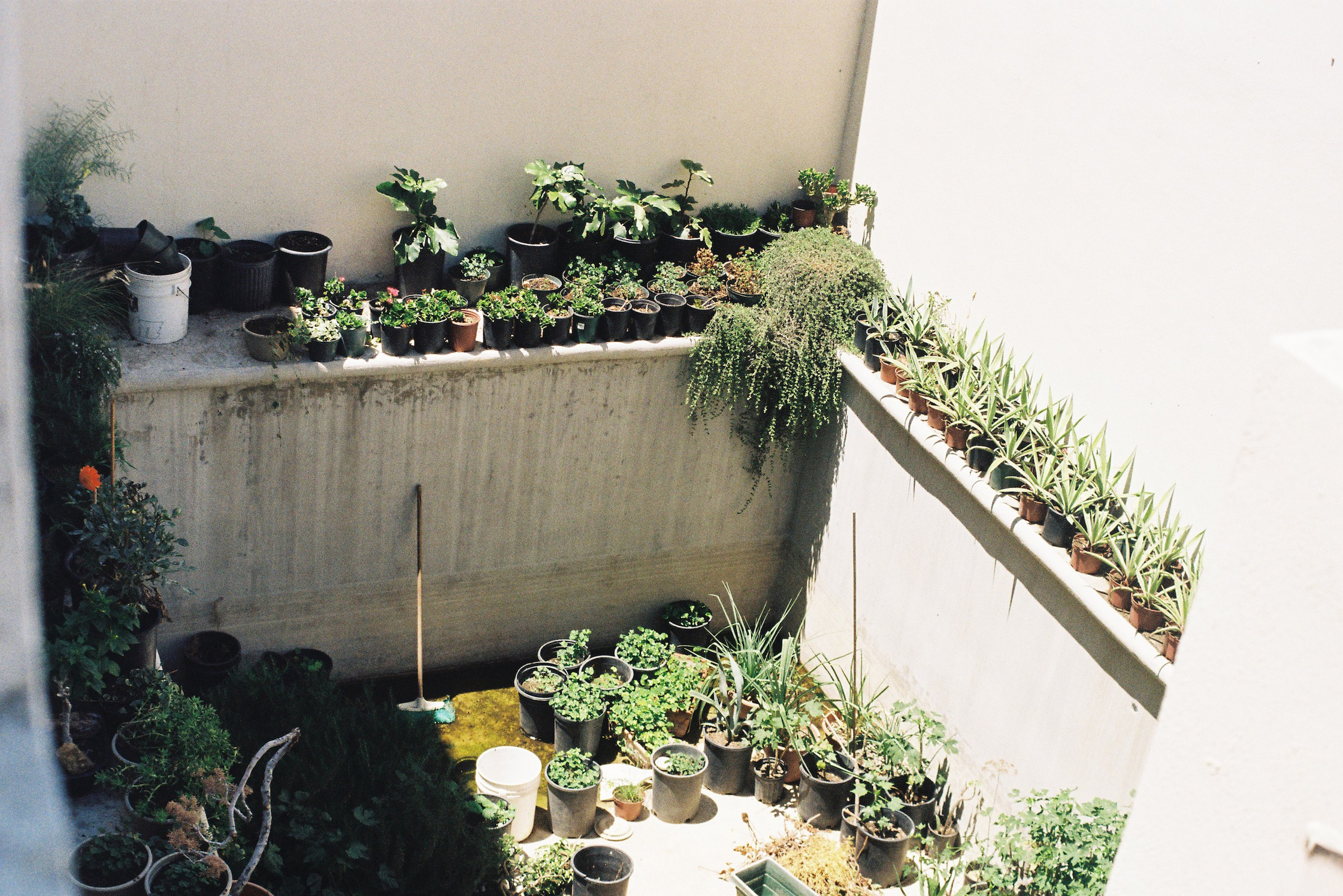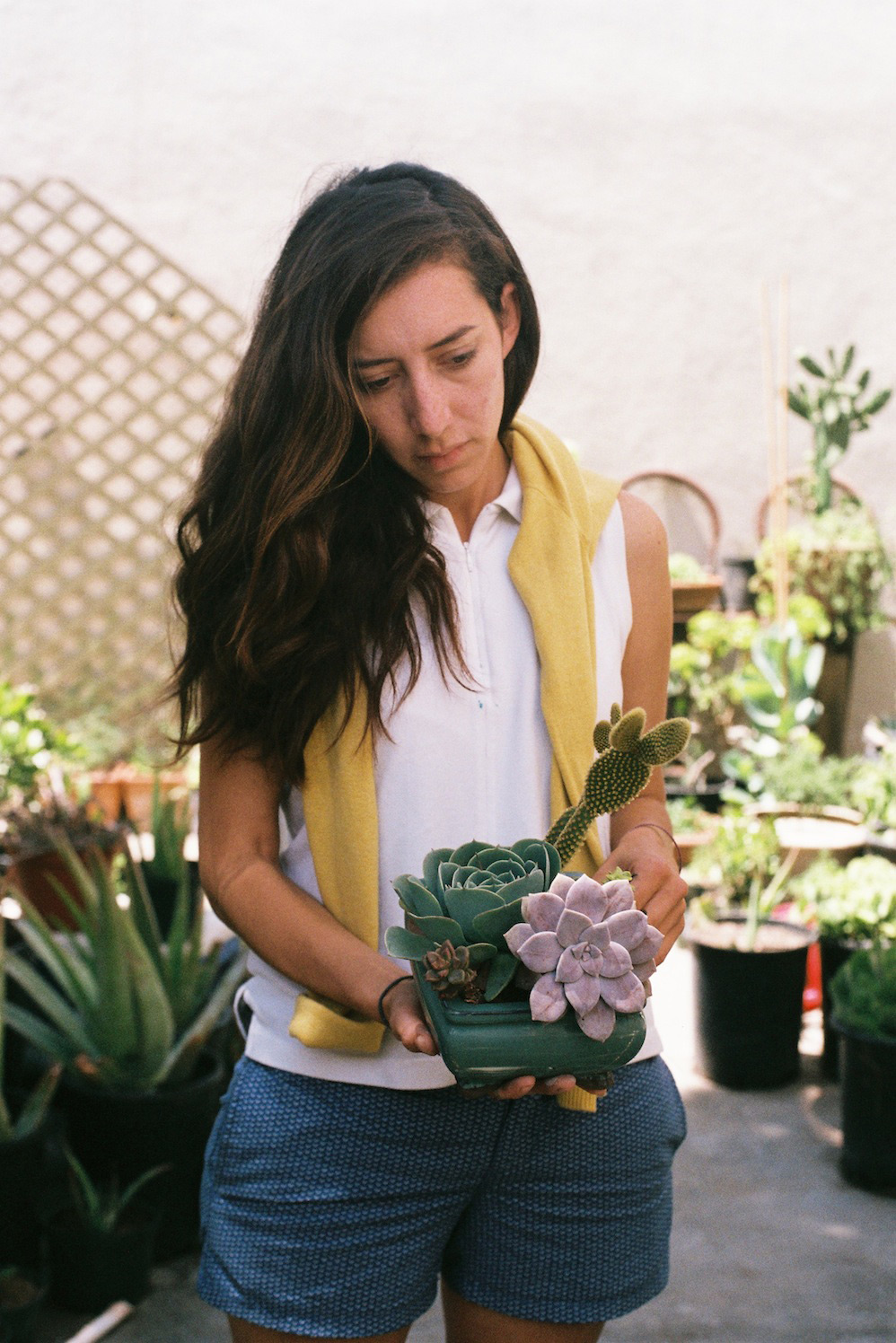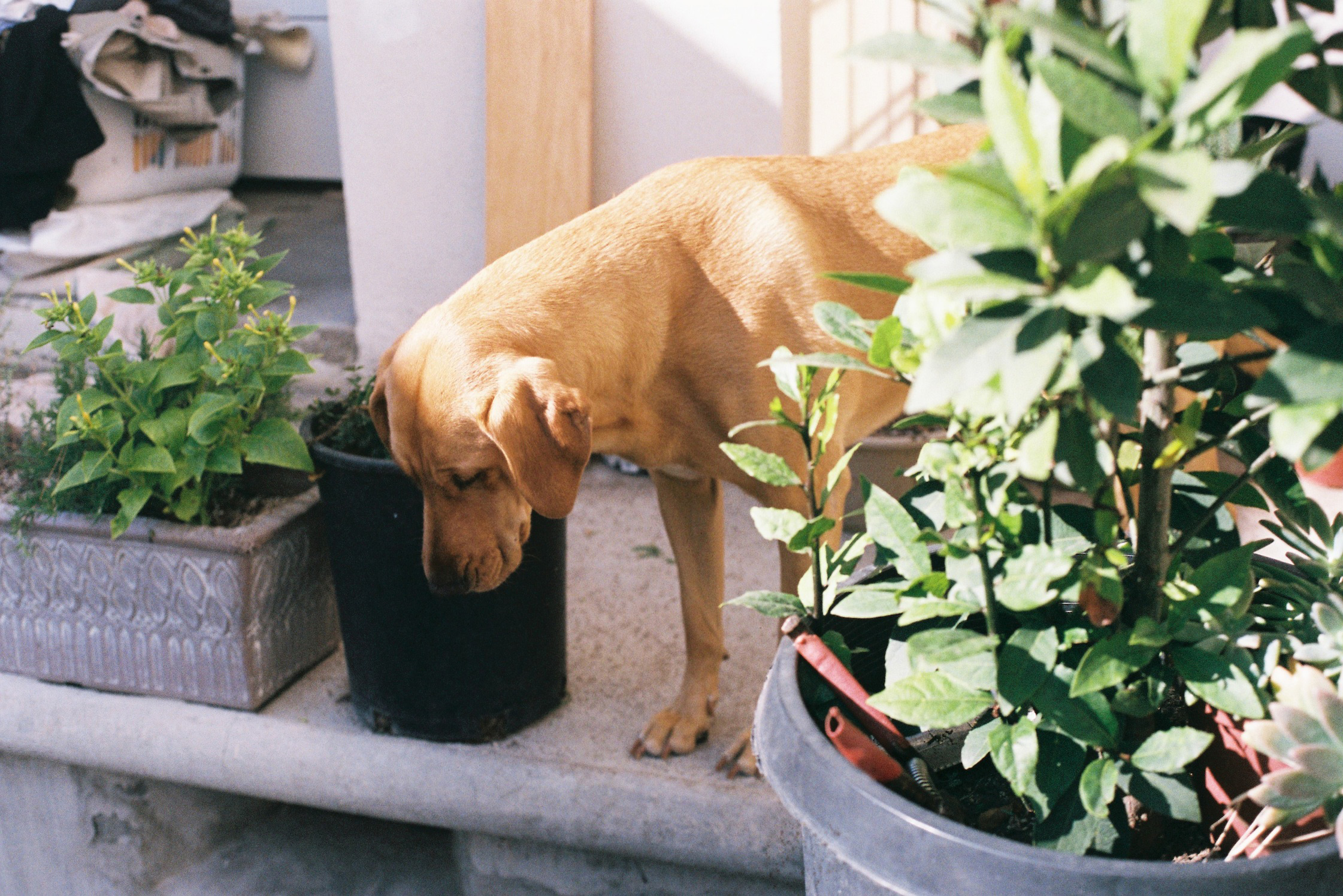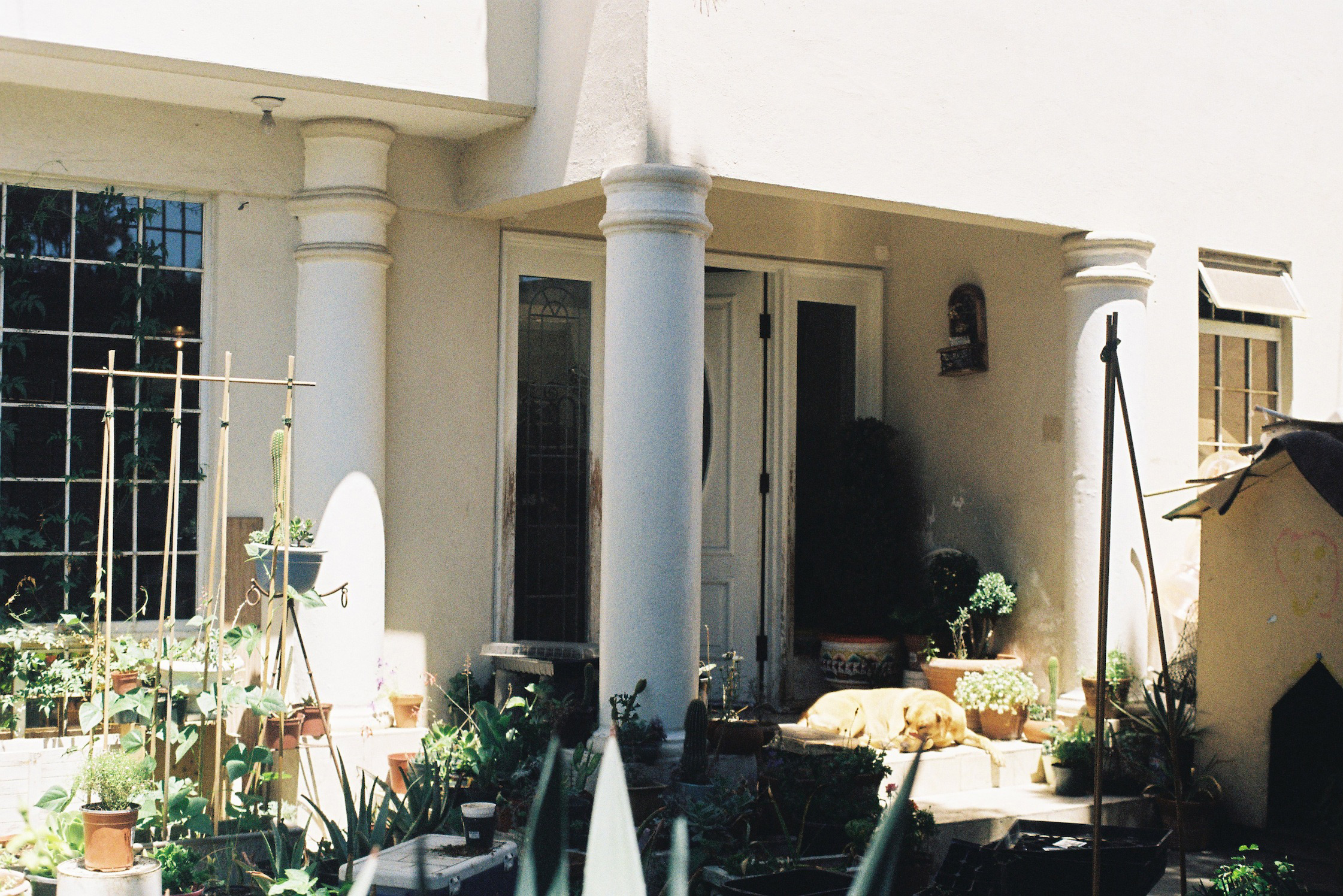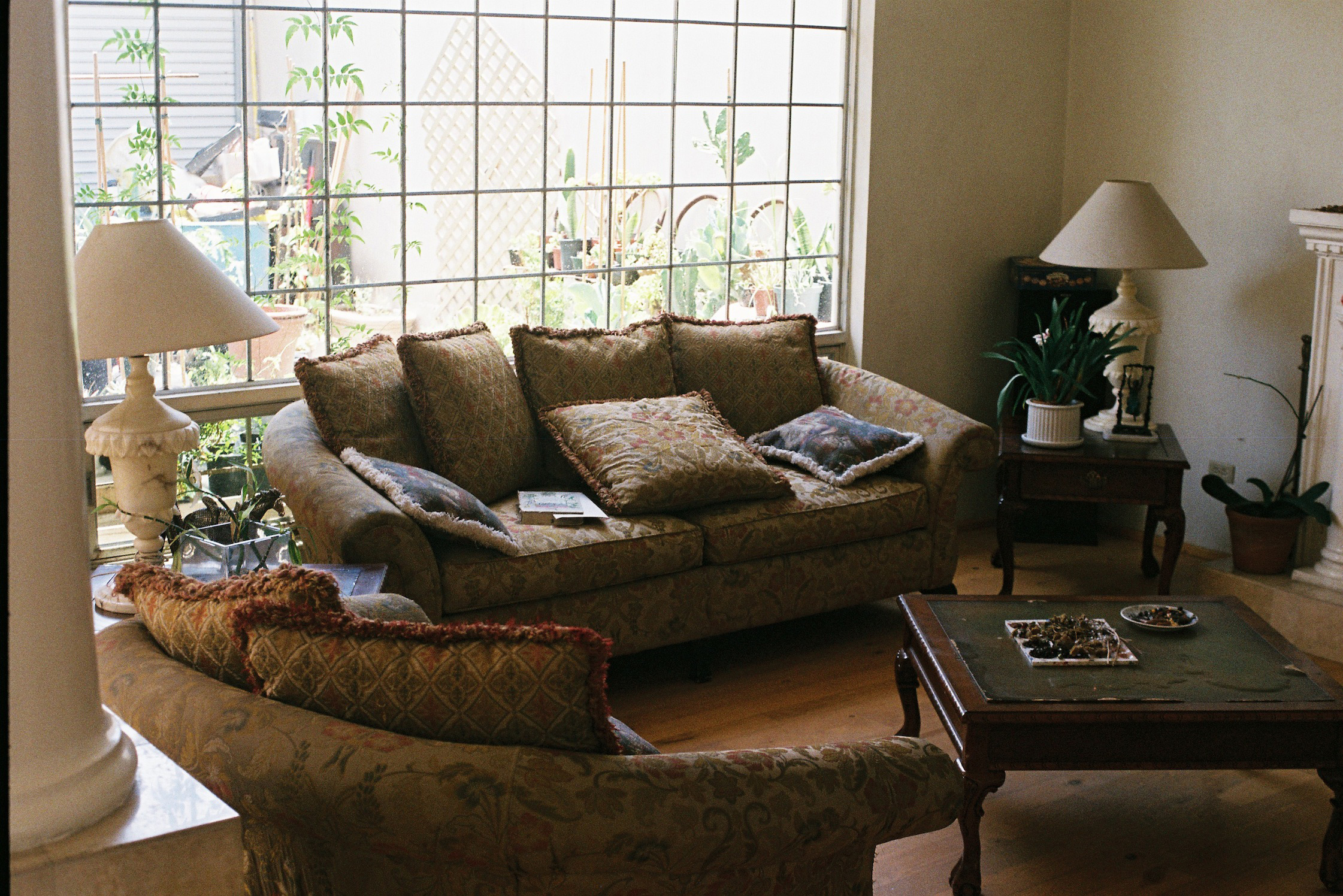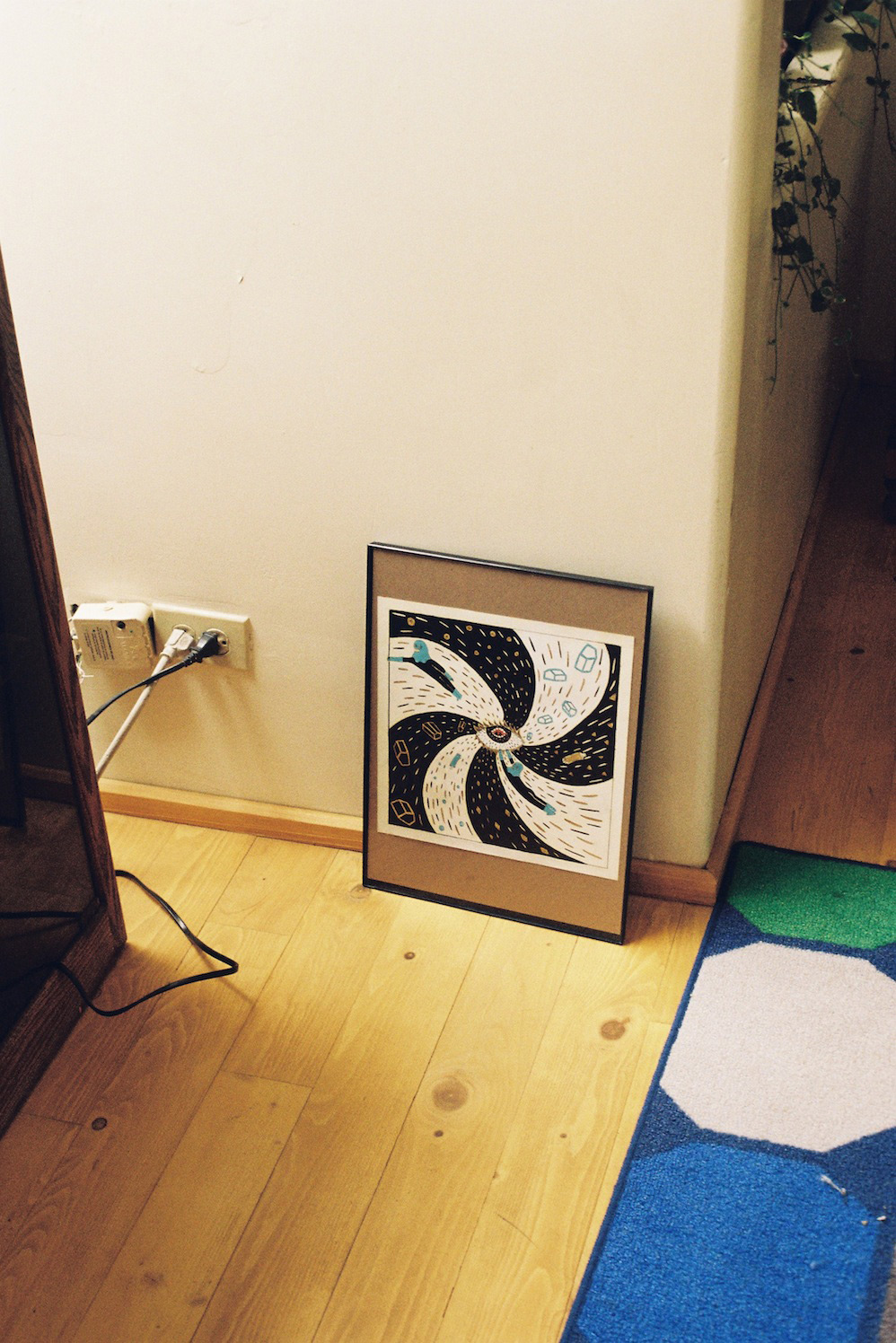 How did you start out as a visual artist?
Growing up, I never thought art could be a profession. I didn't even know that it was possible to study art. It all began with drawing classes when I was studying Landscape design. The professor really took me in and showed me artist that she thought might interest me. Then the same professor invited me to his painting classes and suddenly I really enjoyed all the work that I was doing. I wanted to spend less time measuring PVC pipes and calculating areas for irrigation system and be more at the studio. I would spend all my money on material and even now, sometimes I even ditch my friends because I rather be working on a painting. At the end I came to the conclusion that landscaping design could be a thing on the side and visual art my true profession.
How did you end up studying landscape design?
My father was a Landscape Designer and I wanted to follow his footsteps. I remember growing up, always helping out with the planting, transplanting, and watering. Since it was something that came really natural to me and I really enjoyed, it made perfect sense to study that. It is still something that I love. I even want gardening to be something contagious.
Out of Your Comfort Zone is the name of your website work. What does that stand for?
Well, it has always been really hard for me to expose myself and my work, even though I am proud of who I am and what I do. I don't enjoy being in the spotlight, therefore I thought announcing that I am out of my comfort zone would make it a little bit easier and funny at the same time.
Tell us what influenced your work during the process of Shyness and Ghost project?
The first exhibition I had, four years ago, was concerned with the concept of Ideal beauty and the fear of being judged. For the past seven years I've been working in one way or another with children, in foundations, in orphanages, and in regular schools. During this time I have met a couple of children that remind me of that particular fear and how it makes us somehow prisoners. Shyness is the character that wants to do stuff, but remains unnoticed. 'Ghost' talks more about what goes on inside the 'Shyness' brain. The good and the bad are represented by ghosts, the conscience.
Seeing that you live next to San Diego, how is the scene different from Tijuana?
The artist, who I have the fortune to work for in San Diego, was really interested in helping communities, creating programs, and raising awareness of the city's parts that were being ignored. I feel that in Tijuana that specific relationship between community and artist is not strong yet. It is as if artists are not taken seriously and people think we can only paint murals to cover up ugly infrastructure.
Is the Tijuana art scene dead?
No, I think Tijuana's art scene has never been dead. And if it was dying, right now its art and creative individual's are definitely bringing the city back to life. I am in love with reactivating projects, opening galleries, and workshops in abandoned places around the city. Now, young, aspiring artists and students have more opportunities to exhibit their work in decent galleries – opportunities that before were only a few, if not nonexistent.
What are your favorite places to hang out in Tijuana? Any cafes, bars, shops?
I love shopping at flea markets. I live in one of the oldest neighborhoods in Tijuana, and every Monday, If I'm free, I take a bike and ride to the flea market, look around. At the end, If I didn't find anything, I'll get myself a fresh orange-beet-carrot juice from one of the vendors. One of the places that I believe is going to be my favorite hang-out spot, and I say will be because a lot of the shops are being finished at the moment, it's a place in downtown called Pasaje Gomez. It's going to be a well hidden, little treasure, since the entrance its not really visible at all. Think of Tacheles in Berlin, you see the entrance, but unless you are curious enough you will know what it is all about. If not, you'll just walk by it without knowing that you missed something.
You have a lot of plants, what have you been growing lately ?
This year a lot of my friends have asked me for basil, last year I had about 40 different types of basil plants. I started a little late, hopefully by the end of summer I'll have enough to keep everyone happy. I try to grow plants that have a function other than ornament. I have plants to treat headaches, stomach aches, etc. Of course, Aloe Vera is a must in every garden, because it's such a miraculous plant.
What is the music that you listen to when your in your comfort zone or at work?
Salon Acapulco, Jackie Mittoo, Booka Shade stuff that makes me want to go to a pool or a beach party. Not my kind of pool you know, my pool has no water but it is full of plants. While I work, I like to listen to The Field, Phantogram, Jorge Drexler and Celso Fonseca.
What artists do you admire?
I volunteered for Teddy Cruz's project 'Political Equator,' and I have never heard someone talk so passionately about his work. You hear him talk, act, and it seems he has this endless amount of energy. He uses Tijuana's informal economies and adaptive architecture to redesign and rethink communities. To change the way houses are built and have more mixed-used spaces in San Ysidro would really help the economy in that neighborhood. He is targeting a huge problem. His project covers so many of the problems these two neighbor border cities have.
Interesting. Are any future projects awaiting?
I was just proposed to visit nine different schools in Ensenada, which is one hour south of Tijuana. I'm scheduled for September to do a mural in each school and give a lecture, aiming to inspire little ones to embrace and take care of nature. I will also be part of the creative team for a Musical Festival going on at the end of this year. I am really excited for this one, because it will have a skate park and I can't wait to start working on something crazy for the youngsters.
Thank your for the interview Sharlene! Have a look at her website for more info.
Photography: Dagoberto Martínez
Interview: Denisse Manzano & Dagoberto Martínez