When someone signs their e-mails off with the sentence "Sent via synergy between my fingers and phone", you're bound to assume that the sender is an adamant supporter of all things tactile and handmade. In Sean Woolsey's case, this informed guess is spot-on: coming from a family of makers, he grew up constructing his own skate ramps and is now enamored by precious handmade objects made in small batches. Inside Sean's relaxed Californian house and studio in Costa Mesa, wherever your gaze falls upon you find either furniture or objects he's designed and made himself. With nature at the helm of his creative drive, Sean merges two distinct practices and sides of his personality to maintain an internal balance.
On one hand, he creates wooden furniture with a straightforward, mathematical approach whereas on the other, his artwork is about embracing unpredictability and losing control. Sean's cross-disciplinary practice spans from abstract copper paintings to tables and skateboards. On one of the walls, an old cutting saw screams "Stay Wild and Free!" as Sean talks to us about his carpe diem mentality which he adheres to by going on frequent trips, living more with less and adopting the Wabi-Sabi philosophy of seeking beauty in imperfections.
This portrait is part of our ongoing collaboration with ZEIT Online who presents a special curation of our pictures on Zeit Magazin Online.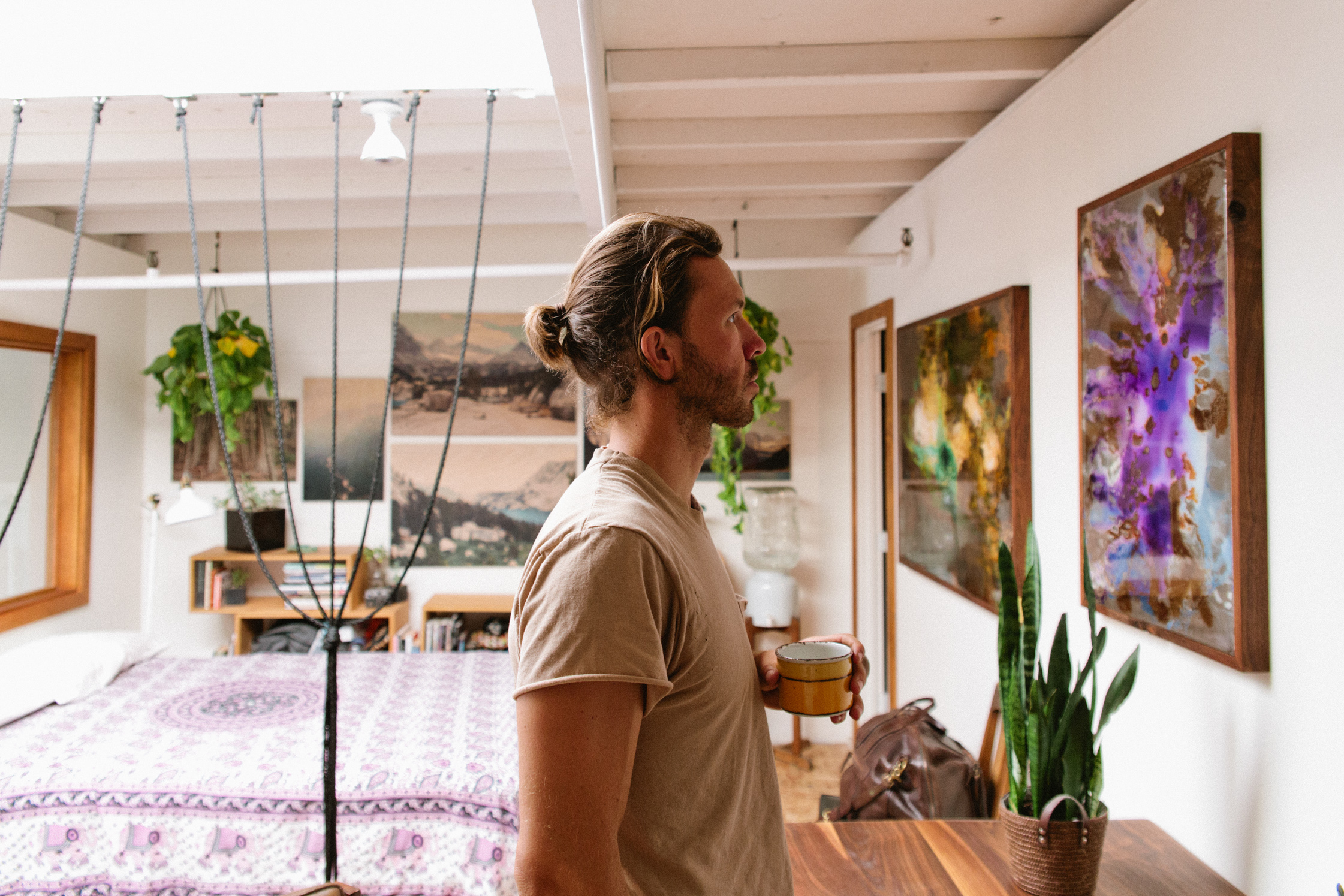 You have two different creative practices: art and furniture. Tell me more about your art first.
The art that I do is on sheet metal and now I'm doing a new series that's on copper. I use paints, patinas and different water-based acids and let them react chemically with the metal. When I'm satisfied with the result, I seal the metal with epoxy resin so it doesn't change anymore. I usually frame the work with black walnut but I'm trying out other types of wood for the copper series. Then my signature is a brass inlay plaque that says my name and the year I made the painting.
They look like aerial photographs of outlandish places.
Yes, well, they're all inspired by nature – all the colors, textures and patterns are inspired by photos that I take when I'm traveling because my wife and I travel quite a lot. My wife and I lived out of a van two years ago and traveled around America for two months. We did the perimeter of the US. We left California and went all the way across the South to Florida and ended up in Boston in the North and then we cut across the North and went to Chicago and then through Wisconsin and North Dakota and Yellowstone. We also did another trip, which was month long, and went to Glacier National Park in Montana and then down the entire West Coast.
That's quite a mix of different landscapes to experience in a short period of time. What was it like moving through all the diverse scenery?
It was amazing. I've always had this idea of wanting to travel around America – particularly in a Westfalia Van – since I was kid. So it was kind of like a lifelong dream of mine and making it happen was incredible. America is just so beautiful, there are so many parts of it that I hadn't seen and fell in love with. Seeing some of the small towns and meeting random unique people along the way was truly an experience. And, also, eating at strange diners. During my travels, I shoot a lot of film photos – mostly 35mm – and then I translate those images into artwork. That's what fully inspires the work that I do.
You've got this abstract practice on one hand and then the more calculated and strategic side with your furniture. It's very contradictory.
I like the balance and the dichotomy of those two practices. I've always done fine art and I got into furniture only four years ago.
Did you teach yourself how to make furniture?
No, I apprenticed for a woodworker for a while and then took a couple of classes. After learning the essentials, I taught myself a lot of things as well. Making furniture is very much a sport for autodidacts as it requires constant evolving. Once you get the basics and understand how wood and tools work, there's kind of a right and a wrong way. Which is completely different to art where there is no wrong way of doing things. And I like that. I kind of flip flop between the two practices. I have a little room in my studio that I built out where I work on my art. It's a self-contained dust-free area that's small but allows me to work on two pieces at a time. I love going there because it's fully dedicated to artwork. I paint and resin in there. When I frame them I bring them out to the main area of my workshop.
Are most furniture and objects in your house made by yourself?
Most of it is. Especially now we live in the loft portion of my studio. It's a small space but it's neat. I love the small house movement. I like the idea of living more with less. If you buy things, buy the best things you can afford and have them for years instead of cheap stuff you'll end up throwing away. All the furniture is made by me and we have stuff made by friends. Also, there's paintings and objects we've collected, bought or traded for.
The main area of your workshop is dedicated to your furniture. What's your furniture about?
The furniture is basically things that I would want to own. I want to have a table that looks a certain way and functions well so I go ahead and make it. I always make things that I would have in my house and fit my aesthetics. It's my personal approach and ideology. It doesn't make sense to me to do anything that you don't want to do in life. Most of the time I turn down the commissions that I don't believe in.
What's the difference between working on your furniture and your art? Does the one balance out the other? Is it that you let yourself loose with art and then you regain control with furniture?
That's a good way to describe it. I go in my small painting room, put on music and I can be in there for hours. I lose track of time and get in the zone. Whereas when I'm making furniture I have to fully concentrate on what I am doing as it is extremely precise and calculated.
You say that nature is your main source of inspiration. What characteristics of the Californian landscape can one see in your work?
Lately I've been obsessed with the ocean and the coast so the whole copper series is about blue and green patinas. I love the ocean and I surf a lot so I wanted to create an art series that's fully inspired by my lifestyle and the Californian coast. So, I decided to go on a surfing road trip with my friend Lonnie to refuel my inspiration tank. I wanted to take that specific color palette that's so inherent to California's landscape.
So, your love for the ocean also comes from surfing?
Oh yeah, I surf all the time, probably three or four days a week if there is swell. My studio is about a mile away from the ocean so I can be there in five minutes. I surf Newport Beach and the State park part of Huntington Beach as well.
The phrase "Stay Wild and Free" is mounted on your wall. Is that a motto you live by?
Yes, absolutely. You know, every time I get to spend time with my grandma, I'm reminded of how young and free I am. My wife and I have no kids, no mortgage and we're so healthy and able to do so many things in life that I feel we're very blessed. Now is the time to do and try things and risk in general.
It's an inspirational ideology but difficult to adhere to as well. How do you manage to do it?
I do it by traveling a ton. Me and my wife are going to Japan in a couple of months for the first time. Our thing is seeing the world and meeting various cultures to experience how other people live. We're making our story in life as wild and fun as we can. I just want to look back to a full life and tell crazy stories to my grandkids.
Speaking of grandkids, your great grandmother was an artist right?
My great grandmother and father were all involved in arts in one way or another. My dad built lamps out of stained glass and then he moved on to commercial photography. My great grandmother was an amazing oil painter and painted for around 40 years. She did all landscape with oil paints. We've kept most of her work, all of my family has something of hers.
And what about your father, what did you learn from him?
I learnt a lot from him. I grew up building skate ramps and other things. The only thing I didn't make and always wanted to make was a treehouse. When I have kids of my own, I think I will get to achieve that. That's something that I still want to make. My father mostly made stained glass lamps and became very well known for that back in the late 70s and 80s. He worked with Barbra Streisand, Steven Spielberg and Mohammed Ali. When he moved on to photography he did commercial photography like shooting for hotels and restaurants. His work wasn't conceptual but he was very much into the process of the darkroom and developing photos. I learned to love the process of whatever it is you are doing and making, even more so than the final piece. His ideology of craft has been carried down to me.
What's your artistic background?
I came from an apparel background. I used to have two clothing lines that I did for six years. I started one while I was still in high school which was really small and then after school I started another one called Status Foe which I worked on for four years. It was pretty big, we sold at over 100 stores. It was really hard to make money and once you managed to get a little bit of money you had to invest a lot more for the next season of clothes. I then moved on to work for Hurley so, in total, I designed clothes for eight years. Apparel was fun but I don't miss it. I'm still very particular about clothes but I think I just got tired of it. I just don't like the idea of someone buying a shirt that's cool for six months and then the appeal of it dies. The lifestyle of the industry didn't work for me.
What do you think of the Maker's Movement?
I love things that are handmade and come in small batches. Whether it's ceramics, glass objects or an iPhone case. I like supporting small makers. Luckily there's a huge resurgence in people making things. I think the whole makers movement is great. I was at Sam Maloof's house over the weekend, he was one of the biggest furniture makers back in the 60s and he was one of the people responsible for, what they called back then, the Craft movement. It was just amazing to see his house, walk around it and see the furniture he's made. It's very cyclical how everyone is now back to making their own things like craft coffee, craft cocktails, pickles and whatnot. It's very interesting and I'm curious to see where it goes next. The best thing about the era we live in is that you can educate yourself so easily if you want. I'm all the time on YouTube figuring out how to do things. Everything is at our fingertips and if you use those tools you can do great things and achieve your goals. It's much easier to be self-taught nowadays.
How did you get into photography?
I didn't use to be into photography at all because my only contact with it had been through my father's work which was very commercial. So it seemed boring to me back then. But since I discovered analog photography,it's like a whole other creative outlet for me. I just got back into it a year ago. I took a developing class in a local community college and spent the whole time in a dark room. I'm obsessed with Ansel Adams' work. I saw a retrospective in New York two years ago and it blew my mind. I was standing in awe in front of his work and that's when I decided to take up photography. I made a limited edition zine – only 150 copies – last year which was about my photography and how it influences the art that I create. All of the photos were analog and based on two of my road trips around America. In fact, I just sold the last one.
Analog photography is connected to the idea of imperfection. Is the Wabi-Sabi philosophy something you embrace as a concept?
I'm obsessed with Japanese culture in general – even though I've never been to Japan. I heard about Wabi-Sabi four or five years ago and it really stuck with me. It's a beautiful concept. Finding there's no perfection and seeing imperfection as beauty. For example, when I'm picking out wood I look for the knots and marks most people typically avoid. I love that uniqueness, it gives the wood a lot of character. They're like unique stamps and mementos of the tree's past life. Trees go from being living things to a dead-looking state but wood actually continues to move for years after it's cut. Different temperatures and humidity affect its shape. That's why old furniture might develop cracks on their surface. It's constantly carrying moisture. I like knowing it's a living thing. This is probably connected with me wanting to be in nature all the time.
Do you travel often to be in nature?
We do one or maybe two international trips a year and a lot of camping trips. One of my buddies and I went backpacking to Sykes Hot Springs in Big Sur several months ago. It's like a 10 mile hike which was a bit harder than we thought it was going to be. It was really hot and a lot of up and down. If I lived there 200 years ago I would have been one of those landscape photographers and travel around on my horse.
Have you got any noteworthy experiences from your travels?
Not really. When we had our van, it broke down a lot. The most unexpected event was when we were in Florida and weren't planning to stay there just make a quick stop and go. But it broke down and we ended up staying for three days which turned out to be amazing. That was a pleasant mishap.
Photography: Lonnie Webb
Interview: Effie Efthymiadi
Be sure to read our surfing trip with Sean Woolsey along the Californian coastline, from Big Sur to Santa Cruz, on FvF Explores. And have a look at our exclusive collaboration with Sean on the FvF edition of his Land Cruiser Deck.