As the locals siesta, the tourists crowd through Placa de Catalunya. Not far from there is Calle Fontanella, where we are heading in search of house number 16. It's the home of Andrew Trotter, an interior designer and art director from the Yorkshire Dales, along with Spanish photographer
Mari Luz Vidal and Japanese chef Nobu Kawagoe.
Their home is at once private and public simultaneously: It opens as an exhibition, dinner and concert venue, and it is the inspiration for their magazine, appropriately called Openhouse.
Our visit coincides with the first edition going to print and as Andrew opens the door, Mari is deep in conversation with the printer, comparing methods to ensure image quality on the weighted paper stock. Clearly, a perfectionist at work. We become acquainted with Andrew and Mari a little better and get a taste of their warm hospitality amongst cosy rooms lined with colorful geometric tiles furnished with a curation of indoor plants and design pieces.
This portrait is part of our ongoing collaboration with ZEIT Online who present a special curation of our pictures on ZEIT Magazin Online.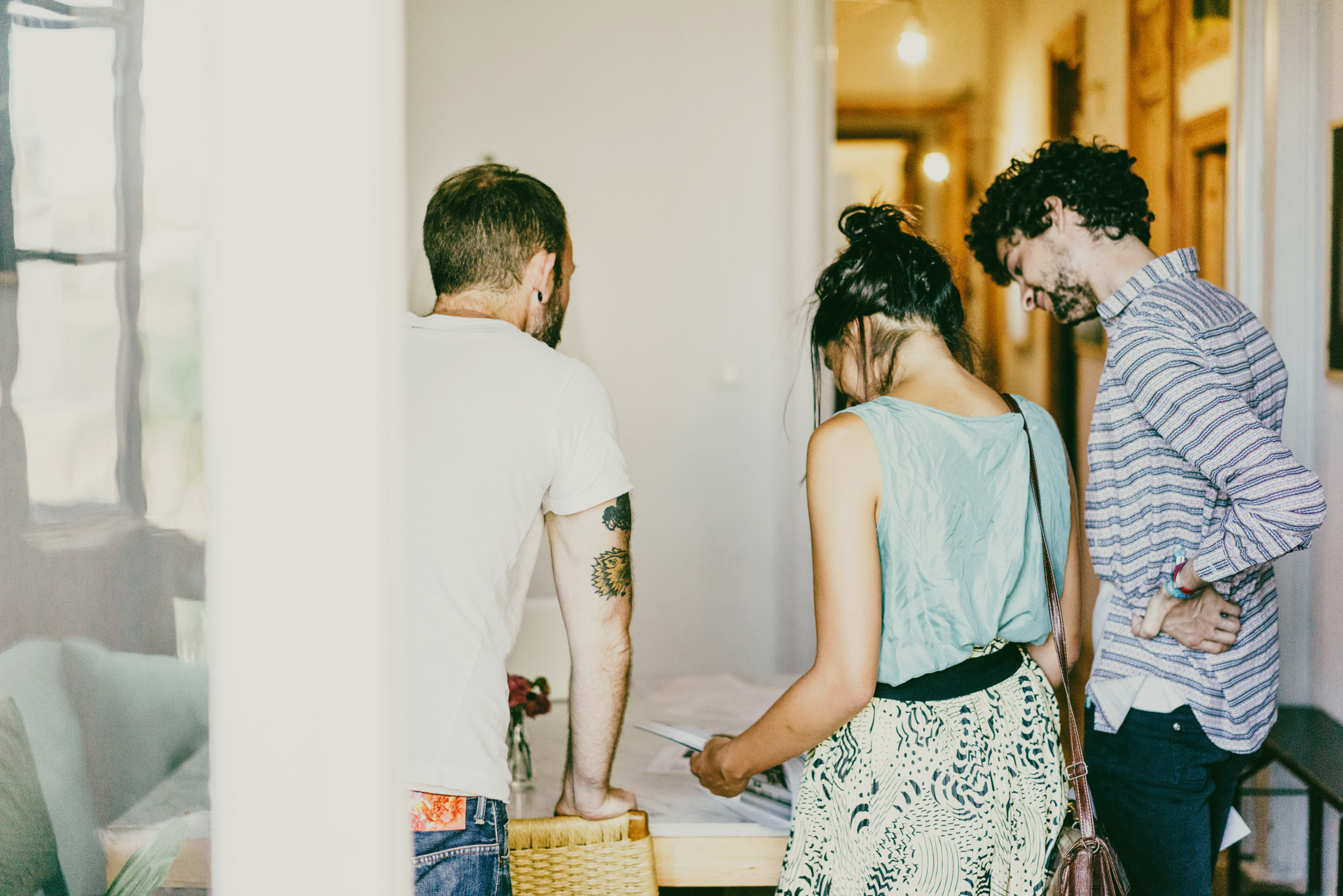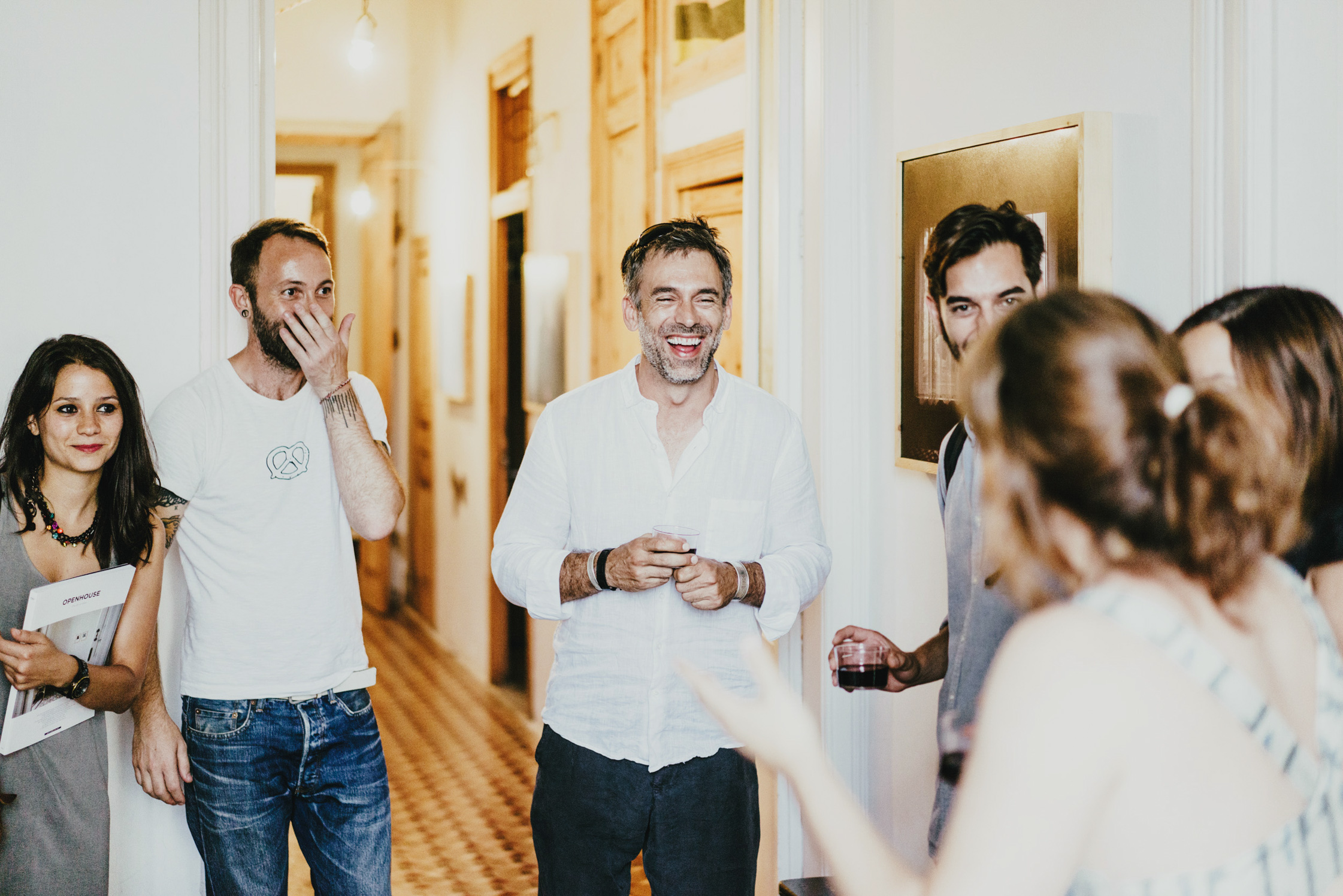 How did all this begin? How did you end up living together in Barcelona?
Andrew: I met Mari because I stayed in her house in Bilbao for a week. Then we moved into a tiny flat in Barcelona and I started Openhouse, my design shop that I wanted to feel like a house. Just before we found this flat, Mari had an idea…
Mari: Yep, I wanted to invite our friends so that they could help me prepare an exhibition. The idea was to serve some drinks on the terrace and then people could look at all the photos and help with the editing – so basically choose the direction and the relationship between the photographs for the exhibition. Then, when I found this house, I thought: Wow, I have to wait! This is the place for my exhibition! The house is like a gallery with four meter high ceilings – it's amazing. And then our next thought was: Hey, once we have this house, we could do exhibitions with all kinds of people, not just my own projects.
Andrew: When we moved we said: This is the real open house. So we called it the Openhouse Project. The idea just grew organically with us. Nobu came four months later. He did the catering for the first exhibition and then he decided to move in. One day I got home and they were all sitting on the sofa, they turned to me and said: "We're going to start making dinners, too!"
Barcelona is said to be a very outdoor city. People rarely meet at somebody's home, right?
Andrew: Yes, the typical Barcelona thing is to meet in a bar, at the sea or in the park. I don't often go to the houses of my friends. Sometimes for a dinner party, but it's not like London where you're always in each other's houses because it's so expensive to go out. And it's cold and wet, so you spend your life indoors.
Mari: Barcelona is the opposite: It has really good weather and it's not expensive to go out for tapas and things, so there's a culture of going out all the time. The surprise for people who come to our house is: you go out, but you enter a home. And for us it's about doing things at home for people we don't know.
How did people respond to the intimacy of exhibitions and dinners in your home?
Andrew: When you go into a gallery or a shop, it's anonymous. You don't thank somebody for opening. Here they say, "Oh, thank you for letting us in! Thank you for showing us around!" Some are nervous because they have to talk to us, but after a while, we share a glass of wine and they relax. Some people stay for two hours!
Mari: In the beginning people think: "It's a bit weird, I don't know where I'm going, to a strange house, no?" But then you open the door and say "Hello, I am Mari Luz," and it immediately makes a difference in the relationship. It is about who you are and who I am.
Andrew: In two years we've had three thousand people come through the house, and it's still growing! If you go to a restaurant you don't talk to the person at the next table, whereas here people sit on the beds, the sofa, everywhere, and they talk to the other people that are there. If it's a sushi party, it's all standing. Nobu, who worked at Nobu in London, is a wonderful chef. Sometimes, with Kenji who helps, they are cooking in the kitchen and people stand there watching them make the sushi.
You're now even editing an Openhouse magazine. How did that idea come up?
Mari: Often people come to Barcelona for holidays, and they send an e-mail asking if it's possible to meet us, to see the house and the exhibition. People from all over the world! I always ask the same thing: How do you know about us?! Then we had the idea that it would be nice to do a magazine as a kind of guide.
Were you inspired by similar projects elsewhere?
Andrew: Yes, I love the Bless home in Berlin, for example. You can't tell that it's a shop. You go into the bedroom and wonder, what are Bless products and what are the clothes of Mira who lives there? You have to ask questions, you have to talk to that person and this is inspiring. Also Airbnb is saying, "Open your home to people!" Not the ones where you rent a whole apartment, but the ones where you go to people's houses and you share life with them, you cook together and you go see the town together. I think that's a great idea.
Who did the interior design in here? It's beautifully furnished!
Andrew: A lot of things came from my shop. Mari has collected pieces from trips to Bali and Thailand, so the house is a big mix of all of us. Nobu works too much, and is quite minimal. I made a few pieces of furniture when I first opened my shop, like the marble table, the bookshelf and a couple of lamps, and these are special to me, they make me feel proud.
What about this wooden chair in the shape of a hand? Looks like something with a story…
Andrew: It was made in Mexico in the 70s. I bought it at Persuade, where I worked for Paul and Rosa in Bilbao, so it brings back great memories. I know it isn't a real one by Pedro Friedeberg, but for me it has something very beautiful about it, and it's actually very comfortable! Paul also gave me the rubber acupuncture statue from China after helping him in an antiques fair. I will never give this away.
Do you two have a single favorite piece in the apartment?
Andrew: The forest drawing by my friend Santiago Fernández de Mosteryín has to be my favorite thing, I can stare at it for hours. There was no way at the time I could afford it, but two years later I opened my shop and asked if he would like to hang it there. It hasn't left my sight since.
Mari: My favorite is the marble table in the living room, designed by Andrew. We eat, we work, we chat, we drink, we photograph. We do almost everything in this table! Even ironing, I don't have another place to do it! Nobu and I have broken the table in many different places though…
How on earth did you break a marble table!?
Mari: (laughs) Well, I couldn't believe it, but I used a steam iron and the marble cracked! Without the steam it's fine! Now I know… And Nobu tried moving the table on his own, it's heavy, and one leg broke. The table was Andrew's prototype, so we had to test it!
What do you like to do at home when you are not working? Do you still have time for just hanging around?
Mari: What I like is to be calm at home, no music, nobody! Just lying in bed or on the sofa in the conservatory, next to the big windows, relaxing and thinking. No sounds, no phone.
Andrew: The apartment is on a very busy street, but when you are in the living areas of the house it is peaceful and quiet, the only thing you hear are the birds. The conservatory is the perfect place to take a siesta, the light is amazing and I love to look after my plants.
Mari: Oh, and we all like cooking and eating!
Andrew: Yes! Being Spanish, English and Japanese we have a great range of things we like to cook. We invite a lot of friends home and we're often having little dinners, so it hasn't become a place where it's all work and nothing more. But all the ideas for work come from living together.
Mari: Mainly, when we're having breakfast…
Andrew: Or drinking wine…
Mari: …or at lunchtime. Openhouse is not a proper job, it's just that we started to share things that we like because we love to share. We didn't plan this project from the beginning, but with time we saw, "Oh my God, this is working very well!" Now it is two years and we've already done twenty four events!
Andrew: None of us thought this was going to be a real job, and now we have a business together.
Only business?
Andrew:
Oh, and Mari and I are not married, and we are not boyfriend and girlfriend! Everyone thinks we're a couple though.
Mari: Thank God we are not married.
Andrew: But if we were, we'd both be very lucky.
Thank you Andrew & Mari Luz for showing us the world of Openhouse magazine. Find more details here.
This portrait is part of a series with Vitra. Visit Vitra Magazine to find out more about Andrew and Mari Luz's design pieces and other individual interior concepts.
Interview: Marisa Garreffa
Photography: Salva López
For more stories in Barcelona you can look here.