The air of sophistication Dorothée Heymann carries is not limited to her personal style. It seems that everything this German-Israeli painter turns her hand to, captures her distinct, passionate character. In her combined home and studio in Florence, tradition and contemporary vision are fused as one. Echoing the city's culture rich history, original 14th and 16th century ceiling frescos have been restored to their former glory and sit alongside modernist furniture and a custom designed bathroom based on a traditional hammam. Simultaneously austere and charming, it is as though the atmosphere of this cradle of the Renaissance has been directly transferred to her home.
The same can be said of her canvases. Lining the the walls of her interior, her colorful creations are studies on the human condition. For Dorothée, her work acts as "a kind of diary that communicates distorted, classic, intimate and poetic scenes" – on ongoing dialogue with the past and the present. Her story is one that traces a path from Paris, to Tel Aviv, finally finding solace in Italy. As a self-confessed "collector of beauty", we hear about Dorothée's treasured possessions – that include her intriguing horn collection that takes the form of candelabras and lampshades. She also reveals her favorite corners of Florence and discusses the inspiration behind her artistic practice based on a fascination in her family heritage and interest in human behaviour.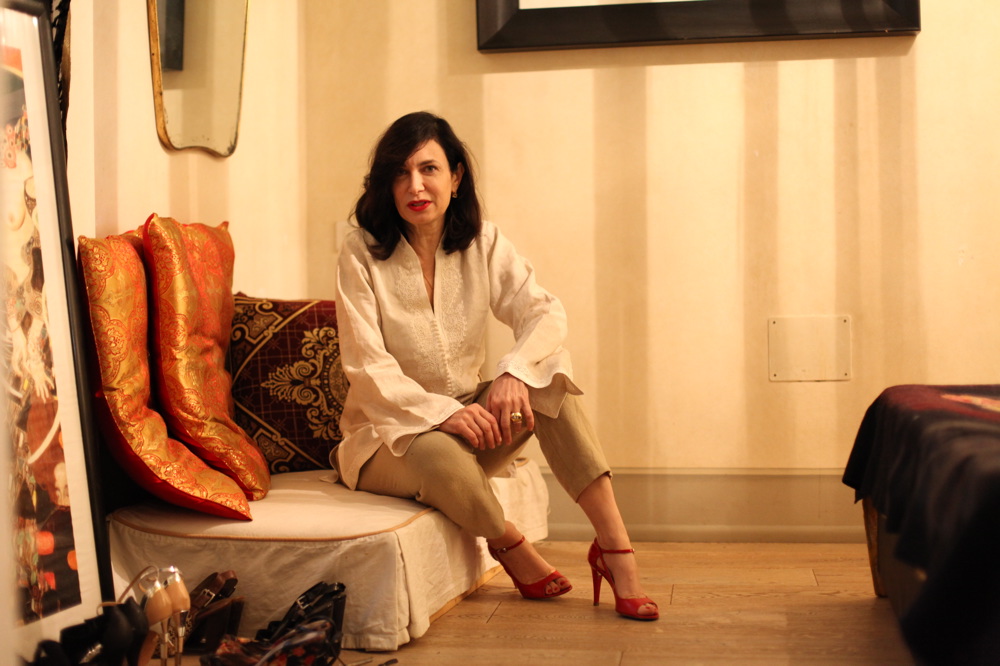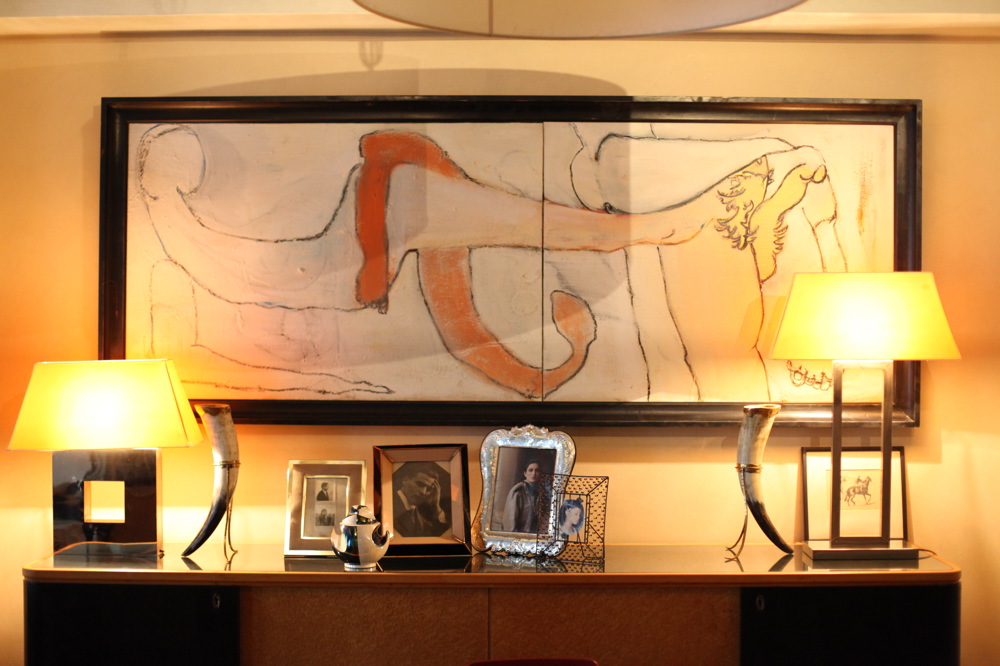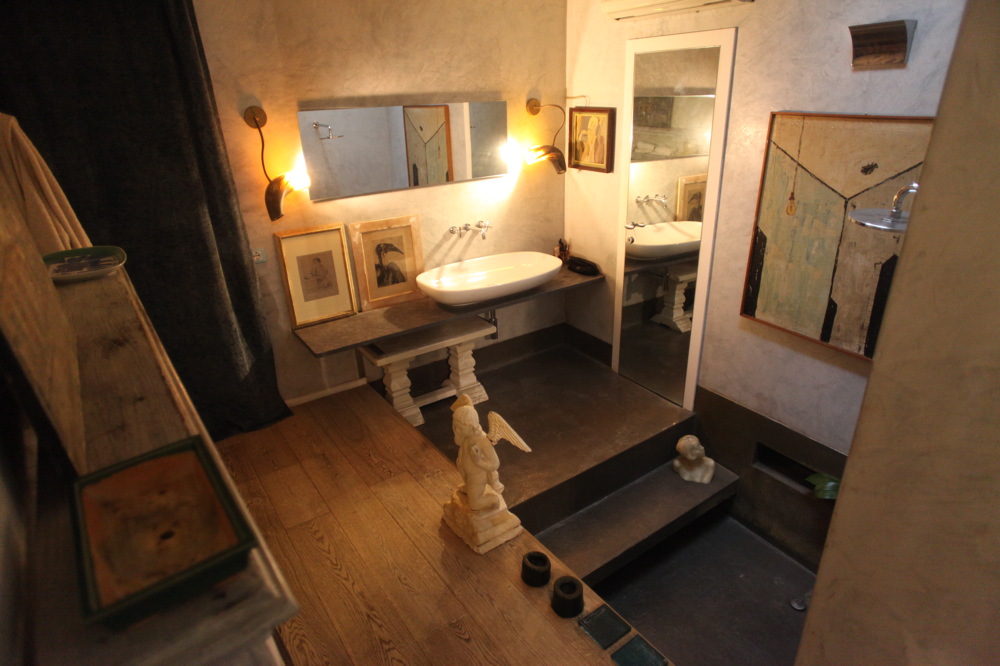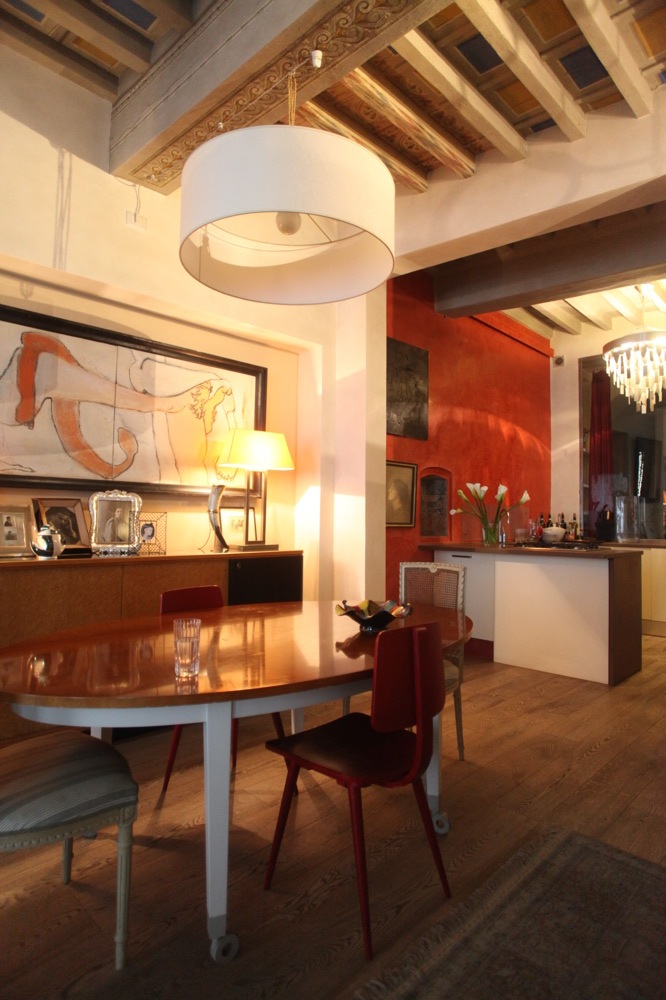 You were born in Paris and grew up in Tel Aviv. What do you remember from time spent as a child?
I grew up surrounded by beauty and with an awareness of aesthetics throughout my childhood thanks to my German family origins. I had a wonderful childhood in Paris.
Why did you relocate to Tel Aviv?
My world had a drastic change at the age of nine after my father's death. We moved to Tel Aviv where my grandparents and the rest of my mother's family lived. I had the opportunity to meet a large part of my family and discover my roots. The most important part of my art studies was in Israel as a result.
How did you come to live in Florence?
After graduation I went to the army and afterwards I got married. My husband and I decided to continue our studies abroad so we relocated to Europe. We chose Florence as the best place for art and my husband studied medicine close to the beautiful city of Pisa.
What do you love about your neighborhood and what keeps you here?
I fell in love with Florence because of its unique beauty, art and architecture. It is not a large city, however, it is so international. Lots of people come from all over the world to visit my hometown. Florence is a superb mix of beauty revealed and hidden magical places with inner gardens and gorgeous secret courtyards. It is the place I have spent the most time in following Paris and Tel Aviv. I have raised my daughter here, worked on my art, exhibited exhibitions and visited other fantastic artist's exhibitions.
Do you have a favorite place in the city?
My favorite place in town is the Palazzo Pitti for sure. I love this marvellous museum with the mesmerizing adjoining fairytale Boboli gardens filled with labyrinths. I also love the little piazzas and the small streets close to the Arno river. They are austere and charming at the same time.
You have an amazing ceiling fresco in your living room.
The fresco on the ceiling of my living room was painted in the 19th century and it is the most recent one. The ceiling and painted decorations in the dining area have been dated back to the 16th century with part of it done in the 14th century. Similar patterns can be found in the Palazzo Civico in Siena. Everything was hidden by a white chalky ceiling when I first moved in. After its removal I started the process of restoring it. We are so fortunate to have such excellent artisans and restorers living and working in Florence.
Your bathroom is also quite unique, did you design it yourself?
After moving in, the narrow original bathroom was transformed following my own idea, and designed like a hammam – a Turkish bath.
The selection of furniture and interior items in your home creates an extremely cosy atmosphere. Can you tell me about the two horns on your sideboard?
I have a lot of horns in my house, in the form of candelabras and lampshades. I love the shape and the texture of the horn. They are in the kitchen, the dining room – there are even taurus horns in the bathroom! I am a collector of beauty. I have an eclectic taste and because of my extensive travels there are quite a lot of colors in my interior, and on my canvases as well. My favorite piece of furniture is an antique 'credenza' that has followed me for years in all my different homes. I love to be surrounded by beautifully created objects.
How would you define your interior style? Do you think this correlates to you artistic practice?
A home for me like a piece of art, like a game or a puzzle that moves from micro to macro. The same goes for my artwork. From macro to micro, I convey intuitions and dreams. The close proximity to the work of old masters here in Florence has naturally influenced my own personal taste. Ancient masterpieces in the past, were usually commissioned by rich families and religious authorities.
When I look at a canvas I can usually already see an impression of the finished work. Suddenly my hand and the brush take on a life of their own and begin to paint. My studio is located within my home and I can most definitely say that the two are inextricably linked. It is a space filled with a lot of natural light – the perfect setting for making work.
What is your approach to your practice?
My vision of contemporary art through my work concerns the human condition; both inner and external changes. I am interested in the continual adaptation of humankind to traditions, habits and religions. My work is a kind of diary for me. It is both distorted and intimate and speaks of the joy and the tragedy as a result of life change. My canvases communicate distorted, classic, intimate and poetic scenes.
Your work oscillates between the figurative and abstract referencing a range of universal themes that relate to the dualism of mind and body. Why are you so fascinated with human anatomy in your work?
The body has always held a great fascination for me. I love dance and I danced all my life. I have always been preoccupied with the shapes and forms of the body. The inner anatomy fascinates me also: the heart, veins, blood and organs. I am interested in the sensual mixture between inside and outside that makes the body a sacred place. Duality in my work comes from both sexuality and rites in Christianity and Judaism.
Do you follow a specific thematic for each new body of work or reference a particular narrative?
The thematic of my works includes the narration of family ties, religion and sexuality. My work explores visions of the inner anatomy and the heritage of my family that has encouraged me to express the story of my ancestors from 1492, who made a journey to Germany and France as part of a pilgrimage of blood through long travels.
Looking back over the years, is there a specific work or project you are most proud of?
My favorite personal project was a poetic scene I created for an exhibition at the French Consulate in Florence in the 90s. Most of this work was suspended from the ceiling.
Which artist's works do you admire?
My favorite artist is Lucien Freud.
How do you define the role of an artist?
This is difficult to articulate in this contemporary moment. From my perspective as a contemporary artist, I see my role as expressing myself and aiming to transfer emotions and dreams to those that observe my work. My personal hope is to continue to have the privilege of making art and conveying the transformation of reality for the rest of my life.
Outside of art, you clearly have an interest in fashion judging by your shoe collection.
Yes, I love fashion! My favorite shoe designer is Manolo Blahnik. I also love the designs of Alexander McQueen, Diane von Furstenberg and Marlies Dekkers for luxury lingerie.
When you leave your beloved Florence for a holiday, where do you go?
My favorite holidays have always been spent in Tel Aviv – a contradictory and fascinating city. I love the sea, the food and of course my fabulous friends that I have there.
Dorothée is has been an absolute treat to see inside your richly decorated home in Florence and hear about your painting practice. To find out more about Dorothée's work, visit her site here.
Photography: Marco Annunziata
Interview & Text: Rachael Vance
For more stories in Florence you can look here.