Sam and Stefanie Wessner are not ones for sitting still. In nearly seven years of marriage, they've moved from Chicago — where they met as students at Wheaton College — to Nashville, New York, Paris, and back again to the Big Apple, where life these days finds them in a cozy apartment in Williamsburg, just beside the bridge and a stone's throw from the water.
She's an urban design consultant and Projects Officer at ARCHIVE global, an architecture and public health organization; he's co-creator of Manhattan's popular El Rey Coffee Bar and Luncheonette and partner at Cincinnati-based Noble Denim and the soon-to-be-launched Victor Athletics.
They're a twosome of many trades, one might say — and of many transformations, too. For now, though, they're settled — "as much as you can be settled in New York," Stefanie says. "When we got here, we made a conscious decision not to entertain other options for a while, which was a challenge — but a good one. We've decided to try to just be present."
This portrait is part of our ongoing collaboration with ZEIT Online who presents a special curation of our pictures on ZEIT Magazin Online.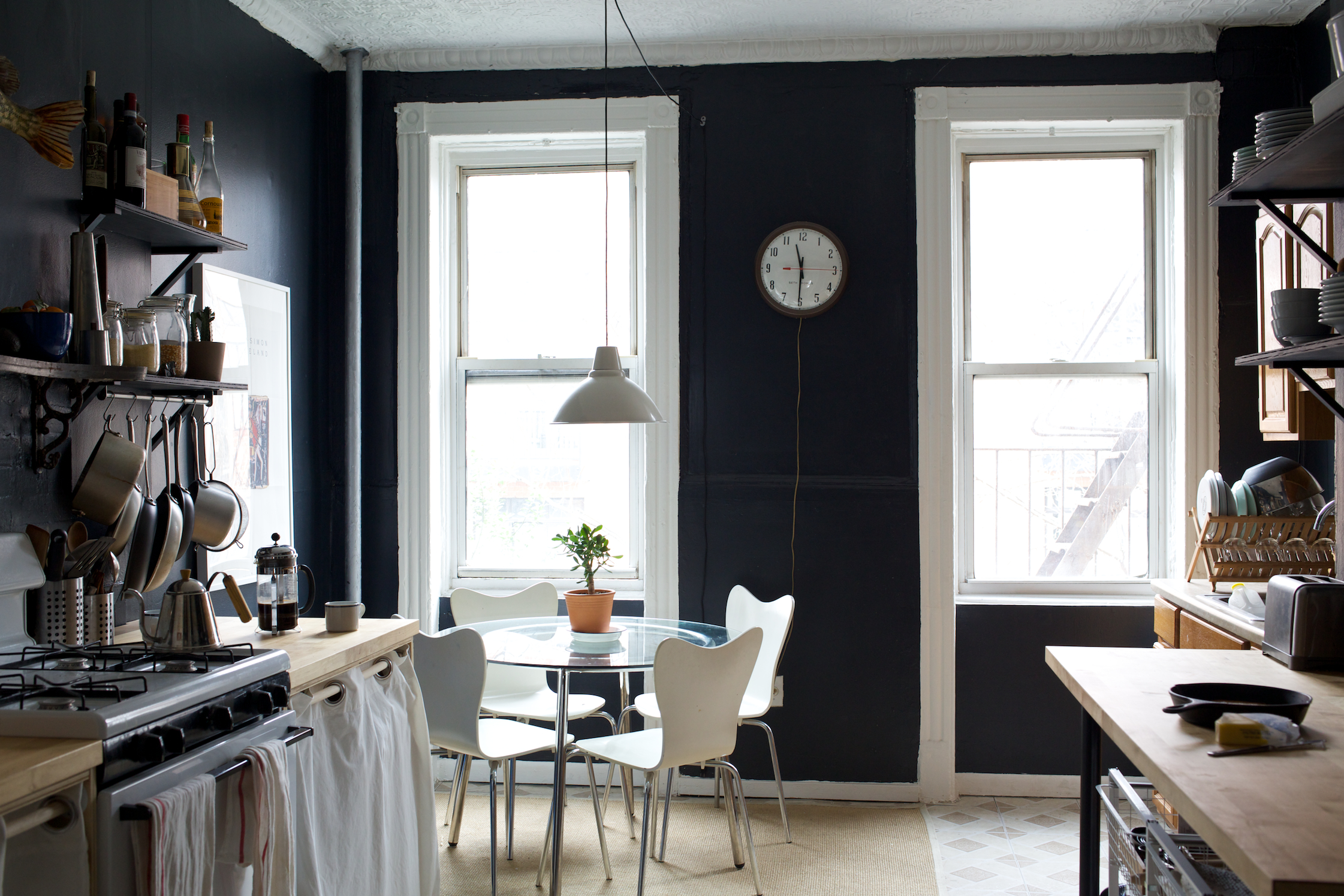 You lived in Chicago, Nashville, and Paris before making the decision to settle — at least for the time being — in New York. What was it about this city in particular that made you want to stay?

Sam: Initially, we came for Stefanie to go to grad school. I was working at a bar in Nashville at the time and had always wanted to open a place of my own, so naively, I thought, let's move to New York and make that happen. We didn't really have a plan.

Stefanie: We spent a few months here and experienced all the starry-eyed effects New York living can have.

Then I moved to Boston for school while Sam stayed in New York to get his business started.  When I finished my program, I came back to New York and we decided to stay. Five years is the longest time we've ever been tied to one place. We're still here — and we still don't have a plan.
After having moved around so much, was it difficult to commit?

Stefanie: Before New York, our lives had followed a trend of constant movement. We were always thinking of what we wanted to do next, what changes we could make. We were always escaping, in a way.

Sam: So much of our adult life had been defined by moving around. But that's changing. This is the first time that there's no urgent feeling of what's next? Making the choice not to think that way opens up more doors than you'd realize.
You spent your first few years in an apartment in the East Village — now, you've transitioned over the bridge to Williamsburg. What prompted the move?

Sam: We wanted more space, mainly. We wanted something more sustainable. After a few years, living in a six-floor walk-up with a Murphy bed starts to feel old. So last February, the dead of winter, we made the transition to Brooklyn.

Stefanie: Sam grew up on a lake, and has always talked about wanting to be close to the water. It wasn't something I understood until we lived here — now, it's the first thing I mention when I'm asked where I live.

Sam: It's the idea that the land you have doesn't end — that feeling really reduces a lot of the stress and the heaviness that goes along with living in the city.

Do you envision staying much longer?

Stefanie: In the apartment, yes. It's a very different living scenario than we've ever experienced. It's bigger. We have a real kitchen. We'll stay here, I think, as long as we stay in New York. It's felt really good to us.

Sam: When it comes to staying in New York, though, it's complicated. When people talk about a city like this, reactions are very polarizing: it's either, I hate it or I love it. I was always in the latter camp — I've felt really stimulated by everything going on around me, the people, the creativity. But over time, my thoughts about it have started to become grayer. Maybe I've gotten used to it. Maybe I'm just older.
What will be most important to you in the next place you choose?

Sam: Here, what you do defines who you are. So in the end, we're a city of people who are very caught up in doing our own thing, because we have to be. It's easy to feel like we're the center of the universe, and I think it might be nice to live somewhere where that isn't the focus. That said, there's a reason everyone's here, and there's a reason we're here. The types of people who gravitate to New York City share a lot of similarities, but we're an extremely diverse group. That's so important. My biggest fear is leaving and potentially losing that.
For both of you, work allows you to interact with that extremely dynamic population on a regular basis. Tell us more about what you do.

Stefanie: I work for an organization called ARCHIVE global, which works to improve overall health in vulnerable communities by making small-scale design changes to homes. Right now, I'm working on a project in Bangladesh, where I'll be traveling in the spring. We'll be replacing dirt floors with cement in 500 homes just outside the capital. With dirt, children are much more susceptible to bacterial infection, which in turn impacts their cognitive development. Something as simple as modifying their living environment can drastically change that outcome. Going to work every day definitely puts some perspective on how I value all these things that make up our home. It forces me to hold on to things more loosely.

Sam: I'm a bit more of a moving target when it comes to work. I'm growing two separate things simultaneously — a restaurant and a clothing company — and I'm constantly just putting on whatever hat I need to be wearing at any given time. It's hectic, but it's exciting.

The restaurant, El Rey, and the clothing company, Noble Denim— we'll also be launching a new brand, Victor Athletics this winter — originated around the same time. My partners and I signed the lease for the restaurant last June, we built it out through the summer, and it opened in September. Noble started really organically, and expanded very quickly — one minute my business partner and I were passing ideas back and forth, and the next, we were planning how to grow and scale it.

Both El Rey and Noble just happened, in a way, and I went with it. On their own, fashion and food service aren't things I think about all the time, but the creation of a space that people inhabit, or the design of the clothing they wear in their day-to-day-lives — that's what's exciting to me.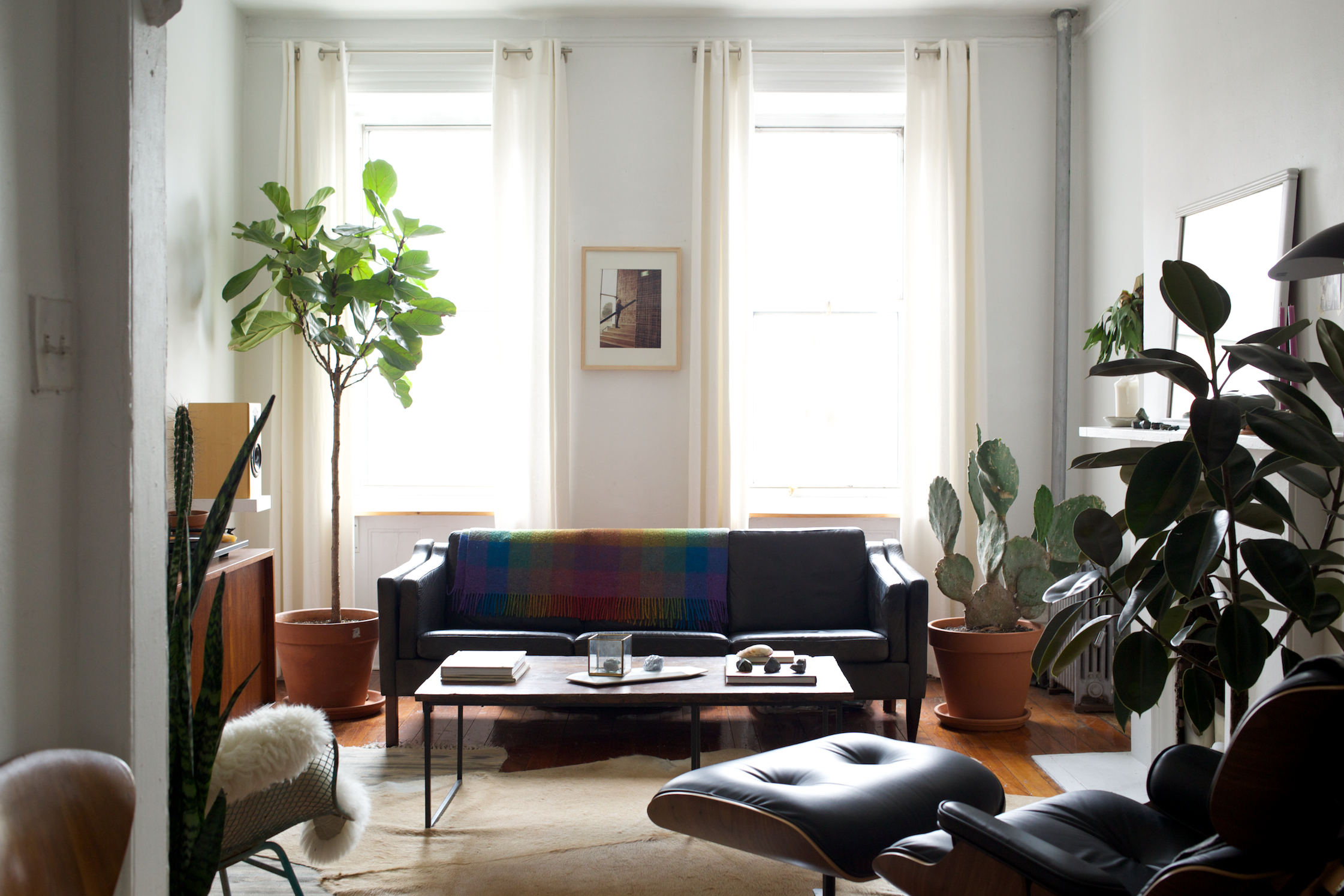 What would you name as the most important item in your space?

Stefanie: That's a hard question. I tend not to hold on to things in the way that Sam does — he's been known to fish things out of the trash that I've accidentally thrown away. But I do compulsively keep movie ticket stubs, cards, notes from friends — I have a folder of them. It's completely contrary to how I treat everything else in my life.

Sam: Overall, the most important items in our space are markers of certain moments in our lives. If there was a fire, we could replace the records, we could replace the books and the guitars. But we couldn't replace those other things.

We keep a collection of letters that we wrote to each other when we were in college, before we got married. It's crazy to me to think that we have this piece of our lives from that period of time — I was 20, 21. They'll be fun to read when we're older — until then, I'm going to try not to look at them.
You both lead very active lives. When you do have a moment to unwind, where do you like to spend it?

Stefanie: There are certain places in the neighborhood that we find ourselves more often than others — Cafe Mogador, Marlow & Sons. I also love the Grand Street Waterfront. If you go in the evenings in the summertime, you'll see people — all different kinds of people — sitting there, facing the water. They're not doing anything in particular — just sitting still, enjoying it. And although it's not necessarily a quiet place, it feels quiet. That's a rare moment in New York.
Thank you Sam and Stefanie, for the nice chat and visit to your cozy apartment.
This portrait is part of our ongoing series with Vitra. Visit Vitra Magazine to find out more about Sam and Stefanie's interior design details.
Meet more creatives in New York through all of our previous interviews in the city.
Photography: Emily Johnston
Interview & Text: Shoko Wanger