Anyone who's danced their way through Munich's nightlife is familiar with the work of Paul Putzar. The 25­-year­-old graphic designer, who leads the design studio Astral with three partners, has designed the artwork for the club series "Autonomica" and the "Organic Dance Music Festival," both renowned party institutions in the city. Paul is the ideal partner to show us the creative side of Munich and so we join him in his MINI for a day to the places where he finds inspiration.
Paul's Favorite Places in Munich
Around the Isar there are boulevards, such as the Maximilian and Leopold Strasse, but also winding side streets in traditional neighborhoods such as the coveted Lehel. Because there's not a lot of space there, it's best to follow Paul's example and travel the streets in a MINI. From his agency in the creative Untergiesing neighborhood, over to his favorite retro­ café-restaurant in the trendy Maxvorstadt and lastly to a chilled-out secret lake on the outskirts of town, Paul immerses us in his multifaceted world.
Paul's Apartment in Lehel
Over a latte macchiato at the kitchen table of his cozy apartment in Lehel, where he lives with his girlfriend Anna, Paul tells us about his life in Munich.
Yes. I was born in a hospital very close to my apartment. When I was five, we moved to Ammersee. When I was 18 I wanted to return to Munich.

Why have you stayed true to your hometown?

Munich has a bit of everything. The club scene has developed, even if there is still room for improvement.
You live in Lehel now, what do you like about it?

What I like about this neighborhood is that it's a bit like a village. You can forget about any high life on the streets. My job is hectic enough. Ten phone calls and 25 mails a day are normal. Afterwards, it's good to have a bit of calm. For me, this comes from the apartment and my girlfriend Anna. It's also ideal that we can get to some green spaces so quickly, either in the English Garden or the Isar River. I only need ten minutes to get to the agency and the way there is a dream.
Astral Agency
Paul didn't exaggerate: Driving along the Isar to the agency through nature is an idyllic way to start the day before hours in front of a computer. With the MINI we only need a few minutes to get to Untergiesing. In the last few years the area has become more than just a place to live, partly because of the popular hangout – Charlie – but it's also become a creative hotspot in Munich.Graphic designers like Mirko Borsche and Alexis Zurflüh send their designs from here out across the globe. It's no wonder, the center of the city is close by, and for relaxation the Isar River is right in front of the door. Hidden in the backyard of a spacious old building is the entrance to Astral, the agency where Paul is one of four partners. Dark wood flooring, high ceilings, huge windows and the best: From his office chair, he has a magnificent view into the green. Ideal to let your thoughts wander and for him to tell us about his passion for his work.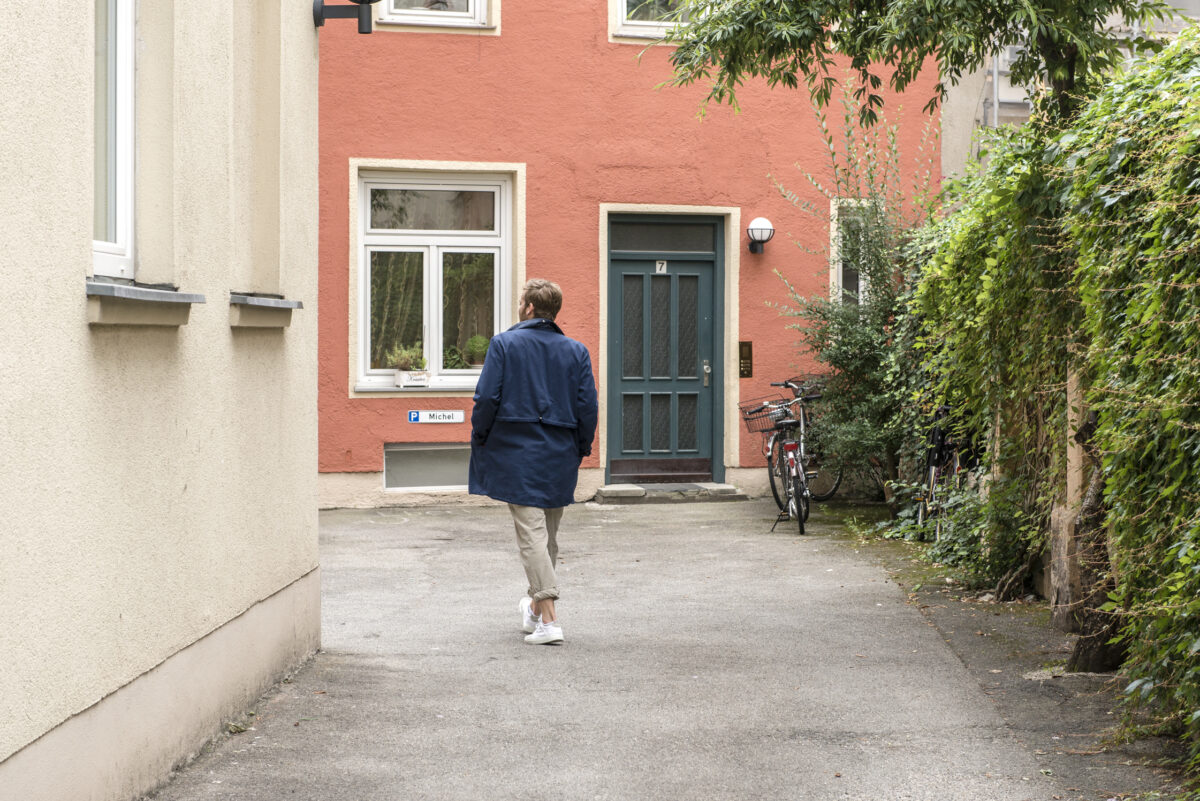 What exactly do you do at Astral?

We care for large companies in the digital domain, so apps and websites, such as the range of motor and golf sport by BMW, but we also do branding for small labels and firms.

Did you always know that you wanted to become a graphic designer?

Actually, in the beginning I only wanted to do programming. When I was eleven or twelve I was already doing it full on. Then it became more and more important to me that my websites looked good and I began to concern myself with design. After training in media design with the multimedia agency Phase 4, I set out on my own at age 21. In May 2013 I founded Astral with my former Phase 4 colleagues Johannes Auffermann, Hagen Fiedler and Malte Bender. By the way, where I'm sitting right now is where Christian Hundertmark used to sit – today he runs the graphic studio C100. He was one of my mentors, I learned a tremendous amount from him.
On the walls of your office hang some great posters that you designed. Which is your favorite?

The posters for "Autonomica," of course. This is the series of events in Munich with international DJs. Four thousand to five thousand visitors come to the summer raves. I've designed 30 posters for it in the last few years. This was a great experimental playground for me. But my poster series for "Kong" is really close to my heart. Because both of the projects finished, I jumped more to music artwork. Recently, I did a vinyl cover for the newly founded Munich label Lossless. At the moment I'm working on the artwork for several bands – you'll hear more about that from me soon.
Is there a record cover that's particularly important to you?

Yes, the design of the cover from "Kompass ohne Norden," the last album by Prinz Pi. In the meantime, we've become really good friends. Not long ago Anne and I were at his wedding. He founded his own label which I did all the design for. I really like him as a visual advisor.

In the history of music, which cover would you have liked to have designed?

Definitely "Dark Side of the Moon" by Pink Floyd. That wasn't just a crazy graphic for the time, it's timeless.
What drew you to establish Astral in Untergeising?

The area is just perfect for us. In summer, if we've been sitting in front of the computer for hours, we can just jump into the Isar for a few minutes or have a Radler beer on the steps that lead to the river. Or we can play a round of frisbee or football. We're outside a lot. The quality of life here is incredible. Also, this district is already a center for agencies. Mirko Borsche is close by. Also my buddy Alexis Zurflüh. I like to meet up with them for a wurstchen breakfast or some chili.
Waldmeisterei
When Paul has a bit more time to eat, he goes to Waldmeisterei in the afternoon, his favorite place for a relaxed lunch with friends. So we take the MINI to a favorite corner of Maxvorstadt, where lots of students are on the move: Barer Strasse. Only a few minutes from the legendary Schelling Salon, Paul's friends recently opened a retro style café. In gleaming gold lettering on the door is written "Waldmeisterei – Feinkost und Bewirtung" (Waldmeisterei – Delicatessen and Catering) – it's clearly designed by Paul.
Owner Kristina Pawelski greets him with "Servus," the southern German equivalent of "hello," and a hug. Paul's "gang" is waiting for him for lunch – all well known faces from the city's nightlife: Damir Stabek and Branimir Peco, founders of the Registratur, a now closed club – party lovers still dream about it. Both are now organizers of the "Organic Dance Music Festival", as well as concerts and corporate events, such as the MINI Club Series. Peco also had a hand in Kong, together with Sandra Forster and Jisho Lang. Next to them sits Mathias Schober, who DJs as Show­B (Compost Records) and is a booker for Mixed Munich Arts, a new location with a club and restaurant in a former heating plant. His pitbull, Ana, is dozing under the table.
Paul, what do you like about the Waldmeisterei?

Of course I like the stylish design. The hand­crafted bar is awesome. The food is incredibly good. I like coming here on Saturdays for breakfast the most. I can really put my heart into it. And I meet my boys here. I know a lot of them from football at Monaco Calcio, an association of the amateur league.
Lenbachhaus
After lunch we do a round with Paul through the imposing Königsplatz to his favorite museum: the Lenbachhaus. Since its reopening in 2013 it is definitely the most exciting exhibition building in the Bavarian metropolis. Paul immediately steers us towards an installation in the entrancehall – "Wirbelwerk" from Danish artist Ólafur Elíasson – it's an impressive spiral of metal and colored glass.
Why did you pick the Lenbachhaus?

Because I'm so impressed by this installation in the entrance. But this place is amazing in general. I like the mix of old and modern. What's special for me are the details, like the clarification texts. The people at the design studio Herberg Weiland, who I really appreciate, made them. They're around the corner from Astral. I can absolutely recommend this museum to anyone visiting Munich.
Public Posession
After a tour through the Lenbachhaus, Paul wants to show us where he heads to add to his vinyl collection: Public Possession in the Klenze Strasse in the middle of the Glockenbachviertel. The owner, Marvin Schuann, stands behind the turntables, because, as is befitting for any decent music store, every Saturday music and drinks are served up. A few minutes later Schuman's business partner Valentino Betz comes in, with his small daughter in his arms, who he's just picked up from the nursery. Both owners publish their music on their eponymous label and specialize in house, techno and leftfield tunes.
How do you know the guys from Public Possession?

I used to be more of a night owl than I am today and quickly became friends with a lot of people who pull the strings in Munich. I know Marvin and Valentino from the club Erste Liga and their party series "Tell Your Taxi Driver." It was an institution in Munich but unfortunately it was closed. Now, both of them are luckily DJs in the club at the restaurant Charlie.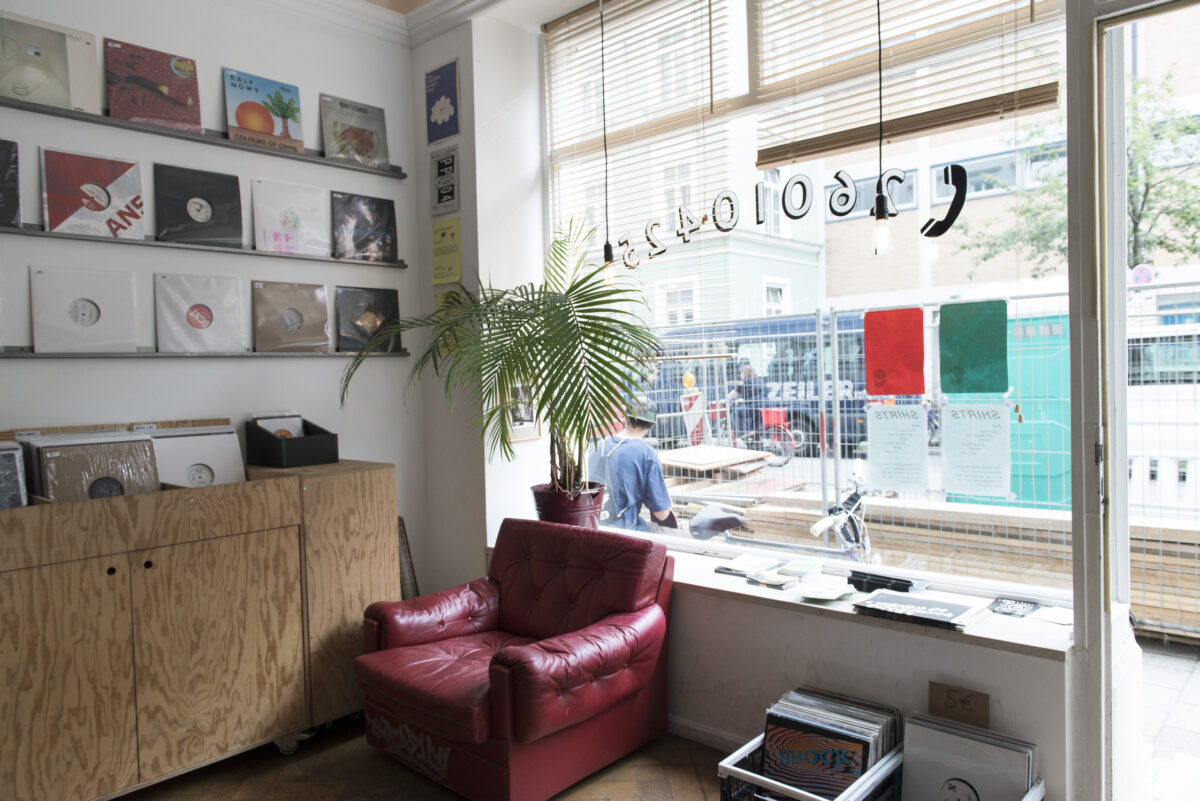 What do you like most about the shop?

Clearly the aesthetic of the aisles – the record cover artwork comes across really well. I pop in here every two weeks and take a few records with me. If there's something I don't know so well, I just tell the guys that I have a budget of 50 or 60 Euros and then they pick something for me. They almost always hit the mark.
Lake in the Allach Lohe
After so much urban flair, Paul wants to take us into nature to show us his favorite place on the water. We leave the city driving north and after 30 minutes we reach a lake in the Munich suburbs of Allach. It's so hidden, that few locals know about it. To get to the most beautiful part of the shore, we have to beat our way through the bushes. We are rewarded with the sight of deep clear green waters and absolute silence.
When do you like to come here?

When the whole city is sweating or after football at Monaco Calcio. Then we jump into the lake. I also often come walking here with my friend Yasar and his dog, it was thanks to him that I discovered this lake last year. The Liana vines that hang from the trees are especially cool. We've gone hand over hand with them into the lake. This is my favorite spot on the water in Munich, other than the Isar, of course. I like water in general. For example the Mediterranean. With my girlfriend Anne and her family, who are from France, we often go on vacation on the Côte d'Azur. I also often go sailing with my friend Luke and his father in the Caribbean.
It seems like you're a real nature man.

Absolutely, I need this balance. I often go with my father to the Ammersee or visit my mother, who lives in the mountains. I have a plan in the distant future, to move to the countryside, because I had a wonderful childhood there, protected and close to nature. If I were to have kids, I'd like to give that to them. It would be cool to have a shared space in a renovated farmhouse with friendly families and couples. But it'll take a while before I'm there.
Nage und Sauge
It is now approaching evening and we drive back to Paul's neighborhood, the Lehel. As an end to the day he invite us to his favorite restaurant – Nage und Sauge. The hallmark of the restaurant, where all of the creative scene comes together, is the dim lighting and the curious drawings on the wall. As always, it's full to the last seat. Paul orders his favorite dish, Paddies Penne, pasta with sausage and pokes his head into the kitchen to look for a friend.
What distinguishes Nage and Sauge from other Munich eateries and bars?

It's comfortable and authentic, especially in winter with the flickering warm fireplace. The people who come here, normal people, hipsters, DJs and culinary types, don't take themselves too seriously. I've been a regular since 2007 and know most of the people in the kitchen and behind the bar. The atmosphere is so relaxed because you can't make reservations – whoever comes in time, gets a seat.