It could be the too-sophisticated-for-its-age dark mahogany wood table in the center of the room or the 50's style bookshelf accented by design toys, magazines, and covetable knick-knacks, but one gathers an immediate sense of aesthetic cultivation from entering Massimo's apartment.
Overlooking the oft-overrun Porta Ticinese in a deliciously old stone and brick building, his living space offers rich and dark hardwood floors, high white ceilings, and bold, but comfortable furniture. Much like Massimo himself, his belongings emanate strength and sophistication – with a generous dash of playfulness. On a worktable sits a pineapple, its spiky leaves mirrored in a grouping of similarly spiky objects, such as a metal toad wearing a crown. Atop his bookshelf, two Bruno Munari bendable monkeys hug each other, their long limbs curving into a ball.
Orderly shelves of fashion magazines reveal Massimo's obvious love for fashion and penchant for organization: his racks of clothing and fortress of clear organizer shelves are jam-packed, but tidy. Over glasses of prosecco, we sat down with him to discuss his love for design, Prada's Spring/Summer 2011 line, and why he never takes a vacation.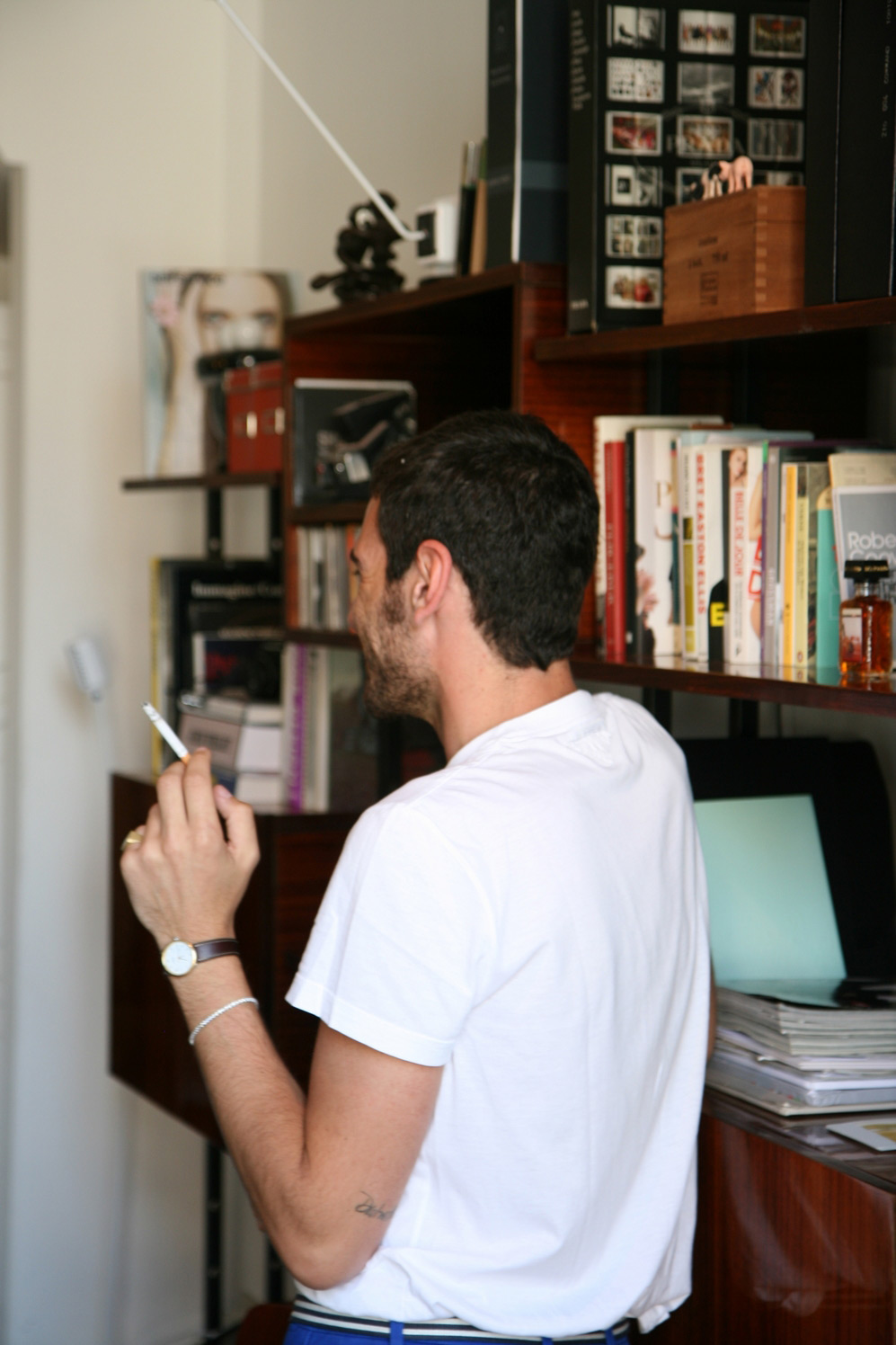 Do you like living in Milan? It seems to be a very laid back city.
Yes, I love it but it's stressful. Don't mistake Milan for a laid back city because it's not. People are running around all day doing business. Maybe for an outsider, you can appreciate it for its beauty. I guess New York and Milan could be similar in a way. Rome is like Los Angeles. It's actually really laid back.
What was a special thing when you lived in London?
I met a lot of creative people in London when I used to go out a lot. I met a lot of amazing graphic designers and artists. My best friends from back in the days are in Brazil, and that's where I met them. Speaking of London, I was in love with it when I was younger, but over time it has become kind of a cliché. Something about it seems forced, and everyone's showing off they belong to a special scene when it isn't even there anymore. There's always a certain hype around cities or scenes, but it's not persistent, it doesn't stay there forever. You could probably apply this concept to everywhere.
Did your family travel a lot?
Not really. My family is really stable. Now they're traveling a little bit, just for vacation. I would say I didn't grow up in such a vibrant and open environment, I just made it my own. That's when I decided to just go and find a job and make a living.
What was your first fashion or design related job?
I just started with American Apparel in Italy 5 years ago and I am now the Fashion Director. That was my first relevant job. It's funny how I started, because I was in LA, and they were looking for male models. And obviously, they allow normal people to model for the company, not necessarily professional models. So I sent in a few pictures and they liked me. At the time one of my friend's from Australia was interning in the creative department. So I stopped by, took some photos, and passed in my CV – which was pretty much a collection of things I liked, random things that I did. It just felt like the right thing to do even though I didn't have a background, because I was so interested in the company and everything they do. Eventually, the founder of the company, Dov Charney, was interested in meeting me and we met in Germany a few months later.
Name us some other brands that you're attracted to?
My biggest source of inspiration and favorite brand is Prada. I've always been really interested in what they did, in regards to so many sides of the business – not just the clothes or the aesthetic, a question of appreciating the intelligence of everything that comes out of it, with art. That's my first choice, I must say. I'm really into classic, basic clothing. I don't like to overstyle myself. I like what Raf Simons did for Jil Sander and I'm pretty curious what's going to happen with Jil Sander, Marni, Acne. Not too much into the Scandinavian scene, but Acne is a really good example of what can be exported.
I noticed you have some items from Memphis around your apartment. Would that be one of your favorite design movements?
My favorite absolute decade is the 50s. I have this bookshelf that's probably from the 50s, Memphis was definitely one of the collectives that I appreciated the most. I like what they did, breaking the rules with color combinations, and patterns and shapes. It's playful, and outrageous, but at the same time it's very smart. My favorite piece out of everything I own is this Memphis ashtray – It looks like a child's record player – there's something about it, I'm really attached to it.
Have you ever thought about going into product design?
I don't have the ability for that. I would say I have ideas, but it's not just about playing with your ideas. You have to figure out a way to actually make it happen. Educational background is what it boils down to. Not too long ago, there was a contest open to anyone, by Memphis itself. I thought about doing something and I started drawing, but then I gave up.
What was the contest?
Designing anything Memphis. I was working on a chair.
I think the chair is quite important in design.
Yes, I love chairs. I wish I had the money to buy all the chairs I liked. I would just fill my apartment with chairs. I'd fill them with chairs and lamps. These lamps are by a Milanese company called Lumina. I did a project with them a few seasons ago because we launched a little capsule collection of exclusive color combinations. They never did the white, for example. It was a collaboration between American Apparel and Lumina.
How do you come up with collaborative ideas?
That was just something we came up with in LA, we all agreed it was probably the perfect lamp. I got in touch with the owner of the company, and we just did it. It wasn't a huge success, because it's not something for the mass market.
The way you style yourself is similar to the way you design your living space. It's curated, sophisticated, but it has flashes of playfulness. I guess you got that right. I guess you could say I don't take myself too seriously. The playfulness you were talking about is a big part of my personality. It's probably the lack of education of design that allows me to have a more organic design evolution, indirectly drives me to those kinds of products. A mood.
Do you think taste and style can be taught?
No, absolutely not. By lack of education I mean the technical part of it. There's no way you could teach those. Those are so individual that you either have it or not, or have it one way. I guess it applies to everything. I can't teach you what you like, or what you don't like, regardless of what they're teaching you. It doesn't make sense.
Do you think with the proliferation of imagery on the internet and magazines, it's more confusing to sort out your own sense of style?
I think it's useful as a tool, to better understand yourself. At the end of the day it's about choosing what you like to see, or what you don't. There's so much out there, and it might be confusing in a way, but I see it as a positive thing. Exposing people to so much can help people to get a more complete idea of where they stand among such a mass of information. It's definitely a positive thing. It's not like back in the day when only a few people could afford to buy Vogue and you had no clue what was going on.
I noticed you have a lot of Bret Easton Ellis books.
Yes, only because people have told me to read them. As far as Hollywood, crazy drugs and sex, it doesn't appeal to me at all. I don't relate to them. It's funny because after spending some time in LA, I could feel some of the atmosphere – it just felt pathetic to me at certain times. I feel like people might have their dirty little secrets and it's better to just keep them to yourself. It's a lifestyle I don't relate to. By reading a book, the whole point to me is that something must stay. You should learn something from it.
Thank you for your precious time and showing us around Milan for a bit. We very much enjoyed it.
Interview: Yan Yan Huang
Photography: Marco Annunziata