With a background in poetry and art from the Buddhist-inspired Naropa University, Coryander Friend has a natural ability to sense and feel her surroundings and then translate them into the physical world. The day we sat in her Laurel Canyon home, she told me "It's energy, it's just energy and we are hit with so much information, that to me, the space around me, the space that I can control, is important to me psychologically, it keeps me sane."
In addition to working as a set/production designer with film directors Mike Mills (Beginners) and Errol Morris, Coryander has recently opened Storefront LA, a gallery and vintage store in a warehouse district in Los Angeles, while she also just launched her line of jumpsuits called Parachute. Storefront will allow her to offer her flea market finds and the works from the community of furniture designers, artists, potters and storytellers she surrounds herself with.
This portrait is part of our ongoing collaboration with ZEIT Online who presents a special curation of our pictures on their site.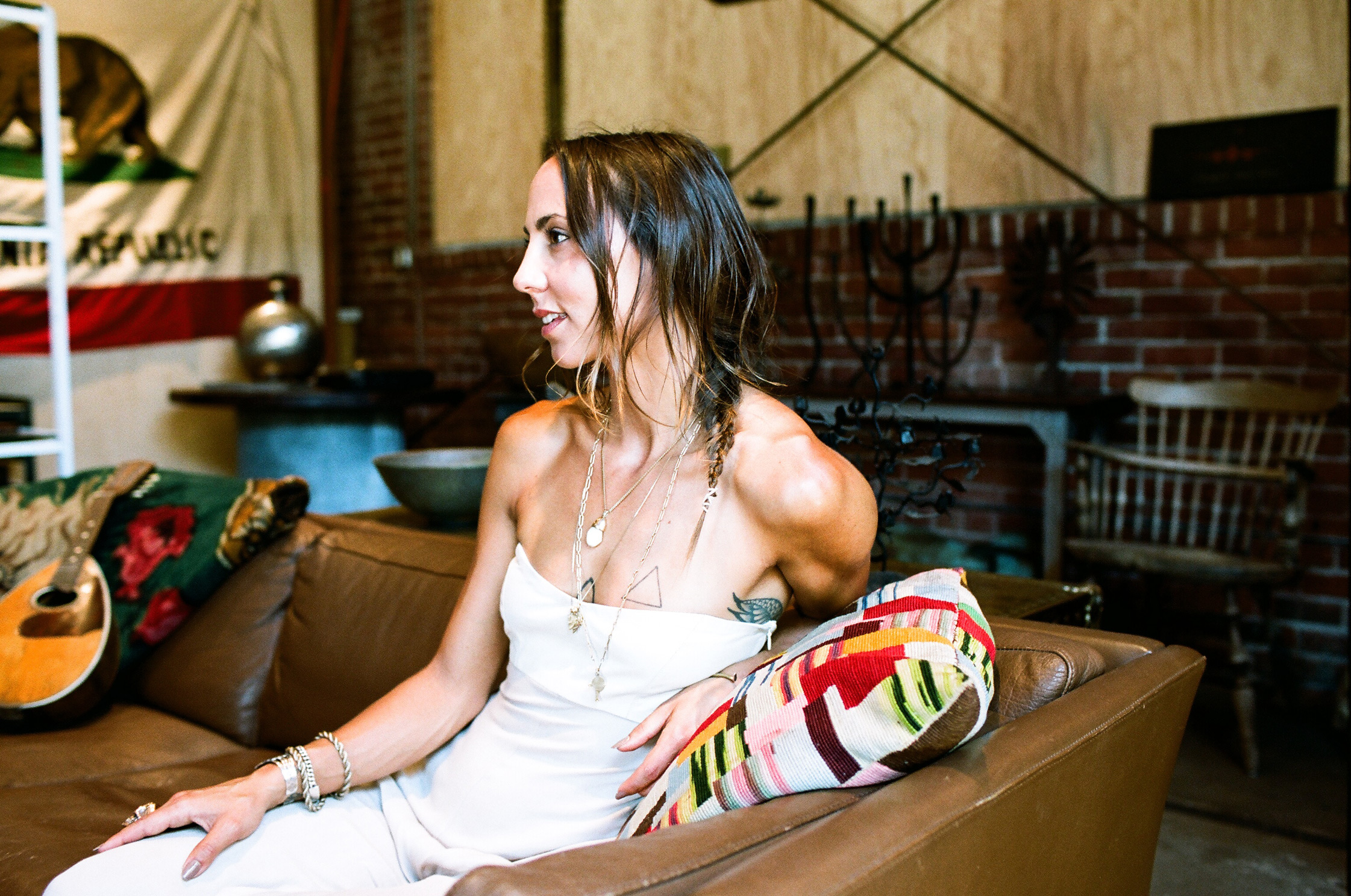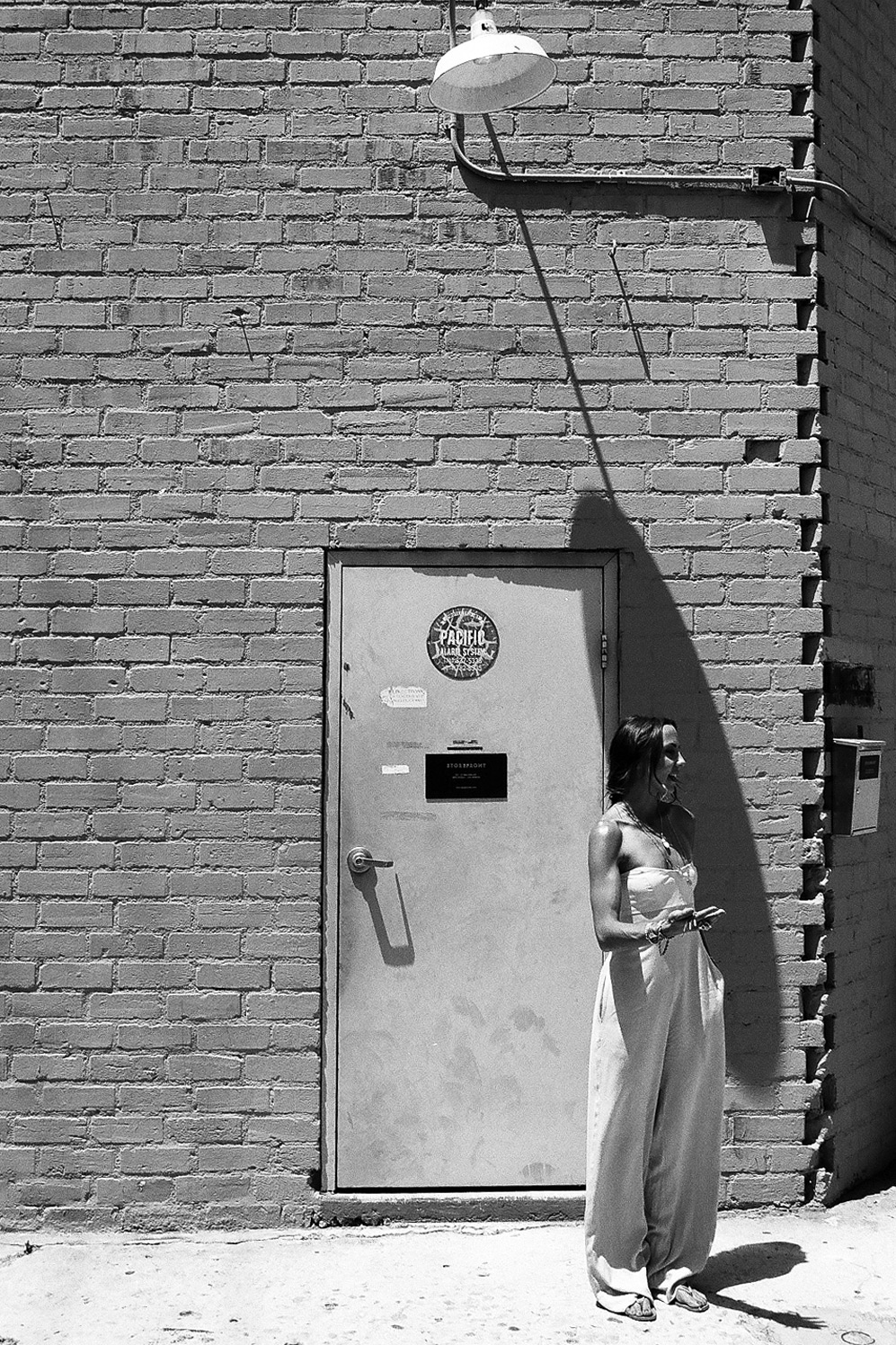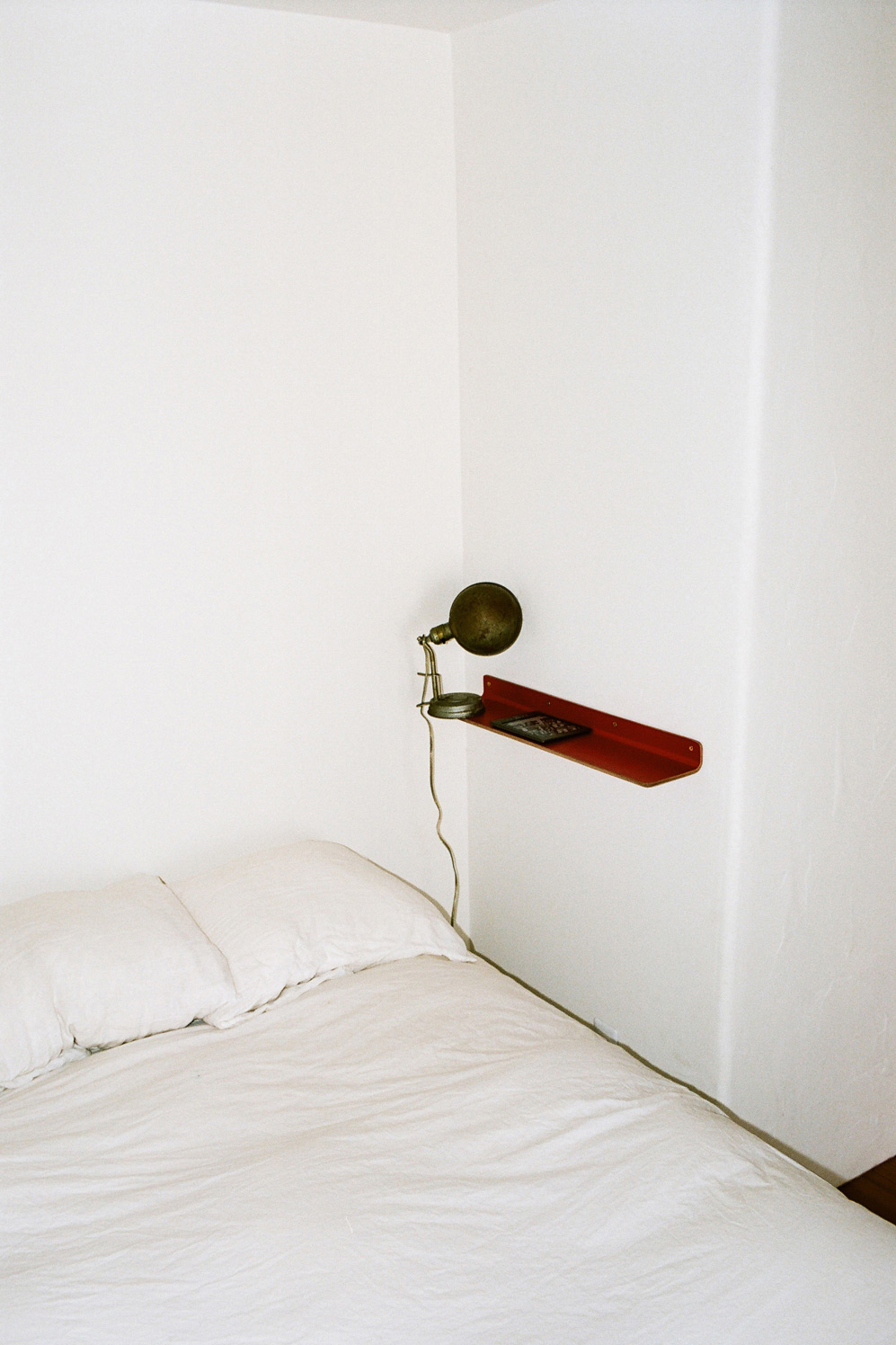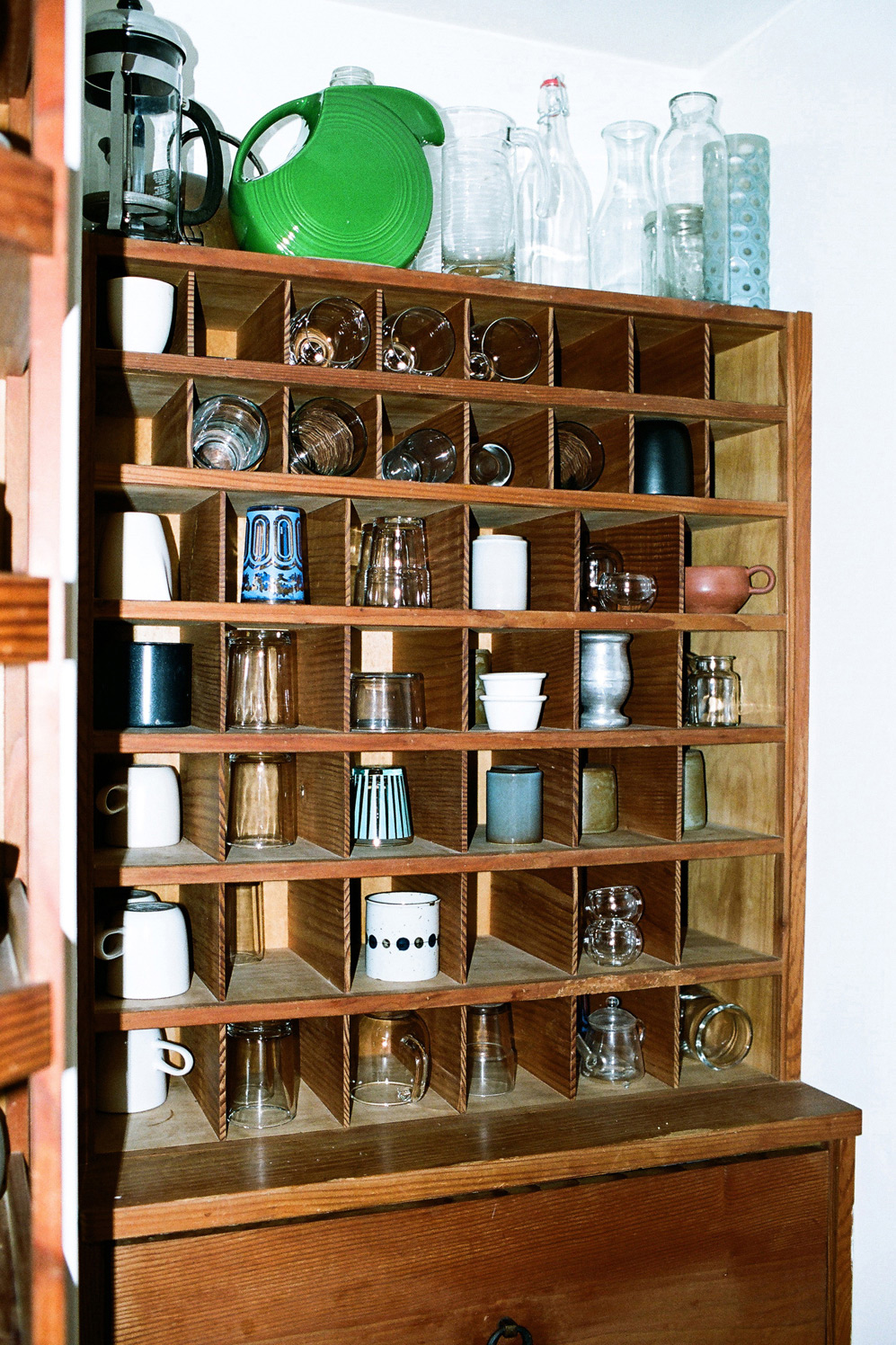 What was going to Naropa like?
Naropa was an amazing experience. I fell into it because I had planned to go to school at Boulder at the University. I went there for a year and my boyfriend was going to Naropa, that was the year Allen Ginsberg died, he was hanging out at the campus a lot doing weird things, like walking around in his suit, whipping his dick out, peeing in the lawn and then he died. At the time I was studying poetry and visual Art at Boulder and I kept hanging out at Naropa. I thought this is the place for me. It was really unstructured, open, and Buddhist. I found myself pushed so much more there, because you are seen and part of this community.
It was a very experimental place. Everything was welcome. I ended up double majoring in poetry and fine art. Then I did a thesis performance that was an one night structured improv play based on this feminist crit class I was in, called Compulsory Domesticity. The play was about a housewife that had an imaginary gang of angels and a new age mentor who coached her into coming out of her shell.
Was this a play you wrote?
Yes, it was live music, set design, paintings, dance and singing. It was so supportive there, you could really do whatever you wanted.
So looking back, you were thinking about sets and space then?
Definitely, even when I was a kid, my parents used to audio tape us. There was one that sticks in my mind, when I think about what I was interested in as a kid. We were going trick or treating at the time I lived out in the country on a farm.
Where?
In Wisconsin. I had spent hours art directing my bedroom, because I thought when the trick or treaters would come my mom would give them a tour of my bedroom, (laughing) and it's on the audio tape! So when we came back I asked my mom, "Did the kids come, did they come see my room, did they see what I set up?" And my mom was like, "What are you talking about?" At that point, I threw this huge tantrum (laughing), telling her, "they didn't look at my stuff…" I was also always into fashion design and I'm starting to do that now. I'm designing this jumpsuit I'm wearing that will be part of Storefront.
How did you come to work with Mike Mills? Was this your first production with him?
I had worked with the production designer Shane Valentino, we first met on this television show we worked on in New York and became dear friends. I also became good friends with his wife. I used to babysit for their twelve year old when she was born. We both started the same time in film. He had a family and he shot into production design. I kept decorating and traveled for a while. Then I lived in Brazil and did all this other stuff and I eventually hooked up with him again and decorated with him for a few years.
I remember when he got the film Beginners. My family has a place in Canada, it's an off-the grid island in the middle of nowhere. When I got off the island and checked all my voicemails, there was this message from him, saying "We just got Mike Mill's new movie, do you want to do it?" And it was like no money and I just thought that it was going to be really special, it was just this sense of knowing. So that was the first time I worked with Mike and it was really interesting because Mike is an art director and graphic designer. He really knows what he wants, so it is really interesting to work with someone who has such a specific idea. But he and I just worked really well together.
Did you collaborate with the set design on Beginners, or were those your visions?
It was very much a collaboration between Shane, Mike, and myself. Because the story was so personal, we ended up going to his sister's house and his house, picking Mike's parent's actual furniture that they had collected, including art, books. Really the whole thing. Then we pulled a lot from my house, because we really didn't have a lot of money. So we were like let's take this from real life. Mike and I were neighbors at the time in Silver Lake, so we were shooting all in our neighborhood. I would literally just walk to the set. and we were shooting in a house right between our two houses. I would have to run back to my house and think, what would Hal have in his house that I have in my house (laughing). And so it was really organic.
Did he rent the home for the shoot?
The one that he shot that was Oliver's house was a neighbor's house that he rented for the location. The house we shot for two weeks in, which was the house where Hal grew up, that was a Neutra house in Griffith Park. It's where they shot L.A. Confidential and lots of other films. It's an amazing place.
It was really an incredible film, I was surprised by how much I felt it.
Yeah, it was really heartfelt and Mike put a lot into it. He had lots of references for us to watch different movies, of course Woody Allen's Manhattan. He is so well thought out, he had a book put together of visuals that he had been working on for two years that we all poured through, with colors, everything. Everything in that movie was so thought out and I was so pleased that people really got it. I wasn't sure that they would actually understand it, because the aesthetic was so personal. It flowed together in our minds, but I really did not know if people would get it. I had no idea that it would be so successful.
You recently opened your store called Storefront LA. Will you continue to do production work in film and commercials?
Yes, of course… I'll have to because retail is uncertain. Fortunately for me, the formula we have set up is really supportive. I am working with my boyfriend and his partner Raan Parton (of Apolis), who had this showroom. We all discussed turning that space into a store of sorts and they wanted me to curate it. They really were like, "Here is an opportunity to have your vision." So I took it.
What is your vision for Storefront?
Well, my vision for the store relates to my life as a set decorator and production designer in a sense. I like to be able to create a space, to give it a look, and give it a feel. Then break it down, change it, and then do something new. So the idea behind Storefront, was to have people come in as individual curators or artists, new furniture designers. Lots of people have incredible collections and they just don't have a place to show them. So to be able to showcase other people, to bring it into a collective, and to be able to continually change the set. But also have a sensibility that I think just gets created as you go.
I wish I could say that I am organized enough to have some solid vision that is going to go through. But I've just learned through my life that whatever I think I am going to do at the moment, it just changes anyway. Not to be wishy-washy about it, but I want to create a venue where we can continually bring in new themes, and we can go out and find new creative people in this community. Then I can have my collection as the mainstay in the store.
How long have you been here in this home in Laurel Canyon?
We've been here not very long, since October. I know it's a challenge for my boyfriend to live with someone who is so committed to aesthetic. I go to flea markets every weekend and I'm always buying and bringing in some new weird thing. So sometimes he is like, "I don't want to live in a house of just found objects." (laughing) But he appreciates it and supports me. That chair over there, he said, "But no one can sit in it." And I said "I know, but it's awesome! " (laughing) .
Do you know anything about that chair?
Yeah some guy told me it was Eames and I told him it wasn't. That's why I got it for a much better price! (laughing) But what I really love about it, is that the rope that was on it was off. Now its just like this architectural, beautiful object. Its more like a sculpture for me and it's also a symbol of the child I hope to have someday. We will wrap it in leather.
Ah that's incredible! How could he not love that chair?
Actually it was his idea to wrap it in leather. I have to say for as being attached to objects, I am really non-attached to them. That picture over there was in my family's farm house, when I was a kid. It was in a crappy frame and I asked my mom if I could have it. I reframed it and copied some Man Ray framed photograph that I saw in World of Interiors. I remember going up our farmhouse stairs and seeing the indian on his horse, that was one of my favorite things.
It is more just the small things, like that candelabra that I got from Adam Blackman of Blackman Cruz, the half moon. I love just the fact that I could change anything here at any moment. For me a beautiful object is like, I love that chair, and if I found a different one, then I would put it in my store, and let someone else love it. That is the idea of the store. I mean I know it is probably smarter, or more marketable, to say "We sell California mid-century modern; Come here for that." But I am looking to see where this goes and I like change, I really do. I think every object is precious, but if it seems like it could move on, then I am so o.k. with that. I like the outdoors, traveling, I like feeling things. So physical things are there for a moment, but they could go away at any time.
Do objects allow you to feel?
Yeah, (big exhale) big time. That's really how I feel. I mean it's weird, but how something is placed in a room is really how I communicate with the room. It's hard for me to be in places that there is a bad spatial scenario happening. It's energy, it's just energy. We are hit with so much information, that to me, the space around me, the space that I can control, is important to me psychologically. It keeps me sane.
Thank you so much for the interview, Coryander.
Coryander has worked for different movie productions such as Beginners by Mike Mills and Expired by Cecilia Miniucchi. Find more information about her life and work on her website or follow her love for vintage furniture and take a look at the website and blog of the wonderful antique collective Storefront LA.
This portrait is part of our ongoing collaboration with ZEIT Online who presents a special curation of our pictures on their site. Check out the special selection here.
Interview: David John
Photography: Daniel Trese