The term "metaverse" is charged with different meanings, depending on who you ask. For Juliana Rudell Di Simone, co-founder of some.place, the metaverse is another word for community. "People often think about the metaverse as a place to escape the real world, but we see it as a tool that can enhance our real lives through the digital experience, which is already so prevalent," says Juliana, who passionately shares her winding journey from being a model to building a more inclusive metaverse for women and minority groups.
With her co-founder, Lana Hopkins, based in Sydney, and the company's team spread across the world, Juliana works mostly from her luminous home in Los Angeles. Her day-to-day life is very routined—and she likes it that way. "It makes me feel a bit more in control over my crazy schedule and the only way I've found to carve quality family time," she confesses. "I'm up every morning at 6am, with my husband bringing a warm cup of coffee to bed. From my phone, I read the news, do Wordle, check socials, and filter emails. After that, I try to have at least one hour to exercise, eat breakfast, shower, and get ready for the day. Once calls and work starts around 9am, it's hard to find extra time."
As one of Los Angeles's up-and-coming entrepreneurs, Juliana's busy schedule is hardly surprising. some.place was born in 2020 and is slated to launch during the third quarter of 2022. Juliana describes it as a metaverse that can be accessed through your phone. Unlike many offerings developed for PCs, laptops, or game consoles, some.place is building a mobile app and augmented reality (AR) experience that promises sleek avatars, a 3D personal space for your non-fungible tokens (or NFTs, which are one-of-a-kind digital assets based on the blockchain), and a seamless bridge between the digital and physical world.
"How do we have a more humane digital experience? It shouldn't all be done with text, through little text boxes."
In fact, many experiences already exhibit "metaversal" characteristics. For instance, video games, such as Fortnite and Animal Crossing, allow players to access virtual worlds where they can exchange goods, go fishing or hang out with other avatars. Social media is also metaverse-like. "Think about how much time we spend curating a version of our real lives for social media. We already connect and socialize with others in a digital space that's a representation of our real lives on Instagram. Going on some.place would just be a different way of doing it," she explains before admitting that her favorite metaverse environments are the ones that look and feel real yet challenge our perception of reality.
"People often think about the metaverse as a place to escape the real world, but we see it as a tool that can enhance our real lives through the digital experience."
As with many people working within the metaverse and NFT space, Juliana fell into this realm unexpectedly. Upon completing a Master's degree in marketing and communications in Europe, she found herself in the midst of the 2008 recession, unable to find a "good entry-level job" in London. Already working as a part-time model at the time, she decided to try it full-time. "My modeling career was going really well and I thought, 'Why not try something new?'. I was super interested in the opportunity to travel, meet new people and get out of a world that I was so comfortable in—and I had known for so long," she says, "So I moved from London to New York in 2012."
In New York, Juliana met her husband Dean Di Simone, a designer and entrepreneur. Around that time, Dean had partnered with Tokyobike, an independent bicycle brand that started in a suburb in Japan, and was looking to expand the business to the Americas. He needed help to embark on this new journey and asked her to join the team and lead its marketing activities. So, in 2014, Juliana became partner and director of Tokyobike." It was such an interesting ride because everything I learned from my degree was applicable to an industry I didn't know much about," she says, "which was really good because I could bring new perspectives to the table that were missing, like what would make women feel more comfortable riding bikes?"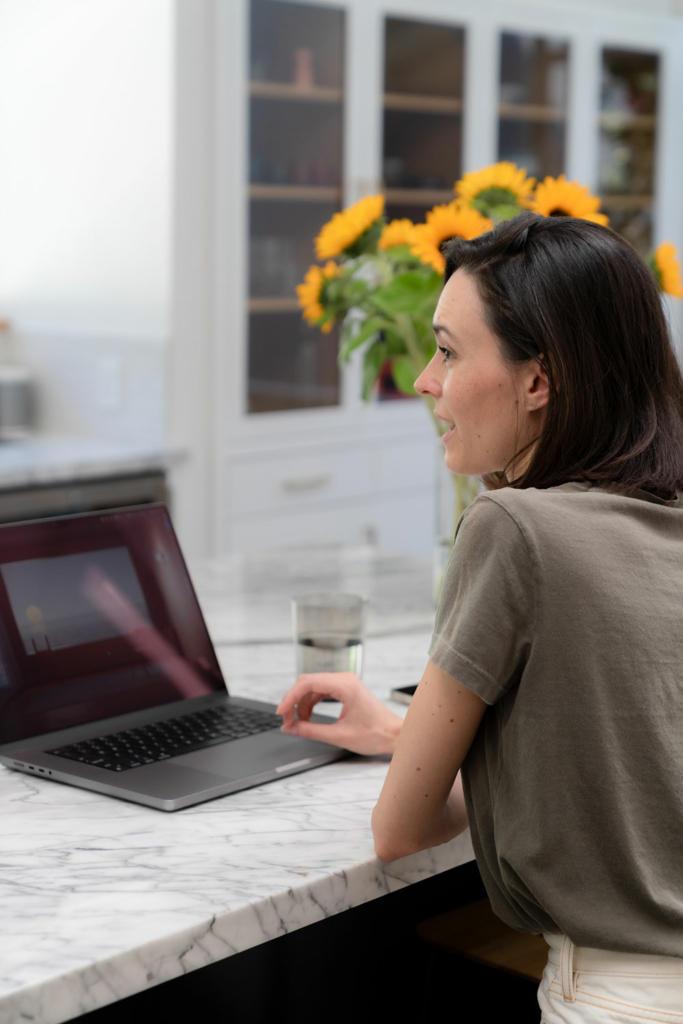 Similarly, Juliana and Lana are now bringing fresh perspectives to a male-dominated tech sector. Dean had introduced the two women to each other in Los Angeles, where the couple now live, a week before the city's lockdown in 2020. They clicked immediately. After Lana returned to Sydney, the long-distance friendship along with the restrictions brought on by the pandemic became an impetus for exploring how to connect the physical and the digital world in a meaningful way. Juliana began learning about photogrammetry, the art and science of capturing reliable measurements on real-world objects using photographs to create 3D models, and Unreal Engine, and somewhere in the midst of her conversations with Lana, the idea for some.place was born.
The serene environments
of the some.place mobile metaverse.
If you bought one of the 3000 3D digital collectible assets that were part of some.place's inaugural NFT drop in collaboration with artists Amber Vittoria and Shantell Martin, a Potion Bottle would be sitting in your personal room in the app. "I've been lucky to have Shantell as a friend for many years now. Her iconic line work is one that inspires and makes you think of the journey far more than where you started or may end," responds Juliana, when asked about what it was about the two artists' work that she felt drawn to. "As for Amber, I absolutely love her approach to color and geometries. I've tried to express this before and concluded that her pieces make me feel like getting a warm hug on a cool day—there's happiness to be found in each of her pieces."

In a digital landscape where the most popular NFTs, like the Bored Apes or CryptoKitties, are 2D and have an underwhelming aesthetic, some.place's elegant and otherworldly Potion Bottles certainly stand out. "When we conceptualized The Potion, we knew we wanted to collaborate with strong female artist voices that embodied what we're building and bringing to some.place," says Juliana, "Shantell and Amber's work could not be more different but are unique and speak to our community and us in their own ways. They have also been essential figures in the web3 space in bringing awareness to how we can build a more equitable space for artists, women, and all minorities. For women entrepreneurs working in tech, there are still major challenges, like landing investment. According to data by PitchBook, only 2% of the total venture capital funding in the US was secured by companies founded solely by women. For Black women founders, the number is even lower at 0.35% of all VC investments. "We have male founder friends, who have started tech businesses before, that tell us they've walked into a meeting with an idea on a napkin and raised $3 million," says Juliana, "It's a completely different experience for us. I told a friend the other day, 'I shouldn't need to climb Mount Everest every time I go on a hike. That's the feeling we have sometimes."
One of the biggest barriers to entering this space is the lack of understanding surrounding blockchain, cryptocurrency, and NFTs. Juliana admits that it's taken her "a really long time" to educate herself on the benefits and potential of these technologies. Luckily, there are a growing number of support networks to foster inclusivity in this field, specifically for women and non-binary people. For those who want to delve into these realms but don't know where to start, she suggests communities, like BFF and Curious Addy's, that are focused on helping members learn about these topics while connecting with each other and new opportunities. "A successful metaverse," as she puts it "will be about facilitating a true connection between the real and the digital, and how the two can come together to support one another."
Juliana Rudell Di Simone is an LA-based entrepreneur and the proud co-founder of some.place, a mobile metaverse dedicated to art and community. Juliana co-founded some.place with Lana Hopkins and works in close collaboration with artists such as Amber Vittoria and Shantell Martin to create a more community-centered metaverse and reclaim space for women non-binary artists in the world of tech.
This piece is part of our New Futures series, where we explore how creativity is used to imagine alternative futures and build new realities and ways of living.
Text: Charmaine Li  
Photography: Elizabeth Carababas