Emirati entrepreneur, film producer, and visionary Butheina Kazim walks us through the origins of Cinema Akil, the first arthouse in the Gulf, and the impact she aspires to make in Dubai and around the world.
"In September 2018, we opened the doors to the first arthouse in the Gulf—and there was an 'aha' moment of feeling like we've arrived somewhere we were meant to be."
From her early career days working for free-to-air state television, freelancing on the side to produce films such as Letters to Palestine on a "shoe-string budget," to now running the first arthouse cinema in the Gulf, Butheina Kazim's love for storytelling through film has only flourished. A champion for amplifying the underrepresented, Butheina is living out what feels like her life's calling through Cinema Akil, a 130-seater arthouse built in a repurposed warehouse in Dubai's creative Alserkal District. For her, cinema is a "fundamental breathing mechanism that is part and parcel of any lived experience," and up until the opening of the Cinema's permanent location in 2018, it was an "organ" that Dubai was missing. Today, thanks to the cinema, Butheina is bringing diverse audiences together to enjoy films from around the region—and the world—that would otherwise have a low chance of reaching them. In doing so, she is fostering the growing arts scene in the Emirates and contributing to a larger transformation of ground-up cultural initiatives that are driving the region's development, paving the way for more local artists to emerge and impact their environments and creative fields worldwide.
The idea for opening a cinema in Dubai had been brewing in the back of Butheina's mind for a long time, but it would not have been possible "had Dubai not been ready for it." According to her, "Dubai embodies a consumerist, fast-paced life that keeps you moving. This can be exhilarating but it also creates a need to slow down, congregate, reflect, and embrace imperfection and the real meaning of community—and not just as a value proposition or brand exercise. People have become more curious about creating communal spaces, and they are yearning for something different than Dubai's obsession with perfection." Inspiring reflection and dialogue through film, especially ones that amplify marginalized communities and histories, was the perfect antidote to Dubai's shortcomings. "Films are an archive of our time. When you walk out of a film, whether you loved or hated it, you leave with an imprint of a place, time, idea, and maybe a language. By making films available in the present and to communities in public, experimental, and porous spaces, we play a role in the way they navigate the city. It goes beyond just bringing bodies together under the shared darkness and romanticism of a cinema—it's about building life experiences and communities."
"I'm not in the business of theater and exhibition. I'm in the business of making people feel."
Throughout her career in the film and media industry, including a stint in New York to explore the "intellectual and cultural-political dimensions of film" through a Master's, Butheina developed strong relationships with like-minded creatives and an extensive understanding around production, cinema networks, and film distribution circuits, all of which would be fundamental to the development of Cinema Akil. When she returned to Dubai after spending several years overseas, Butheina was driven to make an impact: "I didn't want to go back to working in state media and developing content for free-to-air television. Although it had the largest viewership in the region, I believed I could make a lot of headway doing something else. In the 2-3 years that I would take to produce one film, I could showcase 100 films—if not more—that I believed people needed to see." Not only did she seek to increase Dubai's access to regional and world films, but it was important for her to build something "indigenous to Dubai—and not create a Moviemento or Babylon in Dubai, but something that was created by the community, for the community, and was based on a lot of exchange and slow effort."
"We're not a conventional cinema in the way that just caters to film aficionados, enthusiasts, or practitioners. I think there's a luxury in being in Dubai, and a sort of freedom away from the convention or tradition in the way that cinema operates and is received."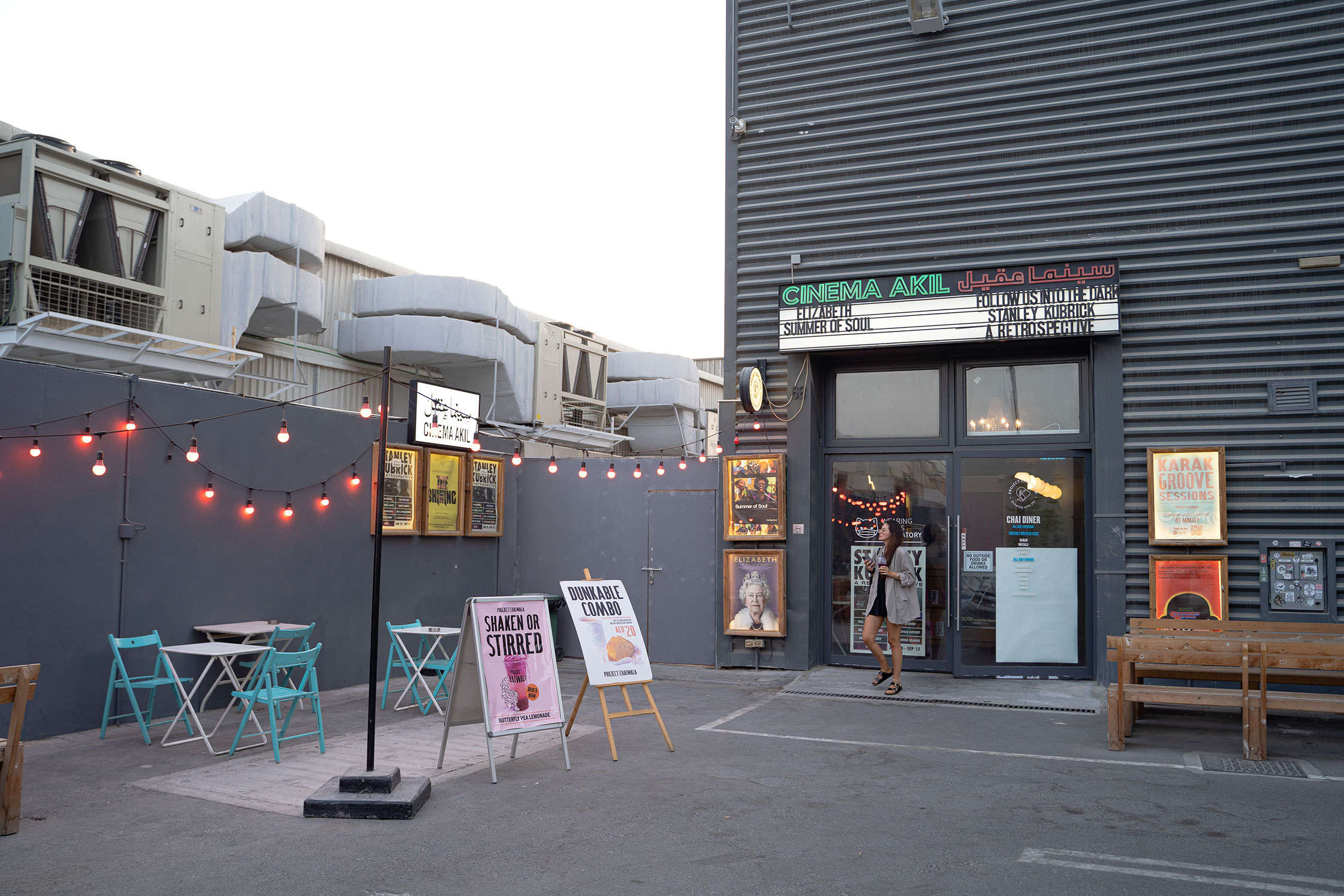 The four years leading up to the opening of the Cinema's permanent location—"we thought we could do it in one year, but that didn't happen and was part of the learning curve"—was an exciting, experimental time that developed many of the values driving the arthouse today. Cinema Akil began as a nomadic concept, hosting pop-up events that sought to "melt into the landscape and environment. It was not a mini box that traveled to different places." By the time the Cinema had its 2.5-month beta version in 2017—where they began to sell tickets, snacks, and run a full-time, everyday operation—, Butheina and her team organized around 35 free pop-ups in repurposed basketball courts, rooftops, beaches, parks, and galleries. They also showcased a variety of films to better understand audience reception and interest. "This experimental period allowed us the financial viability to save up for the Cinema, which we were building while running the pop-ups, and also play around with what we were trying to do, pushing ourselves and our assumptions. We also built a lot of partnerships and collaborators, which to this day remain our largest asset in the city."
Experimentation and malleability are core to Cinema Akil today. Always with "one ear to the ground," Cinema Akil is more than a cool arthouse—it is a community space centered around reflection, dialogue and exchange, constantly responding to the ever-evolving needs of its audiences and surrounding city. When the Cinema reopened after the pandemic, Butheina wanted to start with the Syrian documentary For Sama, which they had planned to show right before the lockdown in Dubai. "But the audience wasn't ready for that kind of programming, and we had to meet them where they were—and with compassion. So, we sat down, re-strategized, and came up with a summer lineup of classic films centered around travel and wanderlust, allowing people to travel or go back home when they couldn't. We traveled through Rome with Frederico Fellini and Paolo Sorrentino, and the Mediterranean with Michael Radford and Gabriele Salvatores."
In the same way that supportive communities are not only sources of respite but growth, Butheina also hopes that audiences, when they come through the red interiors of the Cinema, are "confronted with ideas that challenge their imaginations, beliefs, moods, and even values." For her, this is the "unrivaled" power of cinema, one she tries to emulate through the arthouse. "It's not about having built or created something. It's about whether I was able to, through the films that we show, influence people's imaginations or political consciousness, increase the visibility of communities, build a curiosity for people to tell their own stories, and champion the importance of doing so."
Needless to say, Butheina's work does not exist in a silo: "What drives the core of what I do is working with like-minded individuals, institutions, and community members that are trying to impact their different spaces." She, like many of those she gleans inspiration from, is driven to invest into her home city and be a driving force in the creative transformation that has been taking place across the region over the last decade. While at times a challenging backdrop, Butheina believes that her experience, like those of other Emirati-based creatives, offers valuable insights for not only emerging artists in the region, but other cities around the world.
When Butheina looks to the future, she is emboldened. "One of the hardest things to probably do in Dubai is to do something and stick with it, plant your feet in the ground while also keeping your head in the clouds. But when I look ahead, I think about how can we continue plugging into this ongoing transformation? How can we continue amplifying each other and creating spaces for more collaboration, visibility, and reinterpretation? For me, the future is about taking risks, doubling down on our mission, forming new partnerships but also reviving old ones. Working with people in a way that is connected to the pulse of the environment and people, and embodying the ideas we believe in."
Cinema Akil Morning Playlist
"The playlist is one of several that was created for the opening of Cinema Akil by musician Kamal Rasool, founding member of the band Flamingods, and which were the result of many discussions about the intended sonic experience of the Cinema." (Companion Magazine Issue 20)
Butheina Kazim is the founder of Cinema Akil, an arthouse cinema in Dubai and the first of its kind in the Gulf region. Beginning as a nomadic pop-up in 2014, the Cinema has become a staple in Dubai's growing arts scene. Cinema Akil is committed to bringing diverse films and under-narrated stories from around the world to audiences across the Emirates, and their physical location in the Alserkal District serves as a vibrant community and events space centered around service, creativity, and intellectual exchange. In addition to showcasing world cult classics, the Cinema is known for their well-curated film festivals, including Reel Palestine, Italian Film Week, Francofilm, and Ramadan at Cinema Akil.
Stay up to date with programming and events on https://www.cinemaakil.com/ and Instagram.
Our dearest thanks to Butheina for the interview and Cheba Moha for photographing the images. Butheina and Cheb worked together to build the Cinema, which they documented here.
Interview and text: Anastasiya Varenytsya
Photography: Cheb Moha