Jo Sindle and Kyle Stewart, the founders of the independent clothing, accessories and interior store, Goodhood, live just around the corner from Columbia Road in London's East End. Despite it being so close to the bustle of the busy flower market, their street is sweet and quiet. Their house is positioned in a row of traditional Victorian two-storey terrace houses overlooking a lush green triangular park in the middle. Originally these terraces were built to house poor people by a charitable hospital. Kyle walks through the hallway, which is lit by Plumen long life bulbs hung from cloth cord into the large, open-plan front room. Here Jo Sindle sits at the table with their gorgeous one year old son, Duff, who crinkles his little face up with a big beaming smile.
Despite some classic features, the ambiance is predominantly modern. Evidence of their love of skate culture and modern design are dotted everywhere. In the living room the yellow coffee table doubles up as a clever storage space for all things Duff-related and the comfortable furniture beckons you to lounge or play hide-and-seek with Duff. His room upstairs is featuring a beautiful collection of new and vintage toys, such as his namesake, the Duffman from the Simpsons and Jo's collection of vintage Mickey Mouse figures. You realise why this little boy is such a happy kid.
This portrait is part of our ongoing collaboration with ZEIT Online who presents a special curation of our pictures on their site.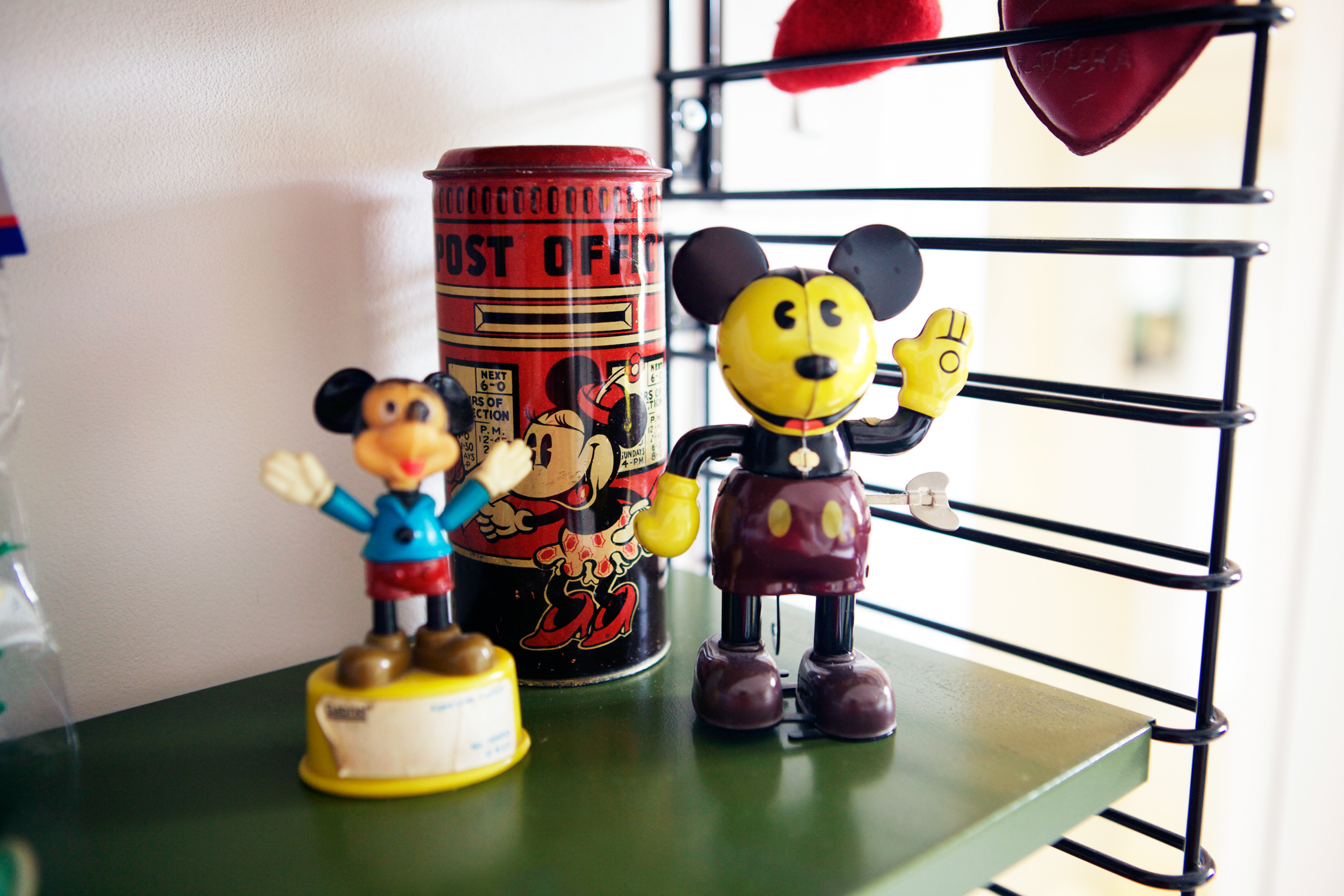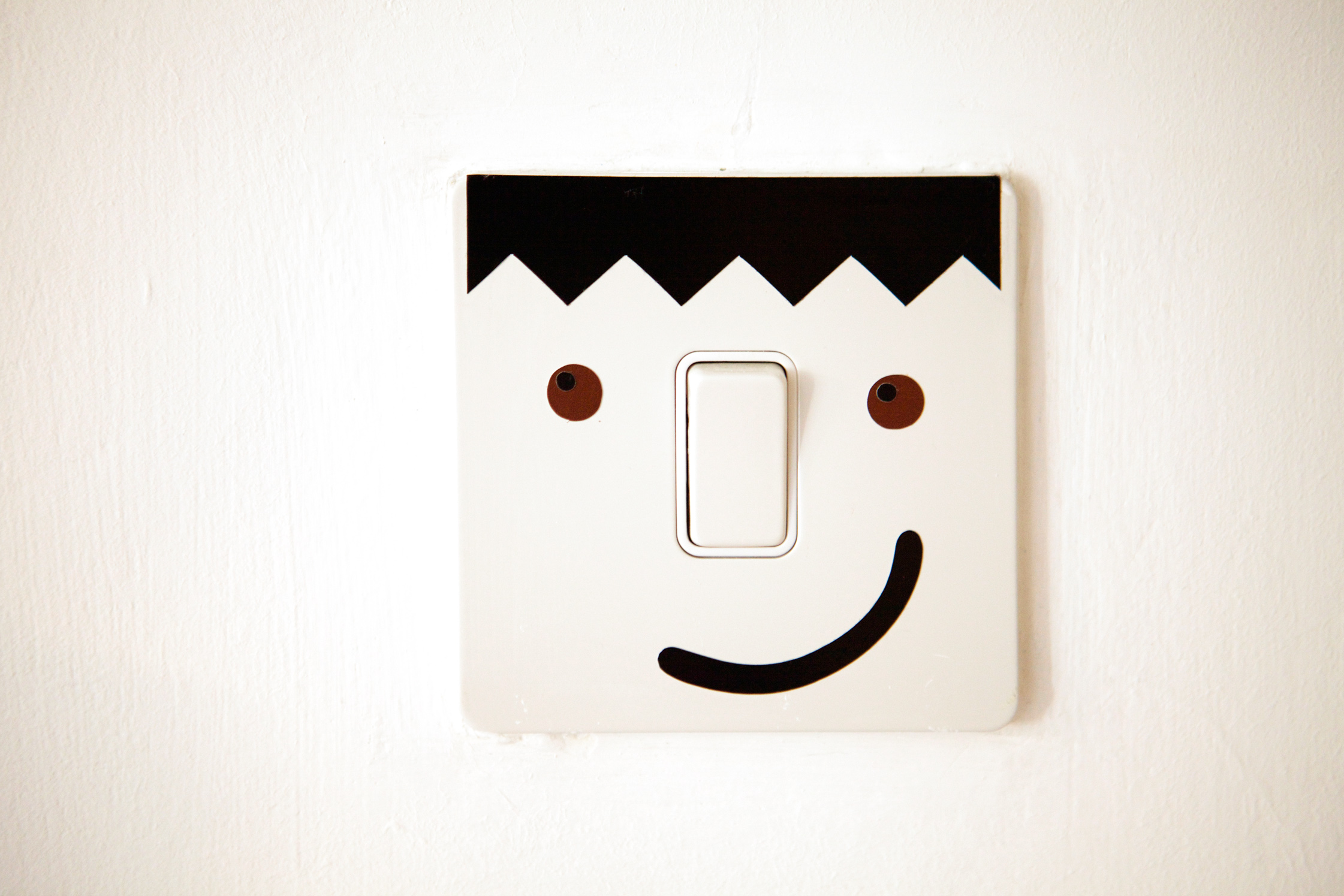 How did you two meet?
Jo: We met at work. We worked at Levi's design studio in London 9 years ago and both our backgrounds are in denim design. When Levi's relocated we decided to live in Amsterdam, initially to work for Nike. Kyle stayed, doing graphics, and I left to freelance. Amsterdam was very inspiring interiors-wise. After 18 months we came back and started a consultancy, which led to starting the shop.
How long have you lived in this house and what initially attracted you to it?
Jo: Six years. We love the way it is secluded, yet you can hear the chatter drifting over from Café Columbia, which backs up to the back yard. That makes you feel part of the community.
How would you define your design aesthetic? Do you collect anything?
Jo: We used to collect Japanese toys. Our space is always evolving; right now it's very clean and graphic. It was more colourful before but after Duff was born, we wanted more monochrome surroundings. Organisation makes me feel calm, when everything is in its place it makes you feel serene. We're quite homely people.
What's your favourite item that you couldn't live without?
Kyle: My Thorens turntable, my granddad's pocket watch and my SUPREME gold sunglasses!
Jo: My teddy bear! And the wood hanger with my dad's name engraved on it.
How has the arrival of Duff affected and influenced your lives?
Jo: We've had to slow down for him. We had a nanny three days a week for a while. Now we work four days each a week and spend one each with him.
Kyle: We're thinking of a children's shop but need to make Goodhood work first. It has changed life a lot; we're more tired. The shop's very demanding too, it is growing so fast.
Where has your design inspiration come from?
Kyle: Architects like Mies van der Rohe and Frank Lloyd Wright. I was also inspired by Alan Sugar of all people who talked about starting up your own business and being brave enough to do it. It's only in the last couple of years I've really believed we could do it. Our 5th year anniversary is very interesting, the pieces look good and we feel confident. I think also because we'd worked for other people, it took time to get rid of having learned to look at stuff their way. Jo's passion is design and interior spaces. She'd love to build a house in Ibiza.
Yes, Goodhood. You must be very proud of it. Did you find that people 'got it' straight away? And do you think the general taste education in the UK, where people have learned to appreciate decent coffee, locally sourced food and great design benefitted you?
Kyle: Some people got it. The area back then meant it was a destination shop. Five years ago, the people who lived around there were young creatives. The shop was also a lot smaller when we started; we grew slowly, which was a great learning curve. We're part of the education too. Our staff are clued up about the product. And our website tells people why we think a particular product is good. When you buy from us, you're supporting equally minded people against the throwaway fashion culture that dominates the high street.
Are there people or places that have particularly influenced you with regards to the shop?
Jo: I've lived in and travelled to NYC. Seeing people open up shops in the Lower East Side, literally a small shop at the front with their studio at the back – seeing that it was possible. It's only now I realise how romantic that was! Now I know how much you have to sell to keep it all going but it was good to see people do it.
Kyle: And we travelled to Japan and saw lots of stuff you couldn't get here. This was before internet made everything much more accessible.
What motivates and drives you on?
Jo: I hated working for big corporations; now I'm surrounded by creative people, who are doing beautiful things. The freedom. This is the dream: to have our own shop and design studio. We both had hideous bosses so we want this to be a nice place to work. We have an amazing team, there's a really nice atmosphere at work. I like that they are happy and excited about their work. I feel very responsible for them all. There are times when we can pay them but not ourselves.
Kyle: We're always moving towards something else. A continuous journey, never stagnant, it's like the start of a bigger puzzle. When we first opened, people wouldn't sell to us because we didn't have a reputation yet and they were concerned about where their product was sold. My favourite brand is Neighbourhood, a Japanese brand. Their concept is very luxurious and modern biker wear. Biker stuff can be dorky but the Japanese take it somewhere else. They wouldn't sell to us for the longest time and I take great pride in the fact that we stock them now.
What's your favourite place in London?
Jo:Haggerston Park. It's always empty. There's an orchard. And it's so quiet.
Kyle: I love the green outside our house, it is super chilled. And we love the Spanish restaurant Laxeiro on Columbia Road.
This portrait is part of our ongoing collaboration with ZEIT Online who presents a special curation of our pictures on their site. Have a look here.
You can find out more about Jo and Kyle's store, Goodhood, in our FvF Workplaces interview with them here.
Jo and Kyle, thank you for sharing your inspiring experiences in developing your business and let us inspect your unique home. For more information about Goodhood, visit the website. We are looking forward to presenting Jo and Kyle's Store, Goodhood, as part of our new section FvF Workplaces in the coming weeks.
Photography: Georgia Kuhn
Interview: Anna Bang