Some of the biggest life lessons are learned the hard way. This is very true in the case of filmmaker Glenn Kitson. He talks to us about how he found his way from drug addiction to sobriety, the creative path he's on now, and what he's learned (and is still learning) along the way.
In 2022, life for filmmaker Glenn Kitson is objectively good. His career is flying, he entertains thousands on a daily basis with his wildly popular Instagram account, he is developing a feature film, and his family is healthy and happy. But, this hasn't always been the script. Over the years, Glenn's creative journey has taken a series of dark twists and turns that not everyone would have survived; his is a story of survival, bloody-minded determination, and fizzing creativity fuelled by a large portion of Northern charm and old-fashioned hustle.
Born in the late 1970s in Bolton, a town in the North West of England, Glenn was brought up by his mother, who worked on the local fruit and vegetable market and raised Glenn on her own before going on to study at Open University and developing her own career later in life. Creative from a young age, Glenn developed a love of comic books, drawing, and escaping into his own world, "I was always really good at drawing. I wanted to be a comic book illustrator when I was a kid. I liked the Beano, 2000 AD, Judge Dread, and then I got into Marvel and DC comics. I loved Alan Moore. He's an iconic comic book writer, a bit of a magician, and pretty esoteric, which really appealed to me as a kid."
With his mother working hard to provide for her small family, Glenn spent a lot of time on his own or with his older cousins traveling to the record shops (then later clubs and bars) of the neighboring city, Manchester. This period had a significant influence on Glenn that he still feels today, as he explains, "That time, going into Manchester as a kid was really formative for me. It's still one of my favorite places on earth. I've worked all over the world in places like New York, Tokyo, and LA, but every time I go to Manchester, I still feel that buzz I felt as a kid."
This makes sense. Glenn came of age in the era of Acid House, Factory Records, warehouse parties, and rave culture; it was a musical renaissance that reverberated from the North West of England across the globe. To be at the center of something like that at a young age is bound to leave an indelible mark on your psyche; as Glenn says, "Music shaped everything for me."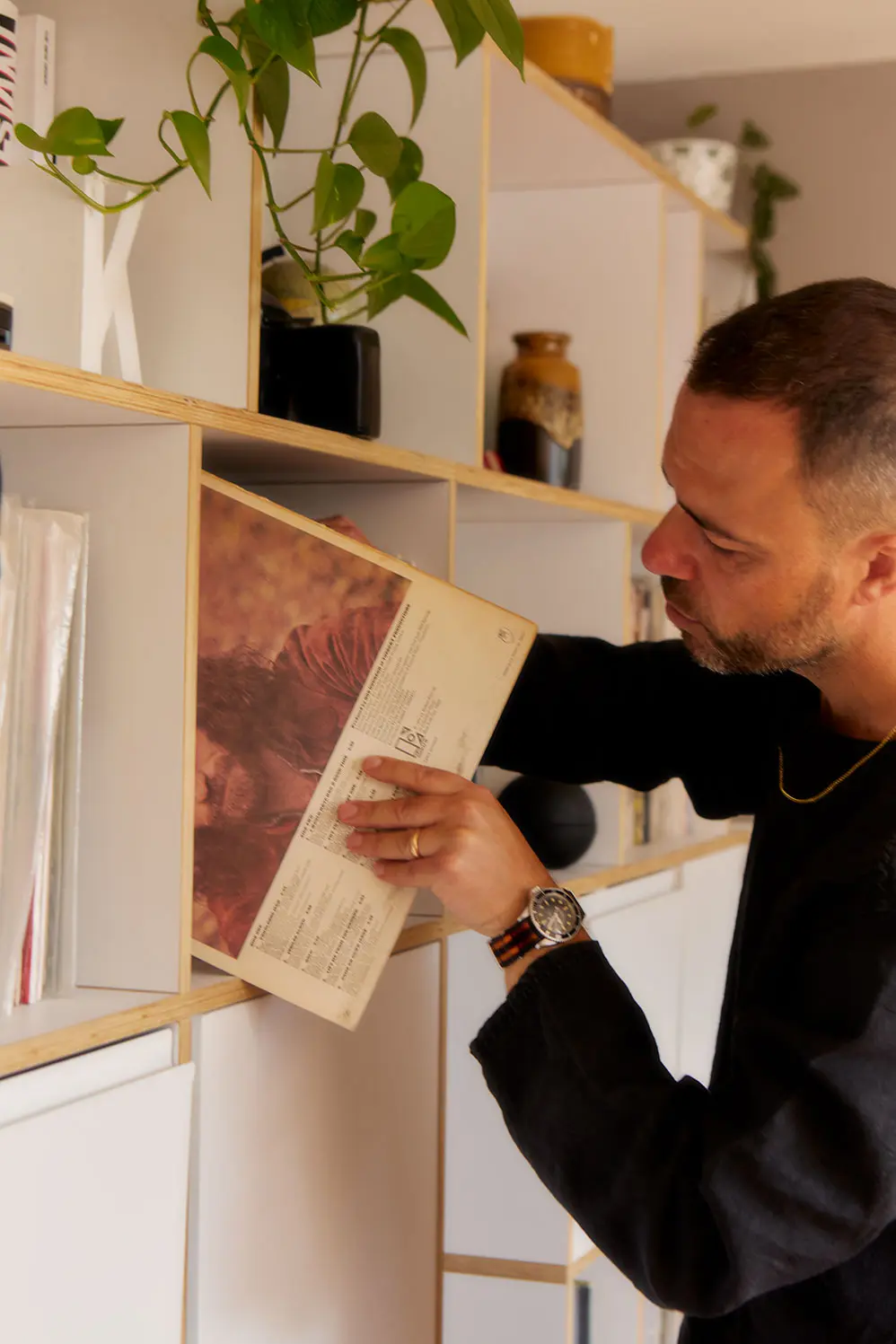 It wasn't just the music of that time that inspired Glenn and opened his eyes to a whole new side of life. "Obviously, the clubs and music were a big thing, but a wider culture went hand in hand. It was a really creative period in fashion and design as well." This was an era of great change architecturally for Manchester as the former Victorian city underwent a vast redevelopment, making the switch from an industrial city into something altogether more modern and exciting. It was also an influential time in graphic design, Ben Kelly had put the Haçienda on the map with his bold, directional design, but there were other people making their mark around the same time, "I'm obviously a big fan of Peter Saville, but there was also Central Station Design who did all of the Happy Monday's covers that are iconic now." The fashion of his peers—the bold 90s color palette, technical fabrics, and outdoor gear—also turned Glenn's head and had a lasting influence that would consistently thread through his work, from styling to art directing and filmmaking.
With the music, design, and fashion of the 1990s came drugs. Acid and ecstasy pills that elevated a whole generation of people and influenced culture in ways we're still unable to fully comprehend. However, along with the highs came the lows, "I took my first pill when I was 15 at Wigan Pier (an iconic music venue), and it quickly became less about the music and clothes and more about the drugs." For Glenn and many of his friends, heroin soon became the drug of choice. "It just hit our town like a virus. A lot of the lads I knew were using, but they still carried themselves well; they still looked good and had the girls after them. I had a good time for about a year, and then I sort of fell off a cliff. I made it back out when I was 27."
"Addiction, the illness of addiction, is basically about the self and separation. It's about trying to fix ourselves by any means possible in ways that mean you're disconnected from other people or from anything good."
During those lost years of addiction, Glenn moved around various cities, Glasgow, Liverpool, and London doing whatever he could to get by. It goes without saying that this was an intensely dark time in his life—a period that led him to hit rock bottom in a squat in Stratford, East London. "I knew I needed it to stop. So, I went into rehab, and I've been sober for 19 years now."
Going into rehab in Bournemouth marked the beginning of the next chapter in his life and a long journey of sobriety. Following rehab, he studied fashion communication at Arts University Bournemouth, a course and experience that reawakened the creativity of his youth. "I'd always been into clothes. Even when I was using, I wanted to know what was going on in music, fashion, and culture—I tried to look as good as I could. When I got clean, that interest accelerated, it became my new obsession." The first half of the course focussed on the construction of pieces, and the second half explored the communication industry attached to fashion. This understanding of the design process and wider fashion communication ecosystem led Glenn into styling and founding The Rig Out, with photographer Antony Crook and creative director Andy Bird which initially started as a men's style magazine that offered a different aesthetic and outlook to the highly stylized and unrelatable titles around at the time. The Rig Out eventually morphed into a creative studio, out of which Glenn started to make films and campaigns for brands—a career trajectory that brings us up to the current day.
Today, Glenn's work covers mainly film. He has worked with the biggest global brands such as Nike, Levi's, Reebok, Ralph Lauren, and more. His work is fast-paced; it reflects his sense of humor and often pays respect to the working-class culture that he came from. Glenn's ideas, energy and approach to story-telling come from his own life experience, they're undeniably authentic, and it's this willingness to delve into his own heritage and influences that make his approach so captivating. "My work is influenced by the culture I come from, but it's also influenced by every book or magazine I've ever read, every film I've ever watched."
However, Glenn isn't a "working-class hero"—a convenient individualistic narrative created by the British ruling class to distract from the systemic issues that keep the working class in their place. He doesn't subscribe to this narrow story of success. His trajectory is the result of a wide and varied cast of people who supported and inspired him when he was at his lowest and helped him get to where he is today. He's also critical about living in the past or romanticizing the 90s era of Manchester. "I'm not interested in banging on about the past. By doing that, you're saying to a younger generation, 'that was the best it's ever gonna be,' and that's just not true."
Not one to live in the past, Glenn starts every day looking forward. Being involved in Narcotics Anonymous, Glenn practices the 12-step program, which encourages you to break down your ego, connect with others, set intentions for your day, and reflect on where you could have done better the day before; Glenn explains more. "Addiction, the illness of addiction, is basically about the self and separation. It's about trying to fix ourselves by any means possible in ways that mean you're disconnected from other people or from anything good. The 12-steps are all about connection, finding a connection to something outside yourself, whether that's a form of spirituality, other people, something where you can be of service."
For Glenn, this daily commitment to sobriety encompasses regular NA meetings and writing his morning pages, an approach that Julia Cameron, author of The Artist's Way and former addict herself, advocates. "The best thing for my career, and I suppose my creativity, has been writing a piece of A4 every morning after I've done the school run. I get out all of my ideas and everything in my head. It frees up space in my head and my psyche. Last week I was in pitch mode, writing loads of decks. After I'd done my morning pages, I looked and realized all my ideas were there, so it really helped pull them all together for the work I was doing." Glenn also notes that when he's in this mode of putting others first, of being more mindful of his ego and his place in the world, his creative ideas flow better, as does his life. As part of this process, Glenn is also the first to admit he's not perfect, that he doesn't always get it right and that his ego or spiraling thoughts and behavior sometimes get the better of him, but no one is perfect, and in his own words, "There's always tomorrow." He's also quick to point out that his sobriety and life don't reflect the whole NA or AA program, "I don't speak for NA or AA. If I have ever pissed anyone off, that's because I can still be an arsehole at times, it's no reflection on NA or AA, so I don't want anyone to be put off if they need help."
"The best thing for my career, and I suppose my creativity, has been writing a piece of A4 every morning after I've done the school run. I get out all of my ideas and everything in my head. It frees up space in my head and my psyche. "
Tomorrow for Glenn looks incredibly bright. Having found his tone of voice in the work he's created to date, he is looking forward to honing his craft, "I didn't go to film school, and I'm not the finished article. I want to get better at what I do and finesse my craft." The beauty of Glenn's approach to creativity is his openness to learning new lessons and skills, which is perhaps directly influenced by the 12-step program where you're encouraged to reflect on where you could be better, a life skill we all do with finessing.
Alongside the larger commercial contracts and manning one of Instagram's best accounts, Glenn is also developing a feature film. Set in the North West of England, the film will encapsulate all of Glenn's passions; paganism and folklore, working-class culture, humor, and undoubtedly an impeccable wardrobe department. Making a feature film is no mean feat; as Glenn explains, "It's gonna be a couple of years off, it's a long process—especially for a first-time director, but I'm learning lots and working with the BFI (British Film Institute) and other good people. We're developing the script I wrote to make sure it's got a decent act structure."
Throughout Glenn's life, self-reflection, connecting to things outside of himself, owning his own culture, heritage and mistakes, and being open to new ways of thinking have guided him towards a better way of being. He isn't perfect; he's still a work in progress—as we all are, but the thing that makes Glenn and his story so inspiring is that he's prepared to admit his imperfections and commit to doing better, and in this world, that feels like the most honest and worthwhile thing any of us can do.
Glenn Kitson is a London-based director and the founder of The Rig Out, a creative studio offering guidance on film, music videos, magazines, and photography. If you would like to find out more about his work and secure a regular intake of modern-day folklore and humor, follow him on Instagram.

We thank contributing writer and Riposte Editor Danielle Pender for bringing Glenn's story to us.
Interview and text: Danielle Pender
Photography: Tami Aftab