Artists Johanna Dumet and Manuel Wroblewski invite us into the "utopian world" they have created in their Berlin studio. The couple share their passion for working without restrictions and their hopes for the future of creative spaces in Berlin and beyond. 
In the northwest of Berlin, away from the usual swarm of crowds and footfall, in a quieter pocket of the city, Johanna Dumet and Manuel Wroblewski rent an art studio. The front door is flanked by a homegrown lemon tree, a scatter of Wisteria flowers, and colorful chairs crafted by Manuel himself. Once you've entered the studio, it becomes apparent that color and light are as present in its interior as they are in the studio's immediate surroundings.
For just over three years, Johanna and Manuel have worked as full-time artists. Johanna, originally from France, typically uses oil paints, working with vivid, dramatic colors on expansive canvases. Manuel is a sculptor from Eckernförde, who creates vibrant sculptures of boats, sea creatures, and sumptuous-looking, oftentimes larger-than-life fruit and vegetables. Serving as a space where their practices can exist in a nurturing, symbiotic relationship, their studio is a uniquely immersive environment.
This profile was produced in collaboration with our friends at La Marzocco, the Italian coffee machine company. Taking our shared appreciation of life's small pleasures as a starting point, we sought to explore coffee's place in the lives of artists and creatives.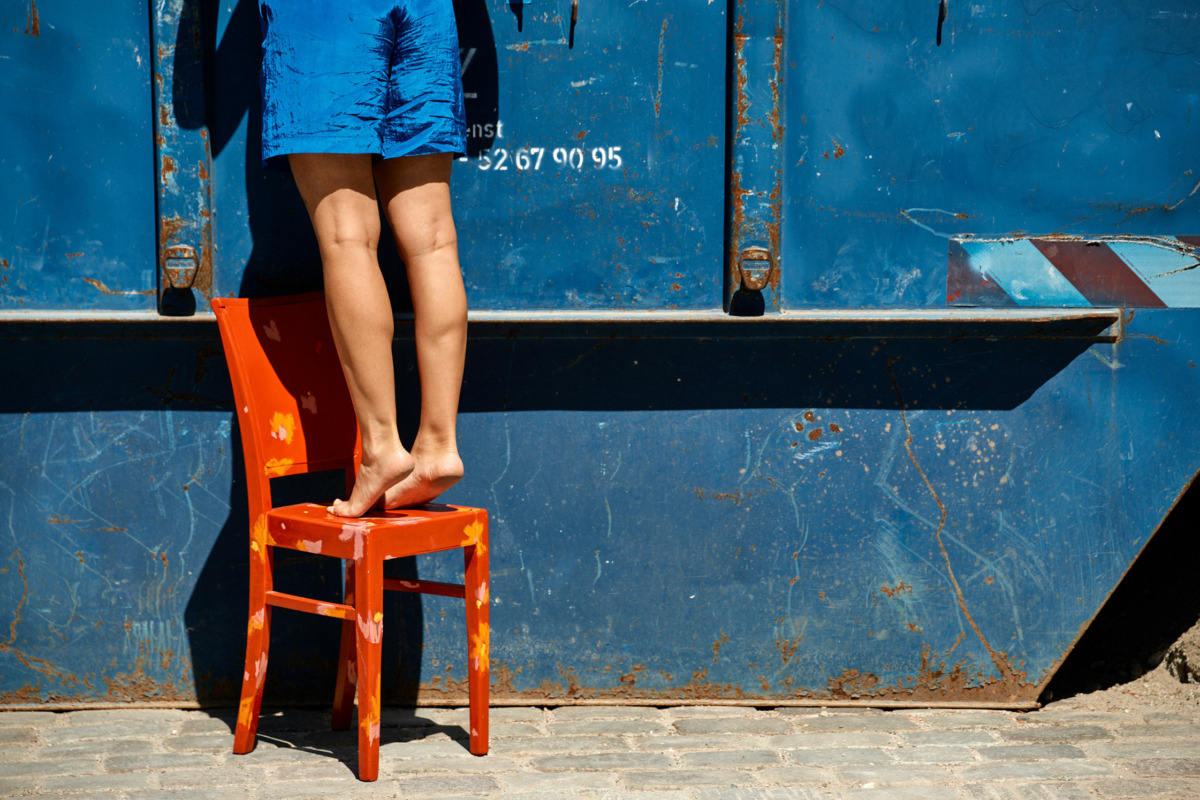 The artist couple first met whilst working at the same cafe. Manuel was the barista; Johanna was a baker. Although their journeys into the art world differ, their philosophies present noticeable similarities. Manuel started as an actor, although his creative dabblings aren't limited to thespian; he has pursued philosophy, medicine, boat-building, and gardening, to name but a few. Johanna was just five when a fond kindergarten teacher gave her what she wryly recalls as, "the role of a lifetime", the Queen of Flowers in a school-run carnival. While the other children played during recess, Johanna spent hours upon hours in the castle which had been constructed for the carnival, painting with unrestrained zeal. She says she knew she wanted to paint every day from then on. She was just five years old at the time.
Upon finishing high school, Johanna went on to study fashion, but she decided against pursuing it professionally, eschewing the creative restrictions imposed within the fashion industry. This same urge for creative freedom was shared by Manuel, as he turned from acting to art, "I don't have to perform the performer's number…I can do what I want."
Prior to having their own studio, they often found themselves having to embrace unconventional spaces to indulge their creativity. Johanna describes vividly the stretch of time in which she had to paint in the stairwell of one of their old apartment buildings, crammed in a sort of purgatory between their apartment and the front door, "and my paintings are three by three foot…" she laughs.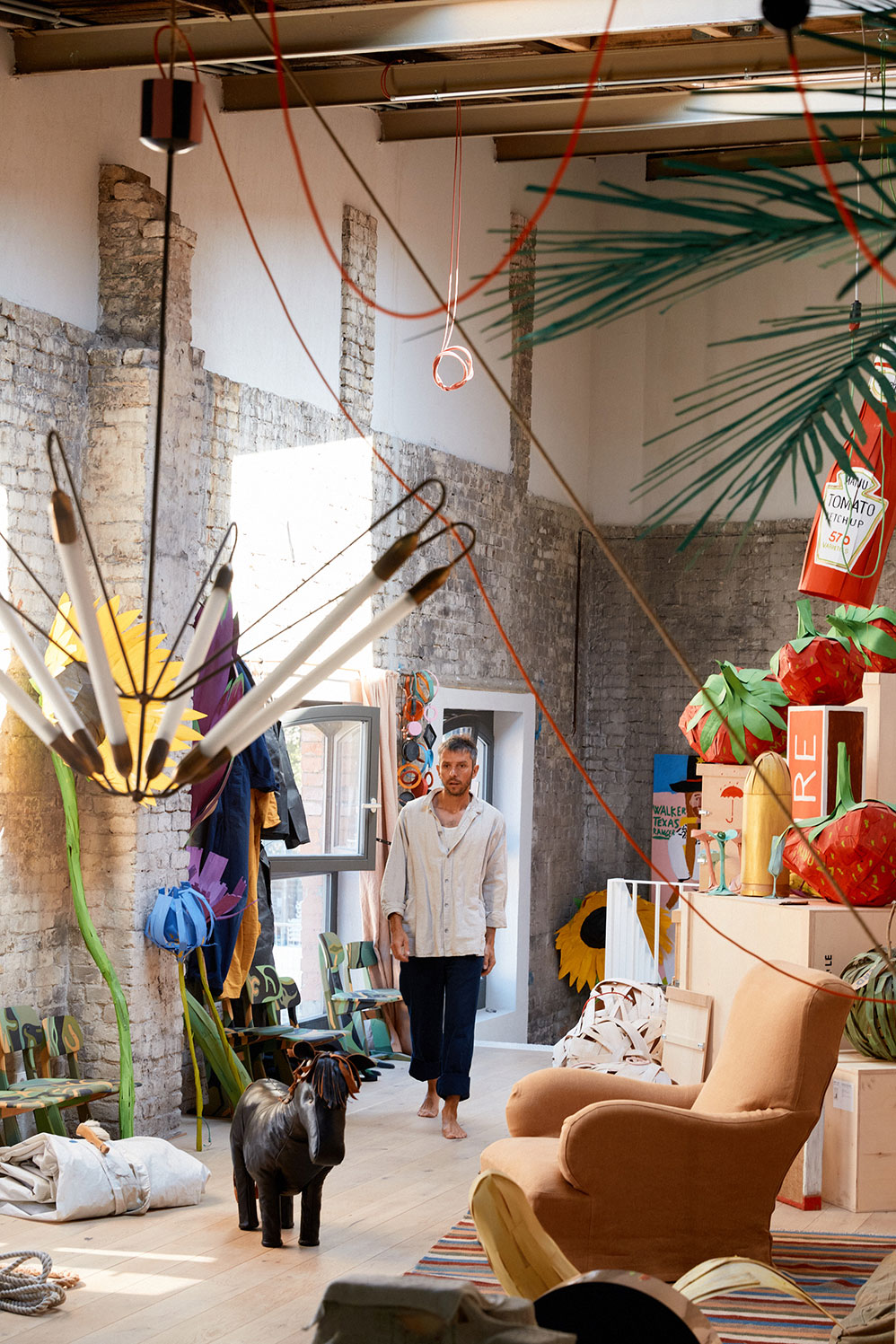 "…basically, we come here, we close the door. And the magic happens, you know, we don't have any assistants. So it's really just for now, still the both of us and we both have a floor, so we can just really do whatever we want. Get dirty. Work naked. Take a nap. Say, today I don't give a shit. I don't want to work. Oh, you know, we're on rhythm. As a team. We are not alone."
Determined to improve their situation, they threw themselves into finding a space where they could flourish creatively. As a city, Berlin is much-vaunted for its artistic circles and galleries, but the couple are frank about the risks for creatives in Berlin and the lack of resources available. "We didn't have the money," Manuel says. "It was gambling, to do this…we could have easily gone bankrupt." They speak with passion about the challenges facing upcoming artists: "There are so many factors," Johanna says. "Your art can be great, but it's not just about the art, it's about how you sell yourself."
Even once they found and secured the studio—fighting tooth and nail for a space of their own, rushing to acquire loans, trudging through sleepless, worrisome nights—they had work to do. The space came without hot water, and initially without electricity; they had to renovate the floors and ceilings, manipulate the raw materials they had at their disposal to curate their ideal studio. Despite the challenges this posed, it has served to mark the studio as the couple's very own. It is, according to Johanna, "a giant installation", an experience for every guest, a personalized chunk of their world.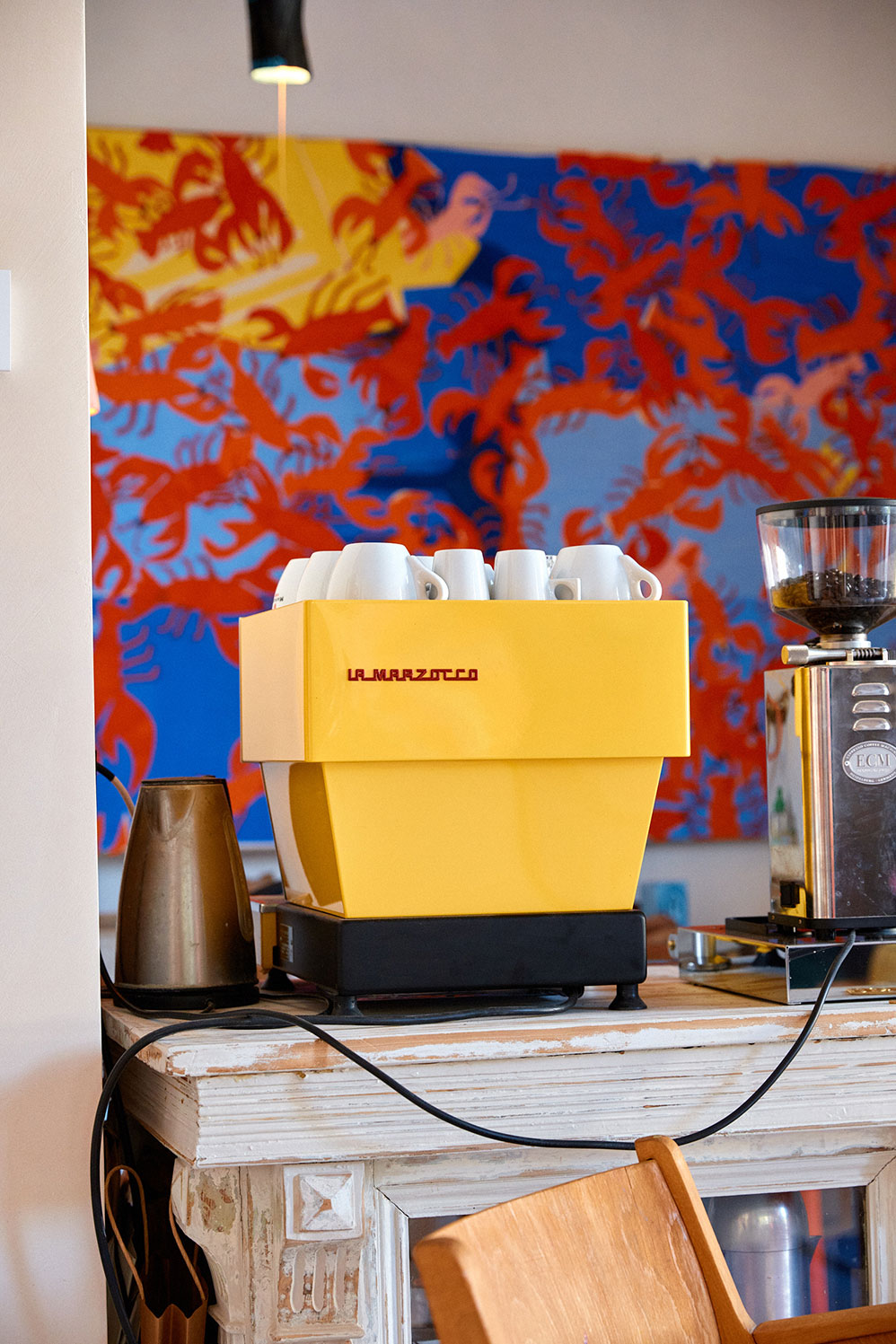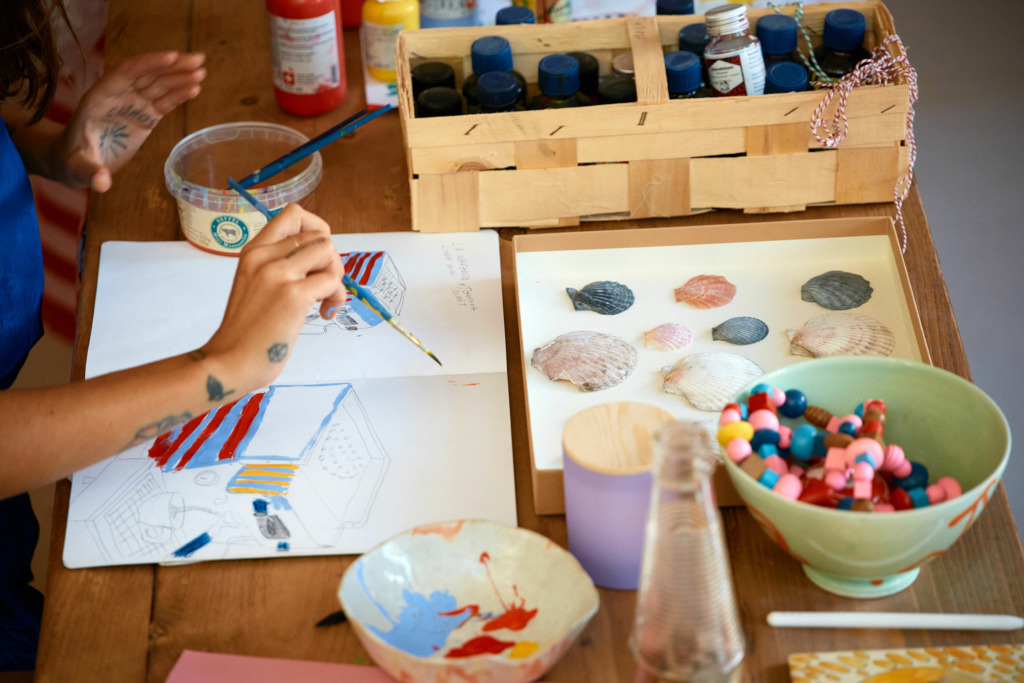 Typically, a day in the studio starts with the couple arriving on bicycle in the muted hours of the morning (unless they spend the night, as they do "once or twice a month"). Coffee is prepared and enjoyed by the kitchen counter, and then their work begins. Johanna generally stays on the ground floor, buffeted by swooping, animated oil paintings of gleeful clowns and thoughtful depictions of nude bodies. Manuel travels up the winding staircase to undertake his business on the top floor. Natural light fills the studio through impressive windows while music resonates through the open space. Manuel listens to everything from pop to classical music (noting Prince as a particular favorite) and historical podcasts as he works; Johanna oscillates between songs of her childhood, French cooking shows, and the Spice Girls as her backdrop, but occasionally opts for silence when a piece requires concentrated focus.
Johanna describes their creative minds as "always on"; new ideas emerge every day, and they follow their whims and inspirations with enthusiasm. The studio affords them the opportunity to work without rigidity, to move through the day with ease: "…basically, we come here, we close the door. And the magic happens, you know, we don't have any assistants. So it's really just for now, still the both of us and we both have a floor, so we can just really do whatever we want. Get dirty. Work naked. Take a nap. Say, today I don't give a shit. I don't want to work. You know, we're on rhythm. As a team. We are not alone."
"I don't have to perform the performer's number…I can do what I want."
Mainly the space is embellished with their own artworks, but their love for quality and durable designs has led to a collection of pieces imbued with character dotted throughout the studio: a vase fashioned from the inside of a camel's stomach, soap made with olive oil, a sepia-toned sofa languishing beneath towering sculptures, vintage battered suitcases perched atop the stairs. The idiosyncratic charm of the pieces are reflective of the overall playful atmosphere of their studio. It also underlines their shared interest in sustainability. Manuel's sculptures are all made with zero waste, and many are notably constructed from fruit and vegetable boxes. Suspended boats of ivory and cerulean trim and bowling-ball sized strawberries alike are constructed with this particular wood. Manuel prioritizes creating art which can coexist in harmony with nature: "You are an artist, you are so free, you can do whatever you want, use the material you want…and still [artists] produce so much trash."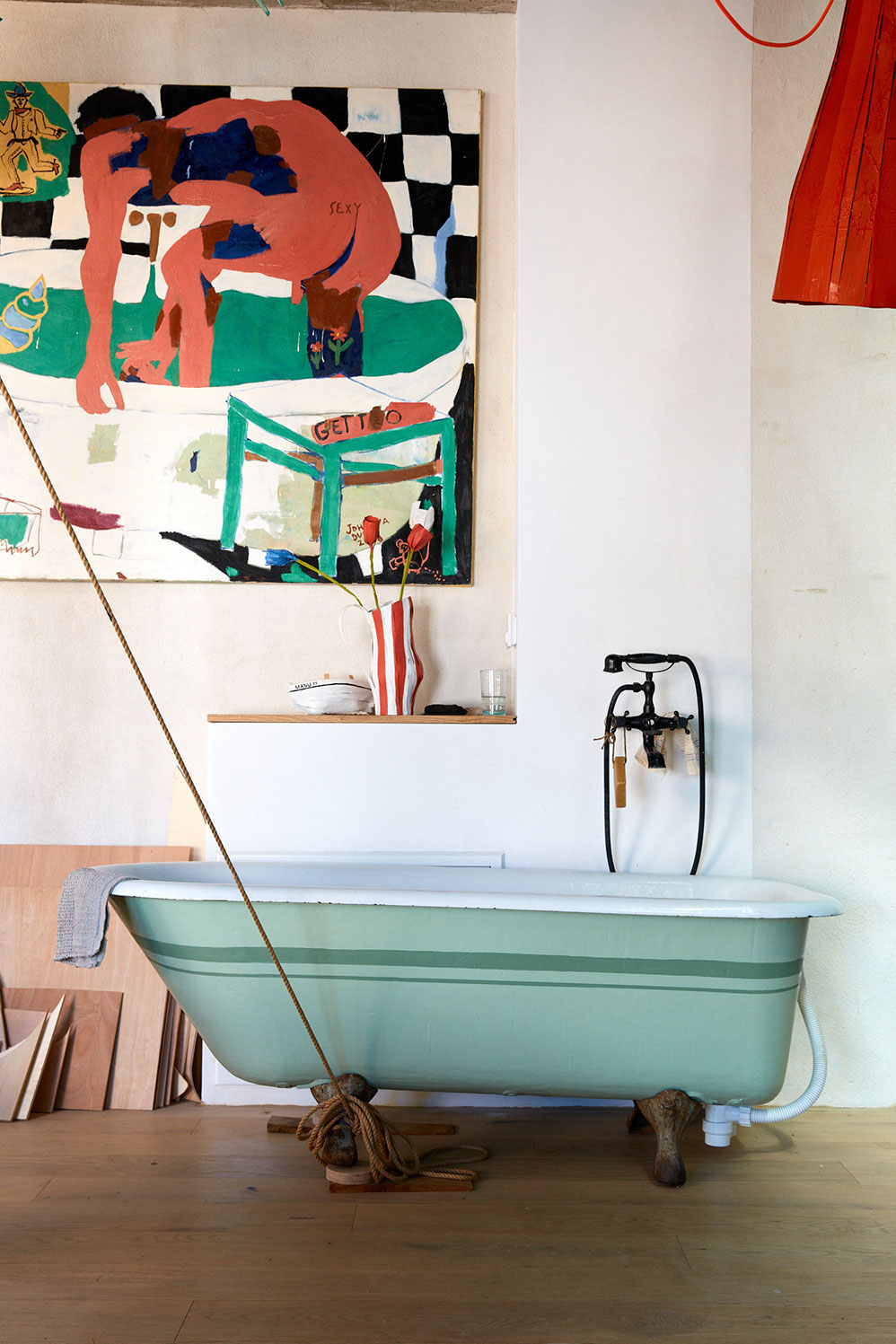 "People go to therapy, I think making art is our therapy."
There is something intrinsically joyful about their work. They describe their studio as an "installation", designed like a playground. "People go to therapy, I think making art is our therapy," Johanna says, making a clear distinction between their processes and that of the stereotype of the "tortured artist". They both express an unbridled zest towards their art, and the happiness which it can provoke in others, Manuel adding, "I like to see people smile in a show when they see my work: that to me is an achievement."
The studio is their sacred place, their own "utopian world", but they travel often and enthusiastically. In Denmark, they venture to a secluded cottage by the sea with no electricity, which can only be reached by foot or van, and where a single bar of internet connection is an anomaly. They create there, and their work is still fundamentally the same—joyful, spontaneous—but they both remark on how it shifts slightly, "the wind is different, the air feels different…" Johanna says. Their goal is to save up for a house in the countryside, by the sea, if possible. Both have a strong sense of affinity for nature, and in particular are attuned to the ocean and its enchantments. "That's the only thing I miss in Berlin…I would like to open my door and see nature."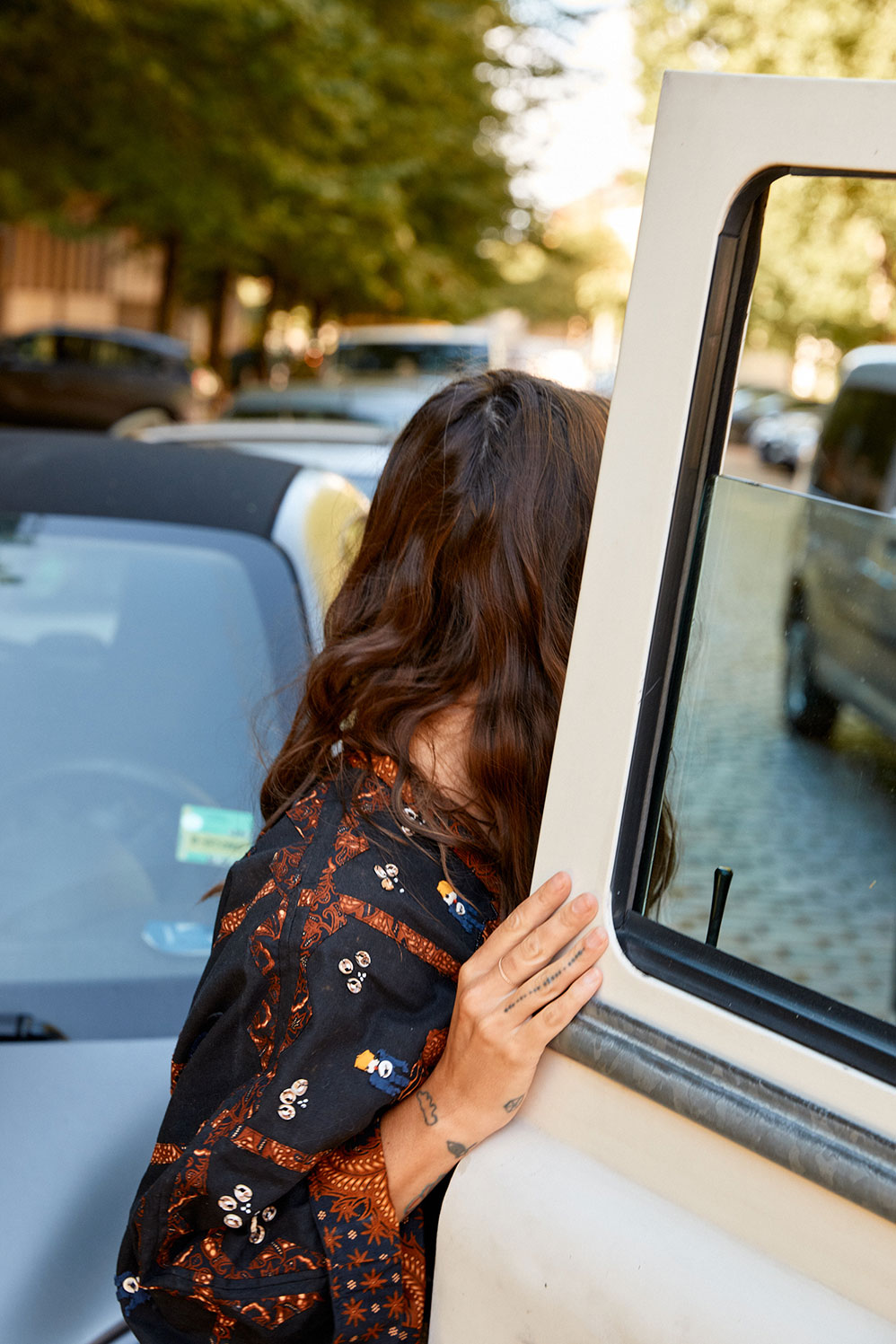 Despite their country roots and leanings—Johanna talks about getting chickens, donkeys, and cats in the future, Manuel misses the seaside—they aren't planning on parting from the studio in Berlin anytime soon. In a city overflowing with artists, but no longer flowing with empty, available spaces for artists to work from and grow, they have carved an oasis of exuberance. The unabashed playfulness of their practices and surroundings is shown not only in the brilliance of their art, but also in their presence.They're hopeful for what is coming, and eager to plunge into the challenges of materializing their artistic visions. Both express, with a sense of enduring contentment, that they often fall asleep feeling excited about the art they will create the next day.
Johanna Dumet and Manuel Wroblewski are Berlin-based artists whose works have previously been exhibited in Wilhelm Hallen. Upcoming projects include a shared exhibition of artwork from Johanna and German artist Karl Horst, a show together in Valerius Gallery, Luxembourg in September, and a presentation of their artwork in Benrath Castle in 2023.
Interview: Ellen McBride
Photography: Patrick Desbrosses