Quartzite, AZ is the last large city before crossing the state line into California. When we drove through, it was golden hour, prime time for photos, so we considered finding a campsite and continuing our journey in the morning.
No such luck finding anything resembling a campsite, let alone any people or moving cars. It was a ghost town. To add to the eeriness of this place, the moment we stopped the van on a long desolate road lined with a few cacti, hundreds of flies swarmed into the open van windows while we were outside snapping photos. We decided against attempting to camp in this deserted town and instead watched the golden pinks of the sunset as we crossed over into California, still singing and chatting about the future. When we finally rolled into the campground  – the very same where we made our first desert memories two years prior – night had fallen. We said an early goodnight, exhausted yet super excited to finally be there.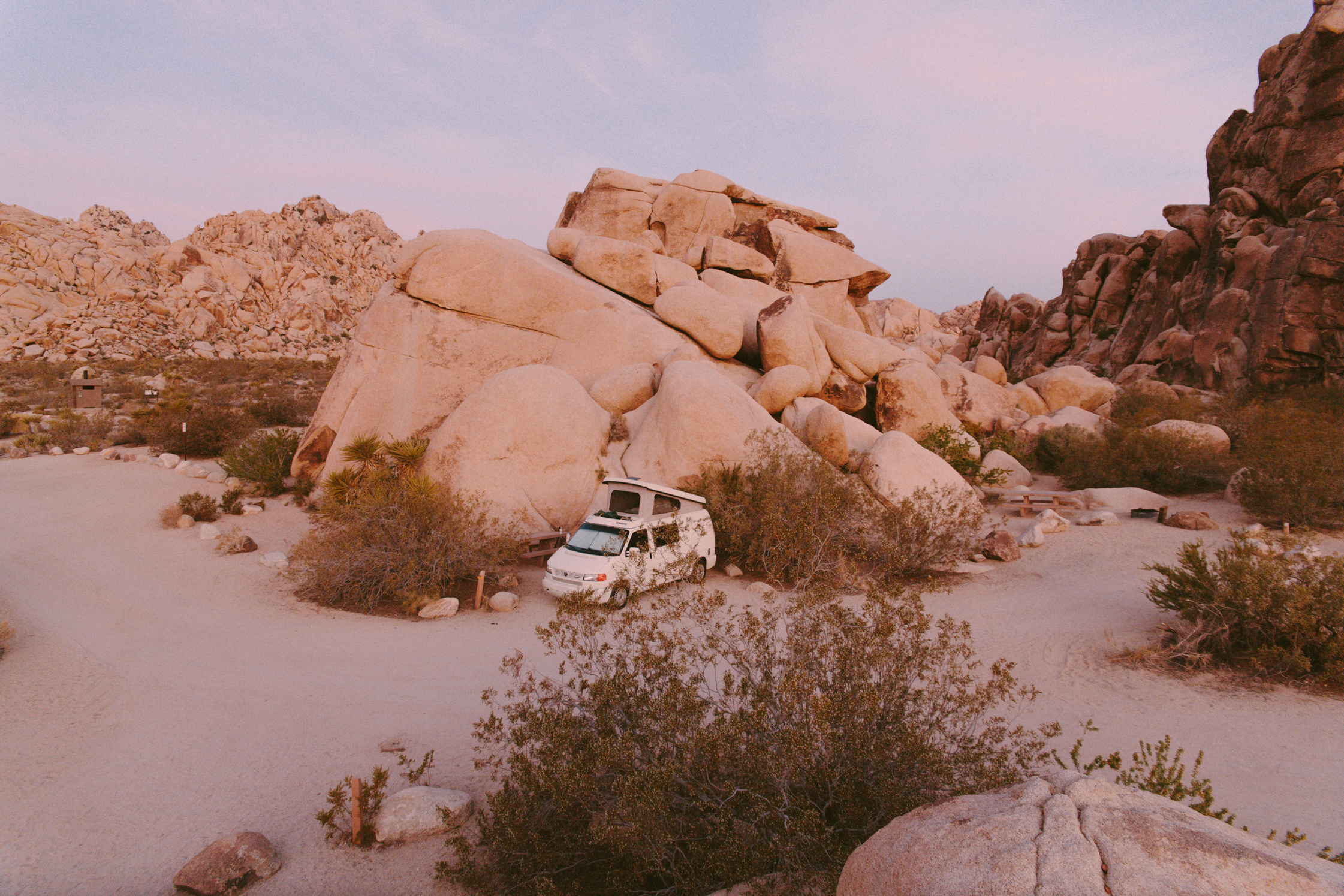 The next two days were spent in Joshua Tree, our trip beginning to come to a close. Lon was up before dawn almost every morning, making it a priority to let the sun see him rise first. I slept in while she climbed over the smooth boulders and explored before the heat of the day was too much to bear, camera in hand to perfectly capture the early desert hues. By early morning, the van's interior began heating up and we decided to head into Twentynine Palms. Lon had long wanted to see and experience the Integratron; I, on the other hand, had never even heard of it.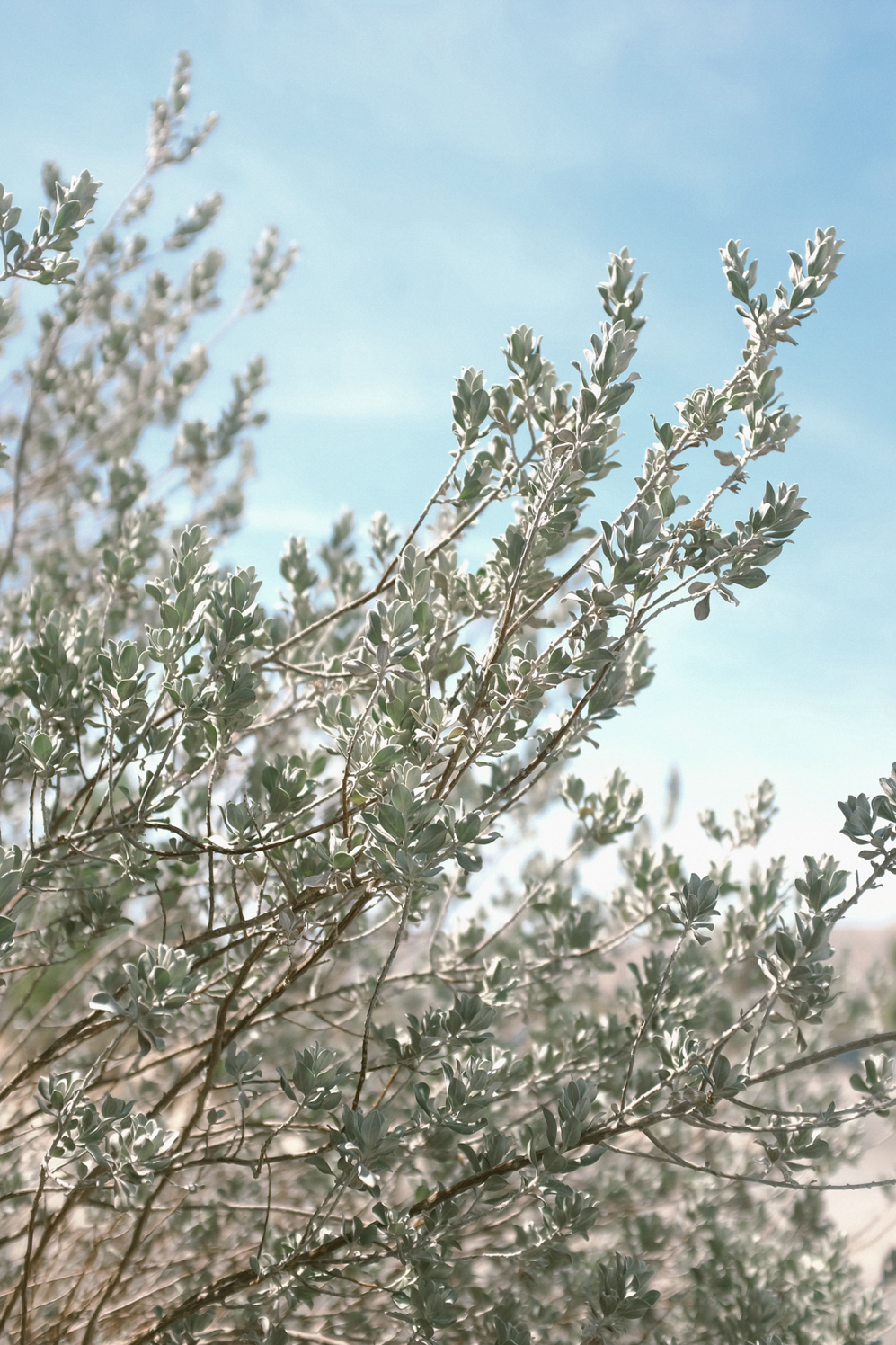 The unique, giant white dome in the middle of the Mojave desert, said to be located on a powerful geomagnetic vortex, is used for rejuvenation and meditation, among other things. For the rest of the day, we decided to explore the city of Twentynine Palms. We did some shopping at the gift shop and picked up a couple of bumper stickers to properly label our cars "Hippies Smell" and "Treehugger" back home, along with cactus candy made from prickly pear juice and some chapstick, which my lips badly needed! By lunchtime, we were famished and grabbed delicious vegan sandwiches at a small hole in the wall that was highly recommended and incredibly busy. We perused the farmer's market and snacked on juicy, farm fresh strawberries after popping in and out of some local thrift and pawn shops, where Lon finally found the big, turquoise ring he had been on the search for.
Eventually, we wound up at BKB Ceramics, a breath of fresh, modern air among the secondhand shops strung along Twentynine Palms Highway. The shop was filled with the coolest minimalist jewelry, clothes, handmade bags and knick-knacks, with Brian's handmade pottery and ceramics modestly yet intentionally sprinkled throughout. Chatting with the artist himself, we learned a bit about himself and his business, and even got to see him work behind his wheel. Lonnie snapped a few portraits of Brian and his space and, of course, we couldn't leave empty handed. We picked out a gorgeous handmade planter, Dasein perfume for me and a cactus tote bag by Amelie Mancini I had been eyeing.
We parted ways feeling incredibly inspired by not only Brian's artistic talent, but entrepreneurial courage as well. Back at the campground, we captured photos of the fading sun on an evening walk before dinner. Lon built a fire as the bright moon rose above us – a perfect night for stargazing. We roasted sausages, drank beers, listened to music and called it an early night, because tomorrow we were off to Palm Springs for our last official day on the road.
In the morning after iced coffee, we were on the road early heading for our hotel in Palm Springs, where we planned to end our eight-day journey by simply relaxing. We were looking forward to dipping into the pool, a bedroom with air conditioning and a real shower. On the way out of town, we passed a sign that said "Cactus Mart" and immediately made a U-turn. I was tempted to buy every plant I saw, but restrained myself and settled with a t­-shirt, the same ones the employees wear.