The Massachusetts born poet, painter, art critic and actor Rene Ricard was a notable name in New York's contemporary art scene from the '60s right up until his death in 2014.
He acted in several of Andy Warhol's films including Chelsea Girls and Kitchen, lived in the infamous Chelsea Hotel and, as an influential art critic for Artforum, is said to have propelled the careers of Jean-Michel Basquiat and Keith Haring.
Rene began publishing poetry in the late '60s, with collections including God with Revolver (1990) and Love Poems (1999) offering intimately personal reflections that were searingly honest, poignant, and, at times, heart wrenching. In the '80s Rene began to paint his poems onto found canvases (some original and some copies of well known masters) repurposing them with his own poem extracts. Neon text in orange, yellow and blue traverse each canvas atop oil paintings of boats, seascapes, windblown palms, forests, and even engagement rings.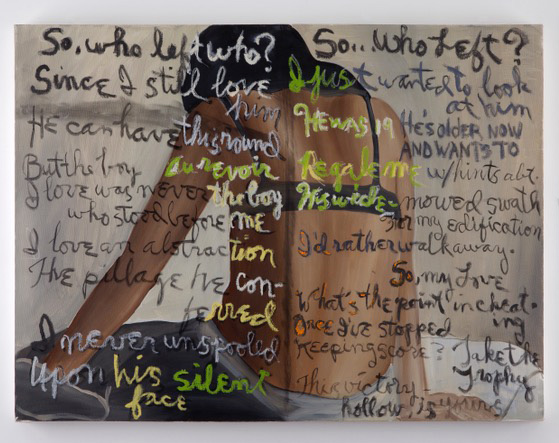 Growing Up in America
Then Love takes us to faraway
places.
Certain theaters,
Public toilets, jail, and that long
highway we all hitch-hike alone.
Then the feathers
of the years fly from their pillows
It was all filmed on that old
nitrate stock—the type that self-
destructs after a while—so, there are
no pictures left. I'm sorry—Just
feeling. Feelings, like clouds
Cloud upon cloud in a sky full
of clouds
— Rene Ricard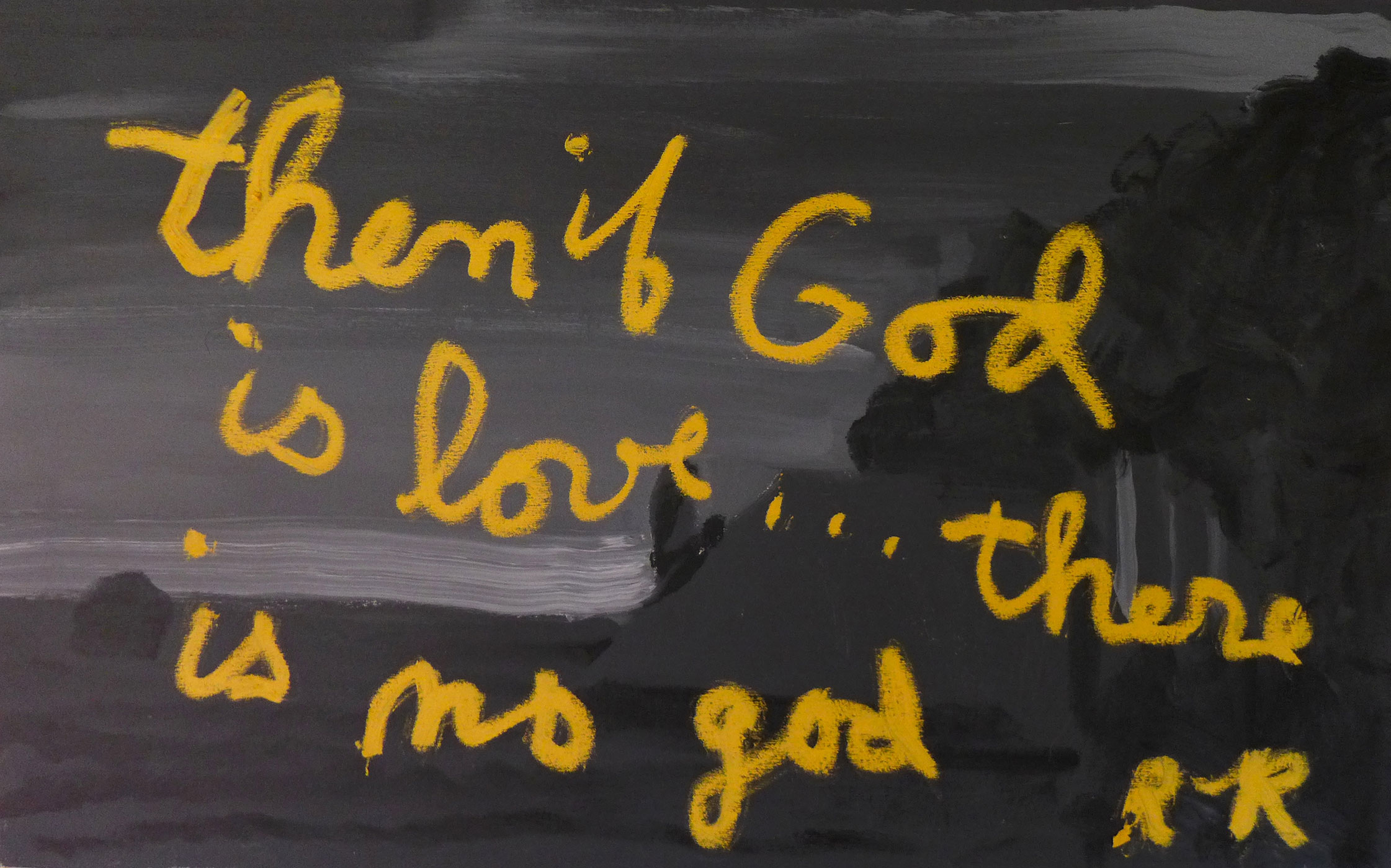 This month sees the opening of a new show of many never seen before works by Rene from longtime friend and collaborator, Bill Powers. 'So, Who Left Who?' opens at his uptown space, Half Gallery on March 29, 2017. We caught up with Bill to find out more about the exhibition and how it came about:
Tell us about Rene Ricard—you were friends and collaborators?

We met at Jacqueline Schnabel's house years ago. I knew Rene's work from Andy Spade's collection. My wife Cynthia and Rene hit it off immediately. We did a show together in 2009 at our old downtown spot and three prints together through my company, Exhibition A.

Tell us about the new show at Half Gallery, 'So, Who Left Who?' How did it come about?

We are working on a new monograph of Rene paintings to be published by Morel Books late 2017 with an essay by Luc Sante. While I was compiling the images I realized there were so many paintings, drawings, poems that had never been seen.

Could you describe some of these unseen works that you felt must be in this exhibition and why you feel strongly about them?

The patina of someone's work changes after they die. It's interesting to see how their longing and ideas about mortality get frozen in time. We have a little drawing where Rene shows how he based his signature on Renoir's cursive writing style and a short poem on a B Altman box top.

Rene wrote many volumes of poetry including "God With Revolver" (1990), the prose often inward-looking and intimate. Do you think this, ultimately, makes his art more appealing?

Look at the tremendous attention Christopher Wool's text paintings receive: museum shows and millions at auction. I think people are open to poetry interfacing with art, in fact, it makes the art better. Many lines from Rene's paintings are prose he borrowed from his own poems.

Tell us about the video footage of Rene reading poetry from the '70s.

He talks about how WH Auden found religion late in life and redacted all the dirty words from his writing. It's funny and razor sharp.

For those unfamiliar with Half Gallery in New York, could you tell us about it?

We are on the upper east side, which has a rich art history in New York from Leo Castelli Gallery to The Calder sidewalk on Madison and 78th Street where he exhibited while he was alive. And of course, Gagosian and so many museums are in our neighborhood. We represent a handful of artists, mostly painters: Ginny Casey, Daniel Heidkamp, Genieve Figgis.

Tell us about your own background – how did you get into art?

I wrote for the New York Times off and on for 15 years. Part of my beat was covering the arts so I got into dealing through writing and collecting.

You run Half Gallery and also Exhibition A. Both seem to strive and succeed in bringing art to a wider audience—is this an important aspect for you?

Yes, a college kid can get the same print from us for $200 that also gets bought by MoMA for their permanent collection. I love that range.

Rene used to write about artists, too, with essays for ArtForum, helping to bring emerging artists in the '80s to the fore. Did you know him at this time?

Rene was an early champion of Basquiat, Julian Schnabel and Keith Haring. You cannot overstate the importance of his support to them early on. It's incredible that Rene's writing and art touched so many creative people from Jim Jarmusch to Brice Marden to Kate Moss. We should all be so lucky to have such an eclectic fan base.

And what next at Half Gallery?

Nathaniel Mary Quinn opens May 2nd. It's his first New York show. He's a legend in the making….I promise.
Thank you, Bill for taking the time to tell us about your latest gallery show and offer us a glimpse into the vivacious life of the poet and artist Rene Ricard. For more information, see here and for artist editions, check out Bill's platform for contemporary art editions, Exhibition A.
All images courtesy of Half Gallery, New York