From working class staples in Mexico to the higher tiers of refined flavors, mezcal and tacos have been gaining more and more attention in foodie circles and beyond. During a gathering at the FvF Apartment we invited two friends and connoisseurs to teach us more through several tasting rounds.
While the pans were sizzling with concoctions for tacos in the kitchen, mezcal drinks kept on pouring in the main room, going from light punch to smokier and full-bodied cocktails, to finally a tasting of pure unadulterated mezcal, for both hard drinkers and beginners. Guillermo Gonzalez, owner of Amsterdam's fine cocktail bar Hiding in Plain Sight and one of one our hosts for the night, gave brief lectures on the artisanal liquor while Gabe Jaffe and Kristina Jorgenson, our second hosts and owners of mobile Orale Taqueria, kept the mouth-watering tacos coming.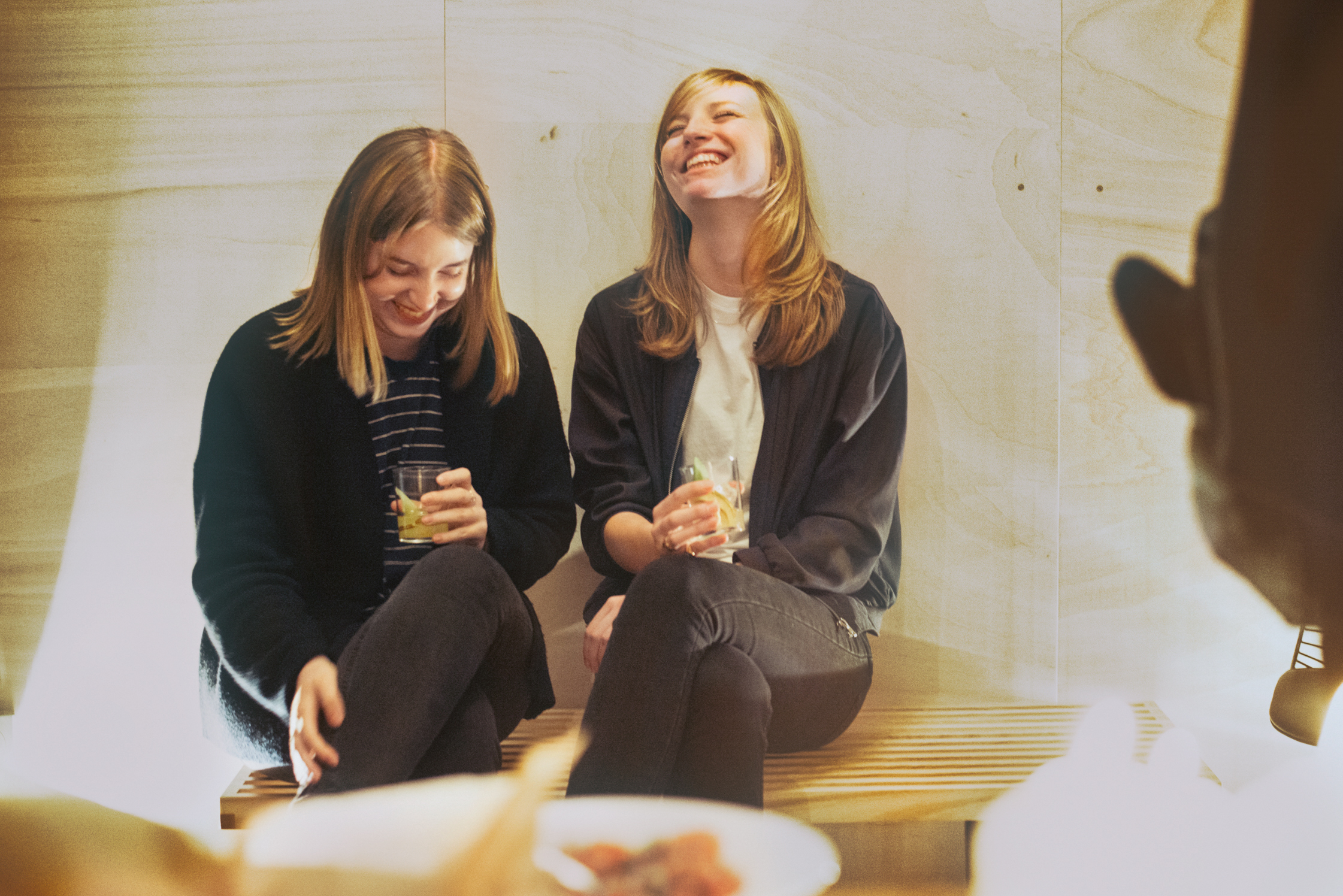 What is Mezcal, where does it come from and why is it better than Tequila?
Originating from Mexico, mezcal is a distilled liquor made from the sap of cooked agave plants. In comparison to its mass-produced rival – tequila – mezcal has a very distinct flavor and is considered of higher quality as artisanal versions of the drink can be on the same level as fine whiskies. "The easiest way to describe mezcal to someone who hasn't heard of it before is as a smoky tequila. People are more familiar with tequila so it's easy to present it that way on an introductory basis. However, that's not exactly true. In actuality, tequila is a type of mezcal which is made from the hearts of only blue agave plants whereas mezcal can come from 30 types of agaves. Much like wine, mezcal is characterized by terroir and numerous villages that produce it in different ways, yielding a wide range of varieties," says Guillermo Gonzalez.
Punch
Ingredients

1

55 ml Alipus Espadin Mezcal

2

70 ml clear pear juice 

3

25 ml lime juice

4

15 ml matcha tea syrup

5

pear and celery
The production process of mezcal is significantly different to tequila's: Premium handcrafted mezcal is prepared with age old techniques in specific regions and, therefore, is closer to Mexico's traditions and cultural identity. The protagonist is the maguey plant that can be found wild or cultivated in farms and can even be as old as 25 years before it's cut down for the drink. The plant's prickles, its itchy on the skin juice and high temperatures in the fields, render the harvesting process arduous and, thus, the alcoholic beverage even more precious. Before distillation, the piñas – hearts of the plants – are cooked in piles in an underground pit lined with volcanic rocks and covered with earth and leaves. This part of the process is what imbues the drink with its characteristic smoky personality.
Guillermo goes on to add that, "the majority of mezcal is produced on a small batch scale, by mostly family owned businesses, and never actually leaves the country of Mexico. To make it overseas, production has to be a bit larger but even then, the process of harvesting cannot be done by machines so it's still a hand-crafted spirit involving lots of hard work. I think the nature of the spirit is such that you can never truly have tens of thousands of bottles at any one distillery. It takes quite a bit of manpower and a lot of agave to do that! This retains the concept of rarity that surrounds the liquor as well as its mystical flair."
Mole Old Fashioned
Ingredients

1

10ml simple syrup

2

1 dash Aztec chocolate bitters

3

2 dashes orange chipotle bitters

4

70ml San Cosme Mezcal
Speaking of the mystical, Mexicans are full of stories and myths about mezcal because of the close relationship they have to the plant and the amount of effort they put into creating this nectar. Agave was a source of food and nutrients since the time of Aztecs and Mayans and is associated with Mayahuel, the ancient goddess of fertility. In terms of drinking rituals, there's a small bowl called copita made out of clay or wood with a large opening that allows for slow drinking and better appreciation of the aromas.
Tacos: From silver miner's lunch to inventive fusions
To accompany the mezcal drinks that kept on pouring in, Gabe Jaffe and Kristina Jorgenson, from Orale Taqueria in Amsterdam, offered to cook something fitting for the night: a series of different tacos – from traditional flavors to more experimental. "Tacos is a Mayan dish, an absolute classic of Mexican cuisine, that has gone from being silver miners' food in the 18th century, to stalls in working class neighborhoods, to being appropriated by big chains and to the foodie movement, nowadays." Tacos have long passed the borders of their native country but often people have a certain misconception about the dish: "Many think that tacos are hard-shelled tortillas with mushy brown beans and bland rice. That yellow hard shell was a creation by Taco Bell and that's not a real taco. To anyone in Mexico that's not a taco. The hardshell exists but would be a flat fried tortilla, like a tostada, not Donald Duck's beak – that's an American fast food version."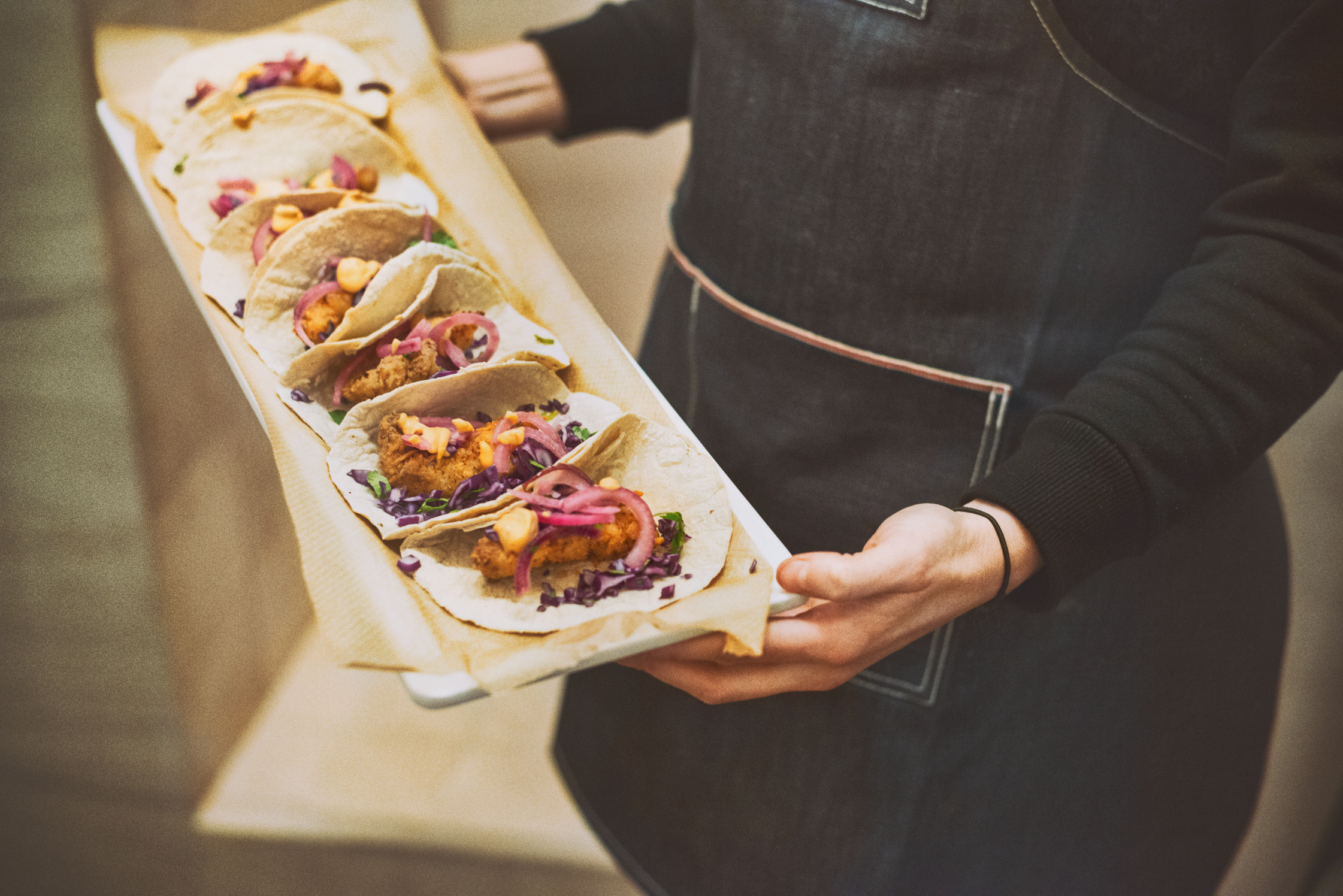 Orale's name derives from the Hispanic slang word "Odelay" which is an expression of enthusiasm for a statement or a way of greeting. In keeping with the name's origins, Gabe is really eager to spread the authentic version of tacos alongside their trademark fusions: "We try to stay pretty traditional at times, with recipes that can get people acquainted to the real thing and realize how well it tastes. We make the originals, like Baja fish tacos, as a kind of beginners level before we add Korean flavors, regional influences and start to get creative. We try to maintain that raw aspect as well. I mean, the best tacos I've ever tried came from regular food trucks in California where you're given this beautiful thing made up of four ingredients on a piece of wax paper and it's simply amazing with no glamour required."
Fish Taco
Ingredients

1

3 limes juiced

2

160 gr  fresh cod

3

1 head of fresh coriander leaves

4

2 red onions 

5

1 can chipotles in adobo sauce

6

1 small pot crème fraiche

7

100 gr flour

8

100 gr panko bread crumb

9

300 ml cold milk or enough to soak fish in

10

Salt to taste

11

Cayenne pepper to taste

12

1 rodekool (red cabbage)

13

Oil for frying

14

2 tbsp sugar

15

2 tbsp salt

16

Rice wine vinegar

17

Fresh corn tortillas
Method
For the chipotle crema: Blend two to three of the chipotles from the can and some of the sauce with pinch of salt and juice of one lime in a small blender or with hand mixer. Then blend this with the crème fraiche. If you want extra heat or coolness adjust the chipotle to crème fraiche ratio (suggestion 50/50).
Halve the red onions and remove all peels. Slice thinly.
Add two tablespoons of sugar and course salt to very warm but not boiling water. Hot from tap is fine. Place the onions in a bowl and cover midway with the salt/sugar water solution. To this, add rice wine vinegar to cover in a bowl. Stir the ingredients and refridgerate.
For the slaw. Thinly slice the red cabbage into ribbons. Mix with the cilantro leaves. Add juice of one lime. Toss together by hand.
Cut four pieces of fish into roughly 40 grams each.
Add the fish to the milk in a bowl with a pinch of cayenne.
Take the fish from the milk and add to a mixture of panko, flour, cayenne, salt and pepper. Dredge the fish and shake off excess breading.
Add to heated sunflower oil at about 180-190°C. Oil should sizzle immediately with fish or breading hitting it. Doesnt need to be totally submerged, but 3/4 covered in wide cast iron pan or skillet. Once golden brown on both sides (approx. 5-7 minutes) remove and place on paper towels for excess oil.
At the same time have a dry small skillet on low heat warming your corn tortillas. They should steam slightly then crisp but not overly so.
Your fish and fillings are now ready to use. Simply set up all your preferred toppings on the side for easier access and start assembling your tacos. Place them on a long wooden board for additional presentation points and let your guests snatch them while they're hot.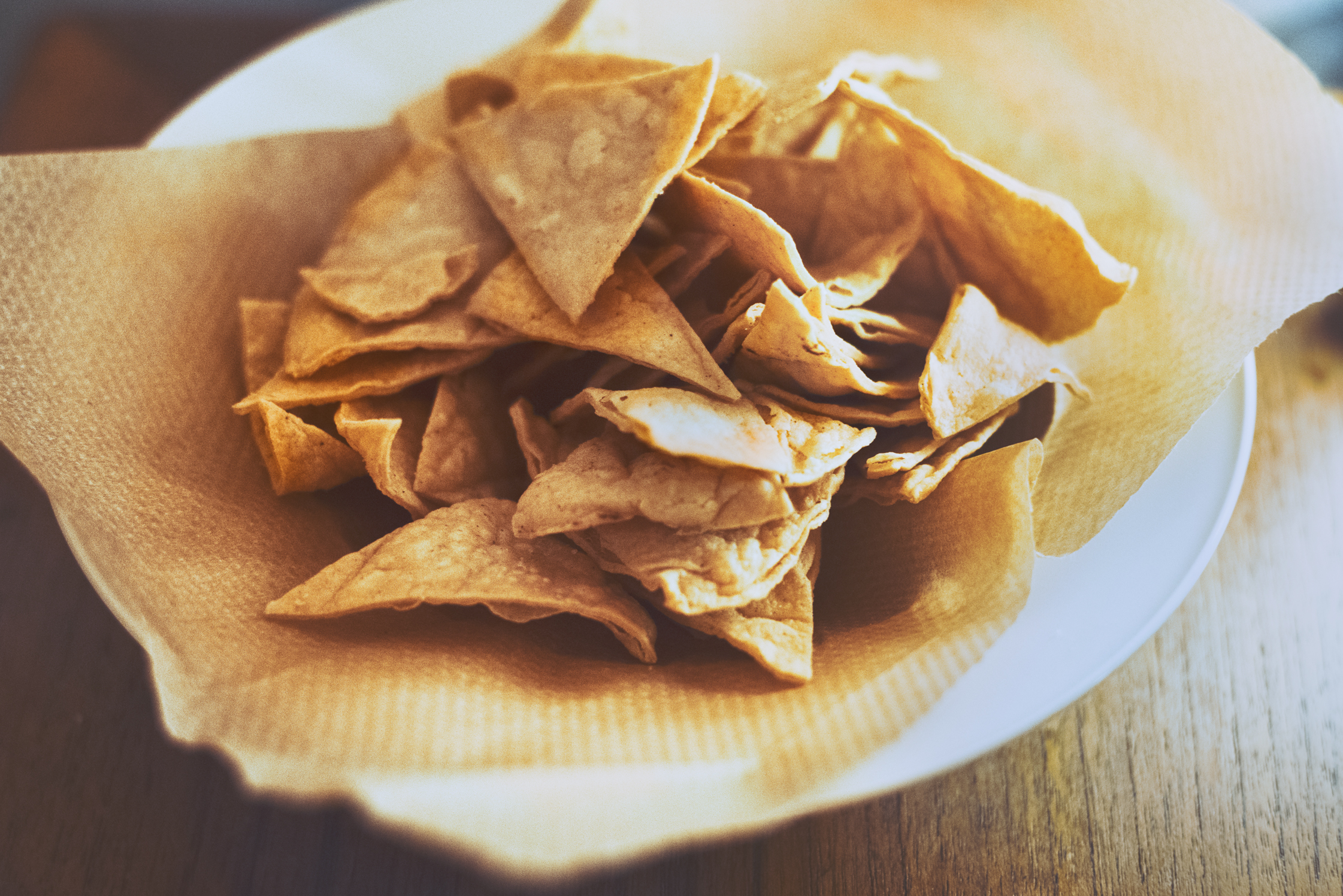 After the night was over, we grew even more curious about the origins of mezcal and tacos, and decided to embark on a journey in Mexico's Oaxaca – as well as surrounding regions – to find out more. In an extensive FvF Explores story that's coming up soon, we'll be analyzing those two working class staples through a visit to Mezcal distilleries, agave fields and small taquerias. Stay tuned!
Thank you Guillermo and Gabe for the amazing evening! Also, many thanks to Allyouneed for providing us with all the fresh ingredients for the event.
Have a look at more FvF Cooks episodes and everything we've been cooking up. And if you want to have a soundtrack for your cooking sessions, listen to the mixtape Gabe recently prepared for us as well as his older mix.
Browse through all of the events we've been hosting at the FvF Apartment.
Photos of the Tasting: Carina Adam
Photos from Oaxaca: Dylanne Lee
Text: Effie Efthymiadi