"They are always happy people – those who want to sit and have a piece of cake." 
Truer words might never have been spoken, or more convincing an argument made for why 'Afternoon Tea,' that once so very British pastime, is now worthy of a revival amid the chaos of our modern life.
The fact that one's happiness can be directly proportionate to cake consumption, in moderation of course, may seem strange; but it is this that underpins the food philosophy of Laura and Nora – the creative couple behind the gluten-free food blog Our Food Stories. This dynamic duo – and clearly their readership too – understands the importance of good cake. And not just its aesthetic beauty and delicious taste but also the cultural significance of 'cake and tea' – that need to take time in our day to slow down. Because you should never be too busy for a cup of tea, some cake and a natter with friends, and if you are then that is, ironically, exactly why you need it most. Laura Muthesius and Nora Eisermann appreciate this more than anyone and, with their exquisite cakes, have somewhat found themselves at the forefront of a tea-time revolution: "We really like to eat cake, and yes let's call it 'afternoon tea' – whether it's coffee or tea. An afternoon sit-down with friends, sharing a piece of cake together, that's really nice and we try to do that often." Laura goes on to say that "if the day is really stressful and there is a lot of cake left after a shoot, well someone has to eat it!"
It is this no-nonsense, unapologetic approach to the food they conceive, create, style, photograph and then eat together that gives Laura and Nora a likeable edge in an ever-growing sea of health-conscious, albeit well-intentioned, 'don't eat this, eat that' orthodoxy. Despite all their recipes being gluten-free, and at times low-histamine, they both insist this is not and should not be the main focus of their food: "People who are not gluten-free are still attracted to our recipes and the pictures we take and so we don't want to just make food for people with intolerances – a cake should be delicious for everyone."
And indeed their gluten-free goat cheesecake with berries and meringue is delicious, not to mention show-stoppingly beautiful, by any standards. Inspired by Nora's mother, this is a recipe which holds fond food memories of her childhood and one she was keen to recreate: "I took her recipe and included goat cheese quark instead, to make it lighter and fresher." I ask her, as the main cook of the duo, if she grew up interested in pursuing a career in food and she shakes her head: "I wasn't a 'foodie' so much before. I think it really developed with our relationship….I cook and Laura eats!" The perfect team.
Ingredients
Base

1

75g butter (room temperature)

2

80g sugar

3

1 egg

4

200g rice flour

5

1 tsp organic baking powder

6

1 dash of salt

Filling

1

275g goat cheese quark

2

1/2 pack vanilla custard powder (20g)

3

100g sour cream

4

100g heavy cream

5

1/2 vanilla pod

6

80g sugar

7

1 egg

Berry jelly

1

300g frozen berry mix

2

1-2 tbsp sugar

3

2-3g agar gelling agent

Meringue decoration

1

2 egg whites

2

1 pinch of salt

3

115 g sugar

4

pastry tube

5

cooking torch
Method
The Base
Preheat oven to 180℃ top/bottom heat. Line the base of a springform pan with baking parchment, grease and butter the sides. Leave the springform pan in the fridge until you've prepared the base. Mix the sugar, salt and butter, and then stir in the egg. Mix the rice flour and organic baking powder in a separate bowl and sift in three portions to the butter-mix while stirring. Afterwards, knead the dough for 1 minute with your hands. Take the springform pan out of the fridge and start pressing the dough on the base of the springform pan – make sure it's not thicker than 5mm. Then continue building the sides until you're 1cm away from the upper edge.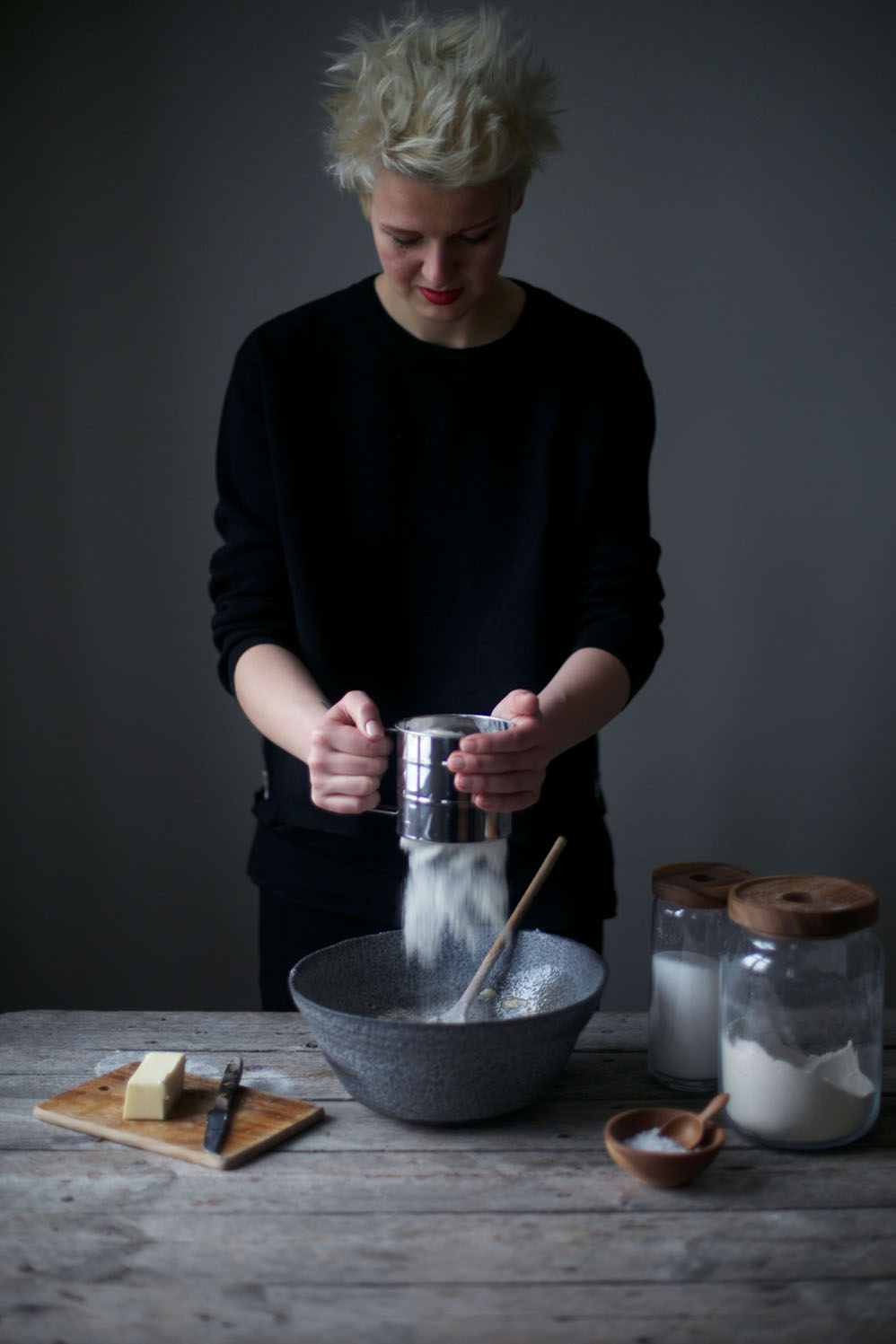 The Filling
Scrape the vanilla bean to separate the seeds from the pod and mix all ingredients apart from the vanilla custard powder. Then, add in the vanilla custard powder and mix it in well. Pour the mixture into the springform pan and bake the cake for 50 minutes at 180℃. Let the cake cool off for 20 minutes, then take off the sides of the springform. Remove the pan's base and baking parchment carefully, when the cake has completely cooled off.
Berry Jelly
Slowly cook the frozen berries at low heat together with the sugar in a saucepan. After a few minutes, when the berries are soft and almost "liquid," take them off the heat and purée the fruit. Strain the fruit through a fine sieve, using a tablespoon, and measure the fruit sauce – you will get about 200ml of fruit sauce from 300g berries. Pour half of the fruit sauce into the washed saucepan and stir in the agar jelly agent. Bring to a boil for 1 minute and let it cool off for 3-4 minutes, stirring occasionally. Then, stir in the remaining fruit sauce and pour slowly over the cheesecake, starting from the edge and finishing in the center. Leave the cake in the fridge for 1 hour until the berry sauce turns to jelly.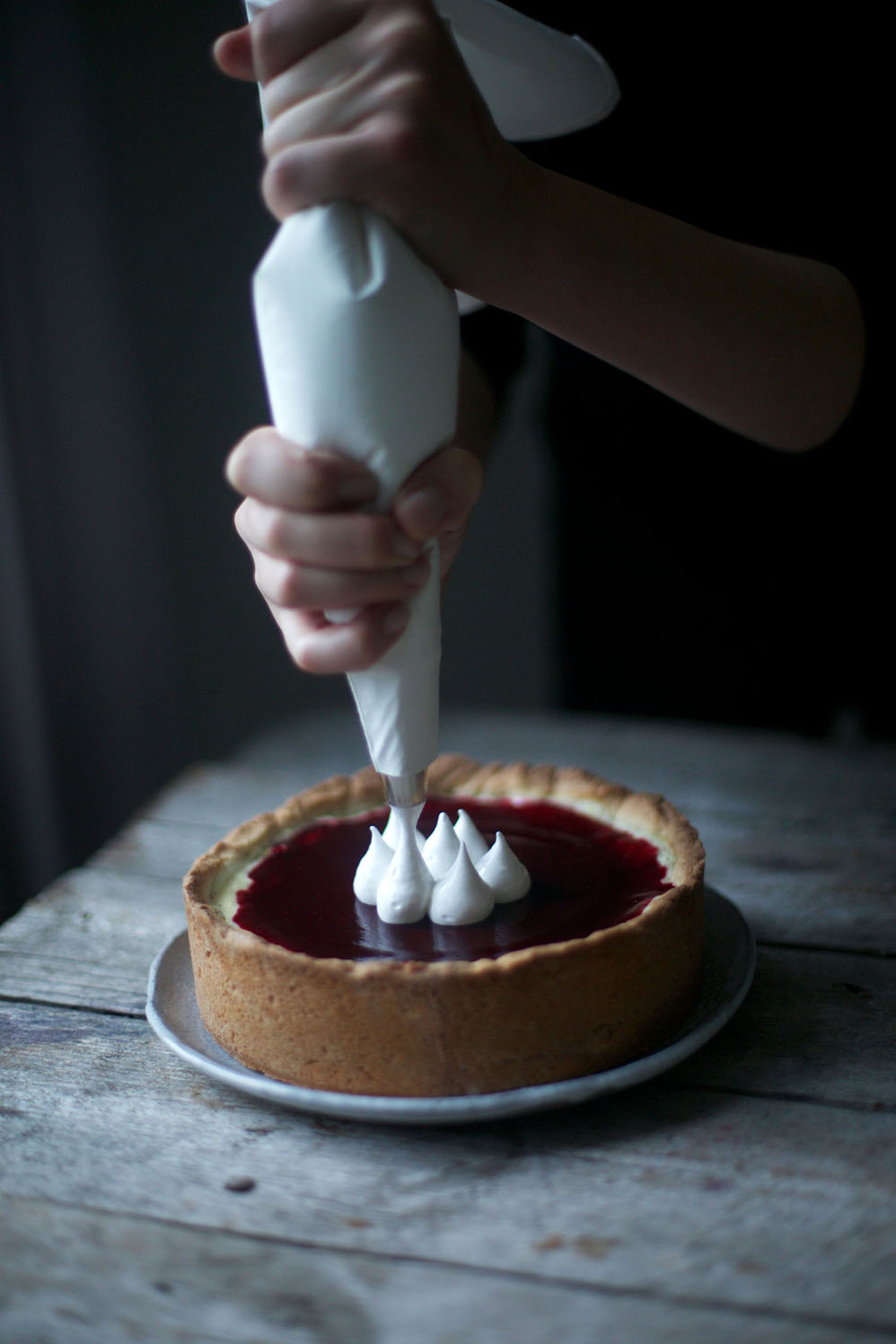 Meringue Decoration
Separate the eggs and beat the egg whites with the salt until half stiff, then add the sugar while beating. When the beaten egg white is stiff, add it into a pastry tube. Start to place the meringues in the center of the cake and continue in wider circles until you reach the edge (you can also make a quick test on a separate plate, if you feel a bit insecure in the beginning). When you're finished, use the cooking torch to brown the meringues carefully from one side, then turn the cake around and brown the other side.
Thank you Laura and Nora for this great cheesecake version!
The duo will be sharing more of their delicious tea-time offerings in the coming weeks so keep an eye out for more afternoon treats.
Visit all of our FvF Cooks episodes, from sweet to savory and everything in between. For our previous culinary series, try out our Breakfast and Lunch dishes.
Photography: Our Food Stories
Text:Emma Winterschladen