"As we crave new and exciting ways to cook and enjoy the food we love, we come up with some unexpected combinations and contrasts."
Nora Eisermann and Laura Muthesius, of Our Food Stories, join us once again for the second installment of our 'Afternoon Tea' series. This time they have created for us a delicious, gluten-free Poppy seed, Zucchini & Lemon curd cake – a recipe born out of a passion for organic, seasonal ingredients, and the fresh flavors of spring.
Whether they are perusing the organic food markets of Berlin or growing their own produce in the countryside, Nora and Laura tell me they are forever inspired by their surroundings. "We spend so much time together, we live together and we are together so an idea can happen at anytime of the day and just like that a new recipe is born!" Much like this cake, which was, they say, inspired by the humble carrot cake: "We just loved the juiciness that the carrots brought to the sponge and thought – why not zucchini?! It was really quite spontaneous."
This desire to experiment with different flavors, textures and styles is at the heart of Laura and Nora's cooking: "it is a creative process for us…we just love contrasts". Their aim when creating a new recipe is "not to necessarily use new ingredients, but rather try new combinations". And this they have done to perfection with this delicious cake: light yet juicy, both zesty and sweet – it's proof that opposites really do attract. Add to that the delicate crunch of poppy seeds and the tart citrusy edge of the lemons and you have the ultimate tea-time treat.
Ingredients (for a 18cm cake)
Cake Base

1

4 eggs

2

100g sugar

3

80g rice flour

4

50g cornstarch

5

1 tsp (tartar) baking powder

6

100g poppy seeds

7

150g zucchini (grated)

8

1 dash of salt

Lemon Curd

1

120ml lemon juice

2

zest of 3 organic lemons

3

60g butter

4

200g sugar

5

3 eggs

Frosting

1

300ml heavy cream

2

100g mascarpone

3

4 tbsp sugar

4

1/2 vanilla pod

5

100ml milk

6

1 pack agar-agar (you can also use another gelling agent)

Candied Lemon Slices
Method
Cake Base
Preheat oven to 175° fan function (or 180° top/bottom heat). Line the bottom of the springform pan with parchment paper and grease and flour the sides.Grate the zucchini roughly and set aside. Separate eggs and whisk the egg whites first with half of the sugar until stiff (start adding the sugar, when the egg whites are half stiff). Then whisk the remaining sugar with the egg yolks for 1-2 minutes, and then gently fold in the beaten egg whites in the egg yolks. Mix the flour, baking powder, salt and cornstarch in a separate bowl and sieve in three portions to the egg-mix. Make sure to stir in between and use a large spoon (or similar) – not a mixer! Fold in the poppy seeds and then the grated zucchini. Fill the dough into the springform pan and bake for 35 minutes at 175° fan function. Then switch off the oven, leave the cake base inside for a while, so it can cool down slowly. Take it out and leave it rest for 10 minutes before you take off the springform pan and the parchment paper. Let it cool down completely on a cooling rack. 
Divide the base by using a long (bread)knife and make a few marks at the sides, where you want to cut it. Then cut slowly along your marks.
Lemon Curd
Put the lemon juice, lemon zests, butter and sugar into a metal bowl and bring water to boil in a slightly larger pot – bring it to a light simmer. Place the metal bowl on the pot just above the simmering water. Stir the ingredients until the butter has melted. Whisk the eggs in a separate bowl and fill slowly into the metal bowl while stirring with a whisk. Let it cook for 10-15 minutes and stir constantly until you get a nice creamy consistency. Let it cool down and stir once a while. Then start filling your cake. Spread half the lemon curd on the cake bottom, then put the second layer of cake on top and spread the rest of the lemon curd on it, placing the last cake piece on top. Leave the cake in the fridge for 1 hour.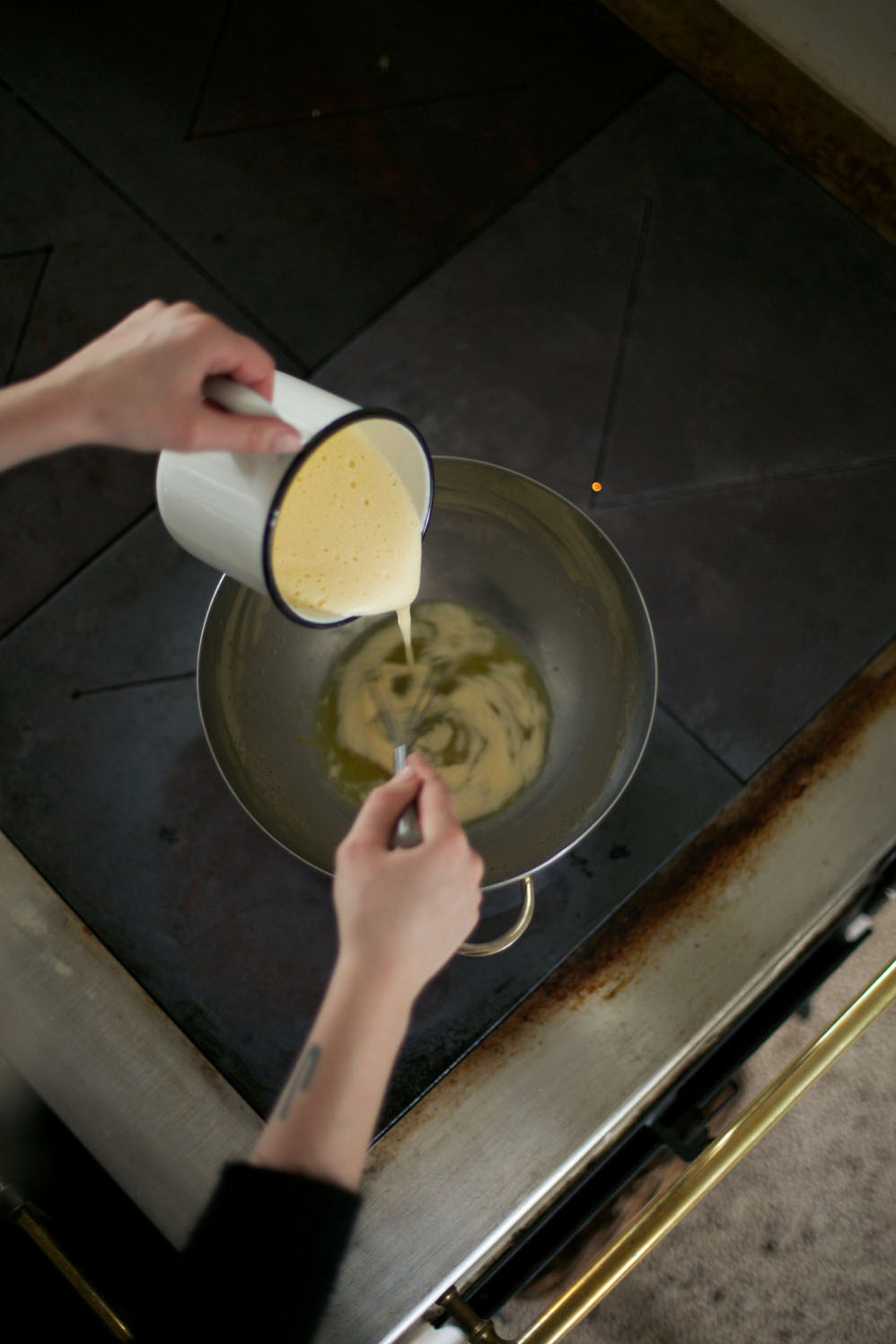 Frosting
Beat the heavy cream semi-stiff, then add the sugar and beat until stiff. Scrape the vanilla pod of its seeds and stir in the mascarpone. Mix the milk with the agar-agar in a small saucepan, bring to boil for one minute and then let cool for 2-3 minutes in a medium-sized bowl. Then stir in the vanilla-mascarpone. Fold in gently the whipped cream – it's easier to do it in 4-5 portions.Spread a first layer of cream at the sides and top of the cake (it works best with an angled spatula) and leave the cake in the fridge for 30 minutes, then do the finishing layer.
Candied Lemon Slices
Cut the lemons into thin slices – between 2-5mm thick. Boil them in 750ml water for 5 minutes, then dry them with kitchen paper. Leave 250ml of the lemon water in the saucepan, add 5 tbsp sugar and bring to boil. When the syrup has a nice smooth consistency, dip every slice in it for a short while and dry again with kitchen paper. Then place the slices on a baking sheet covered with baking parchment. Bake the lemon slices at 190° for 5-10 minutes until they turn brown.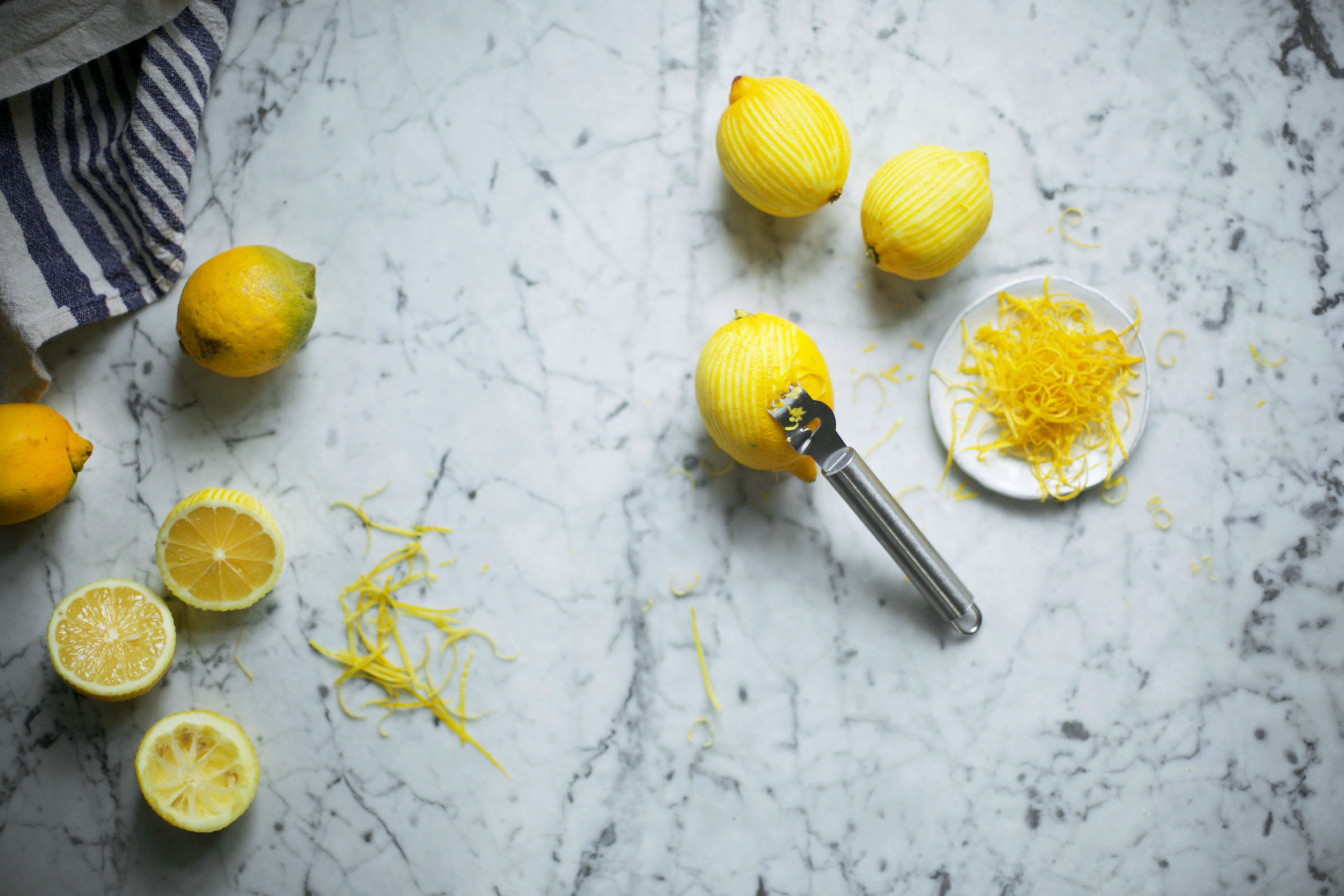 Leave them to cool and then, finally, you can decorate your cake with them. Add on some lemon zest, if you like.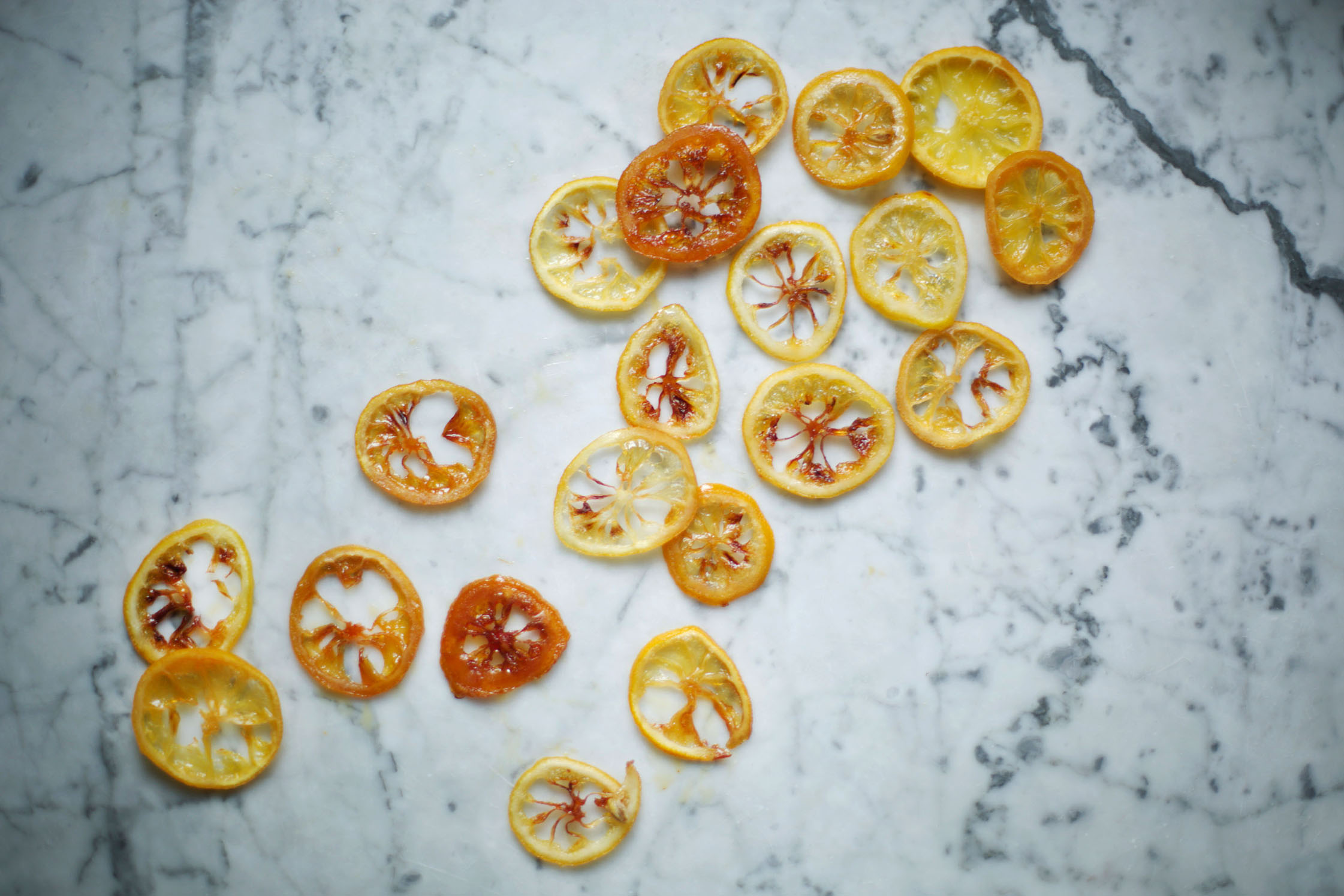 Thank you Laura and Nora for this delicious zesty cake, we can't wait to have it with our tea!
Afternoon Tea is a series of four recipes – have a look at the previous one, a gluten-free Berry Goat Cheese Cheesecake. Visit all of our FvF Cooks episodes, from sweet to savory and everything in between. For our previous culinary series, try out our Breakfast and Lunch dishes.
Photography: Our Food Stories
Text:Emma Winterschladen