Up until very recently, food in Berlin was considered functional. Something you did after work or before partying, depending on your lifestyle. It wasn't a part of the hedonistic weekends that visitors flock to the city for and no one cared to spend money on it.
Restaurants promising 'Sushi, Pizza, and more' lined the streets and you could consider yourself lucky if your döner didn't contain mystery meat. A lot has changed over the past decade though, and even with rising rents, Berlin remains incredibly cheap compared to most metropolitan cities. This has lead to an influx of eager restaurateurs who are opening innovative concepts, which they couldn't afford to do in say, New York, London, Amsterdam, or Tel Aviv. It's an incredibly rare feat, to open a place without feeling like you owe investors huge sums and without the need to compromise on your concept—something Ben Zviel and Samina Raza of Mrs. Robinson's restaurant knows only too well. Berlin is the only place that could offer him this type of freedom. The continuously expanding population of expats and international tourists are willing to pay higher prices for their dinners, which has allowed a young, innovative food scene to flourish.
Dissecting the Berlin Food Scene: Gastronomic newcomer Mrs. Robinson's engages our panel discussion group. Listen Here:
This trend was the premise for Freunde von Freunden's second Loosen Tongues event, which certainly lived up to its name. To kick off the evening, proprietors of Mrs. Robinson's Samina Raza and Ben Zviel served a delectable menu to an intimate crowd that included fermented chilli butter on freshly baked sourdough, spicy wing fried oysters with devilled eggs, juicy sweetbread and beef tartare sandwiches with lashings of shiso bearnaise, and ended with an incredible amazake ice cream blanketed in a tantalisingly sweet and salty caramelized soy sauce. A prime example of the innovation that's happening right now in the kitchens of Berlin. A specially curated selection of natural wines by Holger Schwarz of Viniculture rounded off the menu. While dinner guests enjoyed their last sips of wine, friends and family of Freunde von Freunden crowded the Friends Space, enjoying a custom cocktail menu provided by this year's Diageo World Class Bartender Sven Goller.
Sven's focus is firmly set on sustainability and the menu for the night was designed accordingly. Wasteland, a cocktail that won him the World Class title, is made with vinegar, Jinzu gin, rosemary, honey, algae, and a touch of sea salt. The idea was to use products that are readily available but remain underrepresented in the culinary and bar world. Honey has been used in Germany for hundreds of years and it adds a nice hint of sweetness to the drink.
"A restaurant is a hedonistic idea as is, it is neither a sustainable idea, nor is it necessary for survival. Sustainability as a concept is very popular but restaurants still exist to be enjoyed."

Ben Zviel, Mrs Robinson's
Hosted by Berlin's foremost coffee expert, World Champion Cup Taster and Director of the Berlin Coffee Festival Cory Andreen, the night's panel discussed the shifting gastronomic landscape of the German capital. Panelists included Markus Shimizu of mimi ferments, Billy Wagner of Nobelhart & Schmutzig, as well as Samina Raza, Ben Zviel, and Sven Goller.
Billy Wagner, ever the contrarian, rejects the idea that Berliners are open-minded and pointed out the difference between those who were born and raised in the city, and the thousands of people who move here every year. He's right to do so, considering that most of the exciting and innovative things happening in Berlin's gastro scene are created by people who moved here from global metropolises and missed the food from back home. It's a sad but true fact that it is rare to see an innovative restaurant being opened by a Berliner.
Cory moved the conversation further, pointing out the irony that people who rely on government assistance can easily go to Aldi and buy a pineapple from South America, but can't afford to go to many of the restaurants that preach the concept of sustainability, using local vegetables, much like Nobelhart & Schmutzig. The vast majority of Berlin residents simply cannot afford to eat at these restaurants. "What we do is the tip of the iceberg and it will break down very easily," explains Billy Wagner. "Part of our work is to inspire other chefs and to show that working 'brutal lokal' is easy and that it works. It's cool to know where your meat, vegetables, and seafood comes from. Our goal is to build a different system, so we don't have to rely on huge, wholesale conglomerates." Ben chimed in, stating that restaurants per se are a decadent experience: "A restaurant is a hedonistic idea as is, it is neither a sustainable idea, nor is it necessary for survival. Sustainability as a concept is very popular but restaurants still exist to be enjoyed. The future of food does not depend on restaurants." Billy agreed, adding that he and his team try to work as sustainably as possible: from offering sustainable wages to reducing their trash. "But at the end of the night it's about getting fucked up and having a good time."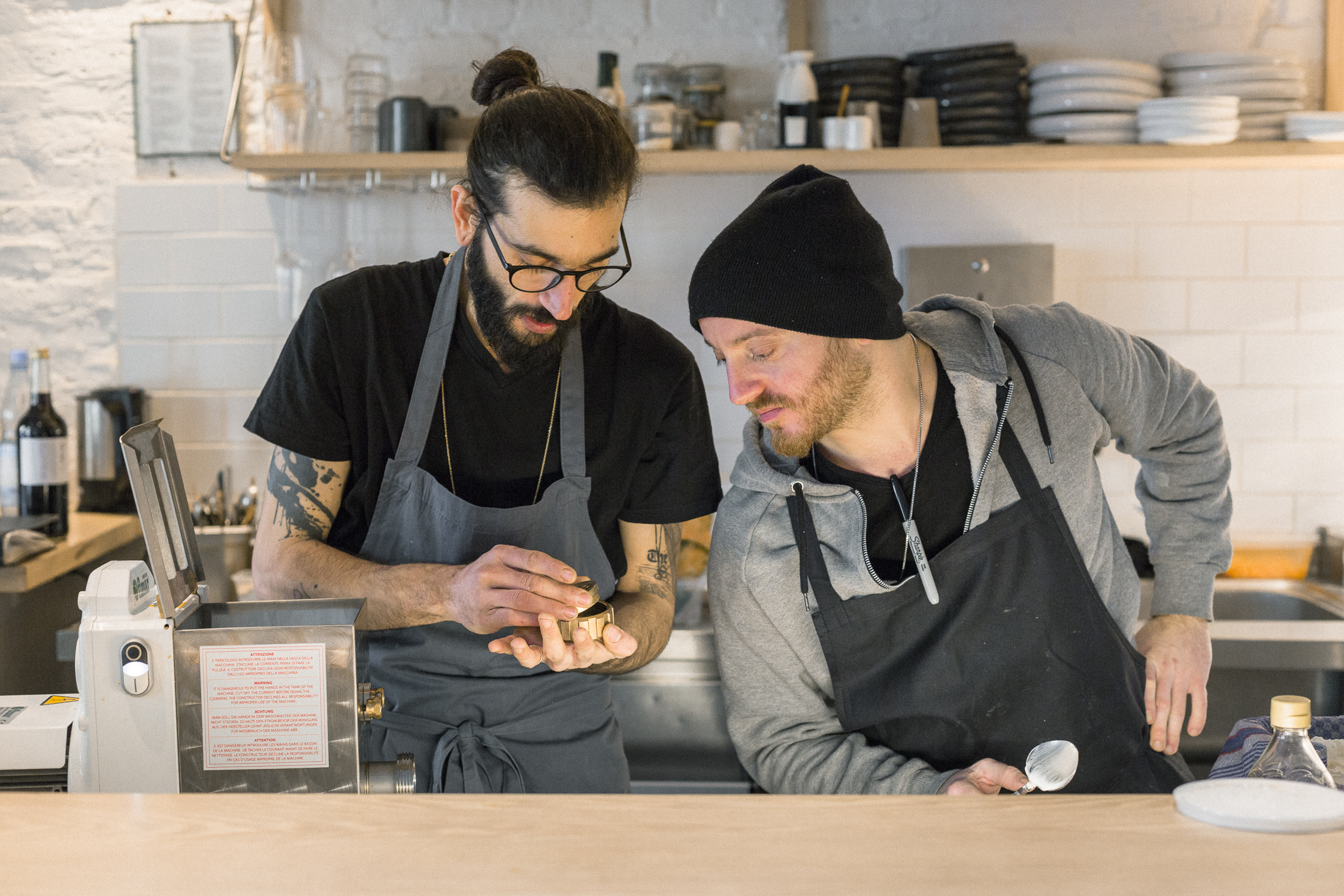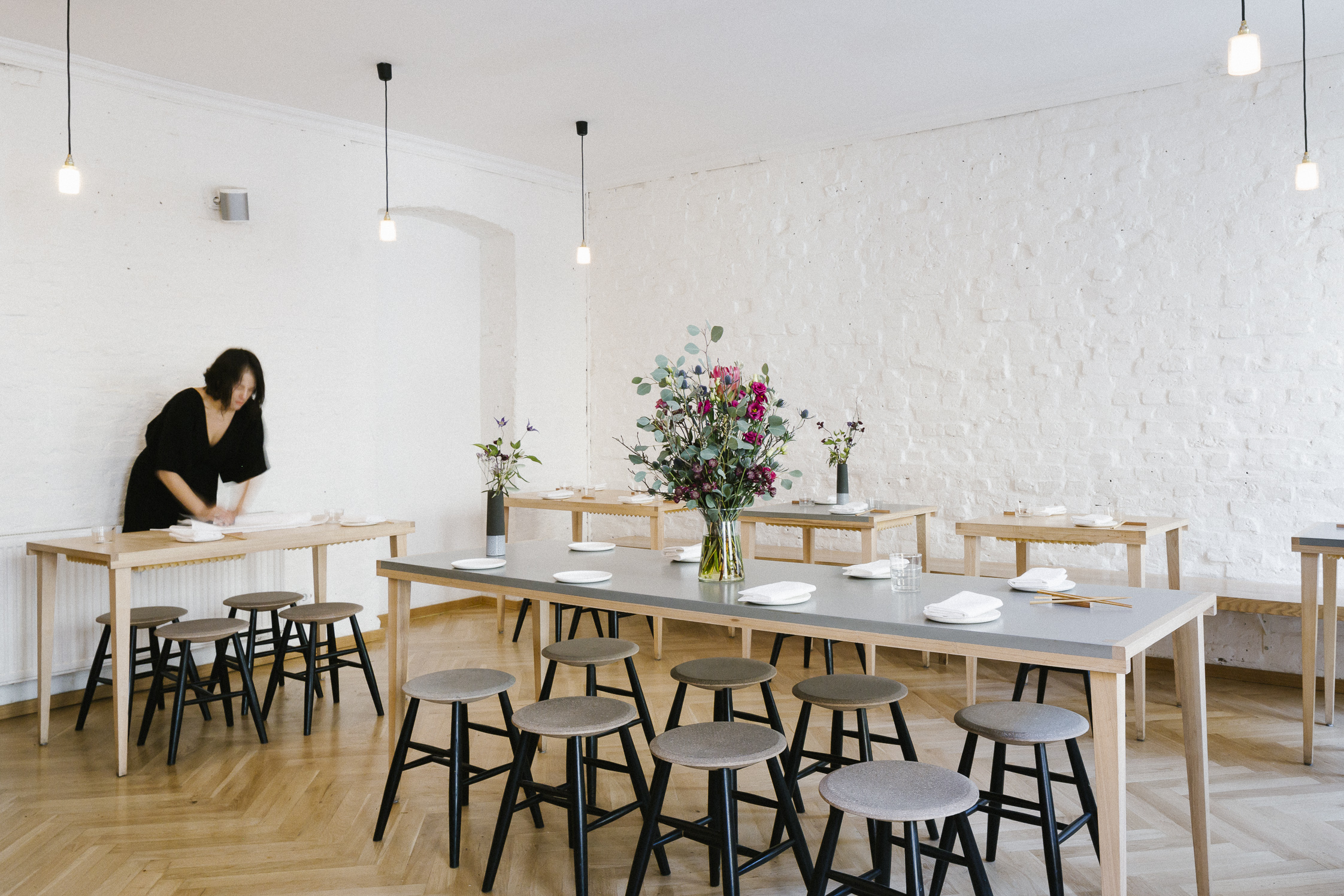 "Every once in a while we invite other chefs to join us for workshops but we don't show dishes, we show ideas or techniques."

Billy Wagner, Nobelhart & Schmutzig
Sven is conscious about sustainability behind the bar and represents a larger movement of conscious bartenders. He works with local farmers and orchard meadows, using their fruit to produce apple juice and vinegar. He believes that bartenders take their cue from the kitchen, adapting techniques that were first tried and tested there. He's not alone in this, rather he represents bars all over Germany. Bars like the Berlin-based Velvet have started using Verjus (a highly acidic juice made from any type of sour fruit) instead of lemon, cutting down the need to import citrus from far away. They're also looking to Scandinavia for inspiration, making use of what can be found in front of their doorstep, like the often forgotten sorrel herb, instead of exotic alternatives.
Over the last few years, customers have come to demand more from Berlin's food scene and a perfect example of this is Markus Shimizu's business. He's been fermenting for over 14 years but his business is barely a year old. Markus uses ancient techniques to produce products like soy sauce, miso, natto, and koji. What began as a hobby turned into a legitimate business when he started hosting workshops, which proved to be incredibly popular. Participants were not only eager to learn about his work, they also wanted to buy his products. Markus' ferments are now used in some of Berlin's best restaurants, including Mrs. Robinson's, Nobelhart & Schmutzig, and Lode & Stijn.
What's special about Berlin is its sense of community. "We don't want to fight with other restaurants. We want to involve them and see what they're creating," says Billy. "Every once in a while we invite other chefs to join us for workshops but we don't show dishes, we show ideas or techniques". This creates a friendly, organic atmosphere. It also leads to the definition of a region. Together, chefs develop a style, almost a philosophy, which then becomes synonymous with the city. This is perfectly exemplified in "Die Gemeinschaft", a group of Berlin-based restaurateurs who aim to form a new and communal approach to how we buy food and work in the kitchen. They want to challenge the understanding of what cuisine represents and establish a new German dining culture.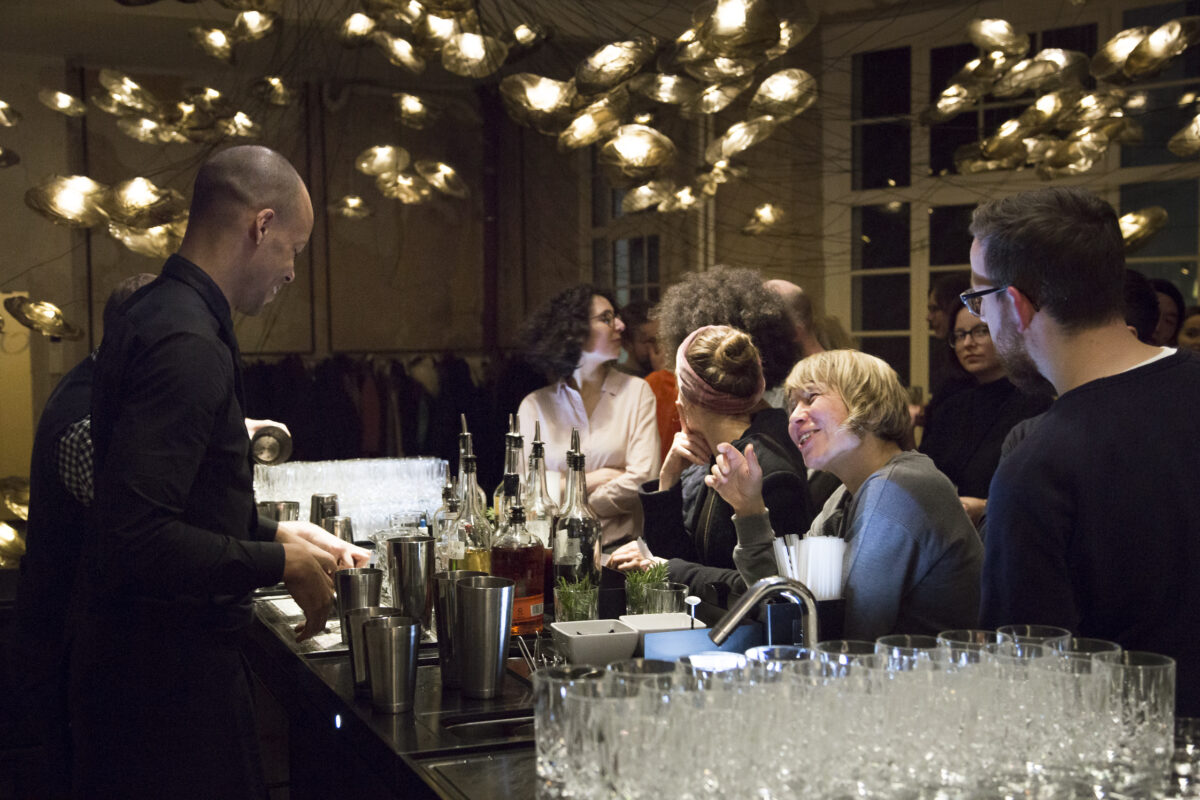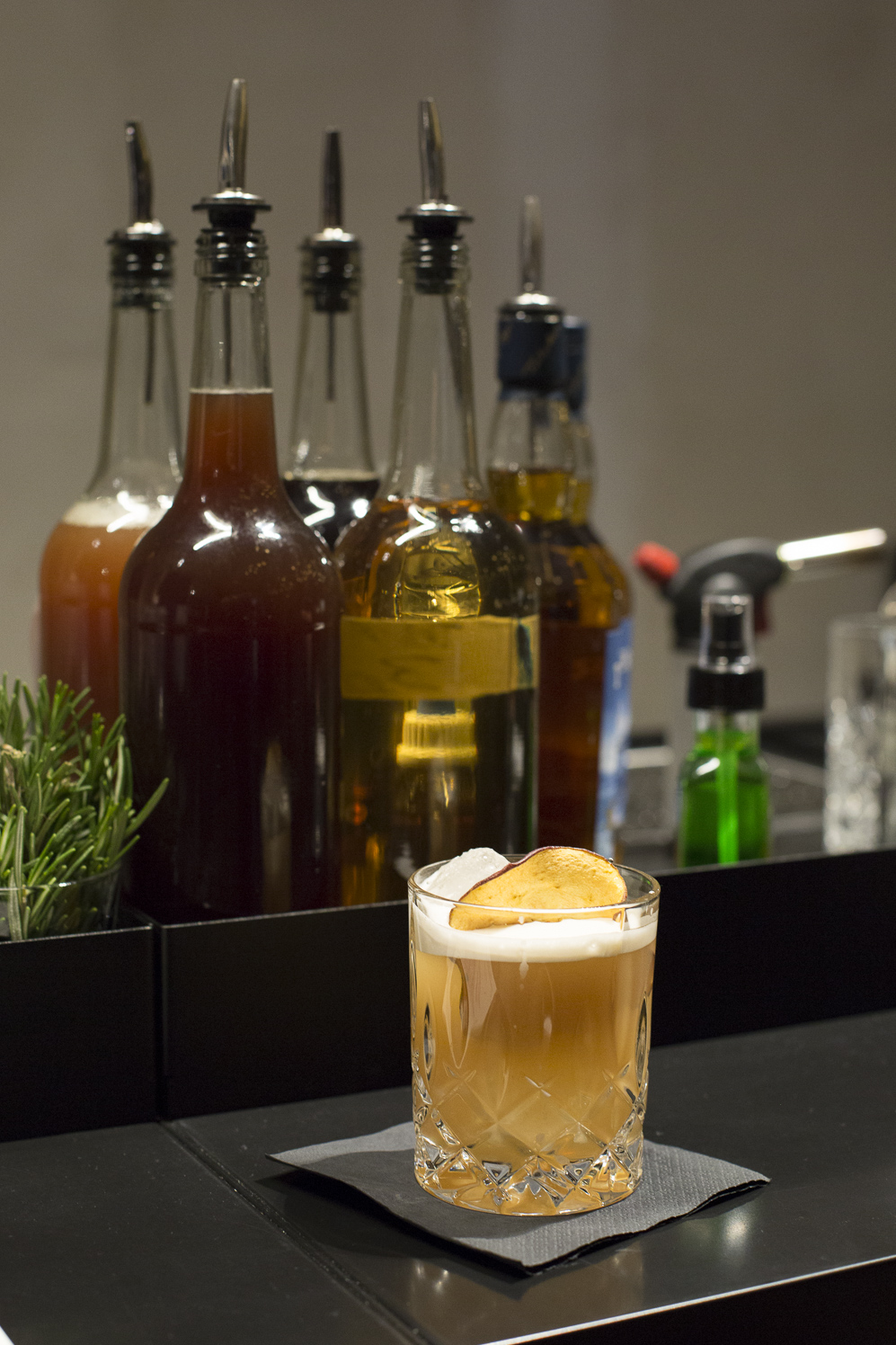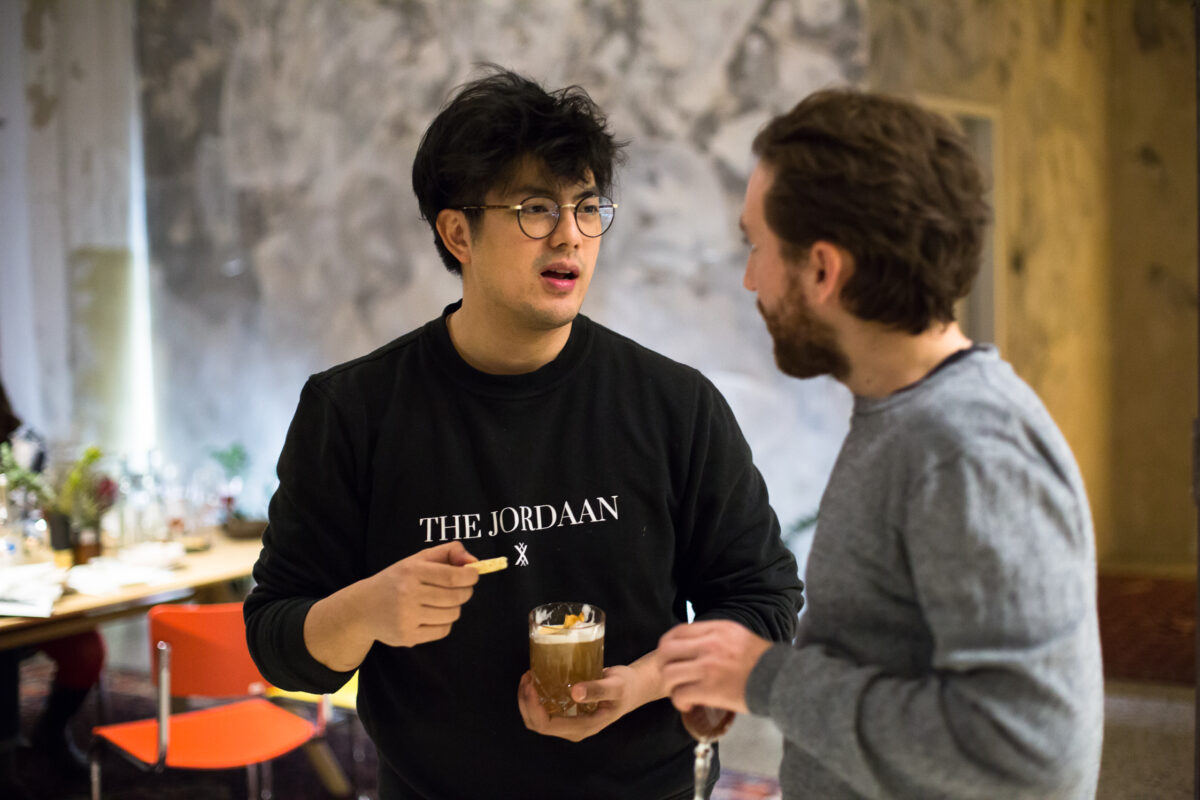 Wasteland Cocktail
Ingredients (for 2 people)
1

6cl Jinzu gin

2

1cl Rice vinegar

3

1,5cl Raspberry vinegar

4

1 Dried Nori seaweed

5

2 Drops of sea salt solution*

6

3cl Rosemary honey syrup **

7

Decoration: Flambéed rosemary twig

8

To serve: Glass tumbler or ceramic pot

Method: Combine all ingredients in a cocktail shaker with ice cubes. Shake for about 12 seconds and strain with a fine strainer into a glass filled with fresh ice. Garnish with rosemary twig and burn it with a blow torch for two seconds. *Sea Salt Solution: Combine 100ml of water and 10g of sea salt. Stir until dissolved. **Rosemary Honey: Blanch 100g rosemary for 45 seconds in boiling water and plunge into ice water immediately. Pat it dry and remove the stems. Combine with 500g honey and 250ml warm water in a blender. Blend until everything is smooth and strain into a clean bottle.
"Once they've enjoyed something good, it will be harder and harder for people to go back to crappy food."

Markus Shimizu, mimi ferments
Berlin's chefs need to be willing to adapt their cuisine, be that Thai, modern bistro, or classic German, to their current location. Focusing on the strengths of the region, rather than what they're lacking, is the key to moving forward. Local ingredients interpreted in an interesting way, "fusion" in the classic sense of the word, not the overwrought one.
Markus believes not in educating people, but in setting an example and showcasing good produce. "Once they've enjoyed something good, it will be harder and harder for people to go back to crappy food." The demand for good, innovative food concepts exists. But customers need to ask for even more. Because the modern Berlin food scene is still so new, we don't have a taste barometer for comparison. Customers need to question everything, from produce quality to technique employed, and figure out if new concepts are simply 'new' or actually good. Restaurants who serve discerning customers with well-equipped palates and perhaps even some constructive criticism, will end up consistently striving to be better. We need to collectively hold our restaurants to a higher standard. Which is basically homework for the hungry Berliner and visitor alike, go and try as much as you can. Remain inquisitive, always.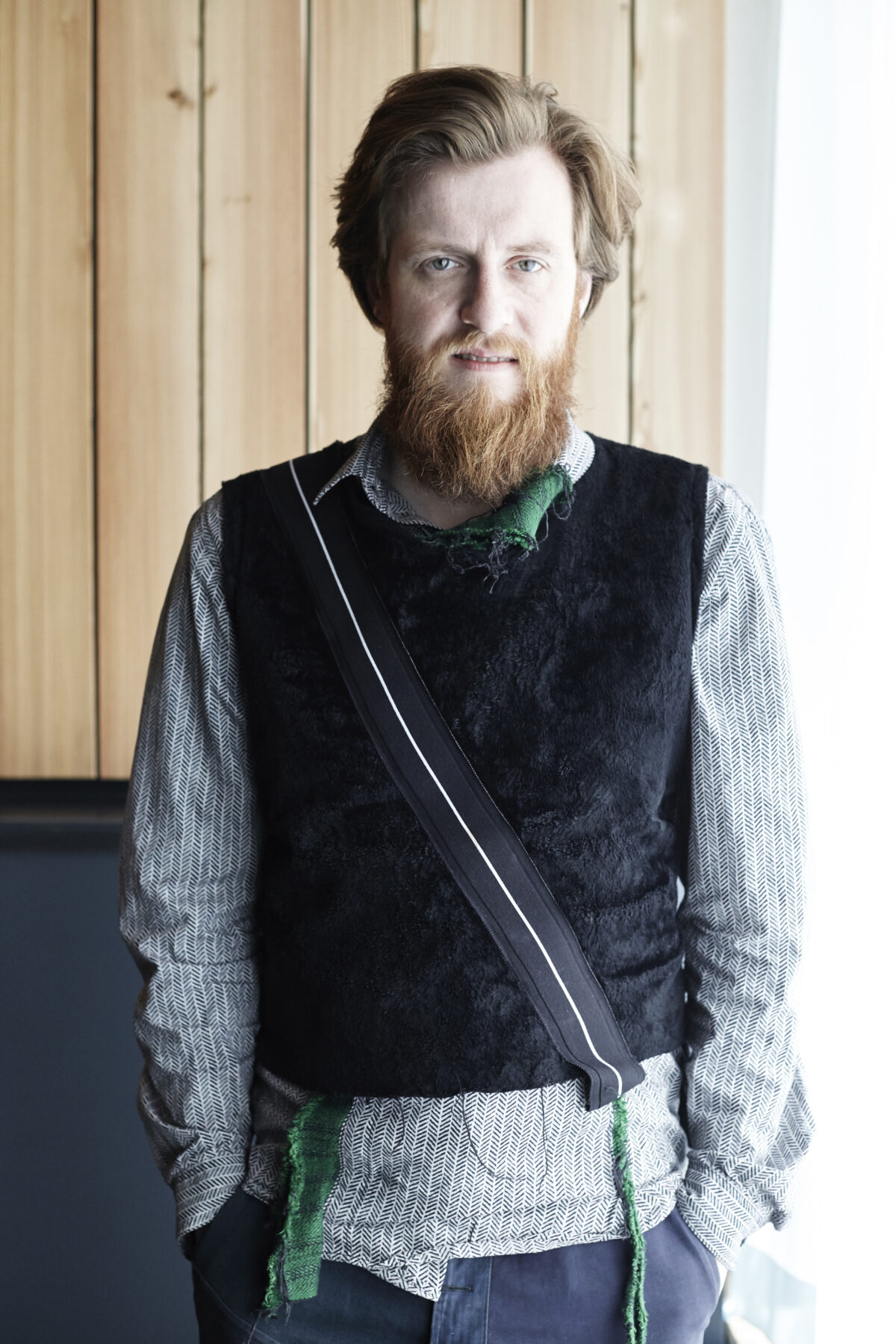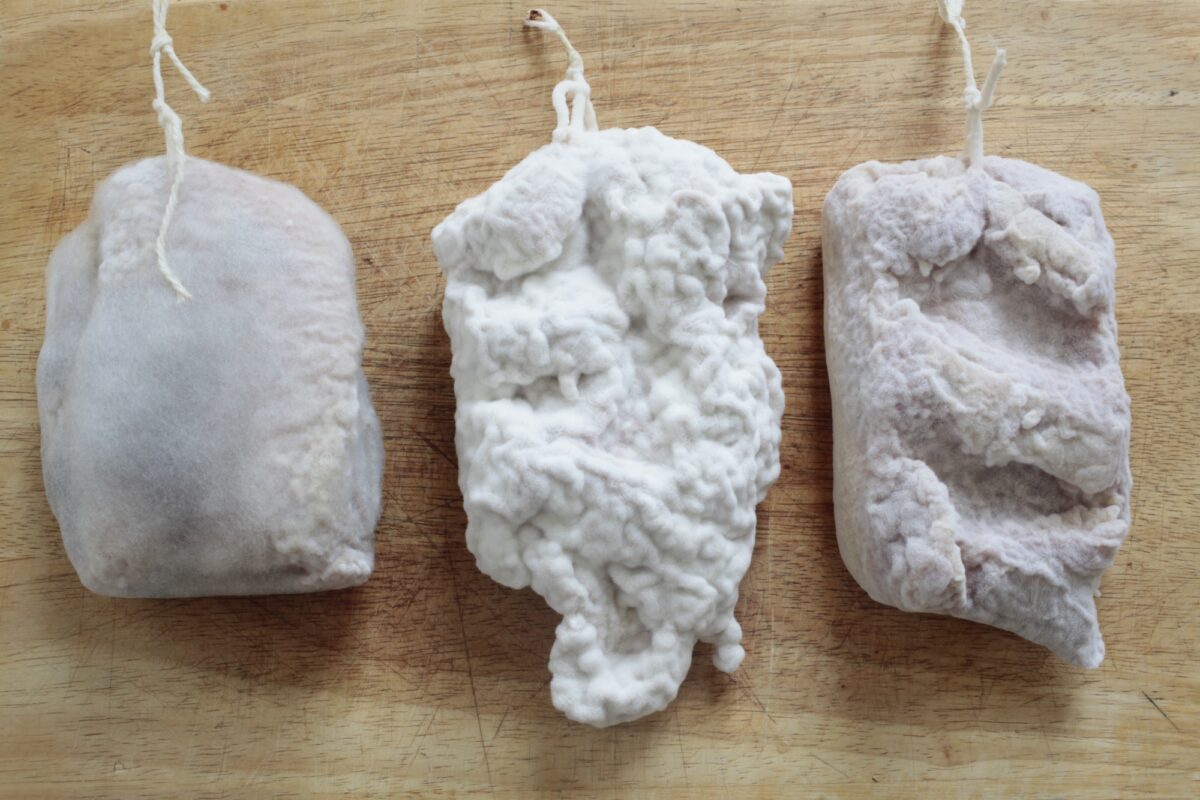 If you'd like to learn more about the group of restaurateurs aiming to establish a new German dining culture, head to the Die Gemeinshaft website. Mrs Robinson's serve an ever changing menu that fuses international technique & flavours with the best European ingredients. Whet your appetite with their insights into the daily life of their Prenzlauer Berg restaurant on their Instagram account. Learn more about Sven Goller through his World Class profile and if you'd like to experience a sustainable approach to the bar, head to velvet.
FvF is always keen to showcase our creative community and no better way than to welcome them into our own Friends Space. The regular Loosen Tongues Bar Night will introduce a range of creatives, from artists and authors to designers and filmmakers. Each will partake in the evening by presenting new insights to our community, in collaboration with Diageo World Class.
See more from our Loosen Tongues events and discover the ever-expanding range of events hosted in the FvF Friends Space.
Text: Liv Fleischhacker
Photography: Caroline Prange