Known for conducting meticulous research into sustainable design solutions, Swiss accessories brand QWSTION has developed a new fabric based on Abacá, a species of banana plant that's a major source of income for the Philippines.
People from all around the island arrive at the warehouse with their scooters and sidecars packed full of dried plant fiber. Some just bring a handful, while others have backpacks filled with the raw material that drives this corner of the world: processed strips of the Abacá plant. The location in question is Virac, the capital of Catanduanes, an island situated in the Bicol region of the Philippines. Observing the scenery at the warehouse is Marianne Schoch, supply chain manager of Zurich-based bag label QWSTION.
Schoch was hired in late 2017 to investigate every aspect of the supply chain for QWSTION's newest fabric, which they've named Bananatex. Abacá, or, fittingly in Latin, Musa textilis, is at the very core of this fabric, and this warehouse in the Capilhan ward of Virac is at the very core of Peter Cua's business. A local politician and entrepreneur, whose family emigrated to the island from China in the 1940s, fifty-two-year-old Cua was vital in helping Schoch to connect the dots on the ground.
According to news outlet Philstar Global, the Bicol region produces around 40 percent of the 130 million dollar Abacá trade. Ninety percent of that comes from Catanduanes. Traditionally, the plant fiber has been used for items such as tea bags, ropes, and bank notes, but three years ago, QWSTION became interested in using the durable fiber to create fabric for a range of their products. Why Abacá? The answer is simple: unlike the plastic-based fabrics that dominate the bag market, the Abaca plant is highly sustainable.
On her second visit in 2018, Schoch returned with a film team to document the Bananatex supply chain, which literally meant going into the jungle. "We went to the heart of the heart of the Abacá production there," she says. In villages like Paraiso and Summit, they went right to the source and visited farmers to find out about their daily work. "Most people work there with their families and cultivate roughly three hectares per plantation" Schoch explains. The Abacá plant, in its natural cycle, takes around one year to grow and then, the farmers must cut, peel, and separate its skin into fibers that are then hung out to dry for three days.
"We aimed to create a pattern that is super simple and results in zero wastage when cutting the parts."

Christian Kaegi
What makes Musa textilis so special is that it's a self-sustaining crop. The plant is grown in areas that have been previously been used for harmful palm oil plantations, and its roots hold together soil that was once eroded from the earlier use of the land. Every stem produces up to four more stems, and once the grown plant dies, it fertilizes the ground and provides nutrition for fresh plants. "QWSTION's mission with Abacá made us even more aware of the importance of its sustainability. It plays a big role in our environment as it assures the farmers good quality and steady supplies of Abacá in the future," says Peter Cua. It's something that's vital to him, too, since a good portion of the 14.000 Abacá farmers in Catanduanes sell to his factory.
From the jungle, these processed fibers are then taken to Cua's warehouse in Virac, where they're pressed into layers, formed into packages, and then shipped to Taiwan. There, the basic material is soaked, processed to paper and spun into the yarn that forms the basis of the Bananatex fabric. Manufacturing takes place at the factory of QWSTION's long-standing partners Ms. Tanny Wan and Mr. Chiwai Lai in Huizhou, northeast of Hong Kong in the south of China.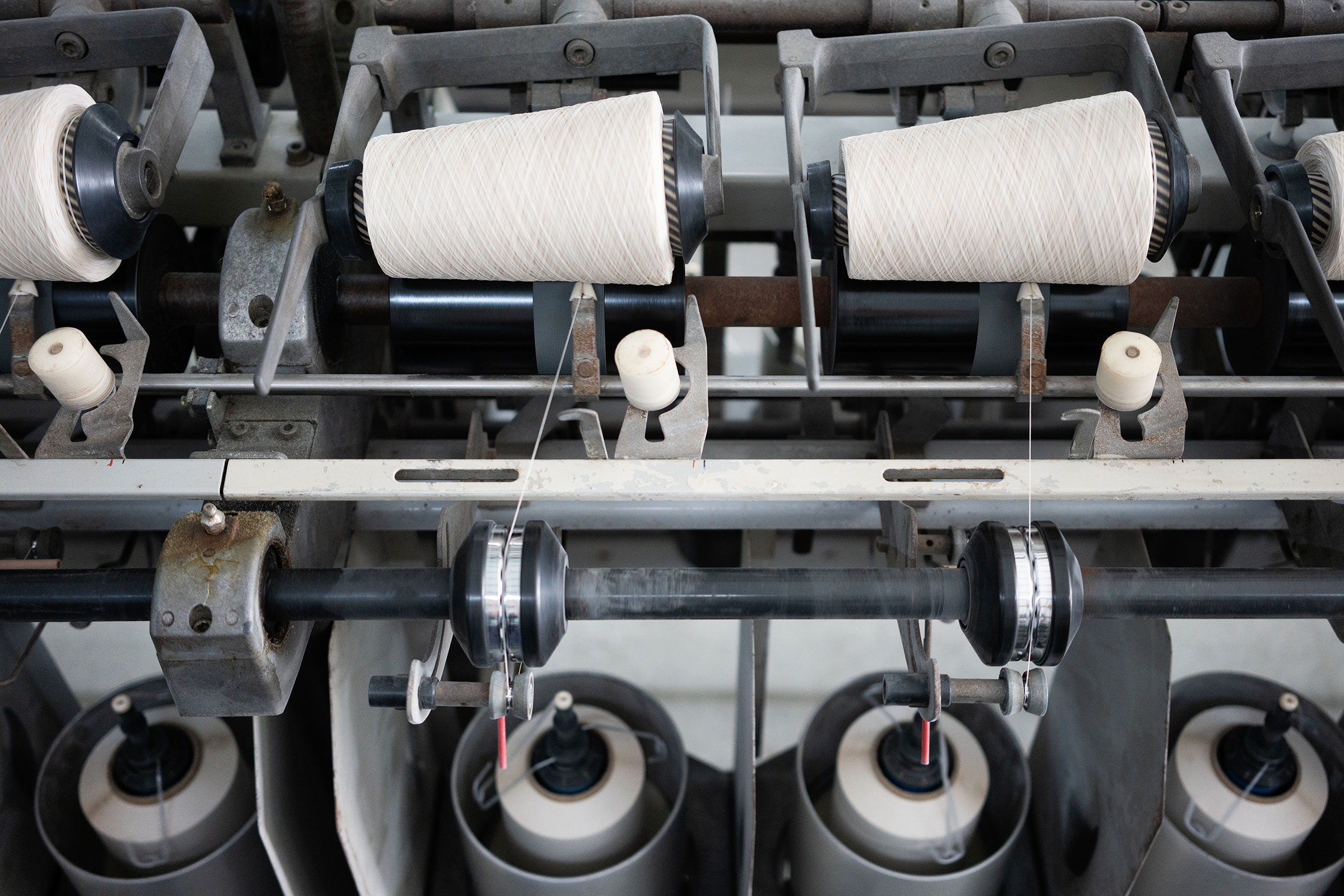 "We went to the heart of the heart of the Abacá production."

Marianne Schoch
"We developed a type of construction that was straightforward to keep the required amount of workmanship low without compromising on quality."
QWSTION's focus on creating sustainable fabrics for their products—something they have been working on since the beginning of the brand—comes at a cost. There is no industrial farming involved in the cultivation of Abacá, making Bananatex more expensive to produce in comparison to other fabrics, which must then be factored into the design manufacturing process. "We aimed to create a pattern that is super simple and results in zero wastage when cutting the parts," explains Christian Kaegi, product designer and co-founder of QWSTION, "and then we developed a type of construction that was straightforward to keep the required amount of workmanship low without compromising on quality." The partners in China embarked on that journey, and according to Schoch, "it was tough as there was a tight deadline for everyone to finish the products by October 2018, for QWSTION's ten year anniversary." Any delay in the production process was dealt with effectively, which is a process that only functioned because of their partnership with Ms. Wan and Mr. Lai. "They are much more to us than just service providers," Schoch says.
Educated as a dressmaker, textile designer, and product manager with experience in working with partners in China, Schoch knows how tough it can be to handle expensive materials. "At the factory, they formed two extra lines to process the white fabric," she says pointing to how difficult it can be to keep the fabric clean in the process. Despite these issues, QWSTION and their associates still managed to produce a roll pack and a waist bag using white Bananatex.
From Paraiso in the center of Catanduanes through many pathways and hands, via Taiwan and China, QWSTION tells the story of a material that might just be a small breakthrough in sustainable design. By understanding that conscious consumers will invest in a narrative, QWSTION has created a philosophy rather than just a product. But it doesn't stop there, together with their partners, they aim to develop and push the fabric even further. As a small company, they're able to move dynamically and make the materials they research and produce accessible to others. So, in the future, we might just see Bananatex popping up in different contexts, with different brands, in different products.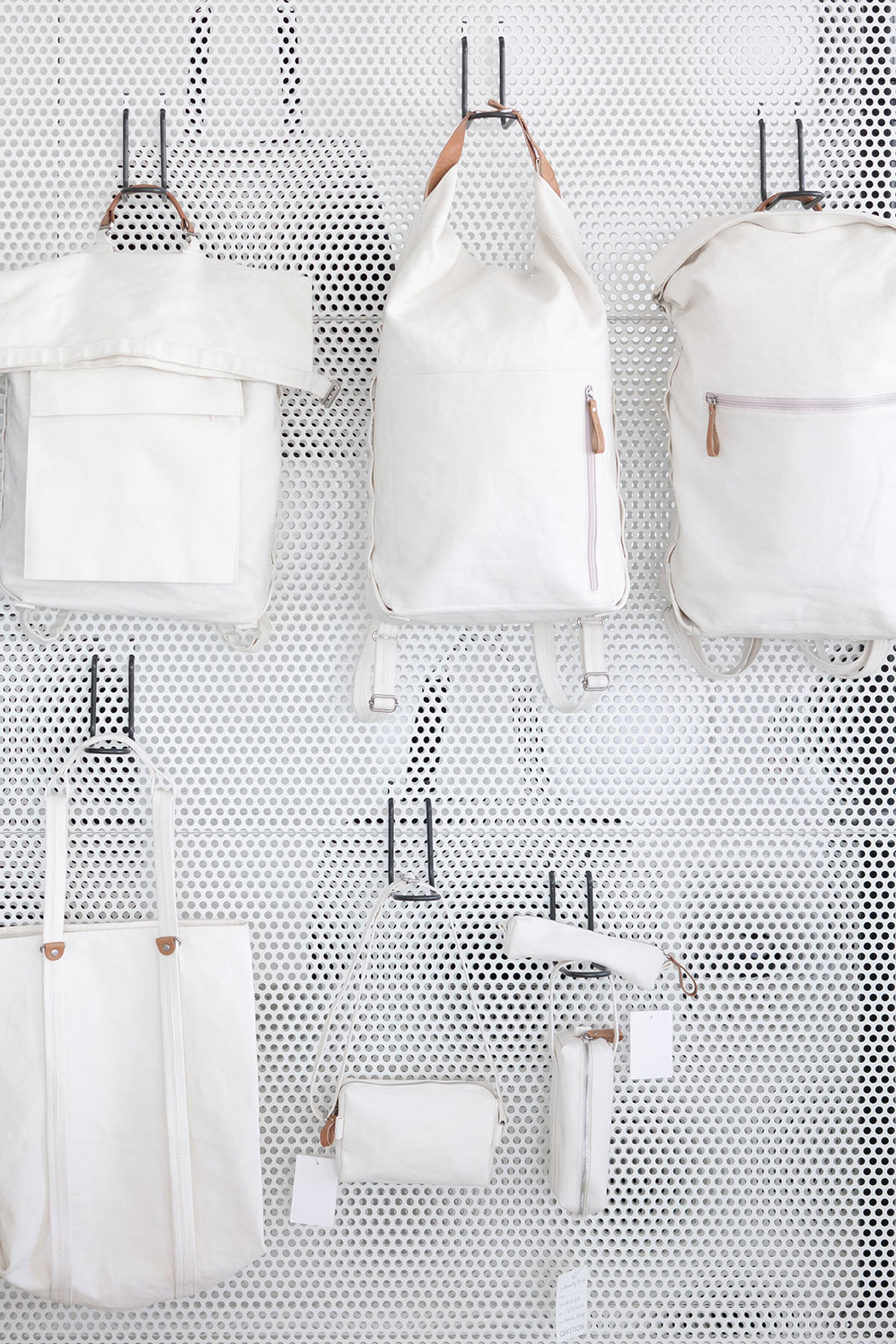 This story is part of the collaboration between QWSTION and Freunde von Freunden. We share the values of and the interest in sustainable design with longevity. Through this series with QWSTION, we delve into understanding the impacts that our aesthetic choices can have on our environment. Explore more about the company in our portrait and essays about their textile development as well as QWSTION's retail concept.
Text: Fabian Ebeling