In a Nutshell: Five page turners with [reads] founders Rachael Yaeger and Emma Stevenson
By curating a monthly selection of two books sent to readers' doors, [reads] asks you to read out of your comfort zone.
Immersing into the stories of characters living on a printed page nurture a gratifying feeling of getting in touch with your inner self. "It's taking time and prioritizing having an experience. That's something everyone craves. Human beings have to evolve and keep growing," says Rachael Yaeger who created, along with Emma Stevenson, the online book subscription service [reads]. "If anything, books make one more empathetic and able to really connect, to encourage having conversations," she adds.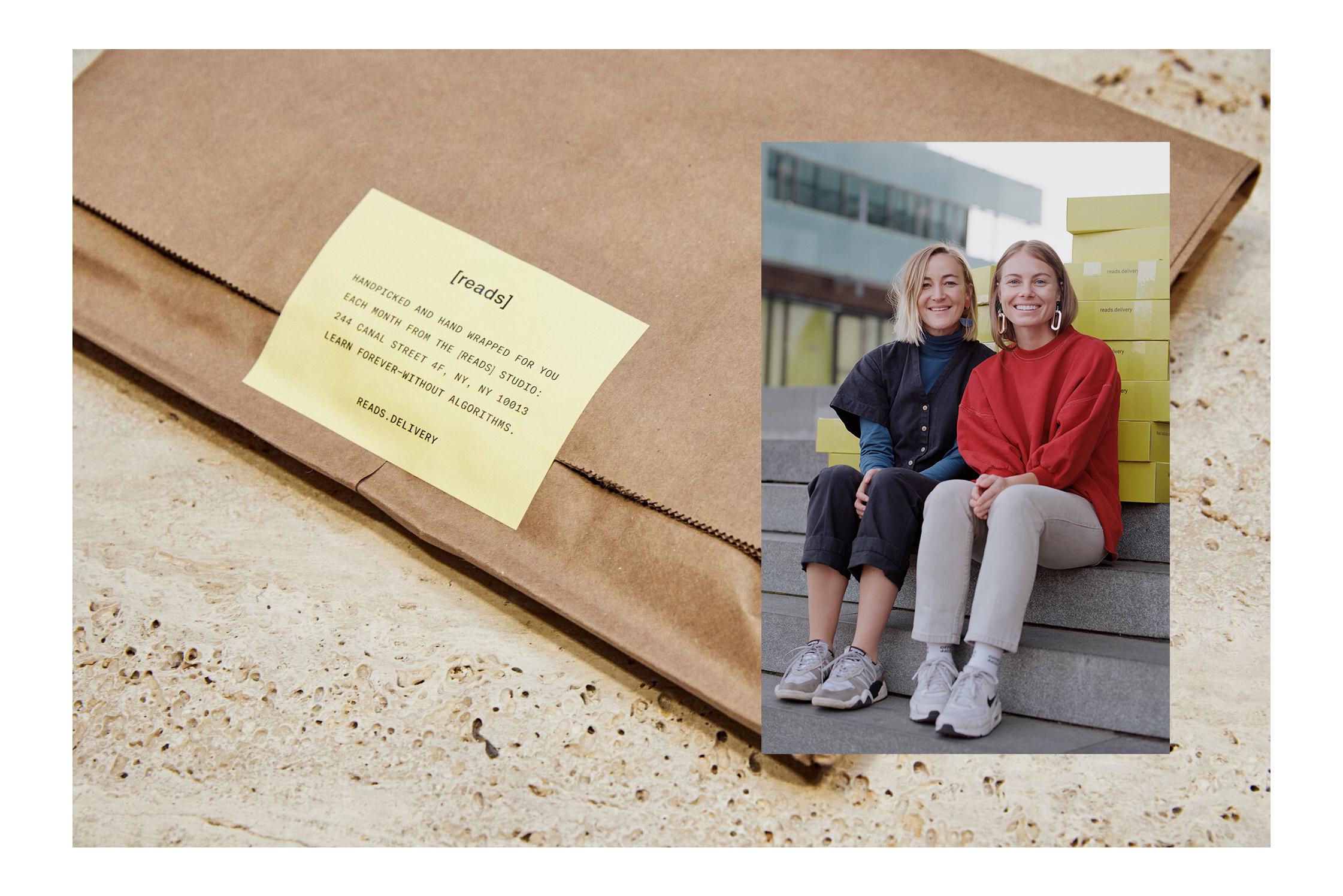 "Books always kept me growing and learning, they became my community and my future."
– Rachael Yaeger
A subscription service by name, at its core, [reads] is about curation. Each month, Yaeger and her business partner Stevenson invite a different curator to pick two titles to send to their subscribers. By picking diverse curators—from experts to explorers, scientists to humanitarians—[reads] is built on the idea that learning should be universal and lifelong. Yaeger and Stevenson also see their mission as mining their curators' personal libraries as a way to grow their customer's book collections. "Our subscribers are library builders and they are readers," says Stevenson. "They receive books that you don't normally have access to and a level of curation you wouldn't normally find," adds Yaeger.
Long-time friends before becoming business partners, the idea for [reads] came from the realization that the duo read very differently—Stevenson loves non-fiction, poetry, and essays; while Yaeger was into fiction. They started swapping (Stevenson: "I realized that there is this whole genre that I never pick up at the bookstore. I just never found the right one to read") and eventually put their idea online to see. Yaeger stresses that it's also about trust: "If a friend gives you something you know that their intention is so amazing that you have to go and read it. We really wanted to build this business around the excitement of reading out of your comfort zone and the trust that you have in your friends' taste. With the idea of a human curation, there is meaning behind it; it's not just, like, an algorithm that puts it together."
[reads] select their top five current page turners
Odd Woman and the City by Vivian Gornick
We fell in love with Vivian Gornick's writing and her portrayal of humanity and New York City. The book talks about the ways we observe and interact with ourselves, and each other. Read the first paragraph on page 100 to see what we mean. This novel made us want to have more conversations and see strangers as 'people.'
The Form of the Book Book by Sara De Bondt
We've always appreciated the physical nature of books—it's why we built our business. As we return back to more analog experiences and tactile objects we've found that books are not going anywhere, they are the future! This book goes into depth on the timeless nature of what it means to be bound between covers, saved and preserved as information that cannot be altered, edited, and transformed as it can be in a digital world.
It Doesn't Have to Be Crazy at Work by Jason Fried
The most important 'lesson' we have learned late into our professional career was the discovery, at some point, that work doesn't need to be crazy and we're not more successful because we stay late, pull all-nighters, and happen to find ourselves in a wormhole of excessive busyness. It is important as a working professional to align with people who have a similar vector of taste and world views, and Jason Fried is one of those for us. This book was a great validation and empowering practical tool for us as we grow.
End of Eddy by Edouard Lewis
The End of Eddy, written by Edouard Lewis at age 21, is a coming of age story that details the experience of being a child and being gay in a poor working class French community. This book moves you to reflect on
your own childhood experiences and how that impacts on the person you are today.
[reads] is a monthly subscription service providing readers with two books that range from fiction to nonfiction. For 2019, the [reads] founders have curated a theme for each month of the year, centering readers on a topic, and providing a collection of books as a starter kit. [reads] collections for the year include: March: Earth; April: Privacy; May: Tribe; June: Ontology of Things; July: Mysticism; August: Ephemera; September: Nostalgia; October, Vessels, November: Survivalism; December: The Great Unknown.
Besides running the online business, co-founders Rachael Yager and Emma Stevenson regularly host events to bring readers together in intimate settings. To stay in the loop, follow them on Instagram.
Text: Ann-Christin Schubert
Photography: Alexandra Madden