Integrating light is at the forefront of architect Judith Haase's interdisciplinary practice.
Judith Haase is sitting in the laid-back, understated far office in the Gonzalez Haase Atelier Architecture Studio. Over her shoulder, weighty-looking books line a utilitarian shelving construct. Manila folders with top secret, unpublishable prospective projects rest on the table in front of her. Somewhat disarmingly, a half-finished oil painting, bright in character and color sits off to the side atop another surface crafted from resolutely functional chipboard. It is, Haase earlier explained, the work of her teenage daughter, who has grown up used to the crossover between creative workspaces and creative home-life. She smiles and answers the question she was just asked with a resolute: "No. Everything we do is thought-through. There is no accident."
The question concerned lighting design, for which Haase and co-founding business partner Pierre Jorge Gonzalez' "studio for architecture, scenography and lighting" has gained considerable renown. Specifically, whether she could remember an instance where beautiful light had appeared unexpectedly in a space they had designed. It was a naive question, one built on the tendency to regard light as something that exists at the more magical end of the design spectrum. Of course the truth is that, in the work of architects and designers such as Haase, light is akin to any other material—like wood, like marble, like glass—to be harnessed and manipulated with expert precision, in order to achieve a certain result.
"It felt very much like we were in the right place at the right time."
"The very first thing we do [when starting a new project] is look at the space and think, where is the natural light coming from? Then we normally take everything off, leaving just the bones of the structure," explains Haase. "We clean it all up and see what's there. Then we can start to integrate the light." That integration involves meticulous thought and painstakingly-precise processes. They take exact measurements from everything that might impact the movement of light through the space, from every support beam to every little jump in an uneven surface or step. They then fashion a 3D model of the proposed designs that shows how light will manifest itself within the new confines. As Haase also stresses, a whole other host of factors come into play when considering the end-purpose of the space. "Whatever we're supposed to be showcasing, we look at the color rendering and how to highlight that best. With fashion stores it's so important of course—you don't want to buy something that looks black in the store and then discover outside that it's blue! Restaurants are interesting as well: for the cafe and bakery inside Manufactum in Stuttgart we had to consider how, for example, meat can look unappetizing in the wrong light."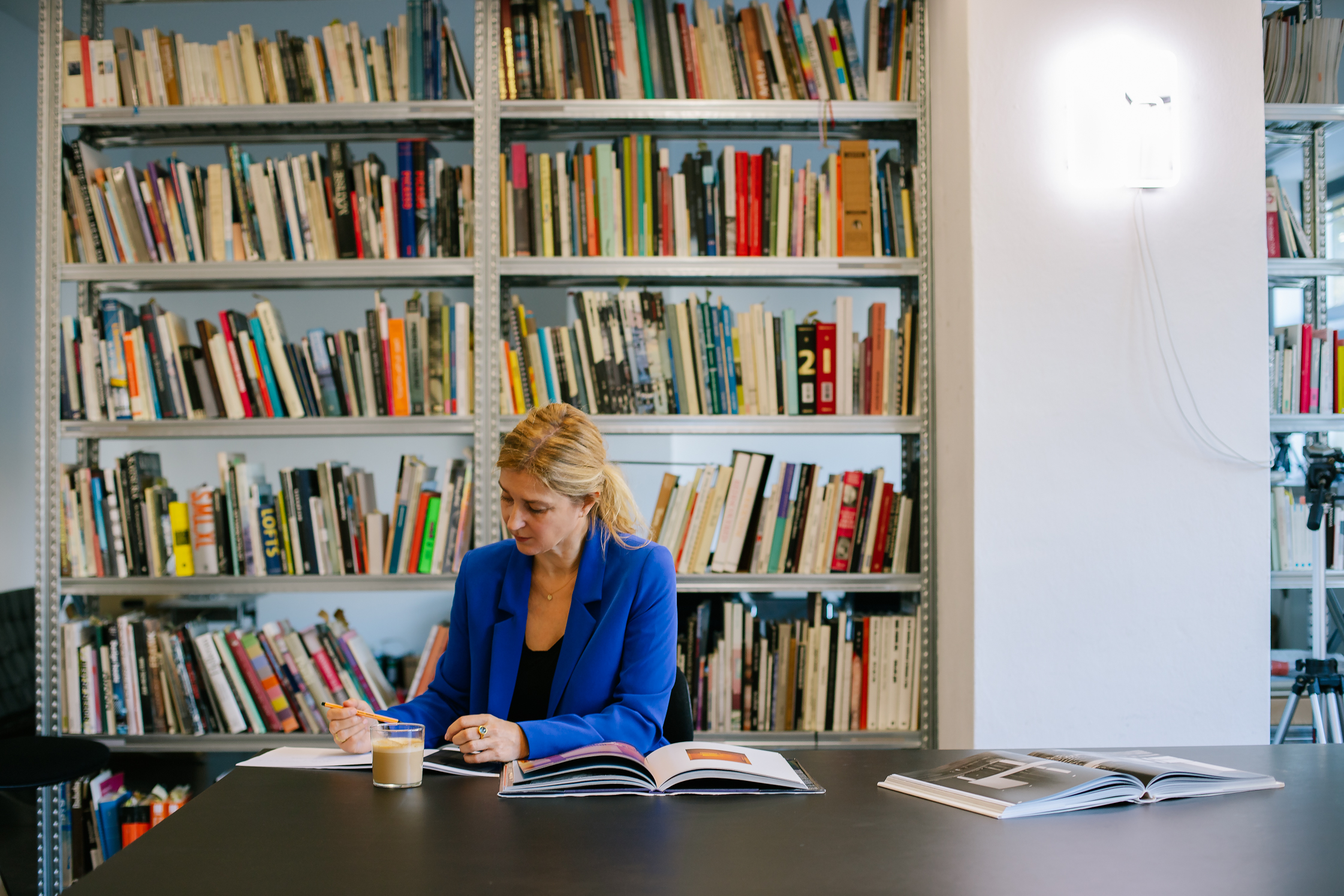 "We're recognized for the way we use 'poor' materials I suppose."
While fashion stores and restaurants play an increasingly prominent part in the Gonzalez Haase portfolio, the studio's reputation is predominantly built on the gallery spaces it has been creating since the early 2000s. The unflashy, serenely confident markers of their approach can be felt in the whiteout deconstruction of the Thomas Fischer Gallery; the Kubrick-esque corridors and faded glories of the Lindenhaus Building; countless others. Before getting to that point though, an altogether different type of physical space played a key role in Haase's formative years: the stage.
Prior to meeting Pierre Jorge, Haase, who describes herself specifically as "an architect, not an interior designer," worked for many years with the famed American stage director and playwright Robert Wilson. Described by The New York Times as the world's foremost avant-garde theater artist, one of Wilson's most notable contributions to the theater was as a stage, sound, and lighting designer. "I saw his work in Berlin and knew straight away that I wanted to work with him," says Haase. "Of course his work was more temporary in nature [than the more conventional architecture I was trained in], but what seemed so special was how three-dimensional his work was. It wasn't like a typical stage, nothing was fake. I went straight to Hamburg where I found him working with Tom Waits."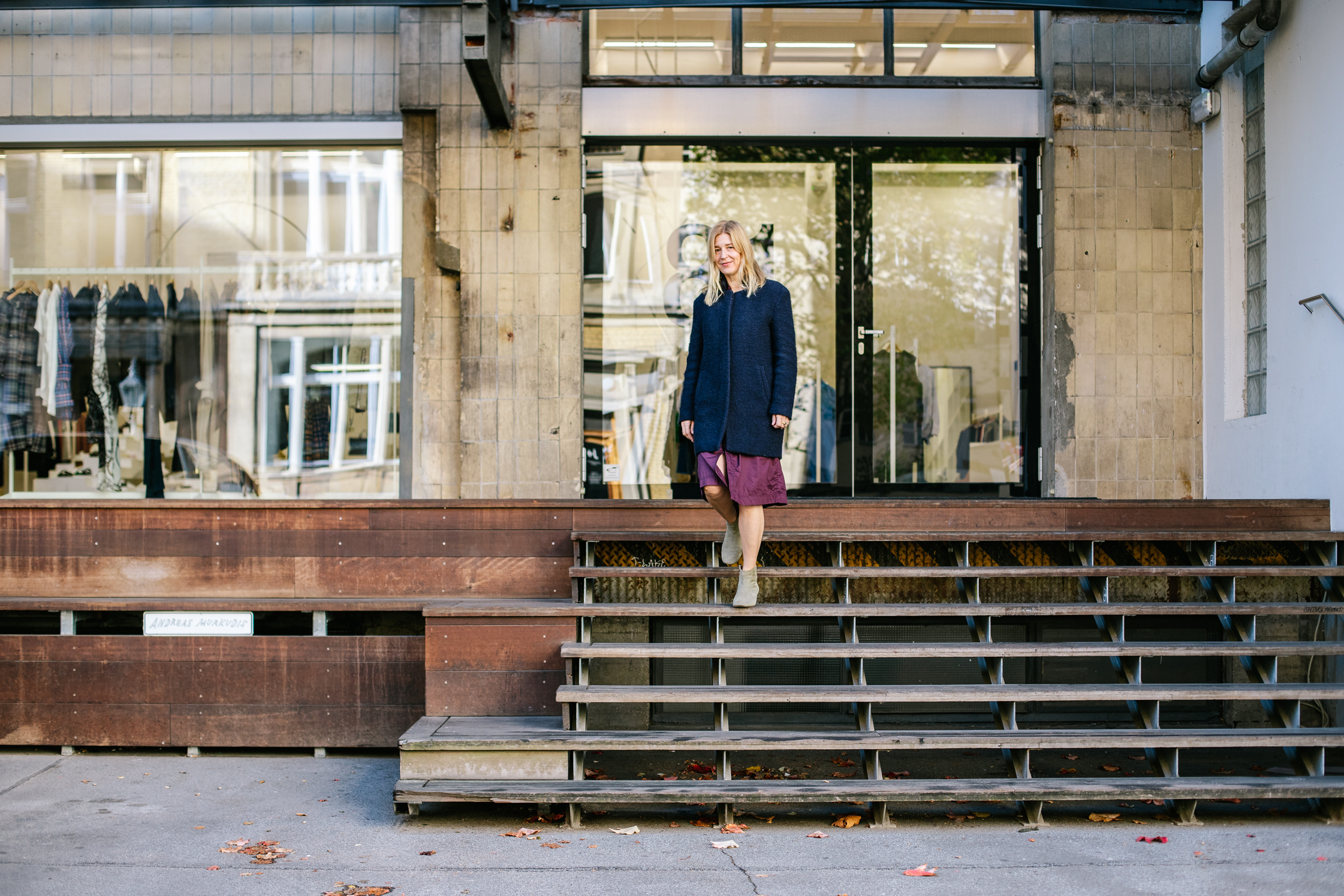 "The most amazing light really is out there, in nature."
It would prove to be the start of a life-shaping, ten-year working relationship in which Wilson sought out projects for Haase that were increasingly architectural in focus, while also incorporating elements from the world of scenography. It was a combination that Haase quickly made her own. Through Wilson she met the French scenographer Pierre Jorge Gonzalez, and in 1996 the pair were tasked with renovating what Haase refers to modestly as Wilson's legacy. The Watermill Center in Southampton, New York, is described on Wilson's website as a laboratory for performance. It's a curiously bombastic turn of phrase that today more readily calls to mind the language of late-capitalist startup culture than it does a former Western Union research facility transformed into a place where creative people of all kinds could go to sleep, work, and rehearse. "Not just in the summer but in the winter, too."
The center remains to this day a striking architectural work, simultaneously tranquil and energizing in the cool grey of its exterior and the exploded expanse of its interior. Viewed today, in the context of Haase and Pierre Jorge's subsequent output, one can't help but focus on the two rows of windows that look almost like stamps from a distance and flood the rehearsal space with glorious Long Island light. They are, Haase explains, the original windows from the building's time as a more conventional work space and she had to be steadfast in her conviction that this was their most beautiful state of being. Wilson briefly toyed with combining the two rows into single double-height windows, but Haase won her mentor over.
Emboldened by their overall creative experience (and success) with the center, Haase and Pierre Jorge headed to Berlin on the cusp of the new millennium, where they founded their eponymous practice. "There was a gallery boom in Berlin then, and coupled with the experience we already had, it felt very much like we were in the right place at the right time." It was, however, a boom characteristic of Berlin at that time, in that—to put it bluntly—there was not much money for gallerists to splash on expensive architecture and scenography. "People still wanted to really create something though," says Haase. "With no money, we had to find a way to come up with a super-nice concept that worked with the materials that fitted our budget." It was a challenge that Haase and Pierre Jorge embraced head-on. "Out of this came a language. Our designs became something recognizable."
Today, almost two decades on, Haase and Gonzalez work with very different budgets. However their unique language, fashioned from austerity and adhered to through increasing acclaim, remains at the heart of their practice. "We're recognized for the way we use 'poor' materials I suppose," says Haase with a laugh. When asked to design an entire floor of the famous Oberpollinger department store in Munich, the clients from that affluent German city somewhat euphemistically requested that Haase and Gonzalez, "do it in the Berlin style."
Beyond the self-deprecation however lies a slightly more serious consideration. By crafting beautiful spaces from materials more commonly thought of as durable rather than beautiful, Judith and Pierre Jorge highlight the unsustainable, empty facades that define so many supposedly luxurious interiors. "I mean, you can go into a fashion boutique and everything looks so expensive—marble everywhere, incredibly expensive lacquers on the wood… but then five years later the brand gets a new creative director and everything has to change all over again. It all becomes garbage." Haase is optimistic that people are becoming more attuned to this, a view supported by the number of high-profile requests for that Berlin style. She points in particular to the recent refit of the flagship Balenciaga store in Paris, and the brand's current Creative Director, Demna Gvasalia, in whom she has found an unlikely kindred spirit. When she talks about his approach to design she could just as easily be talking about that of her own practice. "He gets how boring the fashion world is when people want expensive things just because they look expensive. I really think he's an artist, and he brings an intellectual approach that people actually want now—one that allows them to see behind [the surface level]."
Flicking through a heavy tome on the work of Mexican architect Luis Barragán with vibrant pastel walls against deep purplish skies, Haase notes how little she and Pierre Jorge are influenced by contemporary architecture. "But Barragán, he thought about everything. He was always integrating light from nature—okay, the colors were different to ours but I guess we apply a more Berlin palette." As if on cue a warm yellow glow unveils itself from the sky outside, upending any cliched simplifications about what that particular palette consists of. "The most amazing light really is out there, in nature," says Haase. In that instance one realizes just what is so special about her work: she sculpts using a tool borne from the elemental accidents that typify the natural world, harnessing it within spaces that are far from 'accidental'. "You can't imitate that," she concludes as the sunshine pours in. "Everything changes, every color… It's beautiful and so inspiring for us."
Projects by Gonzales and Haase
Galerie Thomas Schulte

Galerie Thomas Schulte

Balenciaga Store Design, Paris, 2017

Balenciaga Store Design, Paris, 2017

Fischerappelt, 2017

Fischerappelt, 2017
To learn more about the work Judith Haase and Pierre Jorge Gonzalez are doing, check out their website and Instagram. Their work on the Watermill Center in New York can be found in our FvF interview with acclaimed theater director Robert Wilson.
This portrait belongs to our content collaboration with German fashion label Closed that highlights the lives and achievements of international creative tastemakers. It also includes the story of Antwerp-based landscape painter Nils Verkaeren.You can also find this story over on Closed.
Text: James Darton
Photos: Jenny Peñas