Following a new book, motherhood, and a move away from Berlin, we revisit photographer Eylül Aslan and discover how a dating app helped steer her in a new photographic direction.
Born and raised in Istanbul, Eylül Aslan began taking pictures as a way to express and explore her own sexuality. Her work simultaneously became a tool to help overcome the oppression she felt growing up as a woman in Turkish society. Finding freedom in her self portraits, where she alone was in control of the camera and, in turn, her own gaze, Aslan's visual pursuit quickly became a passion. Her work questions identity and gender, beauty ideals, and challenges our notions of objectification.
Aslan's latest project and accompanying book, Trompe L'Oeil, sees her adjust the focus, zooming in on specific body parts that the individual has deemed beautiful or ugly, both about their own body and Aslans. "The book functions like Tinder, the left side has the so-called 'ugly' parts chosen by men themselves, and my 'ugly' body parts chosen by these men. And the right side has the 'beautiful' parts," she explains. "I wanted to prove that beauty is subjective and that it is not a set in stone."
We last spoke to you in 2016. What's been happening in your world since then?

I spent most of 2016 working on Trompe L'Oeil. As I was about to publish the book, in the summer of 2017, I found out that I was pregnant. It was an intense time to have both a baby growing inside me and seeing that my other baby, namely the book, was reaching its viewers. It is such an exhausting thing to be pregnant; it was more challenging than I'd imagined it to be. It was a nice period to rest though—a time to gather new ideas and approaches.
Is Berlin still home for you?

It is not anymore, actually. We moved to Vienna, Austria in January, 2019. It feels great to be here, although it was not easy to say goodbye to Berlin.

What are you striving for with your photography and has this shifted over the past few years?

I guess I have been asking myself this question a lot during my pregnancy and my first year of being a mother. I feel like I am at a phase in my life when things outside me are more important. Meaning, I would like to work on projects and ideas that are not necessarily experiences I go through myself but ones that others do—going more into the unknown areas. I guess moving to a new country and a city is also a part of that. I would like to start moving into unknown territories with what I do.

Self portraits are a recurring theme in your work. Why is this important for you?

I started photography as a means of expressing myself because as a teenager I felt like I was growing up in a society where I didn't belong. At the age of 17, I did it because it helped me to be free in a world that was only mine. But when I moved to Berlin, I was becoming a young adult, and I was still interested in portraying myself but not as often as before. I think the older I get and the more I discover and learn about myself and what I want, who I am, and what I need and think, the further I get away from being curious about myself. I think becoming a mother has made me less self-centered. And maybe that's why I am much more interested in other subjects than myself.

Do you find that there is more of an open discourse about women in the past few years in Turkey or is this slow to change? And have you been back to show more of your work?

I think freedom of speech is nonexistent in Turkey, which is why I personally fear what I would say about this issue. I think I prefer to talk about it through my photography rather than words, which is what I do best anyway. It is, in my own experience, really challenging to survive there as an artist, especially if you are concerned with issues regarding the status quo. That's probably why I choose to stay away, for my own sake.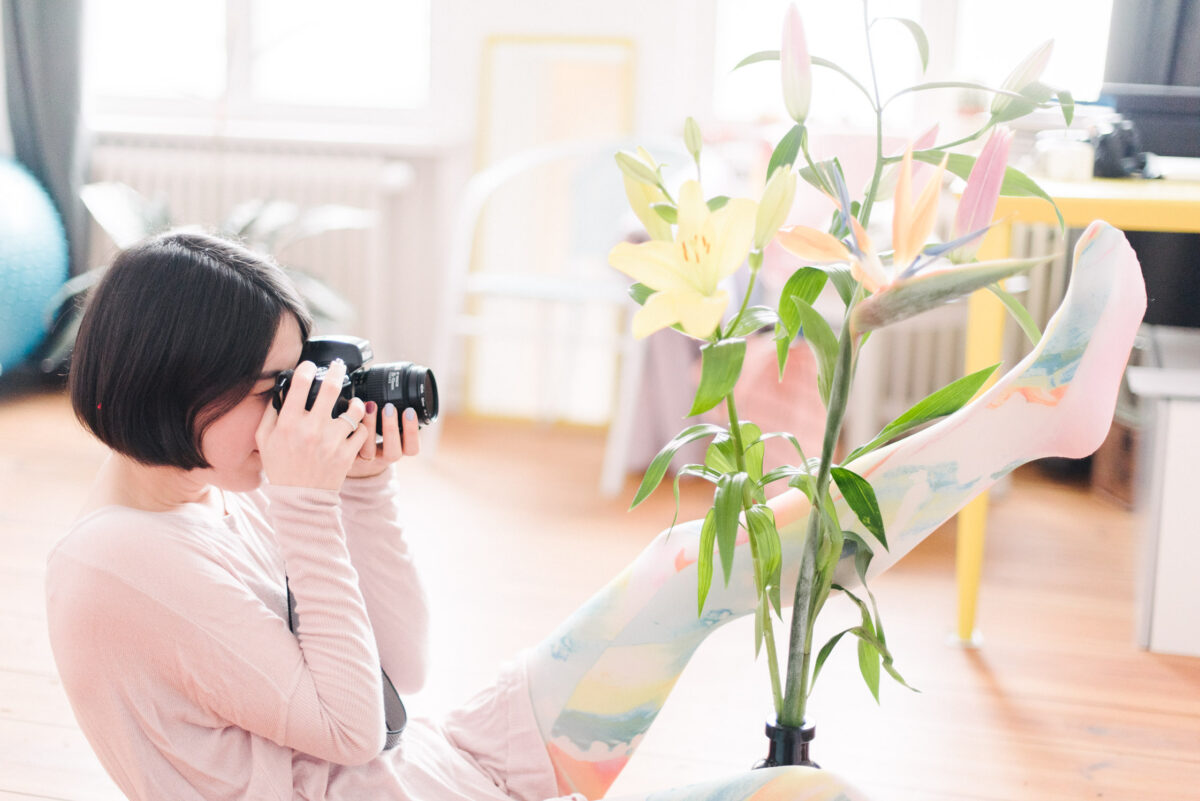 Tell us about your new book, Trompe L'Oeil.

I struggled growing up as a teenage girl in a society where the roles of men and women were already decided. Women need to look good, be beautiful, obey what men say, preferably wear a lot of make-up and be "feminine" in the male description of being feminine. Men, on the other hand, get to decide who is attractive or not. Being attractive is decided on the fact of whether or not other men find you attractive. I was always mocked in school for having small boobs, which I personally did not mind but others did not find so attractive. Then in 2016, as I was looking at profiles on Tinder, I realized that some people chose specific body parts to show in their curated profiles. And that's how I came up with the idea that I wanted to meet people and ask them what their favorite and least favorite body parts were. And the book functions like Tinder, the left side has the so-called "ugly" parts chosen by men themselves, and my ugly body parts chosen by these men. And the right side has the "beautiful" parts.

Did you discover anything surprising about the way men perceive beauty against your own perceptions?

I did! In fact it has changed how I see myself and others completely, in terms of beauty, I mean. In the beginning of the project, I wanted to prove that beauty is subjective and that it is not a set in stone. The more answers I received from men about my body parts, the more convinced I was that nobody was actually pointing out the things I disliked about myself. They did not even see them like I did. And it was the same for me, because whenever they answered about their body parts, I was surprised to find out what they chose because I would have chosen other parts.

Tell us about some other projects you've been working on.

I have been taking photos of my baby boy, who is turning one next month. I've taken a lot of photos of him, but I do not think I will share them online or offline. When he starts kindergarten, I'll hopefully have more time to work.
We first featured Aslan on FvF in 2016 while she was living and working in Berlin. Read more about how she got her start in photography in our initial interview here. As part of our series of Revisit portraits, we caught up with her three years on. Her latest project Trompe L'Oeil can be found on her site.
Interested in more portraits of photographers? Browse through our latest photo essays here.
Photography: Robert Rieger
Text: Andie Cusick