"Streetwear is to fashion what Punk, Hip Hop and Jazz were to mainstream music. It started as a youth driven counter culture but as it matures, it gets more sophisticated." When Chris Gibbs, owner of clothing store, Union Los Angeles, talks about the items he stocks, you can't help but notice the strong personal connection he has to this sector of the fashion industry.
Recently named one of the "25 most influencial people in streetwear", Chris has witnessed dramatic changes in men's fashion in recent years with new brands emerging and styles shifting. Nestled on a block in LaBrea, Hollywood alongside stores such as Undefeated and Stussy, Chris' empire lies in a destination shopping strip for fashion aficionados. Besides being heavily involved in the development of Union, Chris is a true family man and continually tries to find that perfect balance between work and home life.
While discussing his love of travel, fashion and the city of L.A., Chris speaks about his art collection that includes works by Jayson Musson, Julia Chiang and José Parlá. Each work, like the clothes Chris sells and the designers he represents are selected purposely, based on mutual appreciation and commitment to a unique personal aesthetic that is maturing and becoming more sophisticated over time, but never out of style.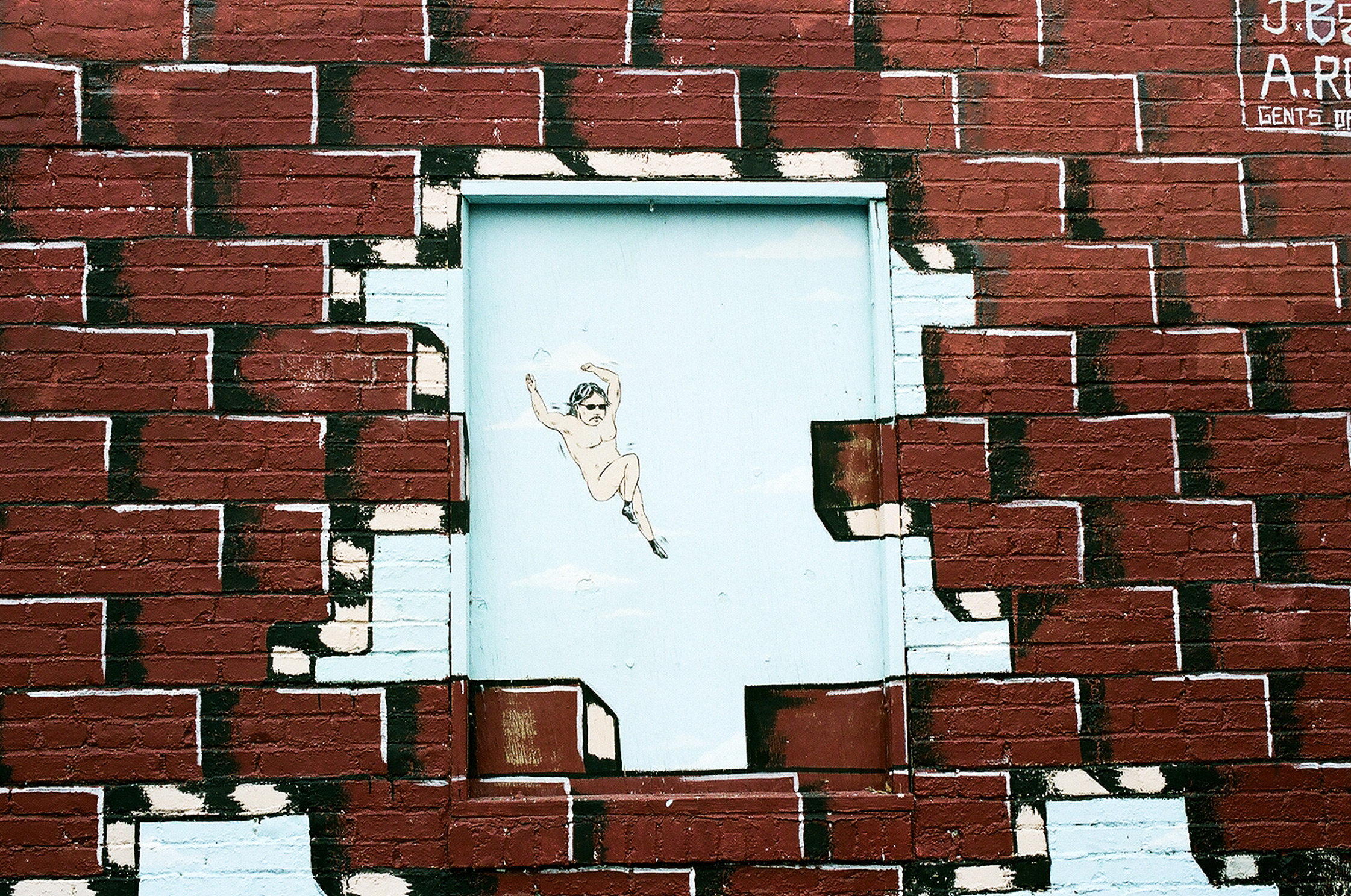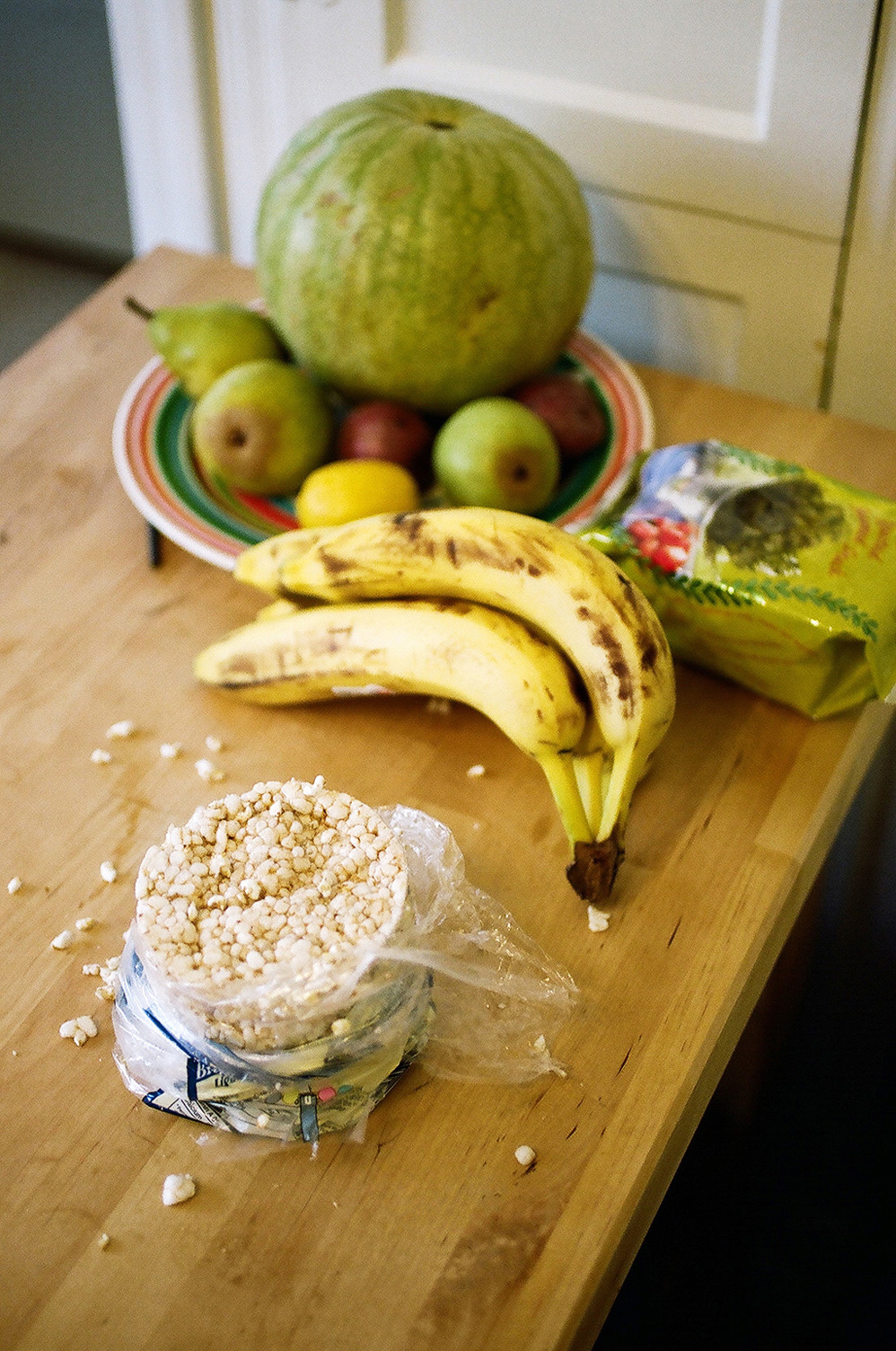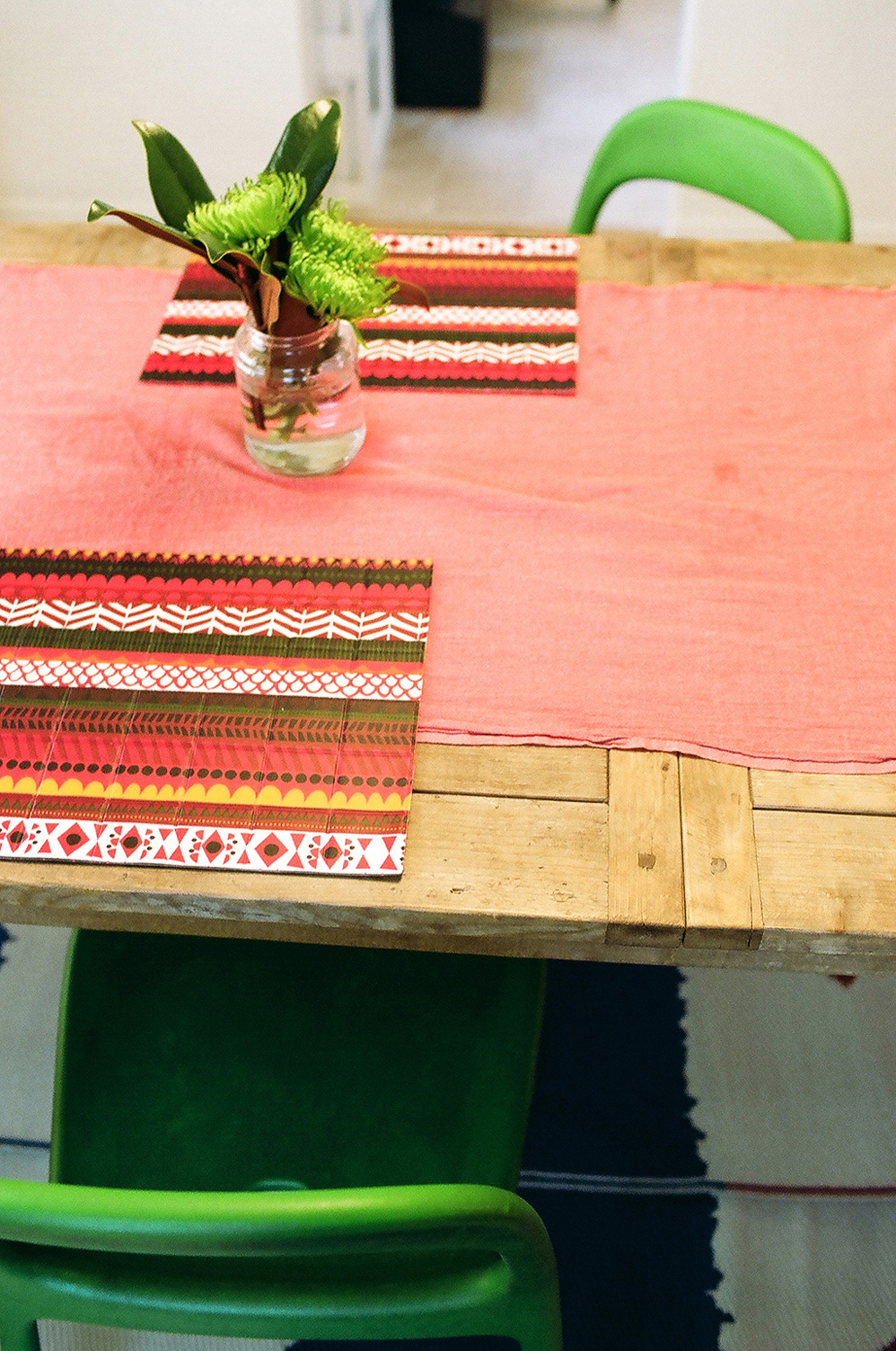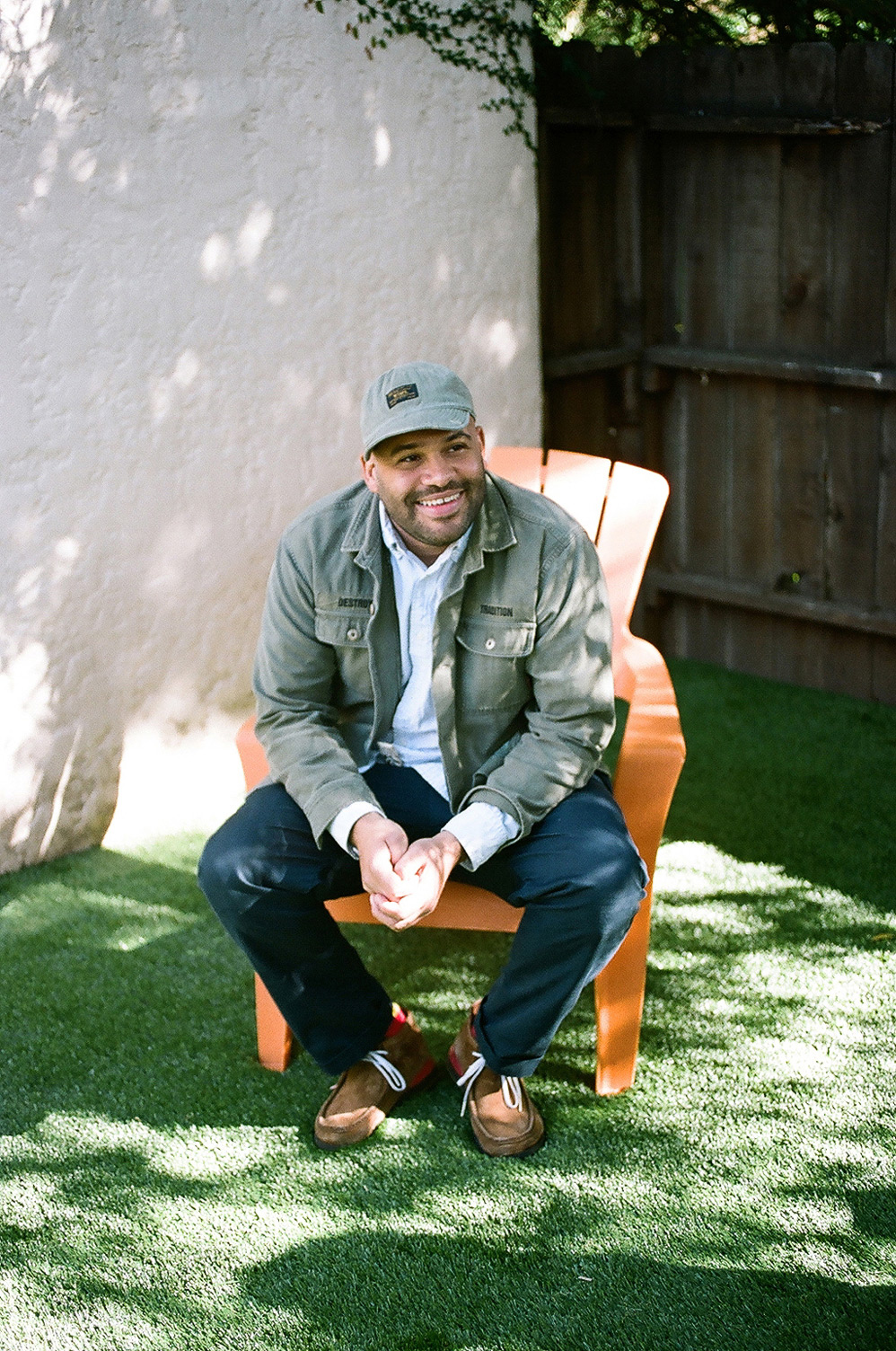 Where did you and your wife meet?
My wife and I met in Brooklyn in like 1996. We were both attending University and we lived on the same block in Fort Greene. She is actually the one who got me the job at Union in the first place.
How has having kids changed your life, and your view on your work?
Wow! How hasn't it changed my life? I guess the main thing it has done is given me focus. When shit gets hard and it always does, I have to stay focused for those guys. It's also an amazing balance that helps keep me grounded.
In addition to basketball, and hanging out in your yard, where do you, your wife, and the kids like to go on weekends?
Our weekends are like another job for us. At any given point in time we will wake up early and rush the kids to basketball, football, soccer, art classes or acting classes. If we are lucky there is only one play date or birthday party to go to after that. On occasion, we will drive up to Mammoth for a weekend and go skiing with our close family friends. Good times had by all! Otherwise, what's really great about LA is the weather. We go to the beach or this secret park we meet our friends at, all year round. We are still kinda of young parents so we will force the kids to go to art openings with us quite a bit too. But really we spend most of our time at the house, just chilling.
Favorite games to play with your kids?
We love playing football, it's everyone's favorite! I also like Frisbee but the kids get tired of that one quickly.
Three things about you people don't know.
I am Canadian born and raised.
I spent a year down south in Louisiana at Grambling State University, a historically black University. I grew up kind of a jock and went down there to play football. I failed miserably which pushed me in the direction of broadening my horizons. Somehow that lead me into fashion. A really long story but needless to say never in a million years I would have thought that I would be working in the fashion industry. I went to school to be a teacher and I was just doing this job to get myself through school. I just fell in love with the travel, the culture, the people so I stuck with it after I graduated.
I once considered converting to Judaism and actually took Hebrew classes. Shalom! My mindset was if Christianity and Islam were both rooted in Judaism…why not go straight to the source?
Favorite art gallery or museum you visit?
Los Angeles County Museum of Art has great programs for kids to go for free accompanied by parents. They also usually have a cool exhibit that the kids will be into. They do movie and music nights in the summer that are tons of fun for the whole family – they serve alcohol for the adults! We actually helped curate an event with them last summer that went really well Through the Mic, and we hope to continue on this summer.
Can you describe a typical day in your life?
I wake up a six-thirty and help get the kids ready for school. I take them to school at eight and then I head to work. I pick up a coffee on the way and I usually get to work around nine. The store doesn't open until eleven but I like to get there early and take care of administration stuff. Also it can sometimes be challenging to get focused time away from the store during business hours. Because of the social nature of a clothing store like ours, people are always coming by for a visit, so getting to work a little early gives me some "added time". My typical work day has me answering tons of emails, maybe viewing a new brand or making an order. A lot of my time lately has been spent trying to "dial in" our website. I came from a world that was all about exclusivity and in the past that was in direct opposition to web sales. Needless to say things have changed and we are now trying to embrace the web, but in our own way. Although I am no longer in the store much doing sales, I still like to drop by to get a good feel of what's really going on. So I will pop in and talk to the guys at the store and see how things are doing. At seven, I punch out and head home for dinner with the family. Kids go to bed at eight. I catch up with my wife and unwind watching some mindless horrible US television and get ready for the next day.
Why did you choose Cheviot Hills to live with your family?
It's all about "the youth". We were living on the east side for a while but we just wanted some more space for the kids and of course there are issues like school districts and such. In the end we really liked Cheviot Hills because it's kind of like a mini suburb – tons of space for the kids and an all around safe neighborhood – while at the same time still being in the city. I am not sure if I could ever be the suburban Dad.
Tell me about Union, where it began and how you fit in?
I moved to New York to go to school and it is here where I started working for Union. The owners are the same people who own Supreme. They were known at the time to be a place where young up and coming clothing designers could break and deconstruct their clothes. The big thing that our store helped to start and promote was the beginnings of streetwear genre. So, I worked there, ran and managed the store and became the buyer. After that I moved here to Los Angeles.
Who do you think made their mark in the early streetwear scene?
Probably the biggest designer would be adidas. Now it seems really crazy for me to say this, but their Originals line, which is where they use the three-leaf, that did not exist in the past. They started a line where they brought back all their classic shoes, called Originals. They started it in America in three stores: Union in New York, Union in Los Angeles, and Harputs in San Francisco, which had a good heritage with them.
Who was shopping at the store at that time?
In particular, Union had a following with Japanese clientele. The Japanese did a lot of parallel buying. They would send people over here to buy clothing in America that they couldn't get back home, and then sell it in Japan.
Can you tell me more about the impact of the Japanese market in streetwear fashion?
As a natural progression from doing trade with the Japanese, and as the genre of streetwear blew up and became very commercial, Union had to figure out where it fitted into the game. As a very small boutique, we couldn't compete with the major stores, so we started buying the Japanese iteration of the streetwear. They would buy it from us, take it, make it something different, and then do their own thing with it. We started buying back the Japanese brands, and what they did in particular, is they took the clothes and made them of a higher quality.
You mention that Japanese designers modified the garments. Can you elaborate on this?
They would take a hoodie, or jeans for example that we would buy for sixty or eighty dollars, and make it out of a cashmere blend transforming it to a three hundres dollar piece, but with the same sensibilities that a young person would want to wear – not like Loro Piana or something. There was a small but pretty concentrated cult following that appreciated that kind of stuff, like jeans that cost anywhere from three hundred to eight hundred dollars a pair. To this day it hasn't been coined, and I'm embarrassed to be able to coin it, but this phenomena is "luxury streetwear". Union has a really strong relationship with Japan, and I would say almost 70% of our store carries Japanese lines shipped to the States.
Do you travel over there?
Yes, you have to. I mainly go to Tokyo. I've been to Osaka once, it was a beautiful city. I compare Osaka to San Francisco, or LA, and Tokyo being New York, so it's a little more beautiful to look at, and a little bit smaller.
What's your favorite restaurant in Japan?
Teyandei Shibuya, Tokyo.
If you could sum up the streetwear community you embrace, with some phrases, what would they be?
Streetwear is to fashion what Punk, Hip Hop and Jazz were to mainstream music. It started as a youth driven counter-culture but as it matures, it gets more sophisticated. Our store, specifically represents the more sophisticated side of this style of clothing. This more refined version now attracts customers that may not have ever been into it before. Creative, open-minded and sometimes older clientele are now appreciating the witty and creative sensibilities of streetwear. I refer to it as "Luxury Street".
Huge thanks to Chris and his family, for letting us hang out an afternoon and for giving us an inside peek behind the scenes of his store, Union.
This portrait has been produced in partnership with 'mb! by Mercedes-Benz'. FvF presents a personal portrait of Chris Gibbs while mb! magazine takes us on a tour to Chris' favorite spots around Los Angeles which you can enjoy here.
Interview & Text: David John
Photography: Daniel Trese