Swiss-born Cathy Boom has lived intermittently in Berlin for almost a quater of a decade. Fourteen years ago she settled down with her boyfriend, artist JayBo, and their daughter in a fantastic apartment overlooking Hasenheide in Kreuzberg. She appreciates the German capital for it's unconventional, raw and incomplete character.
Together with music editor, Christian Tjaben, and JayBo Monk, this skilled fashion editor founded the magazine "Style and the Family Tunes" in 1993. Contrary to the contemporary nineties techno scene in Berlin Mitte, Cathy established a magazine inspired by hip hop, acid jazz, fashion and pop culture in the wild east of the city.
After publishing the final issue of the magazine in 2011, Cathy continues to stay true in her approach to present imagery and elements from her surrounding environment. In cooperation with her brother Patrick Andrist in 2012 she went on to found the fashion project "I Wish U Sun". With the sale of every item, this project supports a charity in Bangladesh to provide eye operations for the blind.
This portrait is part of our ongoing collaboration with ZEIT Online who presents a special curation of our pictures on their site.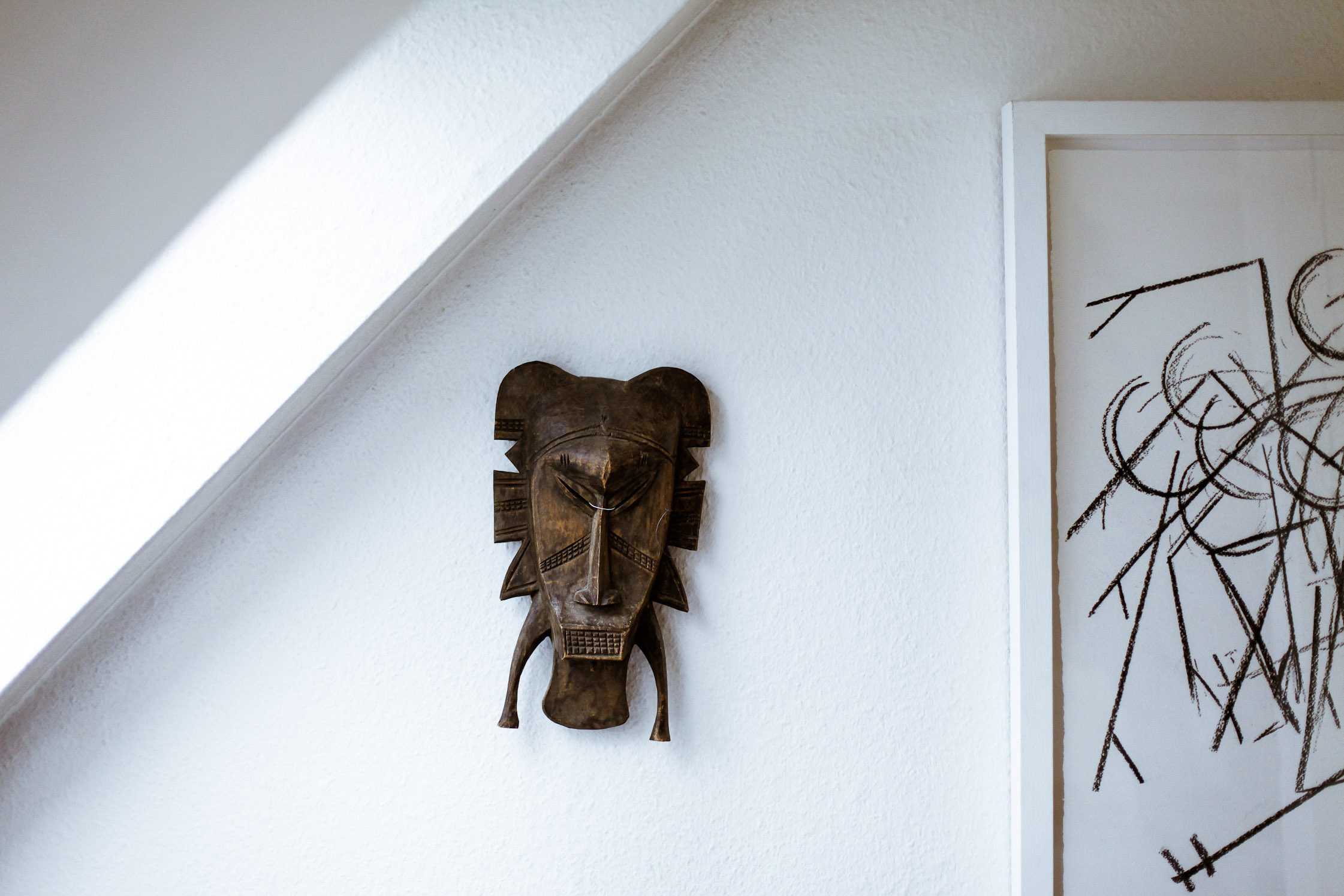 What is so fascinating about Berlin?
Berlin is a city that conquers metropoles like New York, Paris, or London in regards to quality of life and laissez-faire. Berlin is unconventional, not status-oriented, and still wonderfully unfinished.
In summer 2011, #130 and with this, the very last issue of style, was published. What happened afterwards?
After 'Style and the Family Tunes' discontinued as a print format – Stylemag still exists as a digital format, – I realized that I needed to use my energy for something truly meaningful. That's when 'I WISH U SUN' came into existence. The project is about giving something back. IWISHUSUN is a concept that goes against greed. We want to work with fashion and launch good project that are high-end, contemporary, and of course wanted. But its sale provides a good cause. This would mean to finance an eye operation in Bangladesh and safe someone's eyesight – with every sold product! If one combines the fundamental idea of business with fashion and social responsibility, one ends up with a win-win situation.
Instead of saying with a wagging finger, 'This is what all of you should do, everybody in Europe is so privileged,' I wanted to offer a concept which enables one to take social responsibility and simultaneously is getting a desired product. It is something satisfactory for the self. I think that this concept defines the future and is able to do a lot more in the upcoming years. My heart gets overwhelmed when I work, as I can see the money going directly to the hospital in Bangladesh and doing something good.
It is not about places like Bangladesh, Vietnam, Africa, or Marzahn, where children are being brought breakfast sandwiches because they don't have anything to eat before school. It is about doing something. Everybody must find their own theme. Mine is about eyes, because I work with them and am very visual. Without eyes I could not work as a creative director, nor be the publisher of a magazine. Eyes are something really beautiful as they are the mirror of the soul. This is why 'I WISH U SUN' is all about eyes.
Can you talk a little about the first product's principal and its realization?
The first product was a light down jacket. My brother Patrick Andrist is a textile manufacturer in Hong Kong and produces daily many editions for fabrics. He gets a good price for small quantities as a good client. Through this margin, which is established through the sale on the internet, we are able to give back most of profit. I am convinced that the basic concept is great. IWISHUSUN also is of substance. It naturally is also about talking to interesting people and ask them questions that are concerned with visions, eyesight, and perception.
Yesterday a friend told me that he gave someone shoes who never owned a pair before. I was impressed. Everybody should do something with their abilities.
Instead of standing ten hours in Mauerpark one could give the clothes to someone that actually needed it.
Exactly. I really have to clear out my wardrobe. I visited nuns in Wrangelstraße the last time. There are many homeless people. It is also okay to bring in some things to second hand stores. It is not about giving away your last shirt, but it is about giving something back. Personally, I feel well not only being concerned about everything looking beautiful and having a certain design aspect, but also taking responsibility.
What product is currently in planning?
I want to produce silk scarfs next. Foulards out of silk and wool with prints. Afterwards we shall see – t-shirts, jackets, bags, everything is possible. It is about making cool and good products that, without thinking about collections, convince the client. When they are then produced in terms of high-quality and emerge out of a collaboration with photographers or designers, there is not much else to ask for.
Let's go back to the 90s: When did the first issue come out of 'Style and the Family Tunes' and what was the overall concept?
The first issue came out in 1994. It would appear quarterly in black-white with the central theme of music. When fashion became an interest, the pages were printed in color. Since summer 2000 we published the magazine every month until 2011. The print magazine existed for sixteen years. When one does something for that long, the desire for change essentially arrives. The world constantly transforms, therefore Style could never stay the exact same. The medial world became much more digital and I am personally tired of magazines. That entire concept just bores me.
Style was the very first pop-cultural lifestyle magazine in Germany. All other magazines began to rise afterwards. The type of photography, visual language, graphic and editing of articles was ahead of its time. Looking through past issues, I can still see things that have relevance to this point in time. Style also deserved a book, as it is a document of time for a certain period. I would like to work on this in the next few months. That is if time permits.
Regardless of the digital evolution, there never have been so many magazines founded, published, and printed like last year. How do you explain this?
That has to do with the fact that all the people that worked for the big publishing houses are unemployed now. No one is really paid anymore for the content. It is quite mundane that everybody wants the same and therefore 150 magazines with similar content are printed.
Magazine shops like Do You Read Me?! make it possible to find a magazine for every sort of niche.
I am not interested in magazines anymore. I would much rather buy a nice book.
Magazines like for craftsmanship serve like books.
That sort of niche will always live on as it obviously has a justification. I would never asked for it to be stopped. Essentially I can only talk about the segment of fashion. That is what Style was about the last years: mainly a fashion magazine that was combined with art and also had musical input.
We originally came from music, then we combined it with fashion in order to reach art milieus concerned with key subjects of fashion, art, and music. Style gradually changed over the past many years. I am bored by fashion magazines, because photography hasn't really altered. They are just all too familiar quotations of things. Of course there are magazines that are an exception and are always worth a look. But then they are so many that want exactly that but are unable to do so – and for that I don't have time.
Do You Read Me?! provides the client with the possibility to collect magazines for a price they determine beforehand. Magazines are selected by them according to the criteria of the customer.
Of course it is amazing when shops like Do You Read Me?! have a selection that meets your interests. I had something similar with a guy who always managed to get me the English and American magazine subscriptions. It is a great service that magazines are being edited for you. I would only be interested in fashion, as that is something I work with. But I ask myself, 'How many people actually read those magazines?' For example 032c is a very good magazine and Jörg Koch does a great job. But the magazine is very intellectual and with all the hipsters running around screaming how much they like 032c, I wonder which article they have actually read.
Sometimes one has to set high goals…
Yes, of course. But the questions is always, ' how do you want to reach?' Due to its high standard many people began to take interest in Style and I am booked nowadays as an expert. It has to be said that this is the only way it works. By now I am doing freelance for many different clients. But regardless, one has to stay true to the self. A reason why I stopped Style and the Family Tunes after its 130th issue. I prefer to shut my mouth and not have the same thing happen to me like Vice buying i-D.
I decided that I didn't want that. It is like with Twen, which also just one day vanished. Twen was a groundbreaking magazine during the 70s with an incredible layout and a modern, new image. It was the best during its time, but some day it just stopped going into print. This is how you can be part of a cult and declare that you took care of it until the very end. I can go through every single issue of Style and say, 'Yes, I did that.' This is the only way one can make sure the concept doesn't dilute.
Thank you for your time and the detailed insight. Find out more about Cathy's project 'I WISH YOU SUN' here.
This portrait is part of our ongoing collaboration with ZEIT Online who presents a special curation of our pictures on their site. Have a look here.
Photography: Ailine Liefeld
Text: Meltem Toprak
.