Drawing unseen data to demythologize the important statistics, Mona Chalabi arms us the tools to shift power dynamics and act.
A slight humming sound emanates from her air conditioning on a hot Wednesday morning as Brooklyn-based, British data journalist and illustrator Mona Chalabi heaves a sigh. The afternoon before, Boris Johnson was named the new Prime Minister of the UK. Living through the Trump presidency and witnessing urban liberals' dissidence with the views of the rest of the country, "there was no doubt in my mind that this would happen," she says, "though saying that Boris Johnson is actually the Prime Minister does feel surreal." Though the parallels between Johnson and Donald Trump rivet Chalabi ("Those two men had these ambitions for a really long time, they have made sure they are household names, because they understand it's that recognition that matters more than anything else."), she cares more about the bigger picture, the implications of their rise to power.
As a data editor, Chalabi provides context. She takes studies or government data sets, which should be in the public realm but are often inaccessible, and translates them into content that "the public can actually get, digest, and use." The translations are written articles—Chalabi contributes a weekly column to The Guardian—accompanied by colorful, oftentimes comical visuals that she also shares with her 148k Instagram followers. Following a slight sense of panic for not having illustrated anything on the Johnson appointment yet, "anything to warn people about it," she evaluated a data set that shows cabinets throughout history in various different countries based on a political science theory of how left or right-wing the senior government officials are. Chalabi could focus on the prevalent factors—rising income inequalities and anti-European sentiments, for instance—but instead delivers factual evidence "that Boris is part of something much bigger, which is a massive rightward (and white ward!) shift across all of Europe. The underpinnings of that much, much larger things are the inefficiencies of capitalism being blamed on immigrants, and that's quite difficult to illustrate."
Born to Iraqi parents who met in the UK, Chalabi grew up in East London before studying International Relations at Edinburgh University and International Security in Paris. She first and foremost identifies as a woman of color, rather than Iraqi, a feeling she explains with the fact that her appearance has affected her identity more than the specifics of being Iraqi, or finding roots in her Arab heritage. Her identity evidently shapes her attempt to expose how power impacts less authoritative individuals—"just like white people being white affects their work, except they never really discuss the ways in which being white affects their work."
Following stints at The Guardian, the Bank of England, and the International Organization for Migration, Chalabi moved to New York in 2014 to join the website FiveThirtyEight, an organization she recalls as "elitist and racist in the sense that the subtle, everyday fabric of the place was grounded in the idea that white people were smarter." As the only female and only person of color in the writing team, Chalabi thinks her co-workers found it easy to dismiss her. "I was foreign to them and they conflated that foreignness with stupidity." Though the experience crushed her self-worth and self-respect, it reassured her goal: to set her own path, to create work that she felt resonated with people as much as possible—without adhering to the style of any particular organization. Venturing into illustrating, she rejoined The Guardian in 2015 at its New York office, before officially going freelance in early 2019, while maintaining a weekly writing gig with the British news outlet. Chalabi's elaborate contributions never feel detached from the presented issue. She recalls monitoring and evaluating data related to the needs of Iraqi families, inside and outside the country, for the International Organization for Migration: "The data was collected by Iraqis but the ones analyzing it were quite out of touch with Iraqis themselves."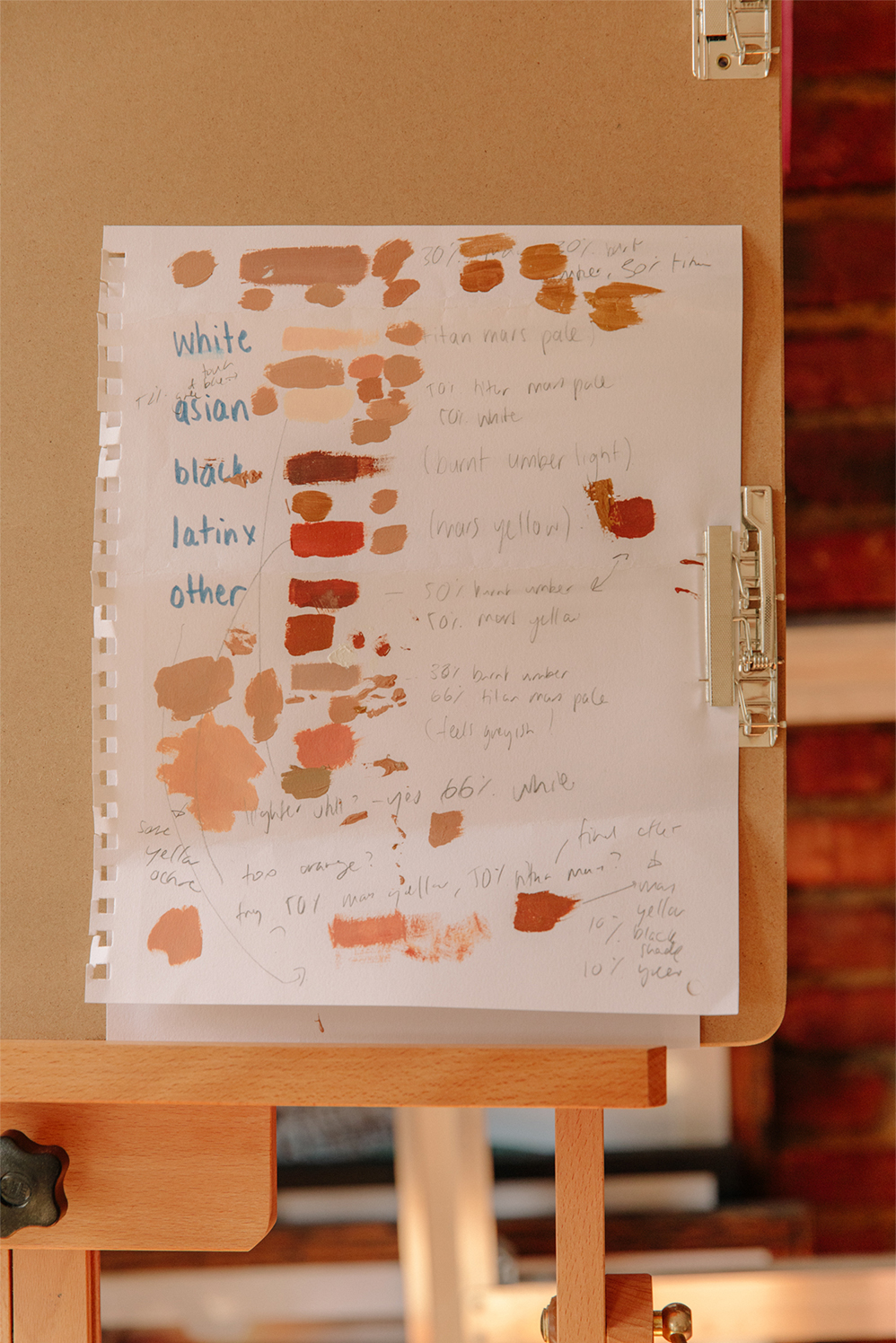 "If I was to show with, let's say it's a pie chart, that one in ten children are sexually abused, it just looks like nothing. I don't want you to feel neutral about that fact; you should feel outraged."
As stated in her Instagram biography, Chalabi is a self-proclaimed TMI Queen. She counters the question of whether there is such a thing as too much information: "Does it inform you about a real risk or does it prejudice you? Anything that truly informs people to be able to make better decisions in their lives, then yes, the more of it the better." In contrast to computer-generated charts, and due to the magnitude of many of her topics, Chalabi detests the neutrality other outlets convey: "If I was to show with, let's say it's a pie chart, that one in ten children are sexually abused, it just looks like nothing. I don't want you to feel neutral about that fact; you should feel outraged." On that note, she adds her distress with how widespread the topic has become, referencing the recent case against Jeffrey Epstein, the convicted sex trafficker and predator, who committed suicide after this interview was conducted. "In all of the news write-ups, it's always 'New York billionaire Epstein has been accused of'. But the predator stuff should come first." For now, Chalabi feels reluctant to post her illustration, as she agonizes over it being triggering for people. "It's a very difficult subject to illustrate in a way that isn't emotional or exploitative," she remarks, adding that, due to how cold and emotionless the data appears before being visualized, she only emotionally attaches to it by the time she commences drawing.
Yet Chalabi touches on lighter subjects, too. Inspired by her personal life, a case in point is her reluctance to date older men. In fact, Chalabi states that males' attraction to women up to 30 years their junior, information she backs with a relevant data set, holds females back. "I have a tendency to share quite a lot about my personal life and wonder if sometimes that's detrimental to me," she notes. Though, as a journalist, she inherently feels a responsibility to return the trust and openness given to her by her interviewees. Speaking of trust and dating, she doesn't withhold the fact that before going on dates, she always looks up the person's name in the sex offender register.
View this post on Instagram
The lighter topics are a gateway to engaging people with the idea of data and that it's not necessarily intimidating or cold. "I know that sounds like such a leap," she argues, "but so much of our relationship with data is based on fear and distrust." Again, Chalabi doesn't see her role as one based on singular interaction. "To me, educating implies that I am the person in the privileged position of knowing everything. I agree to explaining it to you. I see it much more two-way, it's like a discussion," she says. It's evident that she isn't after algorithm attention, either. In fact, the comments below her posts are what matter the most to her. Getting positive affirmations online, on the other hand, helped her pick up her feet while unhappy in her job at FiveThirtyEight, and continues to give her a certain momentum. "I think it's easy for people to dismiss social media as vacuous and empty but it's actually just one extension of something that is incredibly meaningful that happens in real life."
Though feeling constant pressure to contribute to current affairs, Chalabi has also learned to set boundaries for herself. "When you're starting out you're so hungry to prove yourself and you're so worried about losing your job or not doing well. Now I come from a place of more security; professional and financial security, meaning that it's okay to not post something right away. I'd rather wait until tomorrow and get it right," she says about applying the approach of contextualizing things to her personal life. "We're in conversations of privilege and power. If I constantly view myself as poor, then that means that when I'm speaking to someone who has less money than me I'm unaware of that. I should be aware of that power dynamic when we're having that conversation," she stresses.
Chalabi doesn't only seek to empower people through information. She's aware of her position, which led her to include 16 emerging artists in her recent exhibition co-curated with Korantema Anyimadu called 'Who Are You Here to See?' The centerpiece of the same name illustrated the misrepresentation of women and ethnic minorities in the major museums of the US; 88% of all the artists are men, while 86% of all the artists are white, which doesn't remotely reflect the country's population. British-Nigerian illustrator Tinuke Fagborun, whose art delivers an optimistic response to the dominant narrative surrounding women of color, graduate Beth Blandford, and the vibrant work of Audrey Hutchins, who was born with a genetic mutation, were among the talents exhibiting their works next to Chalabi.
Chalabi counts numerous other initiatives to her portfolio. She is also a public speaker, taking her findings to international audiences, and was nominated for an Emmy for her four-part video series, Vagina Patches that she co-produced with filmmaker Mae Ryan. What kept her in the US was this real sense of urgency for work to be done. "There is a lot of political and activist work to be done in the UK, I guess that's a reason to return. Honestly, I still feel a little bit all over the place with it," she says. We're back to yesterday's event, a change that may spark a new era of protest, Chalabi hopes, "where people truly realize the importance of deep and meaningful political engagement and incorporate protest in their everyday lives." But the shock and disbelief can make people hesitate about protesting, too, she adds. "You almost have to accelerate all of those feelings and emotions if you can and just be like, yes, this is the reality, now do something about it."
Mona Chalabi is a data editor, artist, and public speaker addressing some of the most pressing social injustices through accessible and engaging writing and illustrations. She recently held her first exhibition 'Who Are You Here To See', as part of which she not only showcased her works, but those of emerging talents, a list of which you can find here.
Follow Chalabi's profile on The Guardian to read her columns, under each of which she shares her sources of data sets that vary by topic.
Text: Ann-Christin Schubert
Photography: Ricky Rhodes