Radically positive artists Pinar & Viola discuss five socio-cultural ideas influencing their recent work
The creative studio on unconditional love, microdosing, and using fashion to create alternative realities.
For Pinar Demirdag and Viola Renate, to be "truthful and unconditionally loving is what makes all things authentic." The duo met during their studies at the Sandberg Institute in Amsterdam. While both artists had developed their own artistic styles, the beginning of their collaboration was, as they describe it, "like two mortals discovering their superpower for the first time." Over the almost 11 years since their creative energies first collided, Demirdag and Renate have developed a practice which uses radical positivity to create digital projects for speculative futures.
Their prolific body of work embraces fantastical ideas for leisure and work. Brand collaborations with clients such as Google Arts and Culture, Nike, MTV and Ikea aim to bring speculative socio-cultural ideas into the mainstream, with an ideology built from "unconditional love, unity and embrace of the other." Their most recent 'Alternative Series', visualizes individuals and communities embracing alternative systems such as microdosing psychedelics, universal basic income, equal pay law, emancipation of animals, permaculture, Sufism and rise of the sacred feminine.
"We all have experience of dreaming of something, and when we visualize it clearly in front of us, it is more likely for the dream to come alive."
Together, they specialize in applying this collection to the "surface of all things"—be it their latest couture collection, motifs for luxury handbag label Mehry Mu, or wall pieces hanging in the foyer of CitizenM hotels. Their patterns act as windows to alternative worlds and "use the power and charm of visuals to create allure and desire for future-forward, socio-cultural fantasies."
Their latest foray into couture creates the potential for people to wear the alternative realities that their visuals represent. Each garment stems from a pattern in the collection, bringing together a set of symbols signifying positive change not only for the wearer, but also for the people around them. "We all have experience of dreaming of something, and when we visualize it clearly in front of us, it is more likely for the dream to come alive."
Pinar&Viola share the five socio-cultural influences behind their recent couture collection
Alternative Couture-Esque
On January 1, 2018 Iceland passed the Equal Pay Certification, becoming the first country in the world to make it illegal to pay men more than women for doing the same job, an economic inequality that exists in almost every country. We made this visual in commemoration of Iceland's Equal Pay Certification, with the absolute understanding that this will be the norm in all countries in the near future. In an act of value creation, we upcycled symbols of this visualisation in this bespoke couture piece made from second hand clothing.
Universal Basic Income Fighter Robe
Universal Basic Income (UBI) is a kind of welfare program in which all citizens (or permanent residents) of a country receive a regular, livable, and unconditional sum of money from their government. We believe that when individuals will leave behind the dogma of overworking, and when artificial intelligence will free humans from dull, dirty, and dangerous jobs, governments will start providing an unconditional income to its citizens which will cover their basic needs. This will result in people starting to spend more time on things that truly matter, such as self-discovery, creation, and spending time with loved ones.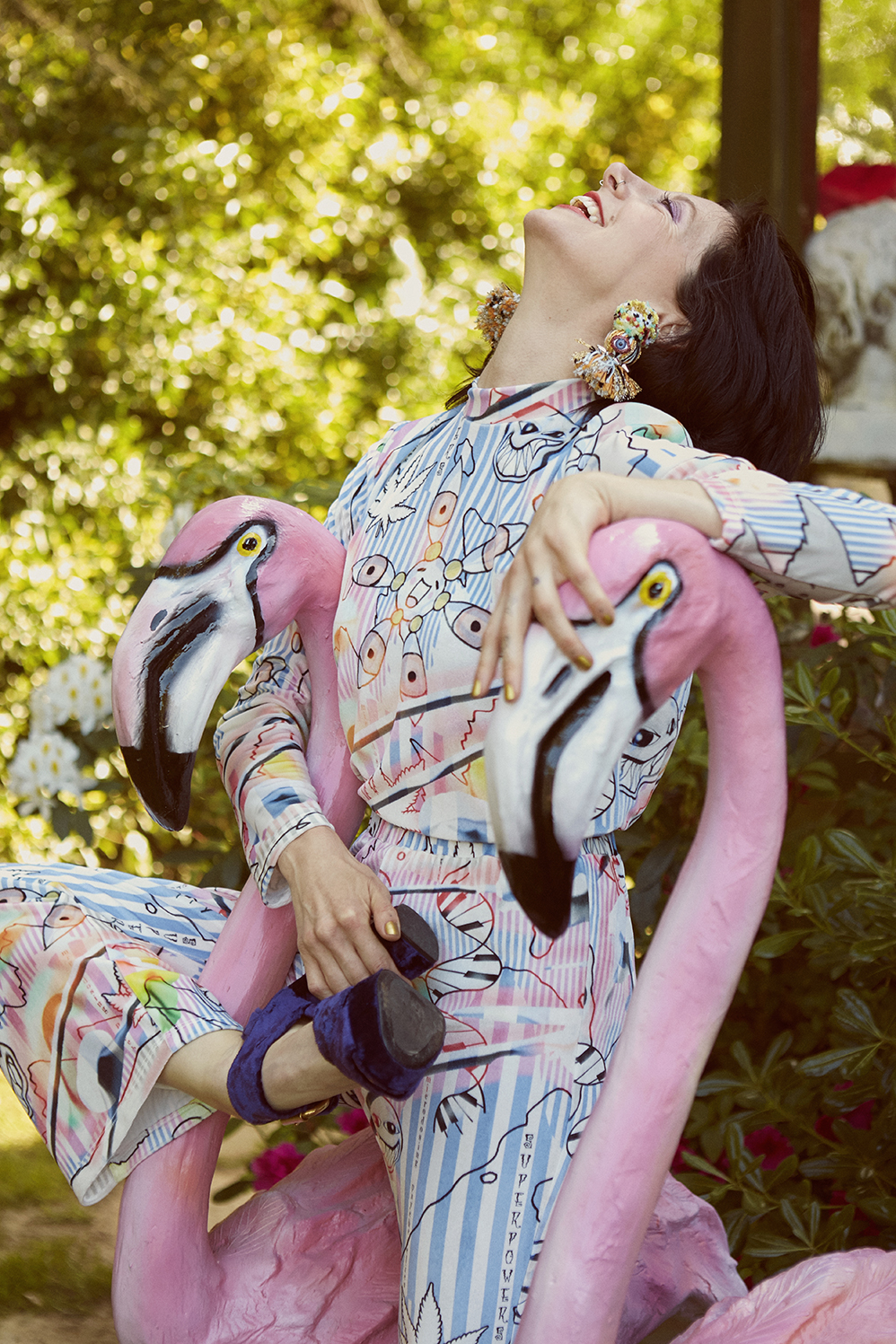 Microdosing Psychedelics Velvet Chill Suit
Psychedelic microdosing is a practice to use sub-threshold doses of psychedelics in an attempt to improve creativity, boost physical energy level, emotional balance, increase performance on problem-solving tasks, and to treat anxiety, depression, and addiction. This became a widespread performance enhancer among business and artistic creative circles, especially in California's Silicon Valley. The active ingredient in in psychedelics, DMT, is also taken naturally with ayahuasca and mushrooms. We believe this natural "relaxer" will be an alternative to drugs and medicine in the near future.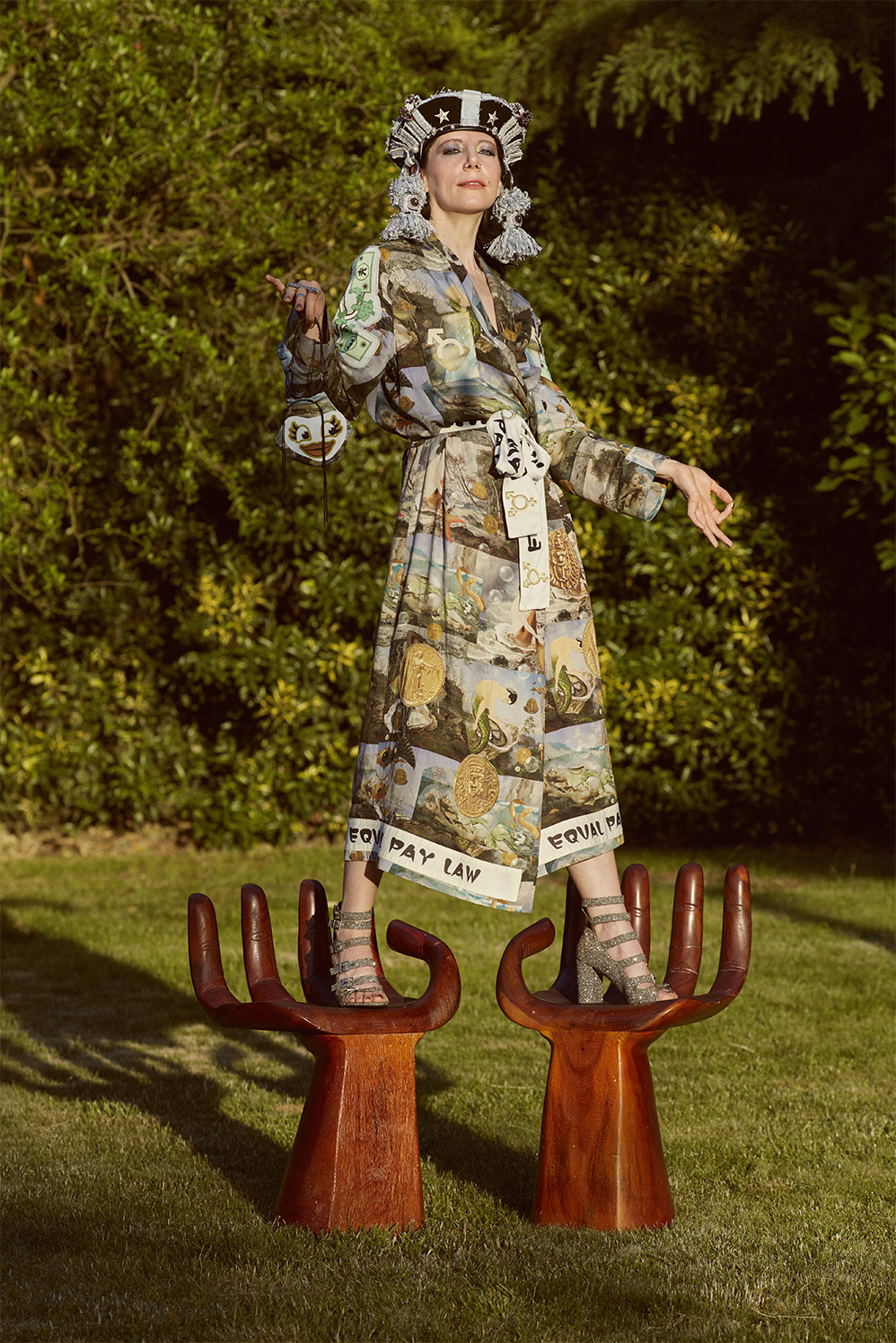 Equal Pay Law Kimono
This ready-to-wear garment is also inspired by Iceland's Equal Pay Certification. We originally made this pattern for our favorite bag brand Mehrymu's Spring Summer '19 collection, realized with their direction. Parts of the painting are used on their bags, in the interiors of their bags and as their dust bag. Even though this piece was created as part of a brand collaboration, later on we also used the visual in our clothing collection. We are so lucky to have this fluidity and trust with the amazing people we collaborate with.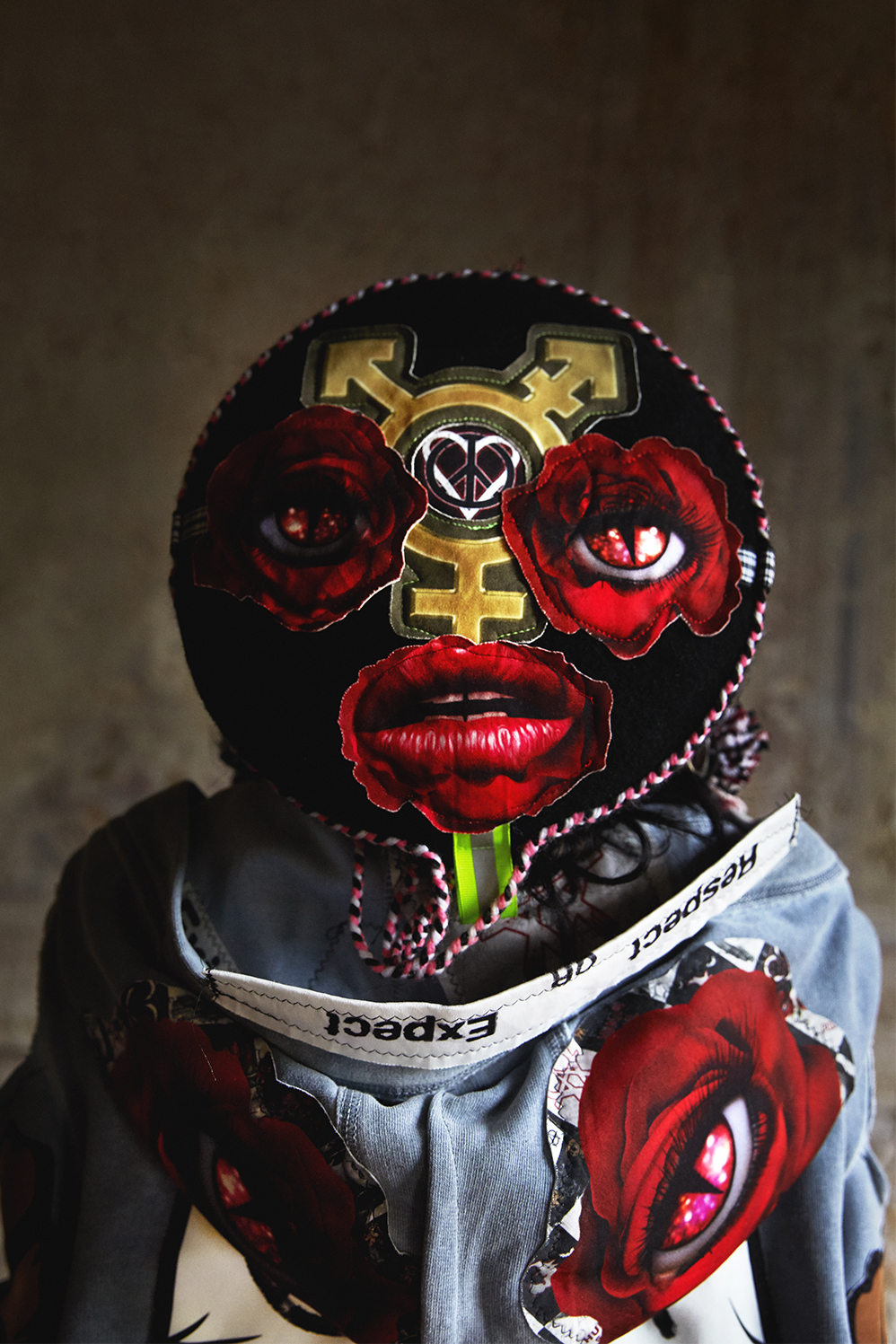 Femme Anarchy Business Suit and Beret
Rampant patriarchy, the objectification of women, and misogynistic social structures have all caused an imbalance, suppressing natural feminine energy in both men and women. Anarchy, protests, and the desire to stand in opposition to the system, have been historically associated with a masculine character. We created new images for the rise of the sacred feminine together with the wish to create contemporary alternatives to the visual depiction of anarchy. These visuals are used on the business suit and on the beret geniously handcrafted by Viola.
Pinar&Viola is a creative studio founded by Amsterdam-based Pinar Demirdag and Viola Renate. Check out their instagram and stay tuned for updates on their work.
This interview was produced as part of our series In a Nutshell. Head over to read more articles where creatives around the world talk us through references that inspire their work.
Text: Sophie Rzepecky
Photography: Koray Parlak, Jiyan Kizilboga