When Filipino performance artist Pepe Dayaw takes over a guest's kitchen as part of his itinerant cooking project Nowhere Kitchen he asks that they don't shop for groceries—instead it's the odds and ends in their cupboards that take center stage at his roving dinners.
The project began in 2012 in Madrid, after finishing his Master of International Performance Research in Amsterdam and London. According to Pepe, the more bare the cupboards, the more memorable the dinner. "Each time I opened the fridge at the dinner, it was a new situation and each evening was a very unique kind of choreography of how strangers and friends come together." The dinners gained a swift following, something Pepe attributes the intrigue of leftovers, which he noticed didn't bear the positive connotations he was used to: "On my island, in the language of my mother there's a word 'tadak,' which means 'to leave something for.' It can be both a verb and a noun, so it means that it's also an action, it's something we do—it's a habit."
The conversation is peppered with various linguistic slips, terms, and with them practices, that multilingual Pepe has picked up on his stays abroad. 'Convivencia,' coexistence in Spanish, makes its way in next as we sit on Pepe's balcony at his home in Wedding, and he explains the expansion of the Nowhere Kitchen project. It's current home of sorts is across the city in Neukölln at Agora Collective, a coworking space. "It went from a me to a we," explains Pepe. There, they cater the daily lunch service, though he still periodically raids fridges for occasional 'leftover' dinners. He has 12 cooks alongside him in the kitchen, all of whom had previous professions—"We're all leftovers, too, and we ended up in Berlin," he laughs. "Our cooking network is all about how to get people to cook again and learn to love it without so much intimidation." And, it's our next stop on tour with Pepe.
Wedding: Pepe at Home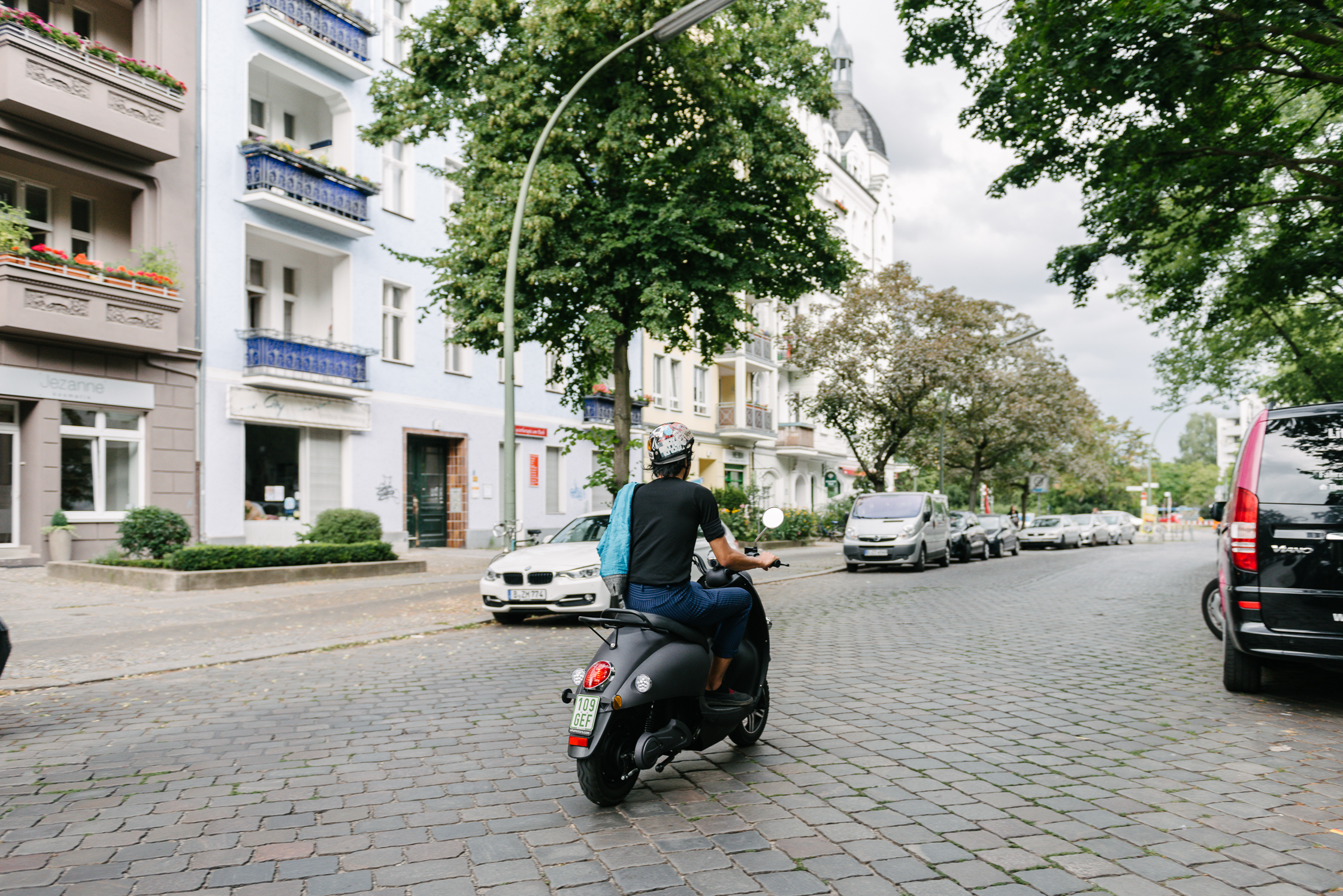 Stopping by his shared house in Wedding, we find out how this wandering figure feels at home in Berlin. "It's the constellation of people. You realize when you meet people like this that you feel at home, you feel like you're with your family." But Pepe, fitting for the end of a tour, recognizes the cityscape, too, "Agora and the fun factory and my house, they are all places that have enough rules for it to be a frame but enough room to move around, so to speak. You can allow a lot of intention, but you can also let go and let things happen. They're simple formulas."
Nowhere Kitchen at Agora Collective
Like the rest of his team Pepe was never formally trained in gastronomy. Growing up between chaotic Manila and the small island of Catanduanes, he whiled away many hours in an impressionable setting—his grandmother's kitchen.
"I never cooked in the Philippines, I only cooked in exile, because this is what you do. The culture of cooking is so prevalent in there that you don't have to cook, there's always something around to eat. You find a coconut, crack it open and eat it straightaway," he says miming the action as he speaks."So when I came to Europe, I started cooking how my grandmother cooked, without consulting any recipes. I was with her thousands of times, just sitting at the kitchen counter, while she stood sautéing something." As he speaks, he plucks invisible ingredients mid-air—listing tomatoes, garlic, onions, that together make up the fragrance of his childhood. His expressiveness points to his seven years as a dancer, having trained with a company specializing in the traditional dances of the indigenous peoples of the Philippines.
There's a coexistence between Pepe's two practices of cooking and dancing, one he sees as rooted in storytelling."I like to make people remember things. Making dinners is a way to tell stories, and there's some dance in it, and music-making. Because, choreographically, they're really not that different from each other. You move in the kitchen, you really need to be aware of the space, it's a bit like dancing."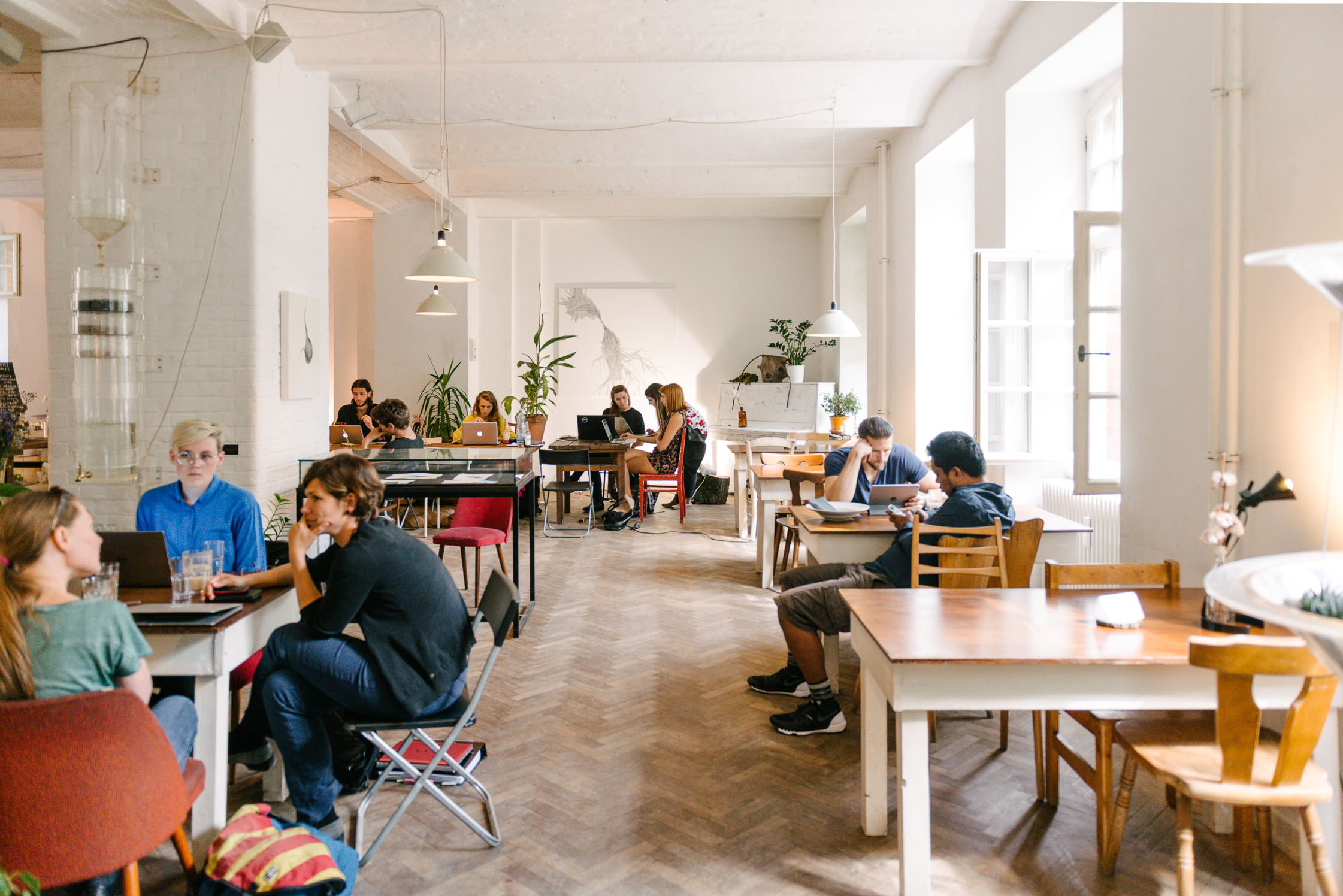 A Tour Through Pepe's Berlin
"I never cooked in the Philippines, I only cooked in exile."
The focal points of Pepe's life in Berlin are scattered across the city: from Agora Kitchen in Neukölln, a slew of eateries in Kreuzberg, a friend's studio space in Wedding, the suburb he calls home. Much like Nowhere Kitchen, Pepe is loathe to be confined to any one place, or neighborhood.
Kreuzberg: Südstern Eateries
As we ride through leafy Südstern on the fringe of Bergmannkiez in Kreuzberg, Pepe explains, "I like places that have been shown to me by people I know or ones I stumbled upon, not by looking at Yelp." We stop at Polish cafe and grocery store Maly Ksiaze, where, over a slice of halva cake, Pepe lets us in on where to eat in the diverse neighborhood.
Guru: "This is an Indian restaurant in Südstern where I get my spinach curry—I've never tasted anything better.
Die Eismacher: "In the same street you'll find an ice cream shop. Look out for the flavors ubi (cassava) and pandan (a fragrant leaf known elsewhere as the 'Asian vanilla'), two very Filipino flavors of ice cream that you can only find here."
Maly Ksiaze: "It means the 'The Little Prince' in Polish. It's a Polish grocery store and a cafe where I always pick up some pierogi."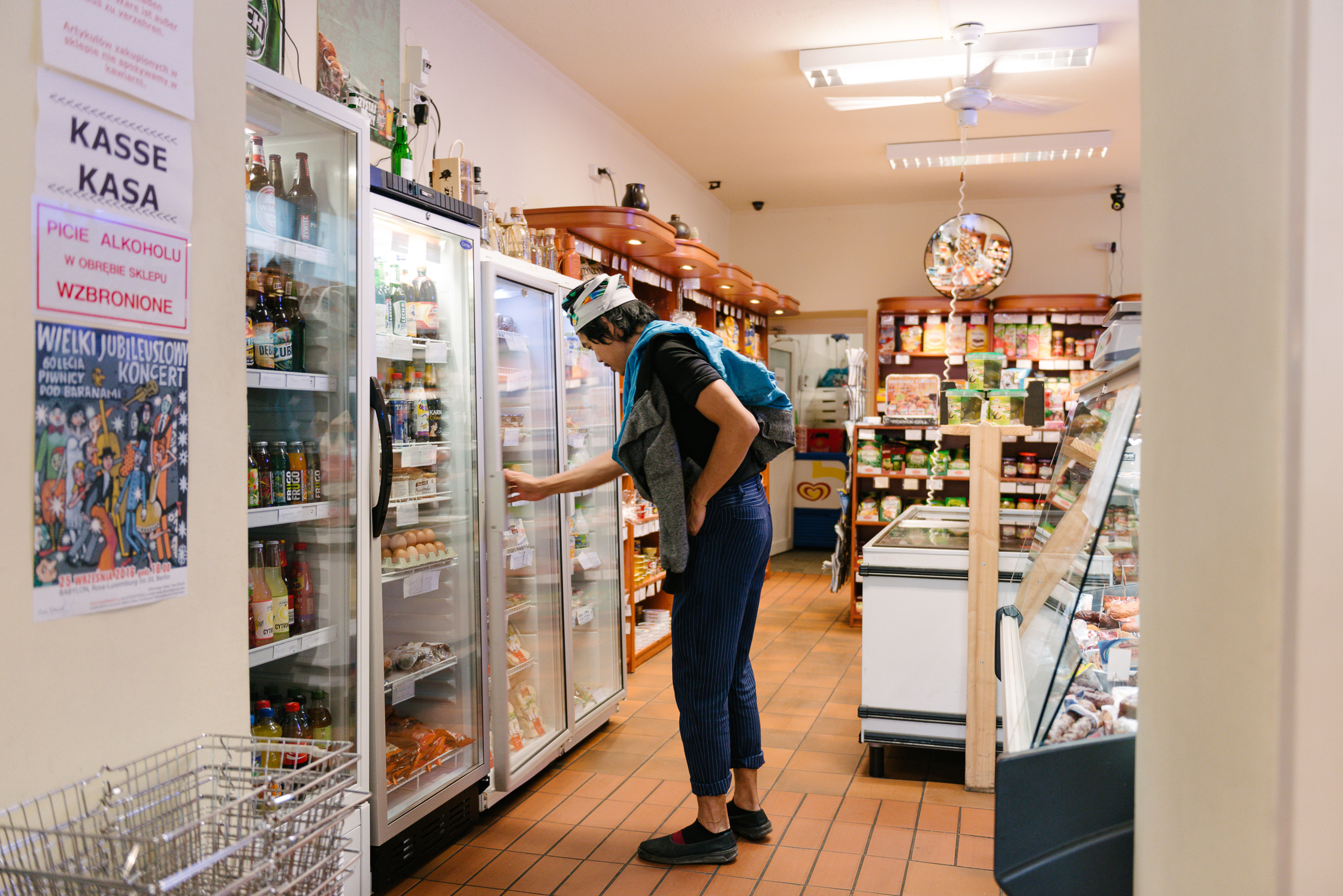 Wedding: Artist Dirk Bell's Studio
Once we hit Wedding, we stop at the studio of Pepe's friend, German artist Dirk Bell. "I like to call it the 'fun factory.' This is where I have been hosting a kid's edition of Nowhere Kitchen. I like to cook in different spaces and always put on different kinds of events, I never invent a context for Nowhere Kitchen, it's always moving." Improvising with leftovers, the playful project and is part of Pepe's continuing efforts to change mindsets about produce: "Food waste, I never use this word which is really common here. I'm very irritated by it, because it's supposing that you're already going to waste something. I don't think that's the way to change something."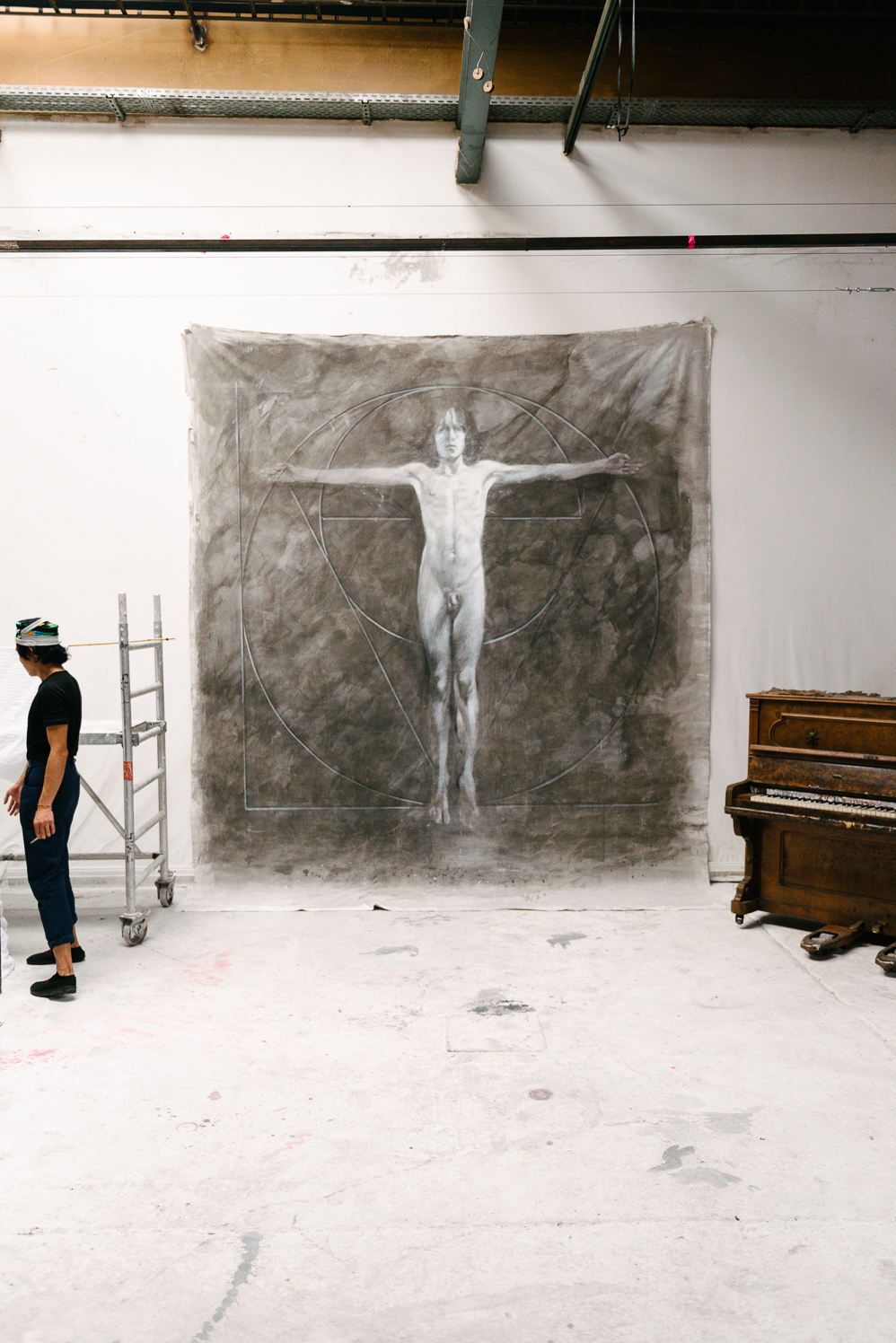 Thank you, Pepe, for showing us around 'your' Berlin and sharing the story of Nowhere Kitchen. Visit Pepe's website to follow his work and for more on Berlin's creatives, see the archive of portraits in our home city.
This tour around Kreuzberg with Carmi is part of our collaboration with unu – the smart electric scooter. Together we'll be exploring Berlin with locals, getting the inside scoop on the local hotspots.
Photography: Daniel Müller
Text: Ruby Goss