Hamburg's Karolinenviertel has a unique charm. Once sandwiched like a Gallic village between a slaughterhouse, a conference center, and the Heiligengeistfeld, the originally working-class neighborhood filled with old-fashioned buildings held out against rising rents much longer than the surrounding areas.
The multicultural and alternative township of old remains vibrant today. In the so-called "Karoviertel," artists and thinkers live alongside old sea dogs and young families. The heart of the district is Marktstraße, today connected to Sternschanze by a bridge. Here you'll be tempted to wander around cafes and quirky little shops.
Even though she doesn't actually live at Karoviertel—the hot spot for Hamburg's creative community—Moshtari Hilal spends as much of her free time there as possible. At the age of two, the 23-year-old Hamburg resident flew from Afghanistan to the Hanseatic city with her family. She grew up in Hamburg, and now studies politics and Islamic studies. Alongside this, Moshtari is an artist. In her often semi-autobiographical illustrations, she questions stereotypes, cultural prejudices, and beauty ideals. Depicting women with facial hair and men wearing veils, she exhibits her works on Instagram, which she sees as a meaningful platform for increasing the visibility of art.
Identity is a central theme in her work and it is something she sees as being in perpetual flux. It is constructed by the things you consume: books, films, fashion, people, and culture are all found in cities. For this reason there are just as many different versions of Hamburg as there are people who live there. What does Moshtari's Hamburg look like? Here's what she showed COMPANION on this district tour.
Moshtari Hilal's favorite spots
Nachladen
Hamburg's hub for independent publishing
"Nachladen is one of the few shops in Hamburg selling good-quality independent publications, comic art, and graphic novels."
"This is a route for people who don't like to walk," laughs Moshtari as we set off on the short stretch from the last corner of the Schanze over the railway bridge and into Karolinenviertel—the actual destination of the district tour. First stop: Nachladen, a shop owned by the creative collective who call themselves Sternstunden des Kapitalismus (Great Capitalist Moments). Moshtari says, "Nachladen is one of the few shops in Hamburg selling good quality independent publications, comic art, and graphic novels." Their offerings include many zines. One example is Kratermenschen by Moritz Stetter, a magazine full of drawings depicting well-known figures with craters in their faces. You could already spend a whole afternoon just in Nachladen.
Flohschanze
A Saturday flea market
Onwards! On the way to Karoviertel, we stop off at the site of a former cattle slaughterhouse. The loft-like space now house galleries, offices, and music studios. A makeshift wooden grandstand invites you to linger in the sunshine. "Every Saturday the Flohschanze flea market is held here," explains Moshtari. Originally conceived as a local flea market for residents, today many professional and private retailers sell items that all browsers covet. You can find just about everything, from antique furniture to old suitcases, grandma's tea set, jewelry, clothes, and every sort of gadget. "The prices are now somewhat higher than at other markets," says Moshtari, "but for that, you get a central location and you can be sure to find all the most current and 'hip' vintage items."
Bluesleeve
A concept store for Japanese designers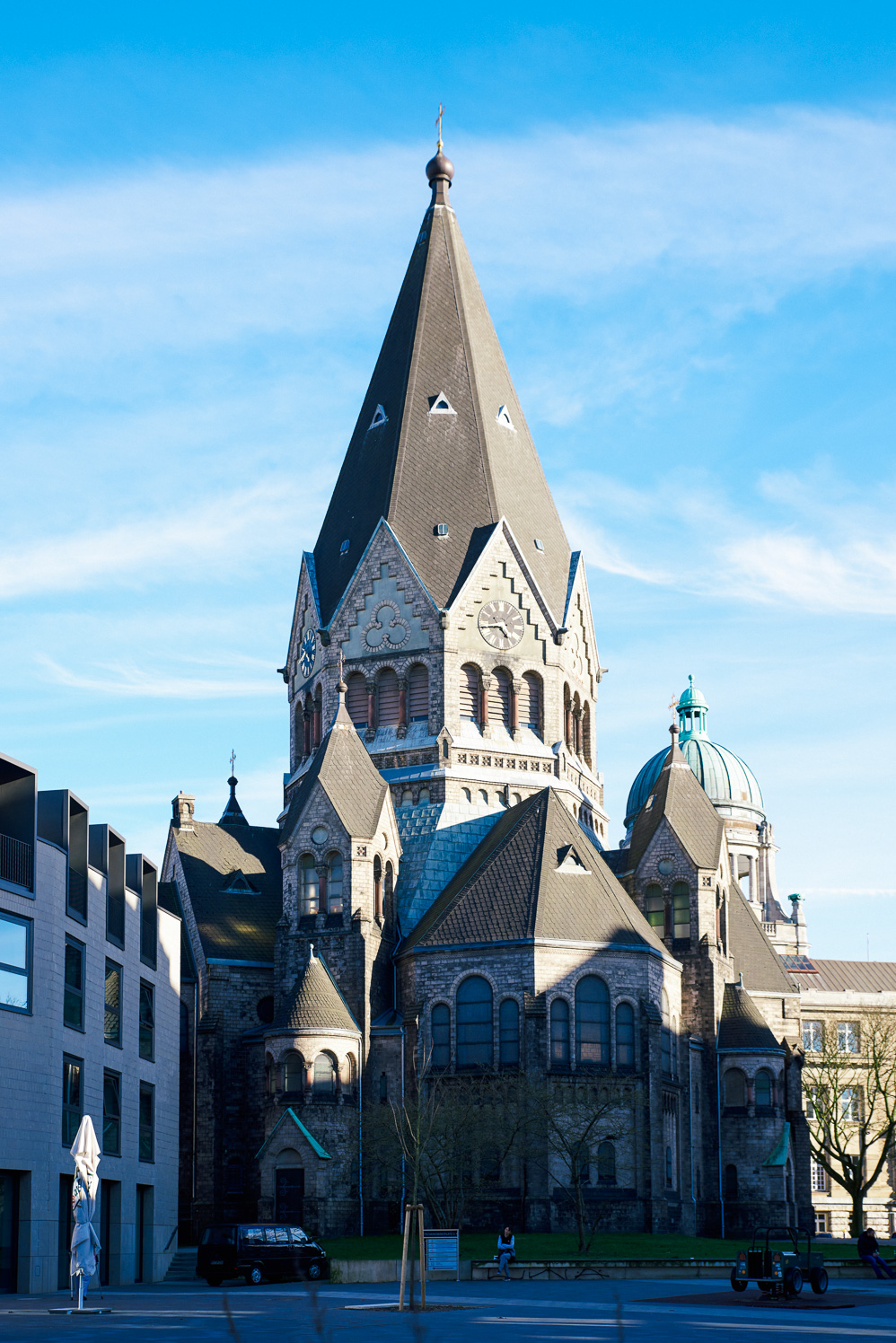 Over the railway road and into Karoviertel—Moshtari's favorite place in Hamburg. "Today the area is changing but the same is true everywhere," says Moshtari, who has known the neighborhood since she was a child. "Many of the shops that used to be here are gone and have been replaced by new ones. That is sometimes a good thing." This is the case with Bluesleeve, a concept store for Japanese designers like Yohji Yamamoto, Comme des Garçons, and Issey Miyake, which opened in 2015. This is where key players from Hamburg's creative scene like to go. Alongside sought-after vintage finds, they find Asian porcelain, works of art, and interior design objects. Those who don't want to buy anything come for a chat: Bluesleeve is more than a shop, it is a gathering place for people interested in fashion and art.
Groove City
A paradise for music lovers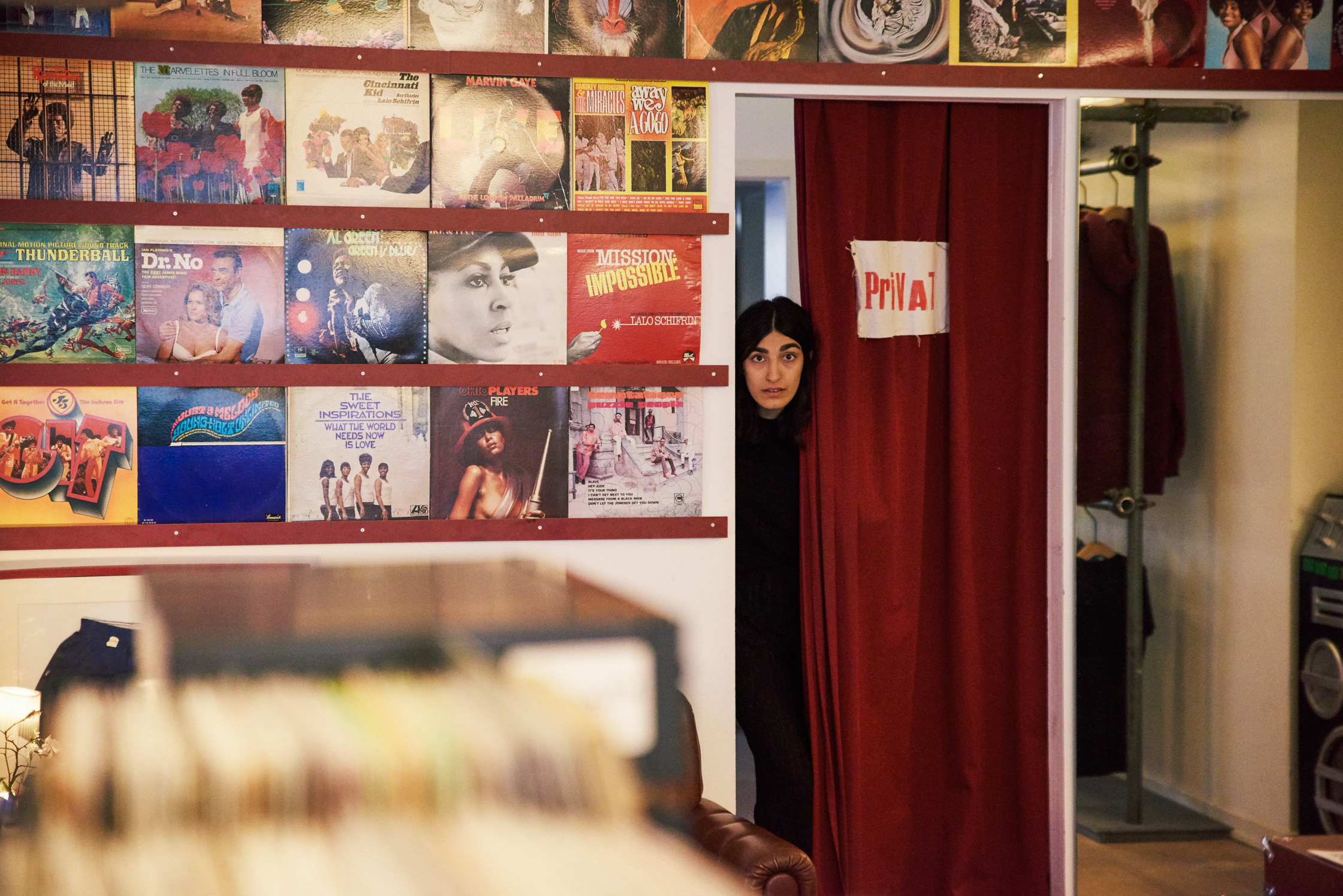 "I don't even have a record player," says Moshtari, laughing as she reaches the Groove City record shop, just a few steps away from Bluesleeve. "But I really want one!" The cult Hamburg DJ, Booty Carrell, who plays a lot of Turkish and Iranian funk from the 1970s and works here on the side, is the one who gave Moshtari a taste for it. In the middle of the day, Groove City is completely packed with customers ranging from hip promoters with horn-rimmed glasses to bouncing teenagers. There is something for everyone, including soul, funk, reggae, and hip-hop, as well as a lot of rare Arabic and Persian tracks—a real cabinet of curiosities for music lovers. Owner Marga Glanz greets Moshtari warmly and hands her a few records: "They're a gift from Booty Carrell. I get music and in exchange, he gets my new art book, We Were Drawn Here," she tells us. It definitely sounds like a win-win situation!
Galerie der Schlumper
An art collective with a social mission
"I like the social approach of the Schlumper just as much as the exhibited artworks."
A district tour with artist Moshtari wouldn't be complete without a trip to an exhibition. The Galerie der Schlumper is also on Marktstraße and is run by a namesake studio community of artists, founded in 1980. The artists, who have various disabilities and individual approaches to art, exhibit their works in bright rooms fronted by an inviting large window. Moshtari remarks, "I like the social approach of the Schlumper just as much as the exhibited artworks." It consciously doesn't look like a non-profit cafe and artists without disabilities are also invited to exhibit their works here. Good art should be presented in a good way – regardless of who has created it. Incidentally, Schlumper is always looking for patrons to support their efforts.
Café Panther
A meeting point for punks, philosophers and artists
After all these different sensations, our heads are beginning to spin. "Time for some juice," Moshtari tells us. Just across from the Schlumper gallery is the quirky Café Panther, where residents of Hamburg enjoy settling down with a book. When the weather is nice, the outdoor tables are a good choice: You can watch the lively goings-on on the street from these seats. The bistro is a Marktstraße institution, where punks, philosophers, and artists alike have been meeting for organic food and drink for the last decade. The store is named after Rainer Maria Rilke's well-known "Panther" poem. Whether the title, as in Rilke's poem, is a play on the supposed self-alienation of the urban dweller is an open question. But certainly, if you are feeling a sense of emptiness, the hearty vegetable smoothies, and fragrant cakes can fill the void.
Peacetanbul
A mix of Mediterranean and American cuisine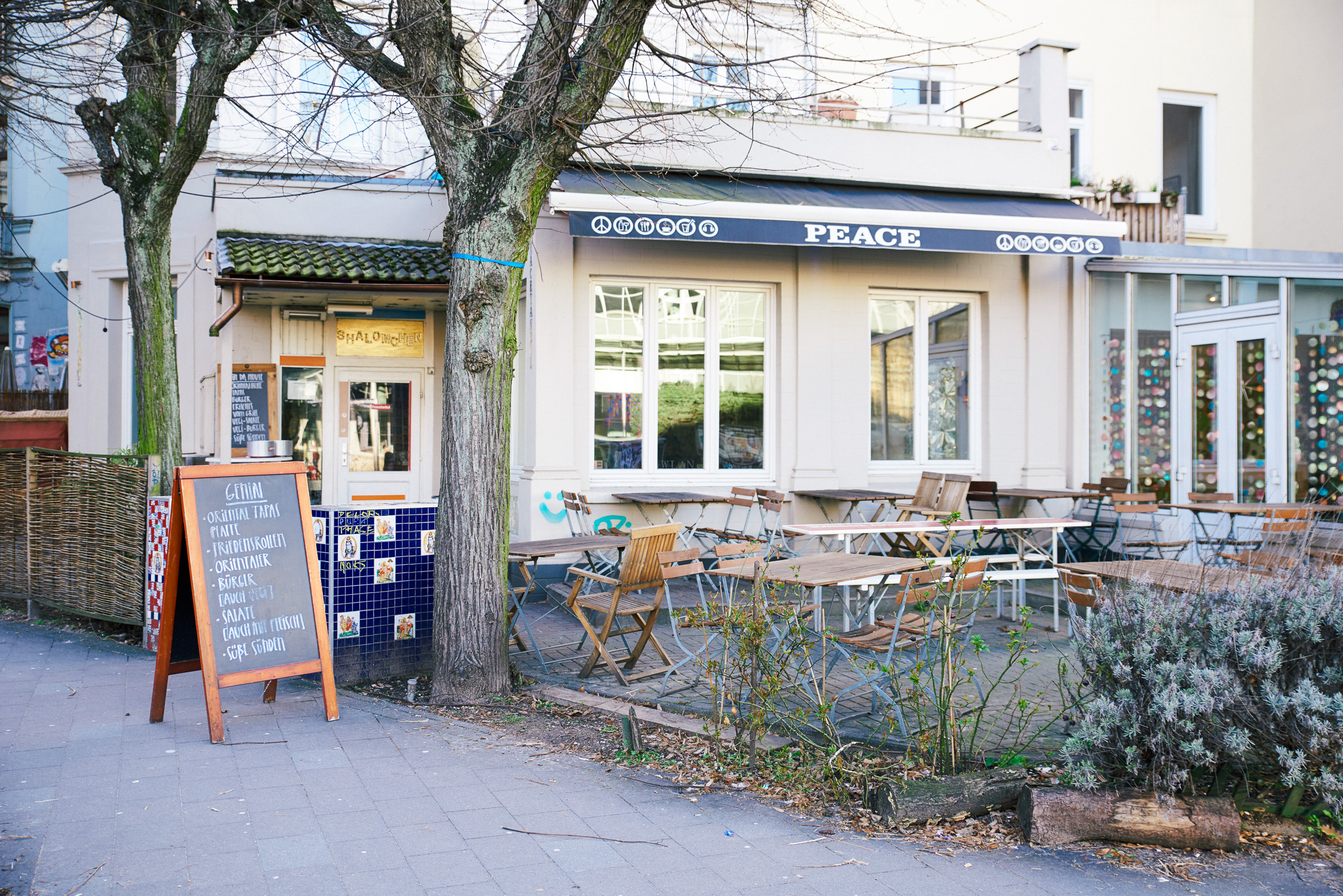 All this walking has left us feeling hungry. And Moshtari's favorite place to eat when out and about in Karoviertel is Peacetanbul. The name makes it clear that the restaurant has ties with Turkish cuisine as well as ambitions of creating harmony between cultures. Upon arrival, you're greeted by a cheerful "Shalom" at the door, and as you head inside, you are met with equally cheerful stones, tiles, and mirrors adorning the café's interior. "Multicusine" is the motto. In Peacestanbul, Mediterranean dishes are combined with American classics. The results include a Turkish burger with lamb, goats' cheese, or middle eastern meatballs. Also highly recommendable are the grape leaves and the spicy vegetable pastes. And with a refreshing glass of homemade soda in hand, a day spent discovering Hamburg comes to the perfect end.
Thanks, Moshtari, for showing us your favorite spots in Hamburg.
For more info about Moshtari and her great work, visit her website or check out her tumblr.
This story was originally published in Companion #10, a magazine produced in collaboration with 25Hours hotels. Find more Companion stories here.
You can also find more FvF city guides here.
Text:Celina Plag
Photos:David Daub