The reputation of the architect declined dramatically since 2008 after the collapse of the country's real estate market, but as the economy recovered, so too has the profession and what it means to be an architect today.
It was during the preceding decades, a time associated with the Spanish housing boom, that Benjamin Iborra Wicksteed and Carlos Dimas Carmona, co-founders of Mesura, grew up. Postmodern architecture was on the rise, and its creators—the likes of Frank Gehry and Zaha Hadid—gained recognition akin to celebrities. Spain at that time was attracting a greater influx of tourists, with its cities following the lure of the so-called Bilbao effect: a phenomenon in which showy architectural landmarks promised to enrich a city's economy—Bilbao's Guggenheim Museum, built by Frank Gehry and opened in 1997, being the eponymous case.
At the same time real estate prices increased as part of an unbroken demand in home ownership: "Spain was starting as many buildings per year as the UK, France, and Germany combined," states Dimas Carmona about the pre-crisis housing market. As a matter of fact, the Spanish construction sector had employed 2.7 million workers back then, which made up 13 percent of the country's workforce. Needless to say the young Iborra Wicksteed and Dimas Carmona desired a career in architecture for themselves.
"The architect represented a person that was for sure going to succeed, because the sector was never short of work," says Iborra Wicksteed. "When we were kids, the Spanish economy was always growing." Later at university, Dimas Carmona and Iborra Wicksteed met Jaime Font Furest, Marcos Parera Blanch, and Jordi Espinet Roma with whom they shared a workspace during their final projects and with whom they founded Mesura in 2010. While still students, the group won the Europan 11 competition with an environmental development strategy for the city of Dubrovnik. It was given the title Back to Citizens, a claim "that still describes what Mesura wants to stand for," according to Iborra Wicksteed. "We presented a walking route along the city walls (along which the public building would appear), to create more public space for the citizens of Dubrovnik instead of just focusing on one small lot of land," adds Iborra Wicksteed. "One of the candidates in the election ended up using the same slogan in his campaign, so we knew we did something right there."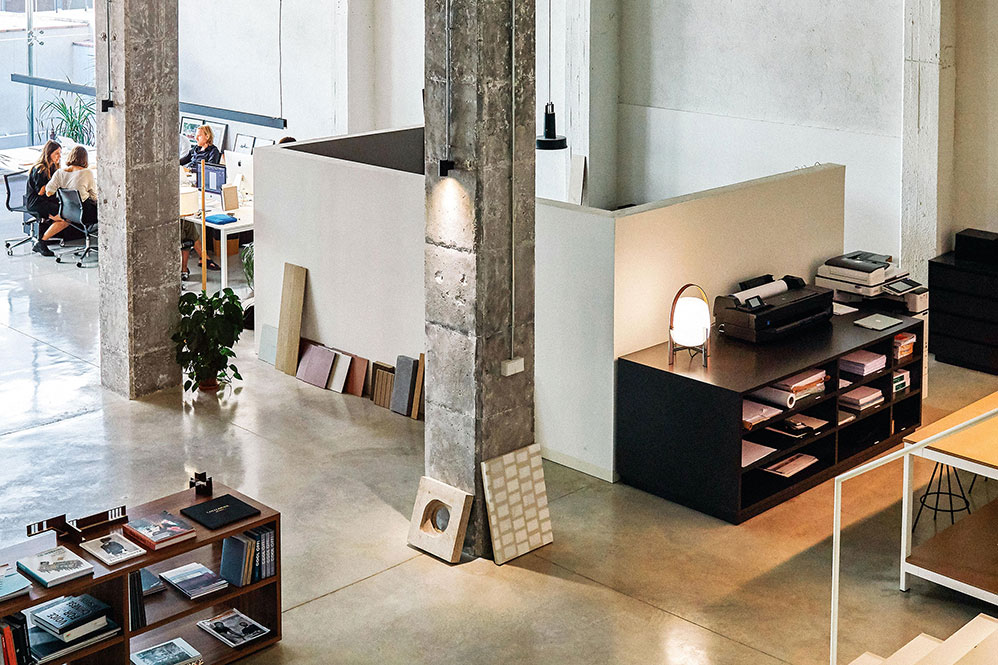 Mesura was founded on the belief that Spanish architecture needed to break with the sensationalism of prestige buildings and the wastefulness of the housing industry, and instead be more sensitive to real world necessities. Obviously, this wasn't just a matter of choice: when the Spanish real estate bubble burst in 2008 as part of the worldwide financial crisis, employment in architecture declined drastically. Developers were filing for bankruptcy, house prices dropped. Almost half of Spain's architecture firms are said to have closed between 2008 and 2012, with numerous professionals leaving the country. Mesura's founding members graduated when Spain was three years into the crisis. "So we entered the job market at a time where there were basically no jobs," concludes Dimas Carmona.
By calling themselves Mesura (Spanish for "measurement", but also "moderation"), the founding quintet not only laid down the principles for their design approach, but for their vision of the architectural profession in general: "The architect used to be a respected figure in Spain, but that ended when the real estate bubble exploded. As of that moment, society considered the architect an accomplice of the recession," says Iborra Wicksteed. Starting a business in such precarious times inevitably led them to question the image of architecture they had grown up with. "Architecture used to be a very closed world, with big and important firms that were hired to make statement buildings and interventions," explains Iborra Wicksteed. "People no longer wanted this after the crisis, as architecture was tainted for a while. It changed the perspective of a whole generation into designing for citizens, not a city, a community, not a neighborhood," he adds.
For their own practice, this meant downscaling: "When we began, there weren't any new buildings being built, so what we started with was mostly interior design." But for Iborra Wicksteed and his co-founders this had actually been the much-needed corrective: "After the crisis we decided we had to be optimistic, and we survived because of it. There is two ways of looking at change: reject it and keep on doing what you know, or accept changed circumstances in order to find a solution. It's a philosophy that is still present in Mesura today, and it's very valid, as the world now changes constantly and rapidly," says Dimas Carmona. "Our mentality is not the same we had five years ago, the way we live and communicate has changed. And to do good architecture and design we have to understand what is happening and changing on a societal level, not just for urbanistic interventions, but even the smallest project we are commissioned for."
If there's one thing that could be described as Mesura's signature, it is this mindfulness of what is already existing: "We do not want to leave any 'footmark' as individuals, nor as a firm, really," says Dimas Carmona. "We're an extremely horizontal company, we want our team to tell us if something is not right," stresses Iborra Wicksteed. "As the team grew we managed to keep the conversation culture: we never wanted to be five architects leading a team, we want to work with each other and with different profiles (not just architects). It makes projects so much richer."
In the beginning the team was faced with restrictive budgets and limited resources, which led them to focus on creative solutions and paying attention to detail. "We have learned to listen to each other, to encourage each other, and to respect every voice—not only between partners, but with the whole team," says Iborra Wicksteed referring to the process behind two of their most successful projects: the garden of Castell de Peratallada and Casa IV.
Both projects showcase a renewed sensitivity among young Spanish architects, whose aim is the exact opposite of leaving their own footprint. In Peratallada, a medieval settlement about 100 kilometers outside of Barcelona, Mesura was commissioned to provide a garden environment for its heritage castle in 2014. As a means of treating the centuries-old place with respect, a material investigation became the center of this project. "We wanted to create a design that almost disappears. Something that links the history with the new, but without simple imitation of the old," says Iborra Wicksteed. For that, Mesura needed to identify their own knowledge gaps and seek help from other specialists who supported them with a study on the material history of the settlement: "We collaborate with people who know things that we don't know—and I think that's very important as part of our philosophy."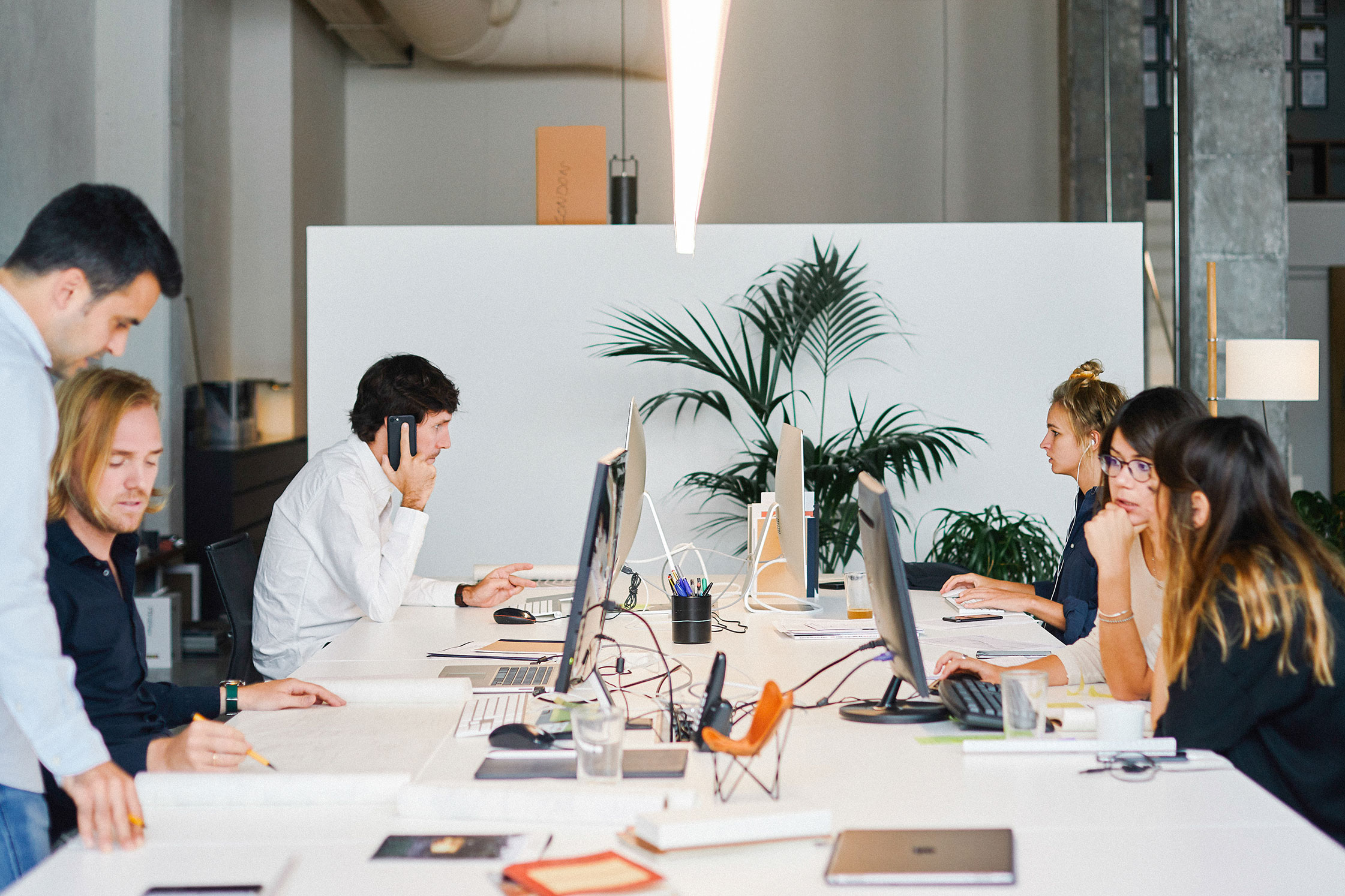 Limestone was eventually used to integrate a terrace and pool seamlessly into the existing structure, had been found in nearby Girona, left over from another project. The recycled marble pieces came in all different sizes, creating an intricate floor pattern, in which every piece was painstakingly carved to fit—true to the name of Peratallada, which means carved stone. An evenly meticulous procedure created the look of Casa IV, an award-winning residential project in the countryside outside of Elche, in the southeast of Spain. As part of a play with the house's indoor and outdoor spaces, horizontal lines were accentuated by one central element: a thin and oblong brick, designed and produced in collaboration with a local 'bobila' (brick maker). "We became obsessed with not having to cut those bricks for the layering," laughs Iborra Wicksteed. Hence no material was wasted in the process.
The preoccupation with the stone at Paratellada and the bricks used for Casa IV make one thing clear about Mesura: it is only with a mindful approach to materials and work processes, that architecture can sustain itself throughout the caprices of economic cycles and bubbles. Today, Mesura's team consists of about 30 people and just last year they moved into their new offices in the north of Barcelona's district of Gràcia. Although the Spanish real estate market seems to have recovered to a pre-crisis level, "the budget has been and continues to be a great challenge in our business," reminds Dimas Carmona. "We still carry the values of the recession in our pockets," states Iborra Wicksteed about their mandate as a new generation of architects. "Because of the crisis, our whole way of working is based on doing things very differently to previous generations: experimentation, researching the world and society in general, listening to different voices in the creative process, and improving after every project," he adds. "And we hope that will define us as a generation. We want do create an architecture based on that, and go beyond mere architecture."
Past projects by Mesura
Casa IV

Casa IV

Casa IV

Peratallada

The garden of Castell de Peratallada
Mesura is a young architectural practice from Barcelona. More information on their projects and the two mentioned can be found here: Casa IV & Garden at Castell de Peratallada.
For more of our stories with creatives in Barcelona, see here. 
Text: Vanessa Oberin
Photography: Iris Humm & Mesura