As global corporations begin to take on the role of urban planners, we look at the latest development in the Irish capital.
Breathing new life into an old Dublin neighborhood with new whiskey company, Roe & Co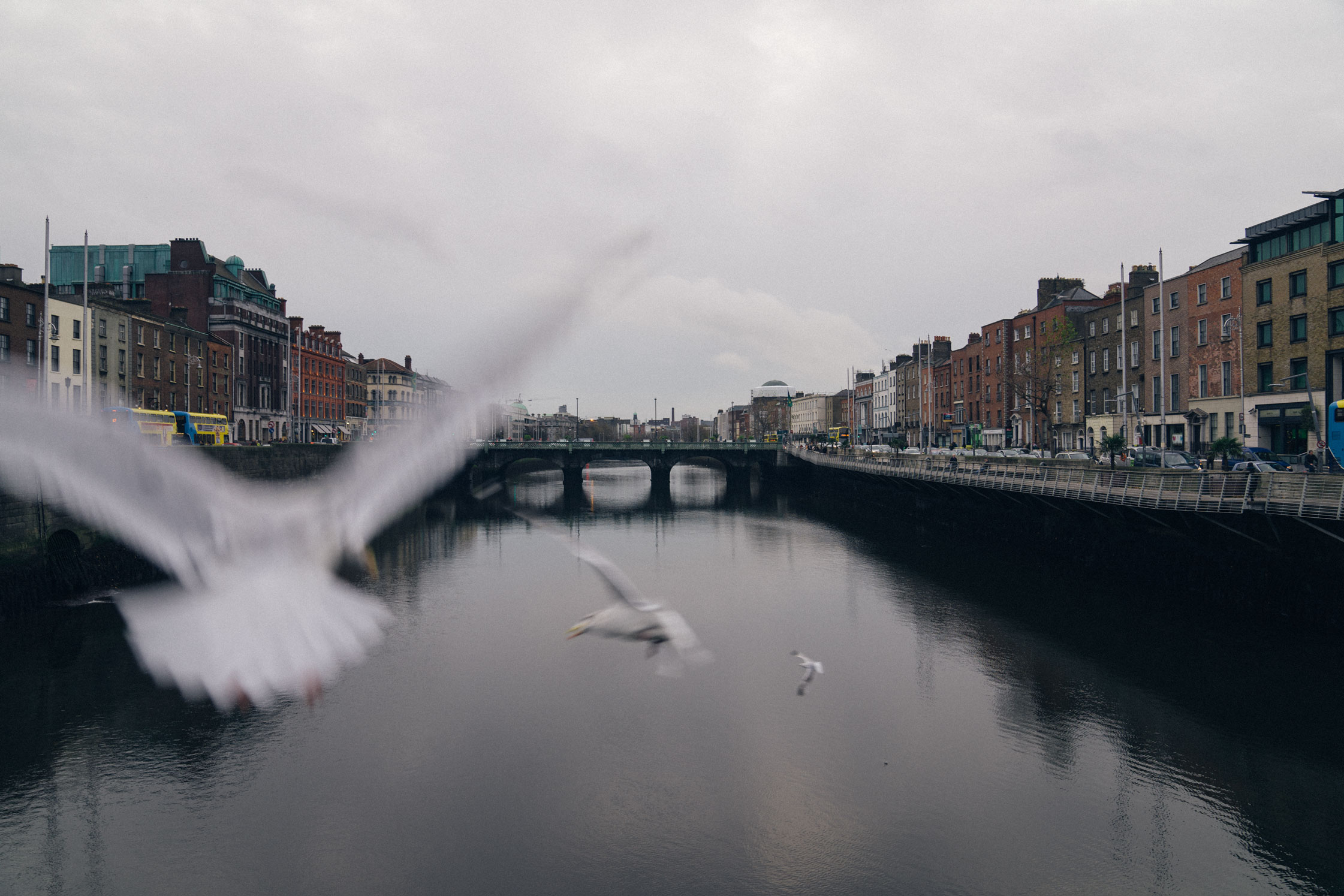 As an ambassador for one of the largest spirit producers, Peter O'Connor spends much of his time on the road. But his spiritual home—and that of the new premium Irish whiskey he represents—is in the historic Dublin district of The Liberties.
Just outside the city center, this storied neighborhood is oriented around the main thoroughfare of Thomas Street, a protected architectural conservation area that was once the culmination of a medieval highway leading into Dublin from the West. Later in its history, it became a cradle of various industries, from textiles to whiskey distilling, almost all of which eventually went into decline. It's this latter tradition that Peter wants to help revive.
"Ireland was once the biggest whiskey producer in the world," says Peter, sitting in a Thomas Street pub that's named for the founder of the nearby Guinness brewery. "At one stage Dublin had 38 distilleries, with the majority based here in The Liberties. That story was lost in history, and we wanted to bring it back. We dubbed it the greatest story never told."
Arthur's pub is just down the street from the Irish base of Peter's employer, Diageo, the drinks firm that evolved from the '90s merger of Guinness with a UK conglomerate. Given a certain amount of free reign, he and five of Dublin's best bartenders have spent the last few years working with Diageo master blender Caroline Martin on developing the new high-end whiskey, Roe & Co. The fledgling brand is largely inspired by one long-forgotten local distillery in particular—George Roe's 17-acre site on Thomas Street, one of the largest distilleries in the world during the 19th century. "It stretched along all of this street, like a city within a city, and it just closed down overnight."
Of course, their motives with Roe & Co aren't purely altruistic. Irish whiskey is the world's fastest growing spirit, and the luxury market aimed at Europe's swelling cocktail culture remains largely untapped. Due for completion in early 2019, on the same block where George Roe's factory once stood. Still, regeneration of existing infrastructure and benefits for the local community are key to the plan.
The distillery will be built into the old Guinness Power House, a perfect example of mid-century industrial architecture, which used to generate all the power for the brewery at St. James' Gate but has lain dormant for fifteen years. Roe & Co are actively seeking to collaborate with the local community on the renovation. The finished project will feature a state of the art visitor experience where they will undoubtedly be hoping to build onto the regeneration of the St. James's Gate area, alongside the Guinness Storehouse, the country's number one tourist attraction. With the facility as with the brand itself, Roe & Co aims to champion the history of The Liberties and revive the heritage of Dublin-made whiskey, a task begun by the neighborhood's other distillery. Rather than a competitor, they see Teeling Whiskey Co, established in 2015 by descendants of one of the city's original whiskey-making dynasties, as a comrade working toward a common goal.
Diageo's contribution to regenerating The Liberties' extends to its Guinness Brewery, where the company plans to turn 12 disused acres into a new urban quarter, converting old brew houses and cooperages into commercial and residential space. "You're going to have apartments, bars, restaurants," Peter says of the nascent development. "It'll help to build this area up."
Roe & Co's Guide to Dublin
"Ireland was once the biggest whiskey producer in the world. That story was lost in history, and we wanted to bring it back."
The prospect immediately drew comparisons with other areas of old Dublin that have been revamped in recent decades, with varying levels of success. But there is reason to hope that what's happening in The Liberties will fare far better. Guinness has a long history of contributing to the area in inclusive ways, through initiatives like the Iveagh Trust, established by Edward Guinness in 1890 to provide affordable housing. Diageo are very much treating the St James's Gate Quarter as a long-term investment in the community that has shared a home with Guinness for centuries—and will hopefully do so for many more. As well as promising to develop the area responsibly, with an emphasis on sustainability, repurposing old brewery buildings, prioritising pedestrians and cyclists, they are actively seeking the input of local stakeholders to shape the direction of the design through open consultation sessions. Guaranteed to make it to the final blueprint are brand new streets and modern public spaces built to the finest standard, designed to be "welcoming to all". Accessibility is to be made a primary priority.
The announcement has been music to the ears of many with ties to The Liberties. Mark Haybyrne, who runs local independent gallery and design shop Jam Art Factory with his brother John, believes the new urban quarter will go a long way towards addressing the inattention the area has long been a victim of, "bringing facilities and public spaces to people that have had their surroundings neglected over the years by the council."
Nicholas Gore-Grimes of the Cross Gallery on Francis Street is most excited about the prospect of more quality housing and new dining options coming to his locality. "Good restaurateurs need to be enticed here, as of yet it is the one sector that is seriously lacking. I just hope this might encourage others to come here and invest." And Jack Teeling of Teeling Whiskey goes so far as to say that he believes the arrival of the new urban quarter will be key to unlocking the potential of The Liberties, moving its revitalisation along by leaps and bounds. "It's an opportunity to celebrate the unique past and present culture of the area at the same time."
"Opening up all the incredible architecture, heritage and space that belongs to Guinness and does not get shared with the city could be a very positive thing."

Aisling Rogerson, local business owner
Still, as an initial reaction to the plans, some local business owners have legitimate concerns. Aisling Rogerson, co-founder of the much-loved Fumbally Café, wants to be sure that Dublin's pressing social issues are addressed in the project's eventual realisation. "There are sensational divides in Dublin right now and more and more of the people that bring life back into a forgotten area (like artists) are being pushed out," she says. "By building these 'creative quarters' are we not furthering these divides? Because, realistically, this is only creativity for those that can afford it."
She hits on perhaps the biggest question around the proposed development. With a housing crisis raging in Dublin, who will actually be able to afford to live there? A one-bedroom apartment in the newest apartment block in the vicinity costs €310,000, over six times the average annual earnings of a full-time Irish employee. Promisingly, Diageo have said they hope to provide social housing as part of St James's Gate Quarter, and ultimately, Aisling feels that the plan has promise, if it's done in the right way. "Opening up all the incredible architecture, heritage and space that belongs to Guinness and does not get shared with the city could be a very positive thing." Jack Teeling displays a similar brand of wary optimism. "I'm hoping and expecting it'll be done in a way that's respectful to its environment and the local community," Jack says.
International private companies are increasingly being drawn into the realm of urban development, particularly in the case of a global conglomerate like Google. It makes total sense that the company that shapes how we interact with the digital world should begin to try to shape our physical realities. Sidewalk Labs, a subsidiary of Google's parent company Alphabet, has made it their mission to entirely 'reimagine cities'. Their first assignment will be a team effort with a Canadian government organization to develop an area of land at Toronto's waterfront into a new 'people-centered neighborhood', accessorized with all the latest technology.
Of course, it takes more than just technology to make a neighborhood. Lessons should be learned from places like London's Canary Wharf, a stark business district majority-owned by the Canary Wharf Group where the facilitation of commerce was placed far ahead of cultural or social concerns. This missed opportunity is only now being addressed, with the addition of more family-friendly housing and an increased focus on arts and leisure.
"The distillery stretched along all of this street, like a city within a city, and it just closed down overnight."
And while some countries are looking to private companies to dream up smart cities or rejuvenate derelict docklands, others are seeking help to meet basic requirements. In India, Union Minister Hardeep Singh Puri has called on the private sector to aid in the goal of ending slums by 2022, framing the prospect of building millions of Pucca houses for the urban poor as a major business opportunity. In the burgeoning Gurgaon, home to a hive of Fortune 500 companies and described by economists as 'India's private city', a lack of public infrastructure has meant businesses have had to step in to meet demand for services like public transport, sewage and waste disposal—and not entirely successfully.
Sustainable development is one area that could benefit significantly from private involvement in updating cities. As governments are being found increasingly lacking in their efforts to address climate change, places like Johannesburg are using green municipal bonds to raise hundreds of millions of dollars to finance clean infrastructure schemes.
The most positive change seems to occur where the public and private realms meet in the middle in advancing urban areas, something that is finally starting to happen in a meaningful way back in The Liberties, Dublin. The city council has begun to see its vast potential, opening the area's first new public park in a century as part of its Liberties Greening Strategy and making attempts to regain control of the Iveagh Market—a closed indoor market built by the Iveagh Trust in 1906. The council have also supported Ireland's first geodesic grow dome, an award-winning community-built venture at the Flanagan's Fields Community Garden. It's all good news to the people who live and work in this key historic district.