Her British accent is just as sophisticated as the suit she wears in the office. Sara Hildén Bengtsson's cheerful nature is contagious and her aura radiates a distinct sense of confidence. Twelve years spent in London undoubtedly influenced her personality and style, fueling her pursuit of a creative life. Graduating from the Royal College of Art, Sara quickly became a part of the creative scene, contributing to various projects and working with Kenzo and Liberty. She also teamed up with her husband Mathias Bengtsson working on sculptural design projects. Her work with Neville Brody even saw the graphic designer relocate to Paris for a time.
However, graphic design by no means limited her horizons. When the position of Creative Director at
& Other Stories appeared, it was a match made in heaven. Together with Managing Director
Samuel Fernström, Sara started forming ideas for the women's clothing and beauty brand based on a segment from a documentary about photographer Bill Cunningham. A fashion magazine hired Cunningham to do a photo shoot. When he presented the photographs to the magazine, they divided the pictures of models by stating: "these women are in, these are out." As a result, Cunningham refused to work with this magazine again. The notion of never viewing people, clothing or different styles as 'in' or 'out', is the foundation by which & Other Stories is based upon. During our visit to the & Other Stories HQ in Stockholm, we find out why Sara was destined to land a post as a creative force behind a brand and how she summons all of her experiences and skills to create utterly inspiring outcomes.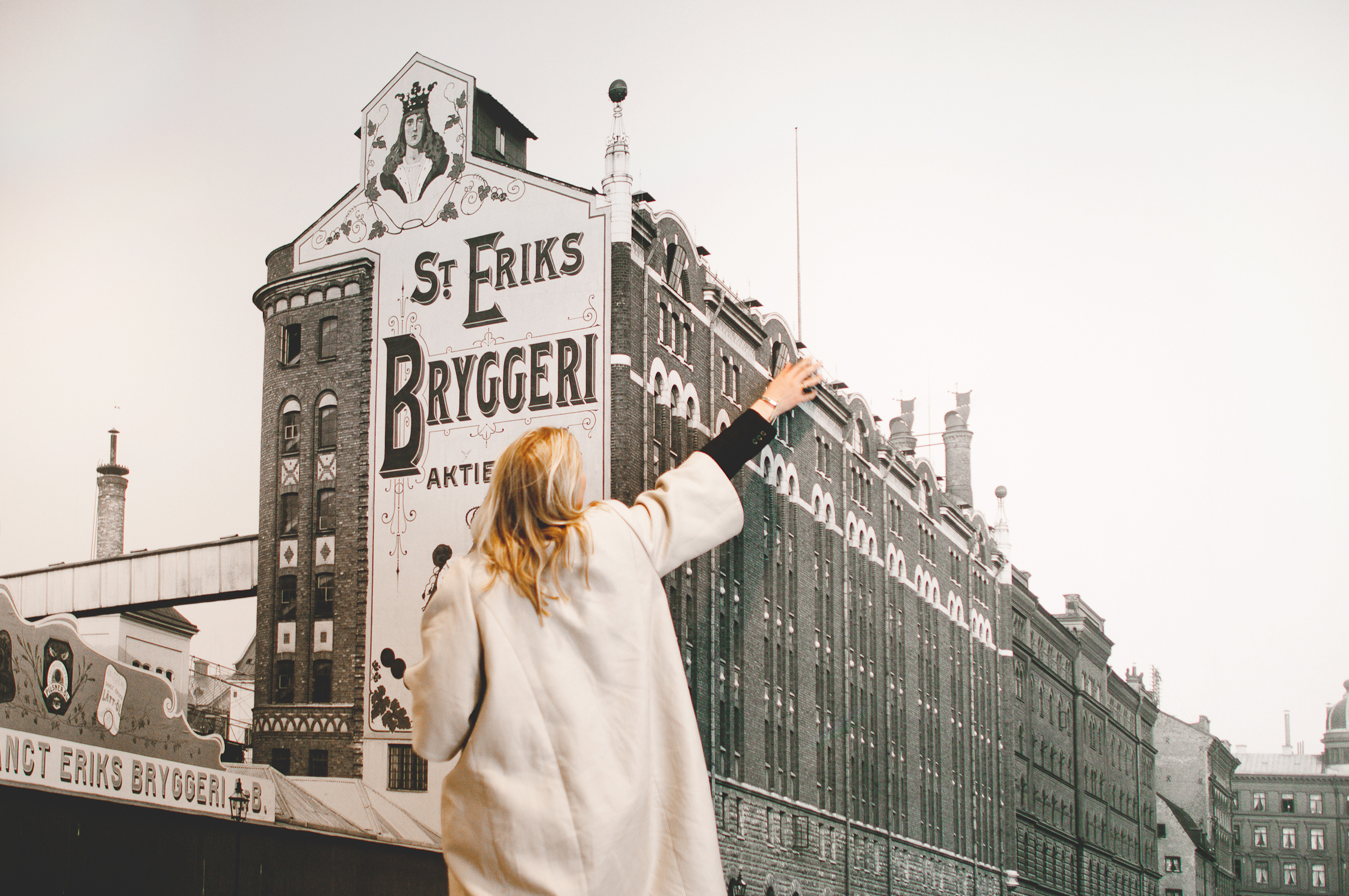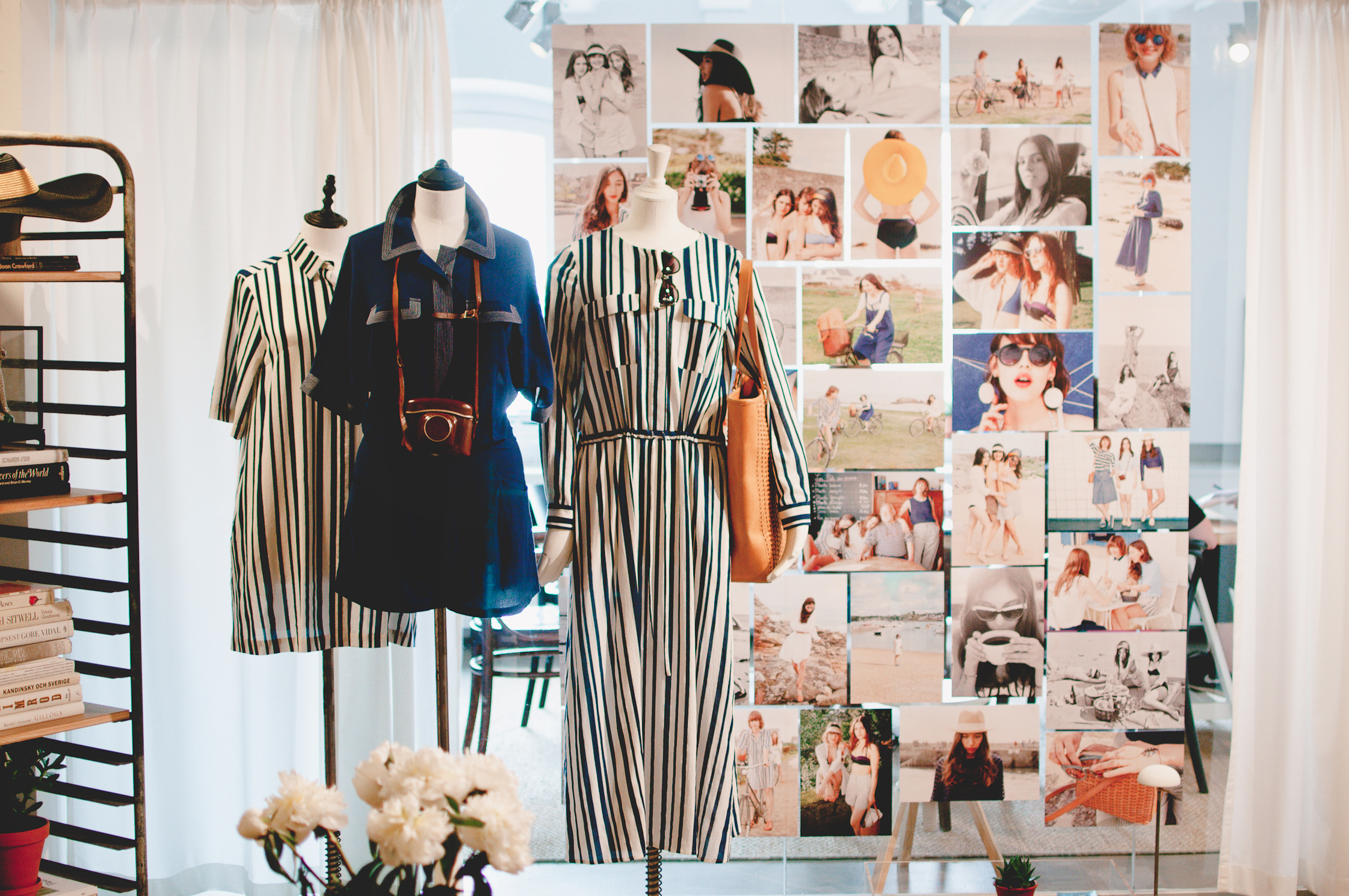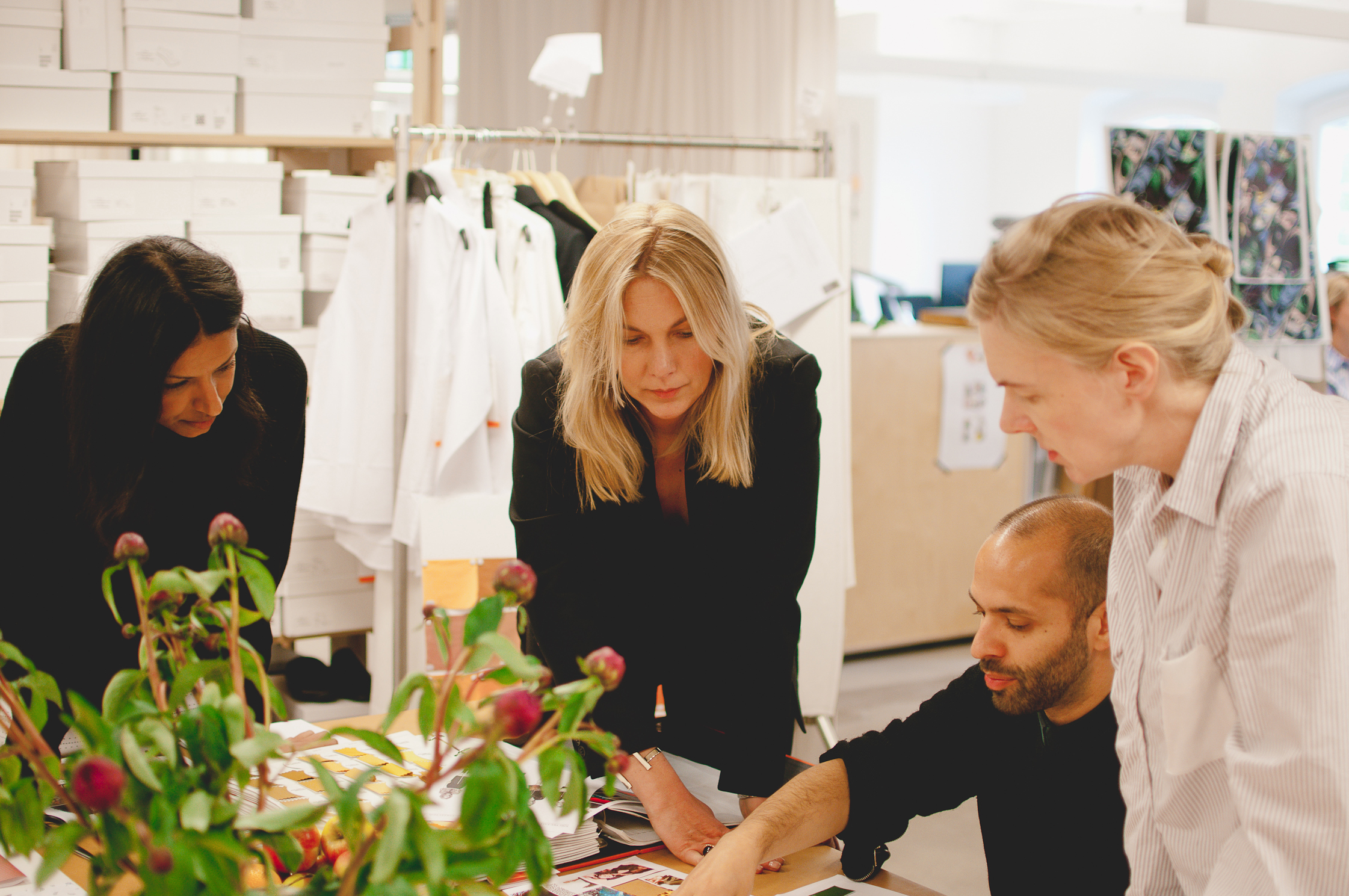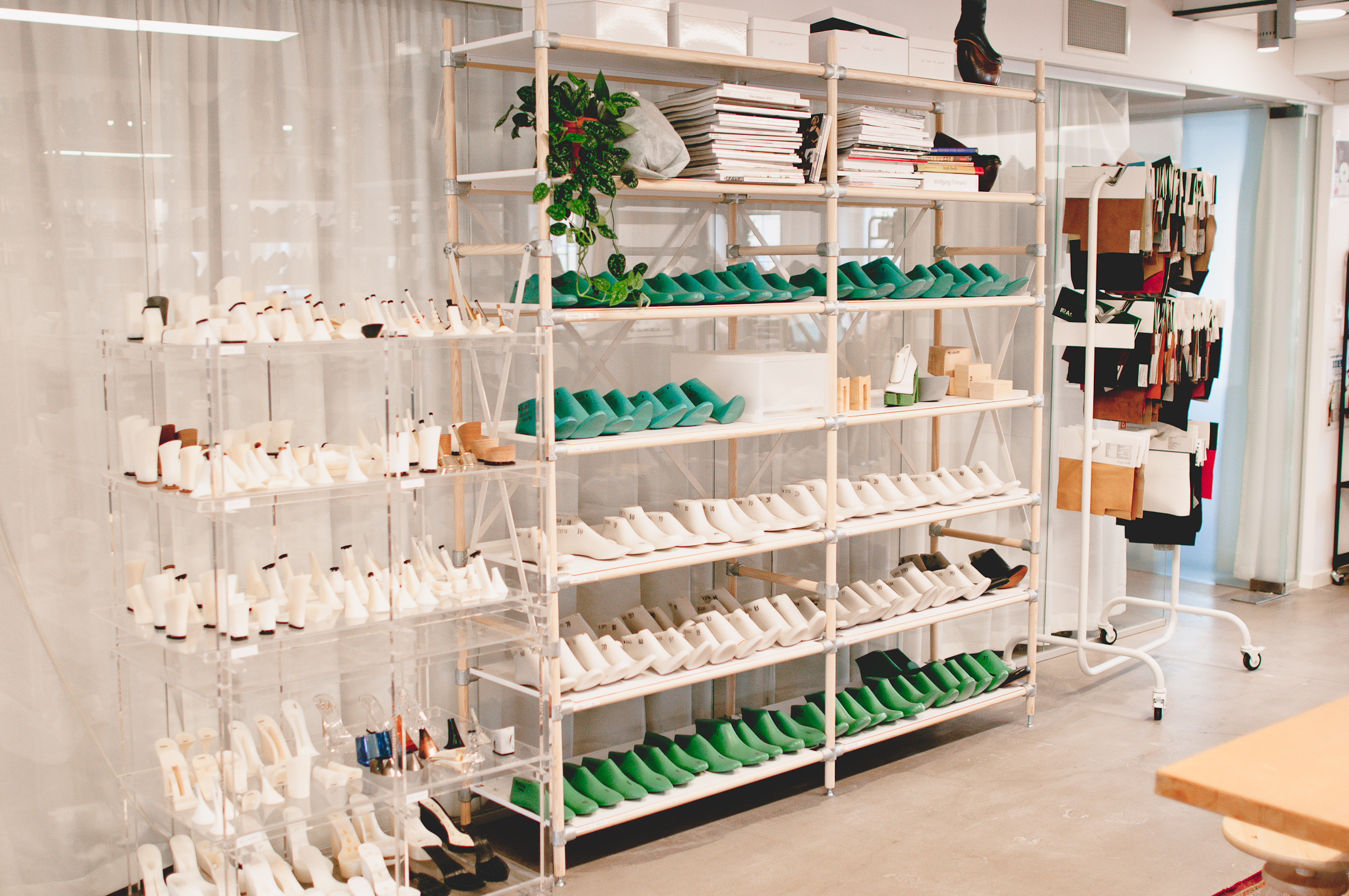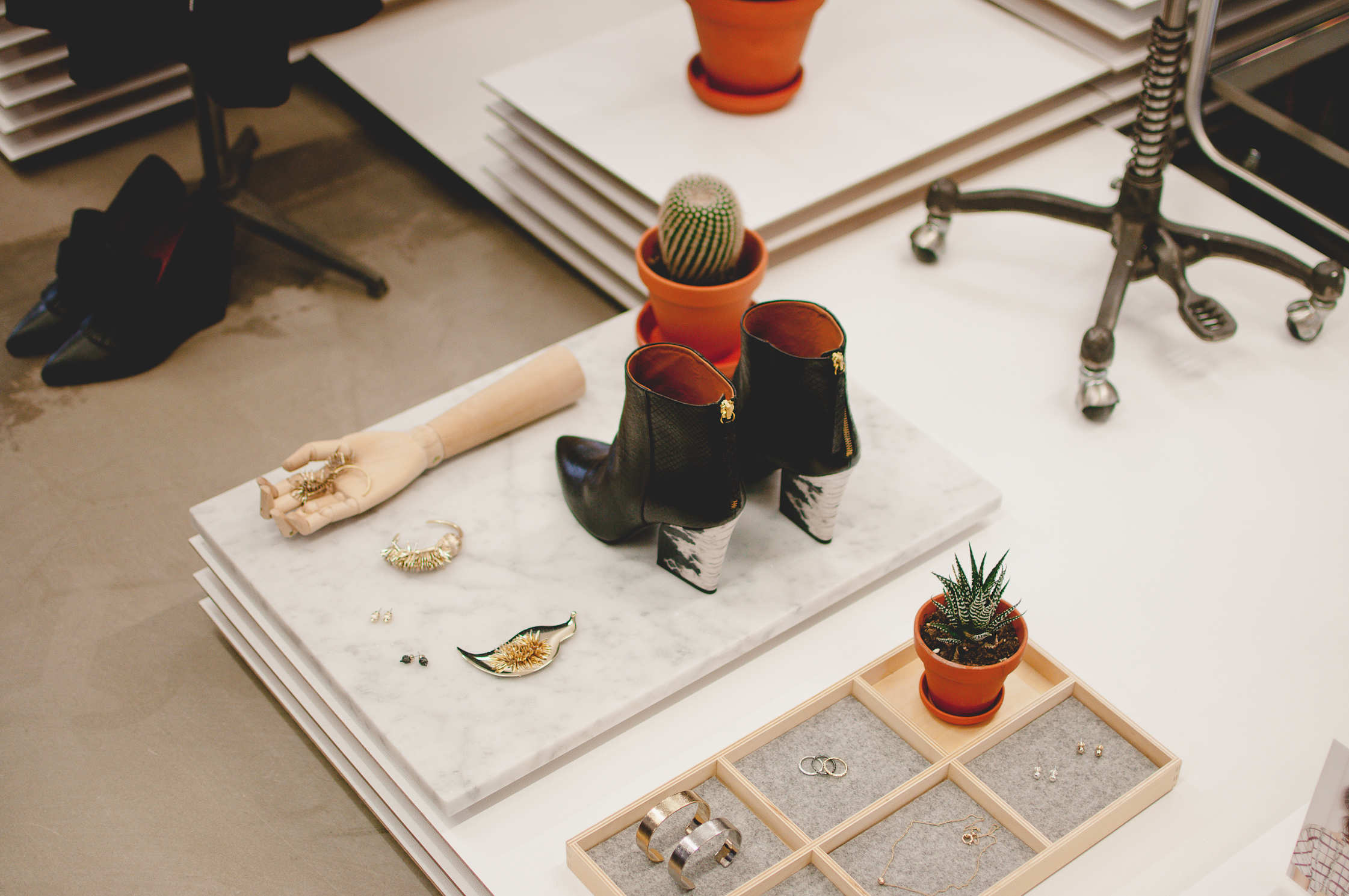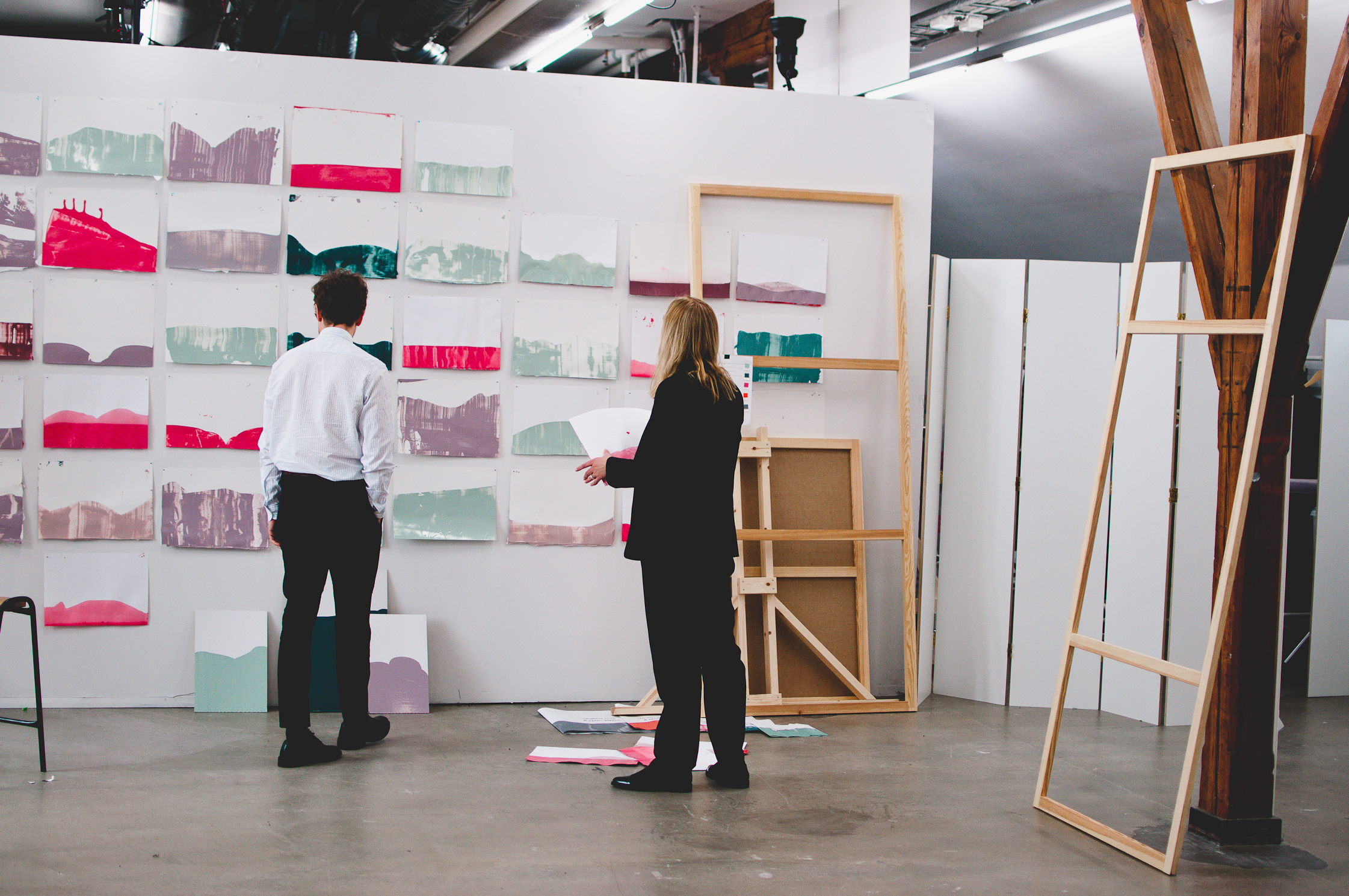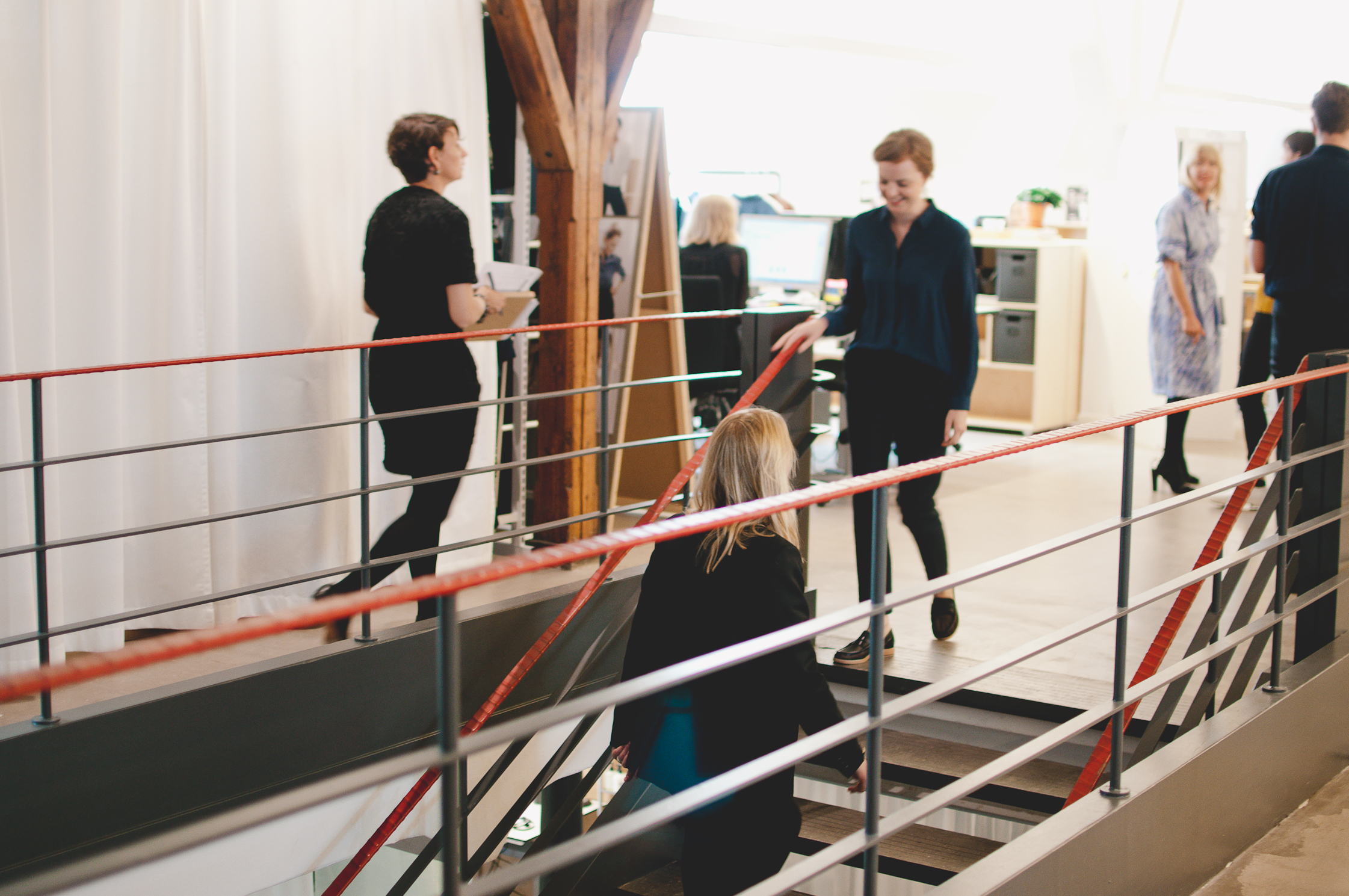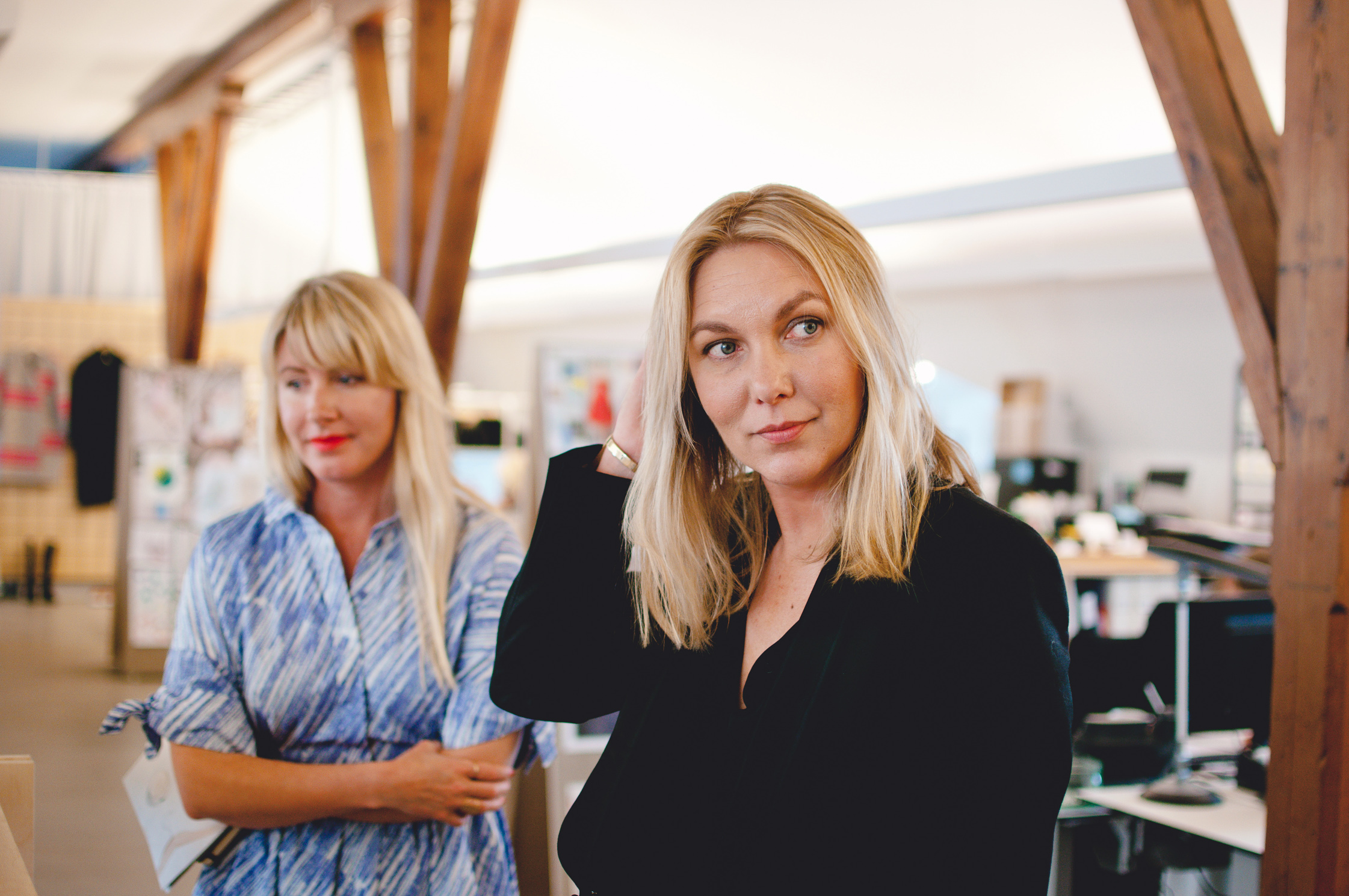 How did you end up working with & Other Stories?
I worked with Samuel Fernström for many years at H&M, and then we were asked by the board to work on & Other Stories. Between 2010 and 2013, everything was top secret. It's been building up for a long time with ateliers in Paris and Stockholm. Paris has more focus on design and the development of the collections, while our Stockholm office is more brand-focused, with graphic designers, architects, photographers, stylists, copywriters and art directors working closely to develop the brand itself. We stock everything from women's beauty products to accessories and clothing.
You lived in London for over ten years. How did you end up there?
I moved there to study at the Royal College of Art and complete my Masters. I studied for two years and after that I wanted to stay. I worked in various design agencies; for example with Neville Brody who's a well-known designer. I also worked with companies like Liberty, Kenzo and on lots of other projects. It was always about branding though, and 3D-spaces for a while with Liberty. I was interested in everything from copywriting to architecture, even though my professional training was in graphic design. I mean, furniture design, film and art direction have always been very interesting and fascinating to me. That's why the opportunity to do & Other Stories was almost tailor-made for me and my experience and knowledge. I knew a little bit about everything and was therefore able to bring a lot to the table. I'm not an expert, but as I have a broad spectrum of experience I'm able to carry a role that covers a lot.
Could you ever consider doing something less creative?
No, I'm the happiest when I'm in a studio; when we're actually working with a store and have to get ready. I love that. Everyone's running around and debating, moving furniture in our in-house store to see what should go where. I need to be creative.
Was having an in-house store at the atelier in Stockholm something you always had in mind?
Yes, it was. Having a space in our atelier where we can test things gives us the chance to talk about how we should set everything up, and consider what works and what doesn't. We always get the store furniture delivered to the atelier first, and we're able to try out different things. It is a kind of experimental workshop. It's very nice, because it gives us the chance to go through everything, without any rush or limitations. Everything is very similar to how we do things in the real stores except we don't sell anything. We don't like to change too much in the places we set up stores, and in that way we're almost like a pop-up shop. Every table is on wheels, in store and here at the in-house store, and we try to avoid making everything super fancy. We were inspired by how things look behind-the-scenes at fashion shows, where everything is rolled in on wheels, set up as a genuine backdrop in a kind of warehouse environment.
How has social media and the company being 'born' in the digital era affected the brand?
In the beginning, when we were only developing a beauty concept, we kept talking about how women shop today. The shopping behavior is constantly changing, with social media and digital development. You're able to get a hold of everything online nowadays, and it doesn't matter if you live in the countryside or in New York. The ideas were developed and then we decided to be something more than just a beauty brand. A lot of people also think we're super digital, with our online store opening simultaneously with our physical store. It's a lot more common to open a physical store, and then take the leap to an online store afterwards. But since starting in 2013, we had the opportunity to do both at the same time which we feel quite lucky about. But even though we have a strong online presence, we're actually quite low-tech. We film a lot with super-8, shoot with analogue cameras and so on. Sometimes we get scolded because the photographs aren't back from the developers in time! So we don't do everything digital. In every aspect possible, we try to imbue experimentation into the creation process.
You've claimed to not be perfectionists, even though everything about the brand seems utterly planned. Isn't that a bit contradictory?
Haha, yes it totally is! Of course we talk about all the details, about dimensions or how thick this paper is, or how big that marble sheet should be. We are nerds when it comes to every single product. I still hope that people feel it's very much about them being able to create their own style when they visit any of our environments. Like the online site, which is all about inspiration and really operates like a digital moodboard. You can click on any image and get the whole look. If you see an image of something you like, you can click on that image and find out what they're wearing. That's what we've been trying to do with our online presence. A lot of the ideas are pretty basic, but there is a lot of work that lies behind it.
So the idea is mainly that any type of person can come to the store and feel like they can create their own style and identity?
Yes, absolutely. People are different and have their own personal style, you know? The challenge of doing something with a brand this diverse, is that you have to create things that you're not personally that into. And that's perfectly fine! If I were to love everything, then the brand wouldn't be this multi-faceted and we would be doing something wrong. I don't have to love every image that we create. Of course I always need to feel confident with the way we do things, but the final result needs to be diverse and therefore not always in line with my personal taste. This is ultimately the set of values that '& Other Stories' strives for.
How did you get in contact with singer Lykke Li?
She wanted to work with us, which was very nice. It's an interesting project. The designers Nicole Wilson (shoe designer) and Behnaz Aram (RTW designer) were the most involved. Lykke told Nicole about a pair of shoes of hers, and how she felt the sole was too thin and made her fall off stage. She wanted a pair that made her stand more steadily on stage, and started discussing some ideas with Nicole. Then she realized she needed a pair of slippers, in leather, to walk around hotel rooms in. After that, she decided she needed an entire wardrobe that was unique and all according to her own personal style and needs.
The project grew, and everyone was talking about it. Lykke told us that she wanted to be able to fit everything in one suitcase. She wanted to quantify an exact amount of things needed when traveling. Growing up she lived in Nepal, India, Stockholm, Lisbon and Morocco, so traveling has always been a part of her life – even more so now that she's touring the world. Her life on stage, in hotels and everywhere in between really shines through in her collection. She's a very fascinating person, always traveling with one suitcase full of clothes and one suitcase full of books. We also did a passport holder, a key holder, the perfect cashmere sweater, an oversized white shirt, the perfect leather bag and so on. Lykke was super picky with everything and careful with every detail. She wanted to be able to wear and use the things in her collection for the rest of her life. Every single piece has meaning and a story to it.
In line with the brand.
Exactly. I think all collaborations that we do should be somewhat like this; we want to work with nice people who are easygoing and resolute. I think kindness is something that's really underestimated these days, and it's just something we value.
How come you chose Nike, Birkenstock and Vans for the external brands to be sold at & Other Stories?
Basically we do mini-surveys here at our ateliers, to see what people are wearing, for inspiration. We think Nike are fantastic at making trainers, and they're very enthusiastic about the collaboration since they don't see themselves as fashion compatible. We could never do what they're doing, looking at their experience and knowledge, and it's the same with Birkenstock and Vans. We get to sell color variations of shoes from Nike that few others stores hold, at least in Sweden.
Could you ever consider bringing in other brands for clothes?
I think that if we felt like we needed to, then we could do it. If we wanted to sell rain coats, and found a company that has an expertise that reaches further than our own in that area, then obviously we would try to collaborate.
How would you describe your personal style of clothing?
Oh, I'm quite boring. I think someone would probably describe my style as Scandinavian with the occasional Bohemian touch, or something like that. For example, I have stuff from my grandmother mixed with simple things from the store. My kids think that I wear too much black, which is why I got some lingering looks when I came into the office wearing a very flowery dress one day chosen by them. I looked like a really nice mom, picking up her kids on a bicycle with a basket in the front filled with some fresh organic fruit or vegetables!
Can you pinpoint when your career really started?
I don't see it as a career. For me, it's a way of life.
Do you travel a lot?
Yeah, I travel a lot but not crazily. I'm a city person, so I usually go to a big city for a nice vacation. I recently went to Antwerp, because of a store opening, and my husband is from Copenhagen so I'm there quite a lot. Depending on different stages of life, it's hard to really name favorite cities or places. I love living in Stockholm now, with my husband and kids, but I loved living in London and Paris and my dream of living in New York is still alive. The energy that these creative cities have is something many people like to be a part of.
What's your opinion on second hand items?
I think it's brilliant. From an environmental point of view it's great to keep things in motion. I would love to open up a second hand unit for & Other Stories – but it's a little early for that. I love second hand, and I think it will accelerate even more than it already has.
What do you think the opening of the New York store will mean for the brand?
People have already started talking about it on social media, and it's the first time that we feel like it's happening for real. When we opened in London and other European cities no one knew who we were, so this is quite different. Reading about people's anticipation over there is a little overwhelming, and I don't think we know what it's going to be like. We have a lot to learn about New York and New Yorkers, what they wear and so on. We've been very focused on Europe, you know? It'll be interesting to see how '& Other Stories' will be received by the fashion styles of New York, even though there are many similarities between American and European fashion. We're very happy that people know who we are, as we've only been around for a year. For eight weeks in the beginning of & Other Stories, there were seven store openings. We were speeding around Europe opening store after store. During the London opening, it was raining, I think it was around March, and we were handing out umbrellas to everyone queuing outside. When we opened the doors people were pouring in and all our fears that no one would show up were washed away.
Are there any plans to do a men's collection?
It's very nice to hear many people ask us this question. We're still taking baby steps, and who knows what the future will hold. Who wouldn't love to do a menswear line for & Other Stories? We need to have more people on board for that though.
Thank you to Sara and the team of & Other Stories for collaborating with us on this portrait and welcoming us into their office and studio.
Photography: Marta Vargas
Interview & Text: David Johansson